Email marketing is one of the most cost-effective and powerful tools for growing your business. Access to the right email marketing tools can help you maximize results from your campaigns and see a return on investment quickly.
With so many different solutions available, it's important to find the best ones that will meet your company's needs — whether you are looking for basic features or advanced capabilities.
But where do you begin? We have reviewed some of the top email marketing tools today to get started. We've considered key features and pricing to compare these 23 leading tools in our comprehensive guide below. See which one works best for you.
Best Email Marketing Tools for Your Business
NotifyVisitors is the best email marketing tool. Our tool helps businesses of any size to engage and retain their customers in a meaningful way.
By leveraging NotifyVisitors' suite of features, companies can easily craft email campaigns tailored specifically to their target audience.
Not only does our platform let you create compelling email content with advanced customizations such as personalization, but you can also track the performance of each campaign with detailed analysis and reporting tools.
With access to this data, business owners can fine-tune their email strategy and maximize return on investment. In short, NotifyVisitors is the perfect email marketing solution for businesses looking to increase engagement and improve customer retention.
NotifyVisitors Features:
Personalized campaigns
Premade templates
A/B testing to find the best variation
Advanced segmentation
In-depth analytics
Drag and drop content editor
Integration with different eCommerce platforms such as Shopify and BigCommerce
Easy-to-use interface
NotifyVisitors Pricing:
Our free plan starts from $0 per month. The startup plan starts from $60 per month. For the enterprise plan, you need to contact us.
2. Freshmarketer
Freshmarketer is revolutionizing digital marketing with email automation. With features like email automation and segmentation, you can easily design personalized email campaigns to reach broad or targeted audiences.
This allows businesses to deliver timely, thoughtful messages based on customer behavior, preferences and buying patterns. Freshmarketer also offers advanced analytics, allowing you to measure email campaigns for real-time success.
With its comprehensive email marketing tools, Freshmarketer enables businesses to increase their email engagement rates and drive more conversions.
Freshmarketer Features
Easy-to-use drag-and-drop editor, or choose from premade templates
Personalization
Acquire campaign performance with analytics.
Automate welcome emails, invoices, reminders, and more.
Segment customers.
Freshmarketer Pricing
Freshmarketer offers a 21-day free trial. Paid plan starts from $19/month for the Marketing Cloud when billed annually.
3. WebEngage
WebEngage is an email marketing platform that helps businesses automate their customer engagement. It offers a range of features and tools, such as customizable notifications, personalized messages, advanced analytics, and automated campaigns.
WebEngage Features
Automated campaigns to save time and effort.
Multichannel support, including SMS and social media channels
Personalization to enhance customer experience
Segmentation to create targeted lists and send relevant content
Reporting
WebEngage Pricing:
You need to contact the vendor for the pricing.
4. Campaign Monitor
Campaign Monitor email tool that makes creating and sending email campaigns easy. With this simple, intuitive service, users can craft compelling email messages tailored for their audience and track the results of their email campaigns.
Campaign Monitor provides powerful features, such as segmentation, automation, reporting and integrations with social media platforms to help users get better results from email campaigns.
Its user-friendly interface makes it easy to create attractive email campaigns on a budget while still achieving maximum reach and engagement.
Campaign Monitor offers a great way to build relationships with subscribers while growing your email list and driving conversions.
Campaign Monitor Features
Link Review tool to automatically search your email for broken hyperlinks
A visual journey designer to design more timely emails.
A full analytics suite and actionable insights.
Seamless integration with several third-party apps.
CampaignMonitor Pricing:
Pricing starts at $9 per month. If you need more than its core features and the ability to send unlimited emails, sign up for its Unlimited plan, which starts at $29 per month.
5. Drip
Drip is another email marketing tool that allows marketers to create complex, automated email campaigns from their browser. This makes it a convenient and efficient way to reach target audiences with value-rich content.
With Drip, you can track email performance, create segmented email subscriber lists and create email automation flows through easy drag-and-drop features.
Drip Features:
SMS workflows
Dynamic segmentation
Benchmarking reports
Prebuilt automation workflows
Drip Pricing:
Drip doesn't have a free plan, but you can request a 14-day trial.
6. ConstantContact
ConstantContact lets you create email campaigns in minutes. With templates built for success, beautiful designs to bring email campaigns to life, and intuitive email automation, it's never been easier to reach potential customers.
You can easily design email newsletters with ConstantContact or review the performance of your email campaigns with insightful reporting tools.
Easily segment your contact lists, send targeted emails, and track the results of your email campaigns – ConstantContact can help unlock the full potential of email marketing.
Constant Contact Features:
Email list-building tools
In-built CRM
Event management, promotion, and reporting
Social media management feature
Customizable templates and a drag-and-drop editor
Email automation and integrations with popular apps
Constant Contact Pricing:
The pricing plan starts at $10/month for 500 subscribers, but to use more advanced automated solutions, you have to upgrade to the Plus plan, starting at $45/month for the same number of subscribers.
7. SendX
SendX helps businesses customize, automate and manage their email communications. It combines powerful email analytics with easy-to-use email delivery systems to give users the deep insights they need to boost customer engagement.
Using SendX, marketers can segment target audiences and create personalized email campaigns for maximum efficiency.
Best of all, its automated email scheduling feature allows companies to promptly send messages at optimal times to reach more prospects and customers.
With SendX, email marketing has never been simpler or more successful.
SendX Features
Design, schedule, and track email campaigns, automating with a powerful rules-based interface.
Create landing pages for lead generation.
Design emails without HTML. Drag-and-drop editor to design professional-looking emails with ease.
Click heatmap for email campaigns shows where subscribers are based.
SendXPricing:
SendX presents a 14-day free trial. Pricing starts at $7.49 per month when paid annually.
8. ActiveCampaign
ActiveCampaign is the next email marketing tool in our list that helps businesses enhance customer relationships by automating email campaigns.
It provides various useful features to help companies segment and target the right individuals, depending on factors such as geographic location or past purchases.
Furthermore, it comes with powerful analytics tools to evaluate email performance and adjust strategies accordingly. Its intuitive interface makes it simple for users to create email campaigns and track real-time results across various platforms.
With ActiveCampaign, marketers have all the elements necessary to build better email campaigns and engage customers through personalized messages.
ActiveCampaign Features:
Advanced features for marketing and sales automation
Online form builder
Email campaign management
SMTP server
Cross-channel engagement feature
Integrations with ApiX-Drive, Salesforce, SaveMyLeads Shopify, WordPress, etc.
ActiveCampaign Pricing:
ActiveCampaign pricing packages start at $15/month for 500 contacts. For more advanced features, such as website optimization or attribution reporting, you need to upgrade to the Plus plan, starting at $70/month for the same number of subscribers.
9. Sendinblue
Sendinblue is another email marketing tool that helps businesses make more out of their email campaigns. It offers a powerful suite of features that help companies design, manage and automate email communications, from newsletters to email sequences to transactional emails.
With Sendinblue, users can take advantage of advanced segmentation capabilities, customizable email templates, A/B testing for email performance optimization and detailed analytics for campaign tracking and reporting.
This email marketing tool provides everything businesses need to deliver highly successful email campaigns that maximize conversions and customer relationships.
Sendinblue Features:
SMS capabilities
Audience segmentation
Transactional emails via SMTP
Integrations VIA email API
Sendinblue Pricing:
Sendinblue is a costlier email automation software with paid plans starting at $25 per month with no daily sending limit. There is also a free pricing plan but with minimal features.
10. Moosend
Moosend help you create a powerful email campaign in no time. It has many features such as email segmentation, automation, and responsive email designs that enable users to engage their target audience effectively.
Its user-friendly interface and flexible pricing plans offer functionalities to meet any budget and requirement size. Moosend also helps users boost the performance of their email campaigns by providing detailed analytics of their email activities such as open rates, click rates, and much more.
Whether you're just starting out or already have an established email database, Moosend's helpful resources will ensure your email campaigns are successful and deliver impactful results.
Moosend Features:
Sophistication automation features
Custom reporting and real-time analytics
Premade design templates and a drag-and-drop editor
Advanced audience management
A/B Testing tool
Landing pages and online forms
Integrations with CRM, eCommerce platforms, social media, etc
Moosend Pricing:
This email automation software starts at $9/month. The plans include automation workflows, an SMTP server, landing pages, and forms. Free 30 day trial is available.
11. Mailerlite
Mailerlite is the next email marketing tool in our list that provides businesses of all sizes with the right solution to increase their subscriber base and email campaigns.
It helps to create email newsletters faster and easier, enabling marketers to customize their messages on a single platform. With a wide range of beautiful templates and formats, Mailerlite allows for email personalization for maximum engagement.
Options like automation, segmentation, A/B testing make it easier to track email campaign performance and develop better strategies for the future.
ΜailerLite Features:
Multi-trigger automation
Landing pages and signup forms
Email verifier for list cleaning
Digital products and eCommerce solutions
RSS and auto-resend campaigns
ΜailerLite Pricing:
MailerLite contains a free plan for up to 1,000 subscribers with a few automation features to get started. For more features, you can choose the Growing Business pricing plan starting at $10 per month for the same number of contacts.
12. Sendpulse
Next email marketing tool is Sendpulse that helps individuals and businesses take their email campaigns to new heights.
This innovative tool offers a range of features such as email automation, user segmentation, email delivery tools, AI-powered email personalization, and more – all in one sleek platform.
With Sendpulse, users can create comprehensive email marketing plans from start to finish. Compared with many other email marketing services, Sendpulse stands out for its affordability and ease of use, allowing anyone to benefit from the power of email marketing to achieve success for their business or project.
SendPulse Features
Drag and drop editor to create responsive emails without any HTML knowledge
Trigger emails to nurture leads in every stage of your sales funnel,
A form builder to create a pop-up, embedded, or floating subscription form on your website
Built-in landing page creator.
Built-in CRM.
SendPulse Pricing:
SendPulse is free for up to 15,000 emails to 500 subscribers. Pricing starts at $5.20 per month.
13. Mailjet
Mailjet allows users to grow their email lists, design custom email newsletters, and track the results of their email campaigns.
Using Mailjet's powerful suite of tools, users can ensure that their email campaigns are successful and impactful.
Additionally, with sophisticated reporting capabilities, Mailjet helps users get the most out of their email campaigns by ensuring messages are delivered correctly and opened by the intended recipients.
In short, Mailjet is a great option for those looking for an email marketing solution that can help them set up effective email campaigns without breaking the bank.
Mailjet Features:
Email editor
Multi-user account
Prebuilt automation workflows
Email API
SMTP Relay
Mailjet Pricing:
Mailjet's email marketing platform has a free plan for up to 6,000 emails per month with basic email capabilities. Paid plans start at $15/month with Essential, but for advanced automation, consider the Premium plan, with $25/month.
14. ConvertKit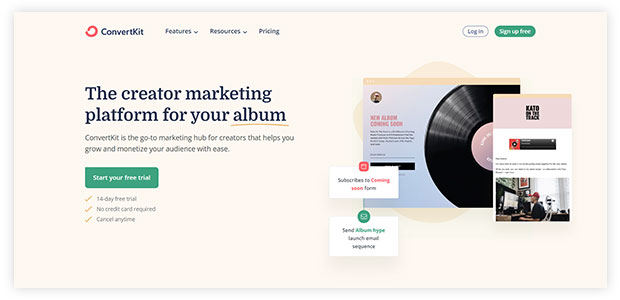 For email marketing efforts, ConvertKit is the perfect tool. It's easy to manage subscribers, create email sequences and automate email campaigns, all within a straightforward user interface.
Plus, professional email templates give you the freedom to customize email content for your business needs. So for any email marketer looking for an advanced platform with simple automation tools, ConvertKit is the right choice.
Whether you're just starting out or have been using email marketing services for years, it's time to experience the power of ConvertKit!
ConvertKit Features
Automate your sales funnel to send content to subscribers automatically
Sell digital products with a tool built for creators.
Modify a URL after the email is already sent with Creator Pro.
Build personalized email marketing campaigns.
Creating professional landing pages and sign-up forms.

ConvertKit Pricing:
ConvertKit offers a free plan for up to 300 subscribers. Paid plans start at $9/month.
15. EmailOctopus
EmailOctopus is a powerful email marketing tool designed to help businesses reach new heights.
It features advanced automation features that simplify email campaigns and allow users to craft perfect email sequences with detailed analytics to measure their success.
EmailOctapus makes it easy to find prospective customers, build email lists quickly, create personalized emails and track email performance.
With intuitive reporting tools and drag-and-drop email builder, EmailOctopus makes email marketing simple and efficient for any business size or type.
EmailOctopus Features
Import existing subscribers, or build stunning landing pages to capture more subscribers.
Start with a pre-designed template and customize it or create your designs from scratch.
Leverage email automation to deliver campaigns.
Use insights and data to segment your subscribers into target audiences.
EmailOctopus Pricing:
EmailOctopus offers a free plan for up to 2,500 subscribers and 10,000 emails per month. Paid plans start at $8 per month.
16. GetResponse
GetResponse is the next email marketing tool that helps businesses reach out to their target audience and drive sales.
It's easy-to-use and has many features, allowing users to create email campaigns, track email performance, capture new subscribers, automate email sequences, personalize email messages, and more.
With GetResponse, users can create engaging email campaigns that generate leads and turn prospects into customers in no time.
Best of all, it measures the results for each campaign and segment so you can find the most effective messaging for maximum impact.
GetResponse Features:
Advanced automation and segmentation
Forms and pop-ups
Omnichannel marketing support
Live chat
Website Builder
Integrations with Zapier, Shopify, Gmail, etc.
GetResponse Pricing:
GetResponse has a free plan but can cater to the basic email marketing needs of up to 500 contacts. Select the Standard pricing plan at $17/month to access basic automation features. For more sophistication, switch to the Marketing Automation package for $55/month.
17. Aweber
Aweber is another email marketing tool designed to help businesses reach their goals through email marketing strategies, whether sales or subscriber growth.
Its features include email automations, email list management, email templates and analytics that help users measure the success of their email campaigns.
With Aweber, users can easily create essential newsletters and use creative email designs to engage their audience without having to master HTML coding.
Along with its ease-of-use, Aweber delivers reliable customer service and offers a generous 30-day free trial so organizations can test drive this helpful email marketing resource.
AWeber Features:
The drop-down menu for personalization variables
Web push notifications and landing pages
SMS marketing integrations
Cross-device and A/B Testing
AWeber Pricing:
AWeber's free plan includes limited capabilities, and advanced automation is excluded from the list. For more, consider the Pro plan at $20/month for up to 500 contacts.
18. SendGrid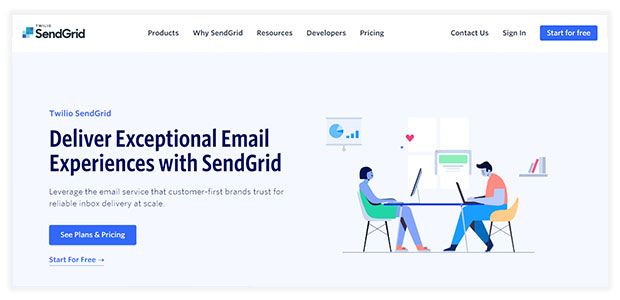 SendGrid is a powerful email marketing tool that allows businesses to send customized email campaigns and newsletters easily.
It has comprehensive email tracking capabilities to measure email engagement, generate detailed reports on email campaigns, and automate email sequences through a drag-and-drop workflow automation builder.
SendGrid also has features tailored for developers and system administrators such as SMTP Relays which provide automated email tracking and delivery services that can be seamlessly integrated with enterprise applications.
With all of these great features, it's no wonder why SendGrid is one of the leading email marketing platforms available today.
Sendgrid Features
Pre-built email templates.
Built-in calls to action.
Automation triggers.
Sign-up forms.
Email testing and statistics.
Sendgrid Pricing:
SendGrid is free for up to 100 emails per day. Pricing starts at $19.95 per month.
19. Benchmark Email
Benchmark Email is an email tool that can help give your business a competitive edge. This platform delivers email automation solutions that are easier to use than many email marketers, without sacrificing robust email campaign capabilities.
With Benchmark Email, you can create attractive email newsletters, automated email campaigns, and even segmentation to ensure you get the most out of each email sent.
Their comprehensive reporting makes it easy to track email performance and measure success rates in real time. If you want to increase the reach and effectiveness of your email marketing efforts, Benchmark Email is worth considering.
Benchmark Features
Drag-and-drop builder and HTML editor.
50+ pre-built email templates.
A/B testing.
Benchmark Pricing:
Benchmark is free for up to 3500 emails per month. Pricing starts at $9.99 per month.
20. Emercury
Emercury is an email marketing tool that empowers businesses to effectively communicate with their customers.
With its modern and user-friendly interface, it's never been easier for businesses to craft email campaigns and attractive newsletters designed to draw in more leads and keep existing customers engaged.
Emercury is equipped with powerful features including segmentation capabilities, AI-driven automation solutions, email testing tools, email analytics and more, enabling users to successfully build relationships with their audiences to increase ROI from email marketing efforts.

Emercury Features
Build responsive emails with a real-time drag-and-drop template editor or use premade templates.
An easy-to-use form-builder for your website to design a form with customizable fields.
Segmented Lists.
Build automated lead nurture campaigns.
A/B testing.
Emercury Pricing:
Decide between subscriber-based pricing and CPM pricing. Prices start at $57/mo.
21. Mailchimp
One of the leading email marketing tools is Mailchimp. It's a great way for businesses of all sizes to create email newsletters, campaigns, and automated email sequences.
With Mailchimp, you get the best of both worlds – it's user-friendly enough for beginners to set up yet powerful enough to cover most needs of power users.
Small businesses find many value in the affordable pricing structure, with plans tailored for email lists up to 50K contacts. Businesses big and small benefit from features like email scheduling, list segmentation, drag and drop builder and integrations with popular web apps.
Mailchimp also offers detailed tracking analytics and comprehensive reporting so businesses can keep track of all email activities.
Mailchimp Features:
Simple email editor and ready-made templates
Advances automated sequences
Segmentation and predicted demographics
Send time optimization tool
Integrations with 300+ apps
Mailchimp Pricing:
Mailchimp starts with the Standard Plan, costing $20/month for 500 subscribers. The free plan is available with limited options that exclude automation, allowing you to send 2,500 emails monthly.
22. Keap
Keap can take your email game to a new level. It makes creating email campaigns easier than ever.
They offer comprehensive tools that make segmentation, automation, and tracking email performance simple.
You can connect even more deeply with your clients with detailed customer insights. Keap also offers incredible email designs and templates so you can start quickly without having to design everything from scratch.
With its great features, it's no wonder Keap is the go-to email marketing tool for business owners worldwide.
Keap Features
Advanced marketing and sales automation, customizable campaigns, and app integration to power growth.
Organize your contacts and leads in Keap and sync your Outlook and Gmail.
Automatically capture new leads, assign tasks, and trigger personalized messages.
Organize your contacts and leads in Keap and sync your Outlook and Gmail.
Revenue reports and analytics support driving smarter brand decisions.
Keap Pricing:
Keap offers a free trial. Pricing starts at $ 129/month.
23. HubSpot
HubSpot revolutionizes how businesses interact with potential and current customers. It provides all the features of a traditional email service, plus additional analytics to measure email performance and click-through rates.
With an intuitive user interface, HubSpot makes it easy for marketers and non-marketers to create newsletters, segment customer lists, track email responses, and much more.
Its cloud-based platform integrates seamlessly with existing email services like MailChimp and Outlook.
Whether used to generate leads or keep in touch with customers, HubSpot is quickly becoming the go-to email marketing tool for businesses of all sizes.
Hubspot Features:
CRM and behavior tracking
Analytics reports and dashboards
Automated workflows and performance analytics
Social media integration and management
Landing pages and web pages
Hubspot Pricing:
Starter Plan at $50 for 1000 contacts to access email automation features. Free email marketing plan, but with limited tools.
Conclusion
Clearly, email marketing is a vital part of any successful business' digital marketing strategy. Depending on your company's needs and budgets, a variety of email marketing tools offer unique features and advantages.
We hope that this comparison of the best email marketing tools for 2023 has helped you decide what to use and how to maximize your efforts with emailing.
Remember, no matter which software you decide, ensure it fits into your overall digital marketing plan and provides valuable insights and results. Good luck!
Also Read: