The email users worldwide is expected to cross 4.3 billion.
All of these users are members of your target audience, which are quality leads and prospects that you can work to reach and convert through email.
The design of your email needs to be right to ensure that your emails stand out and capture that audience's attention.
This guide will discuss what email design is and cover the best practices and examples of successful design.
What Do You Understand About Email Design?
It refers to creating compelling email elements that are relevant to your email marketing efforts and helps increase the ROI of your email marketing efforts.
For example, when working on interior design, a designer considers the room's layout, dimensions, color schemes, furniture, and other elements. Similarly, when designing an email, one must consider various aspects before starting the design process.
The key features of email designs include the following:
Subject
Copy
Structure
Headings
Links
CTA
Visuals
Color
Typography
Brand Identity
Why Does Designing an Email Matter?
We live in a world that is now loaded with information. No matter how connected your brand is, you can't expect your audience to read everything. People don't have time for that. They scan, not read.
You still need to provide information. Add to that the short attention span of most adults and short text isn't enough to do the job. It is where custom email designs come in.
You can play with the flow of reading and create a way to give your audience information to help your campaigns succeed.
However, the possible reasons why email design matters are as follows:
It helps to support the brand identity.
It helps in engaging the audience with your brand.
It resonates with the target group.
It helps to capture the viewer's attention.
It can have a long-lasting impact on the reader.
Types of Email Design
1. Plain Text
A plain email needs no introduction. Its structure is simple. This type of email is usually used for personal correspondence. The advantages of using it are:
It's personalized
It contains only basic information
Responsive and mobile friendly
It's easy to design
However, it lacks the wow factor. No spectacular hero scenes or interactions set it apart from the crowd. It's plain and boring.
2. Rich HTML design
A rich HTML email is like a mini landing page. It has a unique design, graphics, colour, beautiful prints, and different products. They are created with HTML and CSS. The main advantages of this type are:
Impressive
Flexible
It has all kinds of content like images, animated gifs, etc
Well organized
However, depending on the screen size, your style may distort. You also need creativity and coding skills to pull it off.
3. Interactive email templates
It refers to using JavaScript-based communication facts. They are very interesting and exciting. Unlike other genres, it has an impressive wow factor that will win over any crowd. In addition to AMP emails, it dares to be our new future.
However, there is an important obstacle that cannot be overcome. Currently, most email readers do not support JavaScript. So, you only leave a small portion of the market to enjoy. The same goes for AMP. Although the system is robust and reliable, it is not yet accepted by all email readers.
Let us now understand the best practices to follow while designing an email.
Best Practices to follow while designing an email
1. Create a strong headline
Your email subject line is the first thing someone sees when you send them an email. It's a clear statement that should pique your host's interest. It needs to grab their attention, so they want to open your email and continue reading.
A headline will have the following features:
Write down your readers' thoughts in as few words as possible
Give the value to the recipient who wants to open the email.
Include what recipients will read and see after opening the email.
2. Write an interesting pre-header
Your email introduction is the introduction to what the email is about, just like the meta description of a website. It's the second thing recipients see.
Instead of rewriting the first sentence of your email, you can edit the pre-header to give you an inside look at what your email recipients will read in your message.
3. Get to the point
Please give your email recipients the information they want and need from you without wading through the weeds. It shows them that you value their time and can help improve email subscriber retention.
4. Keep your email on brand
When email recipients open your message, they should know it is from your company. It means that your brand name should be displayed.
To keep your email on brand, consider using the following strategies:
Use audio in your emails that complement your other content and marketing tools.
Include the same colors and fonts in your online and marketing materials.
Include your logo, your website link, your social media accounts, and an appropriate call to action (CTA) for your products or services.
5. Use design to improve your email user experience
No one wants to read random, unstructured emails. This can overwhelm recipients and increase rejection. Instead, organize your design with user experience in mind, which means ditching the white space and putting your written and visual content into an organized, intuitive, and easy-to-navigate format.
6. Personalize all emails
Personalizing an email and tailoring it to the recipient will be more thoughtful, professional, and personal. This key helps build relationships with your company and email recipients and increases email retention rates. Email personalization also helps to humanize your brand.
7. Include unique visuals
If recipients open an email and only see paragraphs of information, it's hard to capture their attention and engage them with your message. Instead, include images, videos, GIFs, animations, and more. To eliminate scripted content and create an unforgettable experience.
8. Use emojis
At first, emojis can seem unnecessary or inefficient in an email. While this is a reasonable assumption, it is not true in some situations.
Adding emojis to your email subject lines and the copy can increase your open and conversion rates. But remember: if you're using emoticons for marketing, make sure you know the meaning and implications of the ones you include.
9. Use the right strategy
Being responsive means your email is updated wherever you view it, whether on a desktop, laptop or mobile device. Your email recipients can easily read your emails no matter where and how they view them. You can improve user productivity and manage email across all devices by incorporating responsive design.
10. Streamline your emails with CTAs
Call-to-calls (CTAs) are used to convert your email addresses. CTAs should be amazing and compelling and clearly state why they are worth clicking. Additionally, you can tailor your CTAs to specific audiences. You can always increase click through rate by using various strategies.
11. Add the "Unsubscribe" button
Email marketing is most effective when you provide relevant content to your recipients. The sad but true reality of email marketing is that your recipients and customers change over time, especially as your business grows and changes. Your content may not always be relevant to some audiences.
To do this, make their lives easier with an easy-to-use and intuitive "Unsubscribe" button.
12. A/B testing or Split Testing
Like most marketing efforts, email planning is an iterative process. You can make changes and tweaks to get the most out of your design.
Whether you change your CTA, colors, images, layout, or tone, don't be afraid to A/B test the design to ensure it's the best, most artistically relevant, excellent, and transformative design.
13. Create an email signature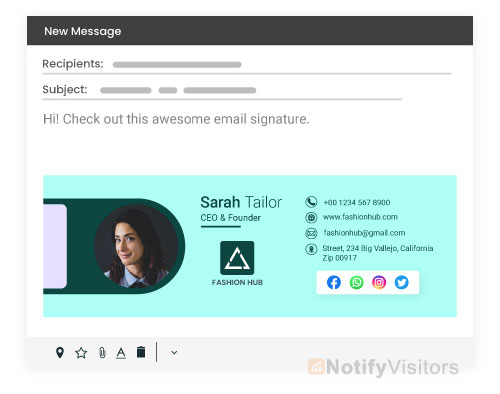 A good email signature means you can establish a professional and personal feel for the email. An email signature doesn't have to be just your name — it should have a description and other memorable details about you, your job, contact information and business.
You can include some specific elements in your email signature:
Name
Address
Job Title
Company Name
Social media
Email Design Examples
1. NotifyVisitors Marketing Blog
NotifyVisitors sends Marketing Blog emails to its subscribers regularly. The emails are branded to make an understanding to the reader who is sending those emails.
It may include a few articles on its website through which customers may learn about their services.
2. Collaborative Fund
While many companies use a large block of color at the top of their newsletters to draw people in, the folks at Collaborative Funds have gone one step further by adding red and yellow in every email. In the design, red and yellow are strong colors. While red represents strength or passion, yellow is generally considered bright and lively.
Along with color, they used clean sections to separate these blocks while incorporating different textures, like that crumpled paper, to create a truly immersive experience.
3. Under Armor
Under Armour's welcome email works because the marketing team chose images and text related to their product. Under Armor is the first thing you see in the design. The colours in the images are consistent and make the email stand out. Also, the live email interface makes it enjoyable.
4. Starbucks Rewards
Starbucks customers and members may have seen this email or something similar in their inbox before:
Email complements Starbucks' marketing and branding and has plenty of white space that separates written information from eye-catching images. The CTA is also clearly embedded, which buyers can click to activate the offer.
5. Peloton
Peloton begins its email with an image that conveys a sense of community. Peloton's welcome message includes several text sections but doesn't look cluttered because they use white space effectively. We also love it because it uses symbols to draw the reader's attention to the "stride" and "cadence" sections.
The email explains what the Peloton app does and teaches the reader how to use it.
6. Vital Proteins email design
Although the Vital Proteins design contains lots of pictures and information, it has been carefully edited so that it is not overwhelming for recipients. The email's colors, fonts, and images are on-brand and reflect the company's products.
It has a prominent CTA that directs buyers to its Instagram pages – this type of CTA helps the company increase follower count and brand awareness on the social platform.
Conclusion
Email design plays a key role in the success of your campaign. No matter how grand a strategy you have, it will fail without a well-thought-out design. It is not just a simple solution like a simple poster; it is much more than that.
It needs to fit your brand, adapt quickly to marketing gimmicks, provide value, and resonate with your audience. In addition, modern trends say that it has beautiful aesthetics and a great user experience. That's why it needs your close attention and the best tools on the market.
Schedule a demo with us and get inspired by real-life examples to create a perfect design for your email that turns users into real leads.
FAQs
1. What do you understand about email design?
It refers to creating compelling email elements that are relevant to your email marketing efforts and helps increase the ROI of your email marketing efforts.
2. What, according to you, are the most important aspects of an email design?
Many aspects form an important part of an email. However, the most crucial ones are logo, colors, header, pre-header, text, image, and CTA.
3. Does designing an email really matter?
Absolutely! Design is important in an email as it determines whether your prospects are driven to read and engage with your messages. If your design is effective, users will be more inclined towards your brand.
Also Read: