Are you struggling to stay efficient and organized amidst the busyness of your everyday life? Email automation can be a powerful way to simplify tasks, engage with customers, and remain connected in today's ever-changing business environment. 
With these 14 best email automation tools available on the market in 2023, you'll be able to save time while staying at the top of your game.
From free options like NotifyVisitors or Sendinblue all the way up to sophisticated enterprise tools, there is something here for everyone – regardless if you need just simple auto-responder emails or more complex automated workflows.
Learn all about what each one has to offer so that you can select the best choice for taking your business communications into the future.
What are email automation tools?
Email automation tools are powerful tools used by businesses across all sectors. These tools enable marketers to create detailed campaigns, automate their messages and manage subscriber interactions.
They enable businesses to quickly set up automated messages for various purposes including email newsletters, transactional emails and follow-up emails related to customer support queries.
By automating the sending of these emails, businesses can save time for more strategic tasks as well as ensure customers receive timely, relevant messages based on their individual needs.
Email automation tools have revolutionized the way businesses market to existing and prospective clients, and have become a key tool for any company looking to maximize their marketing reach in an increasingly competitive digital landscape.
14 Best Email Automation Tools You Can Consider
NotifyVisitors is an intuitive email automation tool that allows you to create sophisticated email campaigns without compromising your bottom line. We make email automation easier by integrating several email marketing platforms and allowing users to drag and drop custom elements into their email campaigns.
In addition, we offer powerful analytics capabilities to ensure users capture every opportunity to reach and engage their customers.
With an intuitive interface, easy setup instructions, and powerful email automation features, NotifyVisitors is the perfect tool for businesses of all sizes. Our software can be used for email campaigns, from small newsletters to full-scale product launches.
NotifyVisitors Features:
Personalized campaigns
Premade templates
A/B testing to find the best variation
Advanced segmentation
In-depth analytics
Drag and drop content editor
Integration with different eCommerce platforms such as Shopify and BigCommerce
Easy-to-use interface
NotifyVisitors Pricing:
Our free plan starts from $0 per month. The startup plan starts from $49 per month. For the enterprise plan, you need to contact us.
2. SendX
SendX is the ultimate email marketing tool for those seeking to send high-volume emails without sacrificing deliverability.
With its user-friendly interface, you can quickly create emails and take advantage of its automation capabilities to effectively nurture email subscribers and turn leads into paying customers.
Unlike other email marketing platforms, SendX doesn't restrict industries that are traditionally banned. It doesn't promote black hat activities but if you're a responsible email marketer who aims to establish trust with your audience, SendX makes sure that your emails will always land in the inbox.
Take your email marketing efforts to the next level with SendX.
Features:
Easy-to-use email editor
Tagging, & segmentation
List import using CSV files
Automation and drip campaigns
Heatmaps and dashboards for reporting
Reliable email, chat, and phone support
Customizable, mobile-friendly email templates
Half-a-million free images
Integration with popular apps, without hassle
Send time optimization capabilities
Pricing:
SendX offers pricing plans starting at $7.49/month for up to 1,000 subscribers, with additional features and higher subscriber limits available on higher-tier plans. You can get a 14-day free trial before you commit to the full price.
3. Constant Contact
Constant Contact is a powerful email communication platform allowing businesses to create great-looking emails and track email performance.
With powerful segmenting, A/B testing, list management, and email feedback options, you'll be able to connect with customers more meaningfully than ever before. 
Plus, integrated marketing solutions provide further flexibility to build your email communications strategy while reaching out across different channels as needed.
Constant Contact Features:
Email list-building tools
In-built CRM
Event management, promotion, and reporting
Social media management feature
Customizable templates and a drag-and-drop editor
Email automation and integrations with popular apps
Constant Contact Pricing:
The pricing plan starts at $10/month for 500 subscribers, but to use more advanced automated solutions, you have to upgrade to the Plus plan, starting at $45/month for the same number of subscribers.
4. Sendinblue
Sendinblue is another email automation tool that makes it easy to manage newsletters, email campaigns, automated messages, and more.
Users can quickly create email marketing solutions tailored to their needs and objectives with a wealth of features, including email templates, contact segmentation, and automatic follow-up-triggered emails.
The user-friendly interface provides complete control over your email campaigns from start to finish, allowing you to effortlessly optimize your email contacts to maximize conversions and engagement with your audience.
Sendinblue Features:
SMS capabilities
Drip campaigns
Audience segmentation
Transactional emails via SMTP
Integrations VIA email API
Sendinblue Pricing:
Sendinblue is a costlier email automation software with paid plans starting at $25 per month with no daily sending limit. There is also a free pricing plan but with minimal features.
5. Mailchimp
MailChimp is another email automation tool business owners and marketing teams use to engage customers effectively. MailChimp provides customizable, easy-to-use email templates and allows users to create email newsletters with stunning visuals.
In addition, their advanced targeting and segmentation capabilities make it possible to personalize emails for different audiences. With in-depth analytics, users can track open and click-through rates to gain valuable insight into customer engagement levels. 
Mailchimp Features:
Simple email editor and ready-made templates
Advances automated sequences
Segmentation and predicted demographics
Send time optimization tool
Integrations with 300+ apps
Mailchimp Pricing:
Mailchimp starts with the Standard Plan, costing $20/month for 500 subscribers. The free plan is available with limited options that exclude automation, allowing you to send 2,500 emails monthly.
6. Hubspot
HubSpot helps businesses gain greater visibility and control of their email marketing campaigns.
Their comprehensive email platform brings together the industry-leading email deliverability, powerful segmentation, easy-to-use drag & drop email builder, intuitive email tracking analytics, and AI-based email optimization capabilities users need to take their email program to the next level.
It offers an array of features, including HubSpot CRM integration, A/B testing, and more, that help email marketers save time and nurture relationships with prospects and customers.
Hubspot Features:
CRM and behavior tracking
Analytics reports and dashboards
Automated workflows and performance analytics
Social media integration and management
Landing pages and web pages
Hubspot Pricing:
Starter Plan at $50 for 1000 contacts to access email automation features. Free email marketing plan, but with limited tools.
7. ActiveCampaign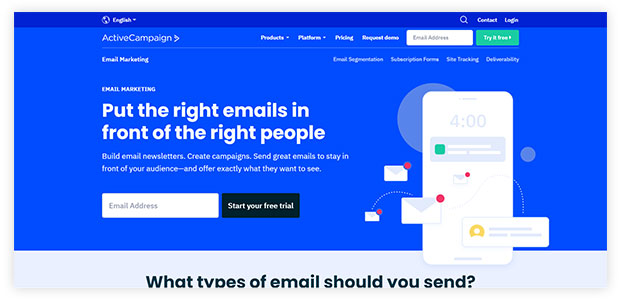 ActiveCampaign is the next email automation tool on our list that simplifies email marketing, offering businesses multiple ways to automate customer engagement.
It enables users to create email workflows that are tailored specifically to engage their customer base, set up precise email triggers, and design highly personalized messages. 
ActiveCampaign Features:
Advanced features for marketing and sales automation
Online form builder
Email campaign management
SMTP server
Cross-channel engagement feature
Integrations with Salesforce, Shopify, WordPress, etc.
ActiveCampaign Pricing:
ActiveCampaign pricing packages start at $15/month for 500 contacts. For more advanced features, such as website optimization or attribution reporting, you need to upgrade to the Plus plan, starting at $70/month for the same number of subscribers.
8. AWeber
AWeber is a great email automation tool that turns your email marketing into a well-oiled machine. It helps manage contacts, build email lists, and easily send automated emails.
The intuitive drag-and-drop email builder makes customizing email campaigns simple, while its detailed analytics give you crucial insights into what's working and needs improvement.
It supports multiple languages, so even international customers can understand and take action on every email sent. With AWeber's powerful email automation tool, you'll make email marketing more effective!
AWeber Features:
Canva integration
The drop-down menu for personalization variables
Web push notifications and landing pages
SMS marketing integrations
Cross-device and A/B Testing
AWeber Pricing:
AWeber's free plan includes limited capabilities, and advanced automation is excluded from the list. For more, consider the Pro plan at $20/month for up to 500 contacts.
9. Drip
Drip revolutionizes how businesses reach their customers. It allows businesses to create email campaigns, segment their customer base, and track email performance. 
This type of email communication helps companies build relationships with customers while providing a more personalized experience.
By utilizing Drip's data-driven email strategies and powerful segmentation tools, businesses can increase customer engagement, maximize ROI and boost brand loyalty.
Drip Features:
SMS workflows
Dynamic segmentation
Benchmarking reports
Prebuilt automation workflows
A/B Testing
Drip Pricing:
 Drip doesn't have a free plan, but you can request a 14-day trial.
10. Mailerlite
This automation tool makes sending email campaigns quickly and conveniently easy. It offers email templates, contact management tools, and powerful analytics.
This email automation tool has a convenient drag-and-drop interface allowing users to easily create email newsletters. Additionally, A/B split testing options allow designers to optimize their emails for maximum results.
Mailerlite offers advanced features such as landing pages and automated emails for more complex marketing campaigns. With its comprehensive feature set, Mailerlite is a great choice for anyone looking for an email automation tool.
ΜailerLite Features:
Multi-trigger automation
Landing pages and signup forms
Email verifier for list cleaning
Digital products and eCommerce solutions
RSS and auto-resend campaigns
ΜailerLite Pricing:
MailerLite contains a free plan for up to 1,000 subscribers with a few automation features to get started. For more features, you can choose the Growing Business pricing plan starting at $10 per month for the same number of contacts.
11. ConvertKit
ConvertKit is an email automation tool that allows businesses to swoop mailings and increase their email list. It helps them exhibit a professional email system with email marketing, forms, and content upgrades. ConvertKit also provides tools that make email segmentation easier than ever. 
ConvertKit Features:
Visual automation builder
Paid newsletter
Newsletter referral program
Subscriber scoring
ConvertKit Pricing:
ConvertKit offers a free plan with 300 subscribers but with limited capabilities. Pick the Creator for $15 for the same contacts for more assets.
12. GetResponse
GetResponse is another email automation tool that allows businesses to take their email marketing efforts to the next level.
Whether automating email campaigns and newsletters or utilizing advanced segmentation capabilities, GetResponse provides a comprehensive suite of tools designed to help businesses improve email engagement with their customers.
With GetResponse, businesses can create highly personalized emails tailored to each customer and automate email delivery using powerful workflows based on user behavior and preferences.
In addition, they provide analytics allowing businesses to measure email performance to optimize further email campaigns for higher engagement more efficiently.
GetResponse Features:
Advanced automation and segmentation
Forms and pop-ups
Omnichannel marketing support
Live chat
Website Builder
Integrations with Zapier, Shopify, Gmail, etc.
GetResponse Pricing:
GetResponse has a free plan but can cater to the basic email marketing needs of up to 500 contacts. Select the Standard pricing plan at $17/month to access basic automation features. For more sophistication, switch to the Marketing Automation package for $55/month.
13. Mailjet
Mailjet is a comprehensive email automation tool that allows users to streamline the way they email. In addition to email marketing and transactional email capabilities, Mailjet offers features such as scheduling emails and automated email campaigns, meaning users can automate any process for their email communication. 
Along with this robust range of features comes a user-friendly interface, making it easy for anyone to begin using the powerful capabilities of Mailjet. No matter your business's email needs, Mailjet has an email automation solution built specifically with you in mind.
Mailjet Features:
Email editor
Multi-user account
Prebuilt automation workflows
Email API
SMTP Relay
Mailjet Pricing:
Mailjet's email marketing platform has a free plan for up to 6,000 emails per month with basic email capabilities. Paid plans start at $15/month with Essential, but for advanced automation, consider the Premium plan, with $25/month.
14. Moosend
The next email automation tool on our list is Moosend. It helps marketers realize their goals through email automation and segmentation, resulting in personalized email campaigns tailored to the needs of their specific audience.
With Moosend, users can track email performance and create email templates for recurrent promotional campaigns. Its advanced analytics provides insights into customer click-through rates, and email opens, allowing for better content optimization and higher user ROI. 
Moosend Features:
Sophistication automation features
Custom reporting and real-time analytics
Premade design templates and a drag-and-drop editor
Advanced audience management
A/B Testing tool
Landing pages and online forms
Integrations with CRM, eCommerce platforms, social media, etc
Moosend Pricing:
This email automation software starts at $9/month. The plans include automation workflows, an SMTP server, landing pages
Conclusion
Thank you for reading this article detailing the 14 best email automation tools to try in 2023. Managing emails can oftentimes be the most time consuming part of a business but with email automation tools it makes communication between customers and businesses much easier.
We hope that these automated services have given you some inspiring ideas on how you can build out an automated system in your own business or enterprise. It's important to note that these tools work best when working hand-in-hand with other cloud-based technologies such as CRMs, marketing automation software, and chatbot services.
No matter which tool or package you decide to pursue, know that your individual goals should dictate what platform is best for you—no matter the price tag. Automated emails make all the difference in fostering relationships with customers and reaching out effectively, all whilst freeing up your employee's time for more important matters.
Also Read: