Today, customers are aware like never before; thus, they demand and expect appropriate and personalized content and experience, be it online or offline.
Today, marketers are trying to leverage email personalization to fulfil those demands and move toward creating one on one experiences that match and exceed customer expectations.
Not only this, but they also strive to set themselves apart from the competition; therefore, there is no surprise that when asked what will they prioritize and most important to marketing in the future, 33% of marketers said: "personalization."
Moreover, 74% of marketers state that targeted personalization boosts customer engagement, and they witness an average hike of 20% in sales while using personalized experiences.
Therefore, if you also want to leverage email personalization, then we urge you to read this guide till the end to equip yourself with the relevant information.
Let's start with the basics.
What is email personalization?
When we talk about email marketing, personalization acts as targeting an email campaign to a particular subscriber by utilizing the data and information you own about them.
It could be their first name, the last product they purchased, where they reside, the number of times they log into your app, or much more.
Though personalization is a wide term, and it can differ in sophistication. For instance, basic email personalization involves tactics like utilizing a subscriber's name in the subject line.
In contrast, more radical tactics can involve changing the content of the email based on a subscriber's gender, location, or other things you know about them.
Personalizing email campaigns is one of the proven ways to push your open and click-through rates and have a measurable influence on your ROI and revenue.
Research has shown that emails that have personalized subject lines are 26% more likely to be opened than those that don't. These stats show that personalized emails are more important to subscribers.
Instead of getting to know about a campaign that provides generic offers and messaging, your subscribers will get an email targeted directly at them, incorporating their name, and providing offers (products, promotions, etc.) related to their interests.
Let's move forward to understand its meaning first.
What can be personalized?
Utilizing professional-grade email marketing tools like NotifyVisitors can personalize nearly every part of your email marketing campaigns.
These tactics range from the simple to the more high-level—the purpose of using personalization is to add value to your customers' experiences.
One of the most common personalization strategies is mentioning the recipient's first name.
But, personalization in an email goes beyond it, using your subscriber's first name. Now, you must be wondering what exactly a personalized email is.
Three main elements make up a personalized email:
1. Timing
Another vital aspect of a personalized email is that it has to be timely.
By collecting enough data about your subscriber, you can understand what sort of content they want at a particular stage of their customer journey with you.
For instance, if they search for a specific topic or solution on your website, you get insight into what they want now and then craft and send them a well-timed email.
2. Relevance
The most crucial aspect of a personalized email is relevance. People's inboxes are flooded, with the average worker getting at least 121 emails per day, and, usually, those emails will approach the recipient by name.
Thus, to take email personalization further and seize your subscriber's attention, you need to offer relevant content.
But, on the other hand, if your content doesn't directly influence your reader, your email has a higher chance of being shifted to the trash box.
3. Human Touch
People are more inclined to believe and relate to an email from another person than a business. Therefore, you have to add a person's name in the "from" field and use a face instead of a logo.
Now, it's time to look at some of the basic yet important tactics of Email personalization.
Email Personalization Tactics From Basic To Advance
Here are Some basic tactics that can help you get better results from your efforts and improve engagement metrics.
A) Basic Tactics
1. "From" name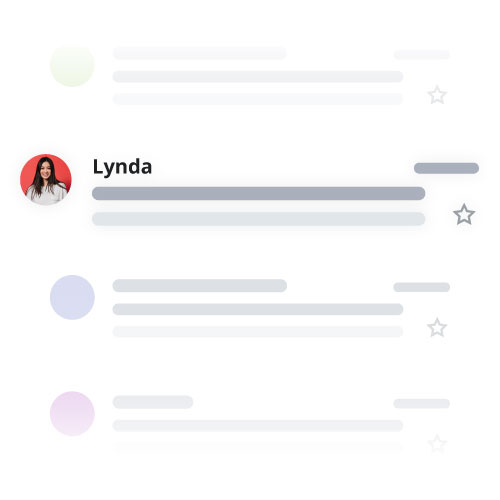 The "from" name is one of the most prominently exposed elements of your campaign when it lands in your subscriber's inbox.
This field has a larger text and heavier font on various desktop and mobile clients to let people instantly identify who the email is from before the receiver opens it.
Given its prominence, it's not surprising that 68% of Americans state they decide to open an email on the "from" name.
To target these people and make more of them open your campaigns, consider personalizing the "from" name of your emails so that different subscribers view different names.
An everyday use case is sending your marketing campaigns from the exclusive sales representative or account manager currently working with a particular account.
For instance, Dubsat does an excellent job of this in their promotional campaigns, dynamically altering the "from" name. The email campaign seems to come from the account manager the client communicates with regularly.
You can do this easily by employing Personalization Tags. As you build your campaign, you enter the Personalization Tag you want to use in the "from" name area.
Then, whenever you send your campaign, it will automatically be substituted by the information you have stored in your email list (i.e., the sales spokesperson working with the account).
2. Subject line
Now, it's time to look at the subject line, as it is the second most striking element in the inbox.
On most devices, the subject line has a more profound, heavier text to make it stand out among the other details of the email.
Given its position and importance in the inbox, your preferred subject line must have a meaningful effect on open rates. Our research reveals that utilizing the recipient's first name in the subject line can boost open rates by 26%.
For instance, Converse does this well in their email campaigns, attaching the subscriber's first name to the subject line to let the campaign stand out in the inbox and make people open it.
While writing your subject line, click the "Insert Personalization" button, and you'll notice a list of the different Personalization Tags you can include in your subject line.
Then, when you send your campaign, it will automatically be substituted by the information you have stored in your email list (i.e., the first name of the subscriber.)
B) Medium email personalization tactics
Marketers employing medium sophistication personalization tactics are starting to form deeper relationships with customers and are moving toward marketing that is more targeted and encourages even higher levels of engagement.
1. Email content
Apart from the "from" name and subject line, there are also various ways in which you can personalize the body content of your email campaigns to make them more suitable to subscribers and boost the chance they'll click through.
2. Copy
If you own your subscriber's first name, company, or even t-shirt size stored in your email list, then you can simply use that information to personalize the text in your email campaigns.
The most common example is attaching a subscriber's first name to the email, like Sephora, who added the subscriber's first name to address them more directly.
While first name personalization may be the most obvious example, it is far from the only thing you can do.
Using custom fields, you can save any piece of information you want from your subscribers (e.g., gender, t-shirt size, birthday, etc.) and then apply it to personalize campaigns.
For instance, Dropbox does an excellent job of this, adding the subscriber's company name to take the personalization to a new level and strengthen the relevance of the email for the reader.
It is so simple that you can personalize your copy quickly with the drag-and-drop email builder. All you need to do is to select the "Insert personalization" drop-down, and you'll notice all the different Personalization Tags available.
Then, when you send your campaign, the tags will be automatically substituted by the information you have saved in your email list (i.e., the first name of the subscriber.)
3. Imagery
Not just text, you can also quickly alter the images in your email marketing campaigns to make them more appealing to particular subscribers.
Utilizing imagery is a great way of increasing your email click-through rate. All you have to do is select the images you want to personalize and then choose the segment of your list you desire to show.
4. Dynamic content offers
Savvy brands are utilizing demographic and geographic data to personalize the offers given to each consumer. You can dynamically modify entire content sections within your email to make the whole campaign more relevant and convincing.
To make your campaign lucrative and appealing to your customer, consider using visual content – such as Images, Videos, Infographics, and so on. An everyday use case would be displaying menswear to your male subscribers while dispensing womenswear to female subscribers.
For instance, Adidas did this in their email campaigns for the Originals series.
By dynamically changing the products being developed based on the subscriber's gender, they assured that each subscriber viewed the most relevant and appealing products that would attract them to make a purchase.
5. Re-engagement
You can utilize email marketing personalization and automation to assist customers who have already engaged to come back. For example, St. Jude Children's Hospital automatically sends prompts to re-engage their past donors.
They'll automatically get a message six months after donating to remind them of St. Jude Children's Hospital's impact that prompts them to donate again.
To re-engage dormant subscribers, you can send a re-engagement campaign urging them if they still want to hear from you. You can also send exclusive promos, thank you notes, or actively ask them for their feedback.
Make sure that this should be a pull-out-all-the-stops, best content, best offer kind of email because this may be the last chance you have to overwhelm your subscribers.
C) Advanced Email Personalization Tactics
Marketers with particular use cases utilizing customer journeys and automation and other, more high-level tactics can employ personalization techniques using data from other sources to build a highly personalized experience.
For example, they may be capturing data about customers via their email service provider, CRM, e-commerce platform, website behavior, and other third-party applications.
Marketers with this rich data can use behavioral segmentation, generating dynamic segments based on consumers' engagement with their brand via various channels.
It is a game-changer for more high-level marketers because it takes the consistent, manual data management aspect of email segmentation and personalization. It's the basis for a highly personalized strategy.
1. VIP loyalty
Sephora, a cosmetics company, employs marketing automation to automatically send a range of special offers to their most loyal customers once they've given VIP status, which is triggered by a spending threshold.
Using automation, they take their customers on a personalized journey customized as per each subscriber's behavior. For example, if customers reach VIP status, they get a different email than a customer who doesn't match the spend threshold.
Sephora then proceeds with that journey based on how the customer engages with every message.
This kind of segmentation enables marketers to deliver the most relevant message to every subscriber, driving more robust engagement and revenue.
You can utilize integrations with Shopify to leverage the robust customer data to generate targeted, timely email marketing campaigns.
2. Product recommendations
By combining a customer's recent purchases or browsing history into their email marketing, marketers can leverage customer behaviour to design relevant, engaging email campaigns.
In addition, it will boost investments through cross-selling and up-selling product recommendations distributed to each recipient in your email list.
Retailers and e-commerce sites can now quickly create real-time, one-to-one targeted content that talks right to the individual to develop a long-term relationship and extend the lifetime value of that customer.
3. Purchase abandonment
All online retailers and e-commerce companies understand that just because someone places an item in their shopping cart doesn't mean they'll buy it.
Unfortunately, the digital shopping cart abandonment rate is 74.3% globally. That approximately translates to just 1 in 4 carts getting "checked out."
But it's nice to understand that you can still strive to get the customer to return using email marketing and automation.
For instance, by tracking their customers' website behaviour and tying that data into their email marketing platform, Birchbox understands that when someone begins the checkout process, they don't complete it and abandon their purchase.
Birchbox automatically sends an email prompting them that they still have items in their cart when this appears. It urges the customer to go back to the site to accomplish their purchase and incorporates images of the products left behind.
How to get the relevant data?
If you desire to personalize your email campaigns, first you need information like names and locations saved in your email list.
The data you possess about your subscribers enables you to segment your audience, which is the key to building more targeted emails.
If you desire to capture more in-depth data on your subscribers (like their location, gender, or birthdate), you can also add custom fields to register these attributes.
Once you have added custom fields, it's then a matter of obtaining the right information and sending it into your account. Here are some of the ways through which you can get the data.
1. Ask questions in your sign-up forms
You need to collect the right information from prospects to start personalizing emails, and adding questions in your sign-up forms is a great place to start.
Now, you mustn't overwhelm visitors with various, in-depth questions. This can frighten them away before they even submit the form and join your email list.
However, you can add simple questions in your email sign-up forms to give more insight into your new leads' interests and requirements.
For instance, if you're a digital marketing company, you can direct people to select the services they are involved in, as well as their monthly budget.
Then, you can start personalizing emails for your clients that have data related to the service and price range that best suits their needs.
2. Send surveys
While you need to avoid bombarding subscribers with surveys instantly after signing up for your emails, you can utilize surveys sparingly to collect new data from your subscribers.
For instance, you can add a survey as the final step of a welcome email sequence.
In the survey, you can request recipients information about the sort of content they want to view in your newsletters and what time of day they want to get your messages.
This will enable you to segment your email subscribers and send personalized emails they desire to read.
3. Analyze previous email data
Considering previous email campaigns can also assist you in gathering essential data for personalizing your emails.
For instance, you can recognize the types of content your subscribers like best — do they like informational content, or promotional content?
You can also look at the most common send times for your campaigns.This will let you create personalized emails that resonate with subscribers and particular customer segments.
4. Integrate your email with other key platforms
Combining your email platform with other data sources like your CRM and eCommerce platform enables you to build rich subscriber profiles and send more personalized emails.
For instance, integrating your email with other platforms will assist you in accessing demographic data and purchasing history to create personalized messages based on demographics and past behaviour on your site.
You can even use buying behaviour data to send emails with relevant product recommendations.
Conclusion
We hope you find this guide on Email personalization useful. Also, keep in mind that emails are a great way to engage customers and have the potential to boost conversion.
Also Read: