When it comes to our favourite chat app, then it none other than WhatsApp. Now, engage your customers and convert them through WhatsApp. Boost your revenue with one of the best engagement channels out there.
Target billions of users instantly
through WhatsApp
Over 1.5 billion people in 180 countries utilize WhatsApp, and several of them are your users.
NotifyVisitors prompt you to reach these users via WhatsApp.
Personalize Every Message as much as you can
Utilize personal details and choices to make your messaging from coldly impersonal to warmly intimate in a moment.
Improve message with customer data from your systems
Get real-time data from any source such as your CRM system, catalogue, recommendation engine, etc.
To generate hyper-personalized WhatsApp messages.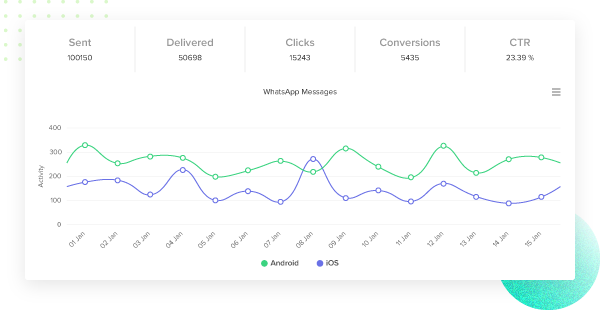 Track down the conversions to gauge success
Quickly and easily see comprehensive campaign reports that gauge the success of campaigns. Determine control groups to estimate the overall effectiveness of campaigns.