Have you ever subscribed to an organization's email and suddenly unsubscribed as if you've missed hundreds of emails since the last email? It is because new subscribers to the newsletter see incoming emails only after registration. Everything before that is lost.
In this guide, you will understand what drip campaigns are, how they work, and how you can use them to get customers from disengaged users.
What is a Drip Campaign?
These campaigns use a series of pre-planned messages to existing and potential customers to encourage engagement and sales. A multi-level communication flow can be triggered by time, recipient actions with previous emails, site connections, and other predefined parameters.
What is Most Effective about these Campaigns?
They increase brand awareness, attract leads, and build trust. Sending regular, value-packed email drops helps potential customers remember your brand amidst the noise. Drip marketing maintains a high level of communication between potential customers and your brand.
It is essential because, according to Gleanster research, half of your prospects need more time to be ready to buy or discuss sales when they contact you. Drip promotions at three times the rate of each e-club will help you stay in touch with them until they're ready. Most prospects need more than one interaction with a brand before taking action.
A drip support campaign helps build trust over time and makes your solution the best choice. In addition, MarketingSherpa even found that companies that use drip campaigns have a 45% higher ROI.
Drip Campaign Types and Examples
1. Data-driven email campaign automation
Data-driven automation allows you to reach your audience on the days that matter to them. For example, a specific date prompts you to send an email like Birthday Based Trigger, Subscription Renewal Trigger, etc.
A subscription-based campaign is a great way to let your audience know when their subscriptions are about to expire if your business offers subscription-based products. Please remind them how they have benefited from your services and the value you provide.
In other words, this is automation that blossoms when a designated user approaches the expiration date of their subscription or membership.
2. Email drip functions based on user behavior
This type of automatic drip is triggered based on user actions. The examples are as below-
Welcome Email Promotion Campaign: This campaign is purely based on personalization. The example shows how this financial app helps you track investments and manage expenses. The email design is based on their brand color palette, which enhances the brand concept. Blue is the color of confidence, which works in their favor.
Product Upsell email automation: Upselling means getting customers to spend more by offering an upgraded or enhanced version of a purchased product. But that means slowly nudging newly registered free users into paying for the product. As a writing tool, Grammarly comes into play here. The free version of Grammarly is more than enough for light and moderate users. It, therefore, gives a great offer to the customers.
Drip Ecommerce Abandoned Cart Email: If you're an e-commerce business, you understand that cart abandonment is a big concern. Users add an item to their cart with the full intention of paying for it, and then suddenly, life happens. With an automated campaign, you can remind these customers and encourage them to return to the point of purchase.
Campaign based on Real Estate: You have to give people reasons to buy from you, to respect you. Helping prospects at the audit stage is critical to landing a hot lead. Send them emails from time to time about the latest trends in the industry etc.
Competitive campaigns: Email marketing campaigns to competitive customers explain why your product is better or more helpful. As this Moo email shows, it is possible to assert superiority even when the opposing party is not named.
3. Product information campaign
It's essential to ensure you know exactly what your product is, what it does, and how to use it. The same goes for everything from bookshelves to software: people need to know what they're getting. It is also essential that your client knows how to maximize the user experience.
Product information helps people decide which solution is right for them, and as you can see, Image Beauty does that very well.
4. Unsubscribe campaign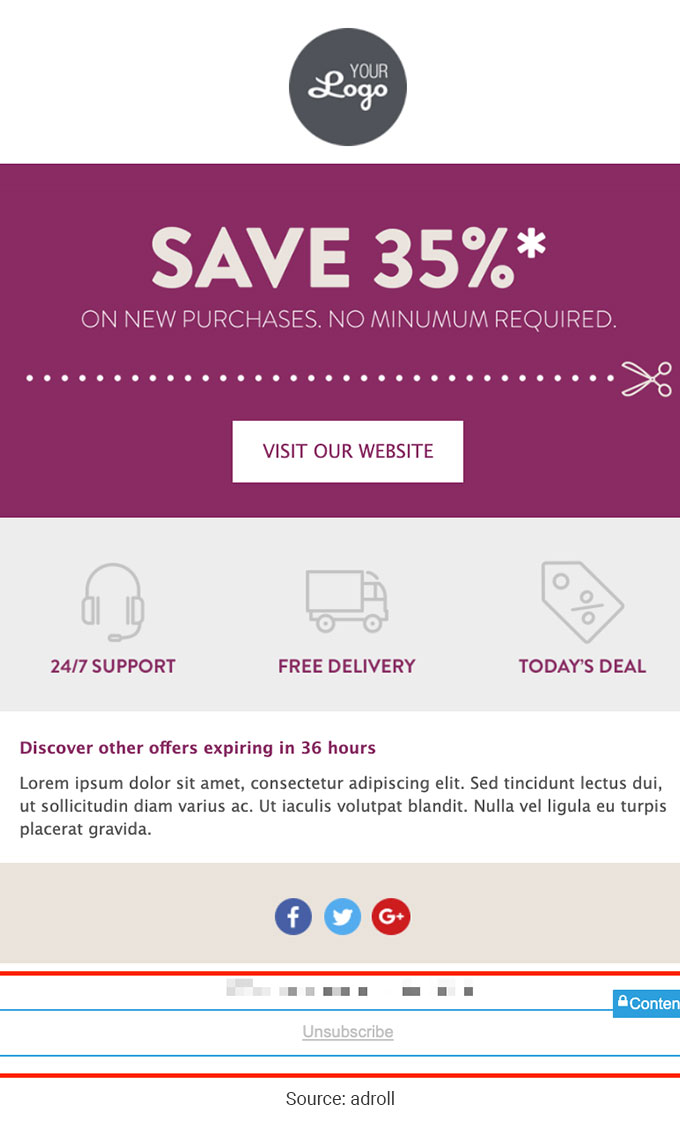 Unsubscribers sometimes want to hear from you. Maybe they need a few emails or to follow you on social media. A link to a "regret leaving" web page or email with these options may prevent someone from opting out entirely.
A good unsubscribe page makes people think about why they unsubscribed and gets them a few emails.
5. Re-engagement campaign
Re-engagement is important. There are many ways to do this from "Hey, I haven't heard from you in a while" to a more formal invitation. Whatever you do, the ultimate goal is to convert the prospect into an engaged customer.
Re-engagement drip emails often encourage customers to interact.
6. Post Purchase campaigns
Part of building brand loyalty is showing the customer that the brand cares about them and as a customer. Once you have a customer, the whole idea is to keep them! Attracting new customers is essential, but it's even more important to keep existing customers coming back to you because they will shop with you in the future. A post-purchase drip email can do just that for you.
Conclusion
Whatever strategy you decide to try for your next drip campaign, remember the importance of how your emails work together. Your contacts may read them all, and it may take until the second or third email in the series for them to take the desired action.
Take some time to map out the messages and content of your campaign emails and see the overall flow.
Whether the goal of your next email campaign is to engage, build relationships, or convert, you can start mapping out your strategy with the examples above.
NotifyVisitors helps you launch drip campaigns so that you can entice customers. If you also want to launch an email campaign, then consider scheduling a free demo.
FAQ's
1. What do you understand about a Drip campaign?
A drip campaign is an automated sequence of pre-written follow-up emails to existing and potential customers. They can be sent over time or based on specific recipient activities to encourage communication and maximize engagement.
2. How do you set up a drip campaign?
To run this campaign, you need a marketing automation solution. With its help, you can create an email list, fill it with addresses, add a signature, create a new campaign, the drip campaign elements such as trigger, delay, target, etc.
3. When should you use a drip campaign?
Use these campaigns to streamline your reach, automate follow-up or build an email sequence for subscribers.
Also Read: