Customer expectations are changing. Businesses need to continually lookout for ways to delight customers and improve customer experience to reduce churn. They need to understand their preferences across all touchpoints and engage them on their favoured channel at their convenient time. This is where marketing automation helps.
Any time your customer reaches out to your firm, the information about his or her previous inquiries and transactions should be quickly accessible.
This way, they wouldn't be in a situation to repeatedly explain background info to your representatives. Marketing automation facilitates such a connected and consistent experience.
This blog lists some of the easiest ways to use automation for simplifying your business processes and enhancing customer experience but before that let's get to know what customer experience is.
What is Customer Experience and Why is It Important?

Customer experience is the sum total of all the interactions that a customer has with a company over his customer lifetime with that brand or business.
It focuses on the relationship between a business and its customers. It encompasses every interaction, irrespective of how short it is, and even if it doesn't lead to a purchase.
All exchanges between customers and businesses like payment of a bill, exposure to an ad, or a call to customer support construct or destruct the relationship.
How customers collectively perceive those experiences matters. That is why it is important for brands and businesses to focus on their customer experience.
10 Ways to Improve Customer Experience With Marketing Automation
1. Social listening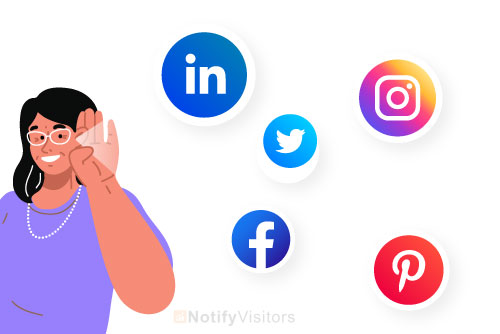 Today, people are constantly providing feedback about every brand on social media. You need to listen to what customers say about your brand there.
This can have a powerful influence on your brand name and render it trustworthy. For, it resonates with your customers and improves the quality of your products and services.
However, simply listening isn't enough. You need to make customers know that you take efforts to understand their needs. You also need to promptly respond and take action to customer feedback.
When a customer posts a positive comment, respond with a "thank you" message to show your gratitude.
And when someone leaves negative feedback, link them with your customer support. This will boost customer loyalty.
You can automate social listening with social listening and monitoring tools like Google Alerts, Buffer Reply, SimplyMeasured, Buzzsumo, Mention, etc. 
These help track and manage mentions of your brand and that of your competitors, keyword usage, hashtags, URLs, etc. across social media networks.
2. Ensuring consistency

Customers reach out and interact with your brand through different marketing channels like live chat, email, social media, etc.
It is necessary that you interact with them consistently across these touchpoints. Misalignment in this regard will confuse both customers and employees.
You need to ensure consistent branding to help establish trust. That is, make sure that your message is the same for all intended audiences.
The colors, images, information, and tone of your message should be consistent. This will help customers understand your brand and feel safer with you.
Marketing automation can help collect data from across all channels to segment customers based on different traits and behaviors.
Combining this with behavioral workflows and dynamic content lets you personalize your communications, tailor your customer's journey, and nurture leads at scale.
3. Personalization
One sure-fire way to enhance the customer experience is by sending highly personalized messages. 88% of B2B buyers expect a personalized experience.
This can include delivering tailored messages and offering incentives based on what interests the individual user. This may take the form of making appropriate product recommendations.
Employ automation to segment your users as per their demographics, industry, job role, preferences, etc. Additionally, implement geo-targeting to deliver messages to users in particular regions.
You can also use marketing automation to track your user's on-site activities to further refine your customer segmentation.
A study says that such nurtured campaigns bring in 50% more sales-ready leads at a 33% lower cost. Another study says that nurtured leads make 47% larger purchases compared to non-nurtured ones.
So, use an effective automated segmentation tool like NotifyVisitors to segment your audience and deliver personalized campaigns.
4. Streamlining purchasing
With a lot of purchases made online post the Covid-19 pandemic, it is wise to give buyers the convenience of self-service options. This would streamline the buying process. So, provide automation to facilitate consumers to complete tasks like-
Providing feedback to AI-powered chatbots
Replacing in-office meetings with video conferences
Booking appointments using your website's automated features
Likewise, consumers look for instant answers. They want to explore your brand's offerings at their most convenient time, which may be their lunch break or midnight after everyone in the family has slept.
So, expand your customer knowledge by creating support content, walkthrough videos, case studies to offer on-demand.
5. Resolving issues
Employ automated help desks and bots to instantly resolve issues that commonly arise. This will help you provide an automated customer experience without compromising on human touch or personalization.
You can also automate resolving support tickets based on their importance and priority. You can assign priority tiers as per the urgency of fixing an inquiry.
This will help customer support interactions to go smoothly. This ultimately will prevent customer frustration and churn.
There are several CRMs and ticketing systems that provide options to automate this. Some of these include Agile CRM, Creatio, Freshdesk, Maximizer CRM, Microsoft Dynamics 365, Sage, SugarCRM, and Zendesk Support.
6. Email workflows
One of the most popular uses of marketing automation is creating email workflows. It's also a dynamic way to enhance customer experience.
When sending content-based workflows, you need to always take into account the individual's stage in your buyer's journey.
You should also consider their goals and pain points as well as the most relevant content that would help them at present.
So, set up email autoresponder workflow sequences as "if this, then that" based on custom attributes such as user demographics, subscription plan, industry, duration spent with you, etc.
This way, you'll send only useful messages to your users.
One of the best email marketing automation tools available in the market is NotifyVisitors. It enables firms to enrich their marketing goals, earn their customer loyalty, and take their business to new heights.
7. Onboarding
One of the most crucial times for your business to create an impression is the onboarding process. It's the time right after you've convinced a customer to opt for your company and pay for your services.
You need to be always available to them. It is no time for delays or missed emails. So, use automation to ensure that things go right.
You can either automate notifications to remind your team's onboarding experts of due tasks or set up messages to be sent directly to the customer to inform them of upcoming steps.
You can also automate email workflows to tell them if he or she has missed out or left pending any onboarding step, or if they still need to provide certain information to you.
Leading customer onboarding automation tools lets you create engaging walkthroughs, support tutorials and documentation, and tips. All these can help in smooth customer onboarding and reduce drop-offs.
8. Lead nurturing

You need to nurture your prospects into becoming your buyers and then loyal customers. You need to engage them with your brand before they make a purchasing decision.
Lead nurturing has to be done systematically to educate, inform, guide, engage and convert the prospect into a customer.
The lead nurturing approach has to be tailored individually for each lead according to his marketing funnel stage.
For instance, a lead who isn't aware of the ill effects of chemically grown food won't be interested in buying organic food. So, you need to gradually nurture him into opting for organically grown produce.
This is a vital area to employ marketing automation. It can help you-
Track your leads' behavior (whether they are reading your blogs, have subscribed to your newsletters, have signed up for your webinar, engage with your social media posts, etc.)
Score them based on their intent.
Target high intent leads.
Automatically send them the right message at the right time.
9. Reducing churn

Studies say that acquiring a new customer can be some five times costlier than retaining a new one. So, you need to take efforts to reduce customer churn rates and transform them into your brand advocates.
Many factors can cause your customers to quit your brand. For instance, they may have had a bad customer experience, might not know your product's usage, or find your product expensive.
You need to listen to your customers, get to know their pain points, and resolve those to retain them.
Marketing automation tools can provide you with valuable data on customers who engage less with your brand.
You can analyze the data to find ways to address them on a one-to-one basis to delight your customers and to restrict them from going to your competitors.
This will let your customers know that you care and thus reduce the churn rate.
10. Rewarding loyalty
Running a loyalty rewards program can enhance your customers' positive perception of your brand.
Reports say that four out of five individuals tend to support a brand that provides incentives. So, rewarding is an important element of customer experience.
Loyalty benefits surprise and appeals to customers. These also help your customers feel valued and validated and increase their bonding with you. These also emotionally charge their purchasing decisions.
Loyalty management software enables businesses to create, manage, and evaluate customer loyalty programs.
By using one you can identify repeat buyers and potential repeat buyers and reward them with reward points, discounts, etc. to motivate them to stay with you, buy repeatedly, and become your loyal customers.
10 Best Tips to Improve Customer Experience Infographic
Share this Infographic on your website
Wrapping up
You can improve customer experience by nurturing them, sending personalized communications, and providing easy access to targeted information.
Marketing automation software empowers you to draw leads, nurture them, score them, and in due course transform them.
Thus, these help you ensure a flawless customer experience. A good automation tool like NotifyVisitors can simplify the process.
Read more: