AB testing is a process of experiment between two or more web pages. This can be done on email campaigns or other marketing assets. That too with just one varying element to find which converts or performs the best. A/B test can be conducted with more pages as desired.
For example, if you are changing a headline on one of your web page, you would create two versions of the same page by making changes in a headline only.
How to Make your marketing efforts Profitable?
1) Research on visitor behavior
By using NotifyVisitors CRO tools such as heatmaps, Form Analysis, User Session Recordings you can research and collect data on visitor behavior to identify the problem, why your site visitors not converting into customers. You can also use a free tool like Google Analytics to collect data.
2) Create A/B Testing Variations
Once you complete your research and have some data. Now you know what you have to Test. Design your Champion variation by NotifyVisitors Editor and A/B test it against the existing page (Original Page) and present variation with half of your visitors i.e., 50:50 or you can create more than one variant at a time.
3) Analyze the Results
Monitor your A/B Test campaigns and analyze the results to find which variation converts or performs the best.
Types of AB Testing
To improve conversion rates optimization on your Website, A/B Testing is preferred to be one of the best methods.
With this method, you will create multiple variations of your website by easily changing the Webpage content. Divide your web traffic among all variations and track the progress of each variation by using tools. For example, the winning control Page against Variation1 changes.
Split URL A/B Testing
These tests are useful to analyze, which webpage design direction is better than another.
You will create two different URLs of the same landing page and distribute your traffic among them through Split URL A/B testing. You can create and host your own landing pages in Split URL A/B testing.
For instance, send 50% traffic on the control Landing page and remaining on the variation Landing page.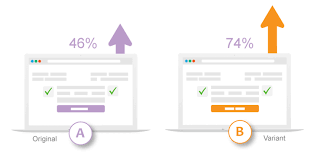 Multivariate A/B Testing
You can test 100s of changes at once. The Multivariate A/B testing mode combines all the changes you make and generate resulting designs automatically.
NotifyVisitors Multivariate Reports will reflect that what visitors like most and what UI change makes them convert. You require more traffic to test Multivariate AB Testing to get profitable results.
Results will not profitable if you are testing in-depth with lower traffic as compared to AB testing because in it you are sending 50% of your site traffic to the Control (original page) and 50% traffic to the variant page. In Multivariate Testing, you are only distributing 5, 10, or 15% of your traffic to each variation.
What to A/B test on your Website?
Font Size and Style
Call to Action Buttons
Elements Position
Headline Text
Pricing structure
Images
Re-arranged Form Fields
Hiding an Element
Reduce steps in checkout Journey
Why A/B Testing?
If you are looking to increase the conversion rate on your site, NotifyVisitors A/B Testing advanced tool will help you complete your Goals on time without making your development efforts. Below are some benefits:
1) Boost Conversion Rates
To improve conversion rates on your Website, A/B Testing is preferred to be one of the best methods. A/B Testing different colors on buttons, changing the text on your CTAs on sign-ups forms even re-arranging your forms fields will reflect the change in a number of visitors who fills the forms and clicks on these CTAs. By using NotifyVisitors testing Reports you can easily convert your site visitors into customers.
2) Improve Visitor Engagement
By running campaigns on a live environment with changes in CTAs text, color or change in any element can improve the number of visitors who clicked on those CTAs or element.
3) Reduced bounce rates
If one of your web pages has a high bounce rate, testing different changes will reduce the bounce rate and increase your site visitors.
4) Easy Analysis & Quick Results
Finding a winner variation of A/B test is easy with NotifyVisitors Report. Reports will tell you Page Views, Unique Visitors, Engagement time and Converts for each variation and control page.
5) Lower Risks
Major UI changes on your site can result in considerable costs or required significant strategy changes. A/B testing helps you to analyze visitor behavior before taking major decisions and avoiding mistakes.
6) Reduced cart abandonment
A/B Testing on the checkout page, reducing steps in checkout journey will help you to reduce cart abandonment.
Read more: