HubSpot is one of the most popular marketing automation software dominating the market. It's feature-rich with endless segmentation options to innumerable marketing automation capabilities, you name it, HubSpot has it.
But there are several disadvantages, the foremost of which is its cost. The tool is highly expensive and its best features like attribution are available in the high-tier plans.
This makes the tool unaffordable for small and medium-sized businesses. That's why this blog thought of enlisting the cheaper HubSpot alternatives. Read on to find some of the best yet cheaper HubSpot alternatives.
12 Affordable Hubspot Alternatives You May Try in 2023
Here are 12 reasonably priced HubSpot alternatives along with their features, pros, cons, and pricing.
NotifyVisitors is the best HubSpot alternative. Our marketing automation software helps you reach customers across different touch points including Whatsapp, push notifications, text, email, lead forms, NPS, and more. It helps engage them with campaigns optimized with personalization and real-time analytics.
You can create different customer segments based on their attributes and online behavior, with which you can personalize your marketing and communication messages.
You can set triggers to automate the sending of specific campaigns to make your messages relevant to every segment. This platform also has tools to enlarge your subscriber list, take onsite surveys, and more.
Features:
Omnichannel marketing
Email templates
Email marketing
Content editor
SMS
WhatsApp
Triggered campaigns
Automated campaigns
Marketing segmentation
Personalization
Onsite feedback surveys
Lead forms
Realtime analytics
Integrations
Pros:
Powerful one-click integrations with a lot of platforms and tools.
Complete syncing of data.
Marketing automation helps you reach your customers and prospects at the right moment through the right channel with the right message.
Free product demo.
Usability: Easy to use.
Cons:
It has been designed for small and mid-size businesses, not for larger ones.
Pricing: A free plan for this software is available. The pricing of paid plans begins from $49 per month. There's a 15-day full-featured free trial offered.
📣Switch to a cost-effective solution today🚀
Get 30% Discount For First 3 Months for all users who sign up directly from Shopify.
---
👇Click Below for a Detailed Comparison
2. Brevo

Brevo is the next HubSpot alternative on our list. is email and text marketing automation software also includes chat, transactional email, shared Inbox, page tracking, CRM, workflows, and Facebook ad capabilities.
Features:
Email and Text Marketing
Customization
Multilingual
Integrations
Personalization
Workflow builder
GDPR Compliance
Autoresponders
Analytics
Pros:
Its email deliverability infrastructure is robust.
All of its plans let you have unlimited contacts.
Cons:
At times it loads slowly.
Usability: It's easy to use and works well for e-commerce stores, small businesses, medium-sized businesses, publishers, and startups.

Pricing: A free plan is offered by the vendor. The price of the paid plans of this product starts at $25/month for 20,000 emails.
3. EngageBay
EngageBay is a powerful all-in-one CRM platform that offers an impressive set of features to help businesses streamline their sales and marketing processes. It is a popular alternative to HubSpot, offering a range of functionalities at a more affordable price point.
Features:
Drag-and-drop interface.
Automated email campaigns, landing pages, and web forms.
Lead scoring and segmentation.
Core CRM tools like contact management, deal tracking, and task management.
Shared inbox.
Reporting and analytics.
Pros:
Affordable pricing and impressive set of functionalities.


Offers several integrations with popular tools such as Zapier, Slack, and Google Apps, making it easy to incorporate into existing workflows.


Offers a range of third-party integrations, including payment gateways, social media platforms, and e-commerce solutions.
Cons:
Some users comment that the templates library is not exhaustive.
Pricing:
EngageBay offers a free plan with 500 contacts and 1,000 daily email sends. Paid plans start at $8.99 per user per month. Higher-tier plans offer more advanced features, such as web analytics, email marketing automation, and sales automation.
4. Mailchimp

Mailchimp is another HubSpot alternative that we'd like to discuss. This email marketing automation software has artificial intelligence and features for segmentation and analytics. It helps deliver campaigns that are relevant to each subscriber. This tool also incorporates social media ads, landing pages, and opt-in forms.
Features:
AI/Machine Learning
Marketing automation
Email marketing
Templates
Segmentation
Abandoned cart recovery
Transactional emails
Real-time reporting
Pros:
It integrates numerous third-party service providers.
It presents easy-to-comprehend analytic reports.
Cons:
The backend is at times clumsy.
Customization options are scanty
Usability: It is easy to use.
Pricing: It offers a free plan. Its paid plans commence at $9.99 per month. You can try them for free for 30 days.
5. Ontraport

Ontraport is a sales CRM and marketing automation platform designed specifically for growing businesses looking for a software that can scale up with them. You can use it to generate leads, engage prospects, and track customers, by employing different marketing automation processes.
Features:
Sales pipeline tracking
Automation
Upsell marketing templates
Automated post-purchase surveys
Tracking
Pros:
Adequate migration support is provided by their team.
It lets you set automatic reminders to be sent out for webinars.
Usability: To get comfortable with this software, you need to invest a lot of time and effort.
Cons:
Inadequate customizations available in the landing page builder.
The loading time for customer survey forms is too long.
Pricing: There's no free plan available. The plan starts at $79 per month and comes with a 14-day free trial.
6. Constant Contact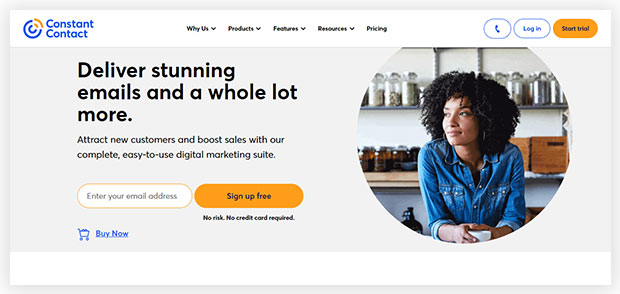 Constant Contact is the next HubSpot alternative on our list. This is a tool for email marketing, social media ads, and more. With its audience segmentation, it facilitates effective targeting. It best suits nonprofits and small businesses. 
Features:
Templates
Signup forms
Segmentation
Resends to non-openers
Integration
Social media scheduling and ads
A/B and Split Testing
Contact database
Pros:
It's an easy-to-use and intelligent multichannel marketing platform.
Even in low-priced plans, you get customer support.
Cons: 
Suits only those businesses whose offerings are tangible.
It's time-consuming to set up automation workflows.
Usability: This software is easy to use.
Pricing: There's no free plan available. The paid plans start at $20 per month and come with a 14-day free trial.
7. GetResponse

GetResponse is a Hubspot alternative with readymade campaign funnels which moves leads towards buying by employing targeted content. It also integrates a live chat option to quicken customer support.
Features:
Free stock photos and GIFs
Drag-and-drop email creator
Email templates
Lead scoring and grading
Automated email sequences
Transactional emails (paid add-on)
Pros:
It offers high-end customer support features including webinars, live chat, etc.
Its deliverability rate across 106 countries is 99%.
Usability: Hubspot is easy to use. 
Cons:
Its user interface as well as user interface needs a facelift.
While importing contacts, it rejects some contacts but doesn't tell you which ones were.
Pricing: There's a free plan available for up to 500 subscribers. The paid plans start at $15 per month for 1,000 subscribers
8. GoSquared

GoSquared is a marketing automation tool exclusively designed for SaaS companies. It helps you understand, engage, and grow your audience through text and email messaging. It also effectively combines marketing workflows, customer segmentation, live chat, and lead capture.
In short, this software has everything that SaaS entrepreneurs need to support and scale their businesses.
Features:
Marketing automation
Email
Text
Live chat
Segmented customer data
Real-time web analytics
Pros:
GoSquared simplifies the process of migrating from other platforms, with its set of tools for importing the client's existing customers.
Usability: This tool is easy to use.
Cons:
Users feel that the reporting is inadequate and that exporting the reported data to Excel is cumbersome.
Pricing: There's a feature-rich free plan available. The paid plans start at $29 per month.
9. Marketo Engage
Marketo Engage is an email marketing automation and lead management tool for SaaS companies and Enterprises. It lets you automate marketing campaigns and customer journeys.
Its advanced personalization delivers well-tailored experiences to your target audiences. It also combines tools for revenue attribution so that you can identify and focus better on your revenue-generating channels.
Features:
Lead management
Visual email builder
Advanced personalization
Automation
Revenue attribution
Integrations
Event & webinar marketing
Pros:
The software helps your sales team identify great opportunities by integrating seamlessly with Microsoft Dynamics and Salesforce CRM.
Its powerful analytic reporting facilitates sales teams in monitoring your business' sales funnel and taking actions necessary to increase revenue generation.
Usability: It's a moderately easy-to-use software.
Cons:
Users report the email builder to be very basic.
They also complain of slow-loading pages.
Pricing: There's no free plan available. To know the pricing of its paid plans, do contact the vendor.
10. Freshmarketer

Freshmarketer is a CRM that offers automation, mobile capabilities, and growth scaling options. Its mobile app simplifies managing your sales pipeline, irrespective of where you are. You get access to Smartforms facilitates collecting details about new leads by culminating data from social media profiles, photos, and onsite activities.
Features:
Marketing automation
Mobile capabilities
Smartforms
Customer profiling
Tracking
Data Import
Customized voicemail messages
Real-time alerts
Pros:
The tool enables AI-based lead scoring.
The robust reporting allows you to view the time taken for leads to become customers and point out bottlenecks.
Usability: The tool is easy to use.
Cons:
Integration options are quite limited.
There are also limitations with file storage.
Pricing: There's a free plan that allows 100 marketing contacts per month. The paid plans start at $25 per month and come with a 21-day free trial.
11. Creatio

Creatio is a feature-rich and versatile HubSpot alternative. Its CRM offerings are distributed across three sections including service, marketing, and sales. You can use these either as standalone solutions or as a CRM package. You can find tools for email marketing, sales, customer relationship management, and more.
Features:
CRM
Email marketing
Sales
Mobile compatibility
Customer profiling
Lead conversion pipelines
Lead segmentation
Integrations
Pros:
You can streamline your customer service using chatbots.
Its analytics are robust and intuitive.
Usability: It's moderately easy to use. It takes some time to learn the usage of all its features.
Cons:
There are limitations to social media integrations.
It can be overwhelming to handle its extensive amount of functions.
Pricing: There's no free plan available. The paid plans start at $25 per month and come with a 14-day free trial.
12. Salesflare

Salesflare is an AI-based CRM that offers more sales intelligence, facilitates customer engagement, and requires less data entry. The software collects vital information for engaging customers, prioritizing hot deals, and quickening deal closures. It gathers those from emails, social profiles, phone logs, etc.
Features:
Drag and drop pipeline
Customer profiling
Integrations
Pros
The tool syncs your data with Gmail, G Suite, Office365, and Outlook.
It integrates with many third-party tools and platforms.
Usability: It's an easy-to-use tool because of its user-friendly interface.
Cons:
The customization options are limited.
Pricing: There's no free plan available. The paid plans start at $29 monthly and come with a free trial.
Conclusion
Since many small and mid-size businesses can't afford the expensive HubSpot plans or compromise on the number of features by opting for its limited free plan, we've discussed some of the cheap HubSpot alternatives they may opt for.
Just pick the right tool for you by finding one with features that best suit your needs and preferences and is as per your budget.
We invite you to try NotifyVisitors for free!
FAQs
1. Which is the Best Hubspot Alternative?
The best HubSpot alternative is NotifyVisitors. That's because it's free plan is feature-rich and paid plans are affordably priced and have advanced features and support.
2. What are the Demerits of Hubspot?
HubSpot's paid plans are expensively priced and its best features like attribution are available in the high-tier plans. Though it offers a free plan, it has several serious limitations.
3. What are the Limitations of Hubspot's Free Plan?
HubSpot's free plan has several serious limitations, some of which are limited emails and calls, restricted automation, and a lack of the team's support.
Also Read: