Since the introduction of digital marketing decades ago, many new forms of marketing have emerged. Social networks have grown.
However, as we quickly approach 2023, email is still one of the most popular and effective ways to reach your audience.
To help you out, we've compiled all the information about ecommerce email marketing.
Many trends shaping e-marketing in 2022 will play an important role in the new year. So if you didn't take advantage of all the trends last year, you'd have another chance this year.
What is an Ecommerce Email Marketing Strategy?
An ecommerce email marketing strategy is a powerful way to communicate with customers about products or services that interest them.
Email marketing is the most cost-effective way to promote your brand, build relationships with potential customers, and drive sales. It is a great way to stay in touch with existing customers.
The power of ecommerce email marketing lies in its ability to create a personal connection between you and your audience. You can use this connection to send relevant messages to each recipient.
When you do an introductory email, you can connect with your target market more than with other forms of advertising.
Why is E-commerce Email Marketing Important in an E-commerce Busines
1. You can reach customers in real-time

According to one study, 54% of email is accessed via mobile devices. You can connect with your customers wherever they are most comfortable, providing timely information and updates about your business, products, and services.
This communication will help you maintain a relationship with your customer base. It also builds trust and loyalty among your current and future customers.
2. mple measurement
You can easily track results with ecommerce email marketing tools. This way, you can track which campaigns are performing best and which aren't.
Email marketing tools can also track bounce rates, signups, open rates, and clicks through all of this information.
3. It helps businesses grow their customer base
An e-commerce email marketing strategy will allow you to reach undecided potential buyers if you don't already have a solid contact list. By sending a personal email, you can increase your chances of getting a response. You can also remind existing customers about email marketing campaigns through promotions, events and discounts.
4. Drive traffic to your website
When someone reads your email, they are likely to click on the link in the message, and you can convert your website and visitors into paying customers when they visit your website.
5. Email marketing increases conversion rates
According to Google, email marketing campaigns get about 30% higher conversion rates than social media posts. If you send 100 emails, you can expect about 30 clicks.
6. Email marketing attracts new customers
Because email marketing does not require users to download any software, it reaches a wider audience than other types of digital marketing.
7. It is cost-effective
Email marketing is the most affordable way to market your business online. You won't pay anything upfront, but you'll be charged once your campaign ends. Because it's relatively cheap, you can send tons of messages easily.
Types of e-commerce emails
1. Welcome email
A welcome email is the first step in building a long-term relationship with your customer. It can be a make-or-break moment, so ensure your email is targeted, engaging, and actionable. You're doing it wrong if your welcome email is nothing more than a registration receipt.
2. Loyalty email
While customer loyalty can't be built overnight or with one campaign, creating frequently targeted email campaigns to nurture existing and new subscribers isn't a terrible idea for building customer loyalty. It increases customer lifetime value.
3. Re-engagement email
For e-commerce platforms, there are usually many "subscribers" who have not visited your store, bought from you, or even opened your email for a long time. They are familiar with your brand and products/services, but their behavior is unique and cannot be modified.
Therefore, they are usually a warmer audience than strangers. So asking them to re-engage with offers that are too good to pass up is an effective way to get them back on track.
4. Advertising emails
As a user experience, most advertising messages are often strategic and unsystematic. For example, we all receive dozens or hundreds of boring cliche promotional emails every month, most of which no one even bothers to open. Now that's a disaster. It would be best if you thought about these campaigns.
5. Post Purchase emails
One of the main benefits of creating a post-purchase campaign is that it supports your efforts to build an ongoing relationship with your customers. Investing in a new customer takes more effort and money than keeping one. That's why returning customers is considered a great way to increase a company's ROI.
Let Us Now Look at the Best Campaigns, Strategies & Tips
1. Segment your email lists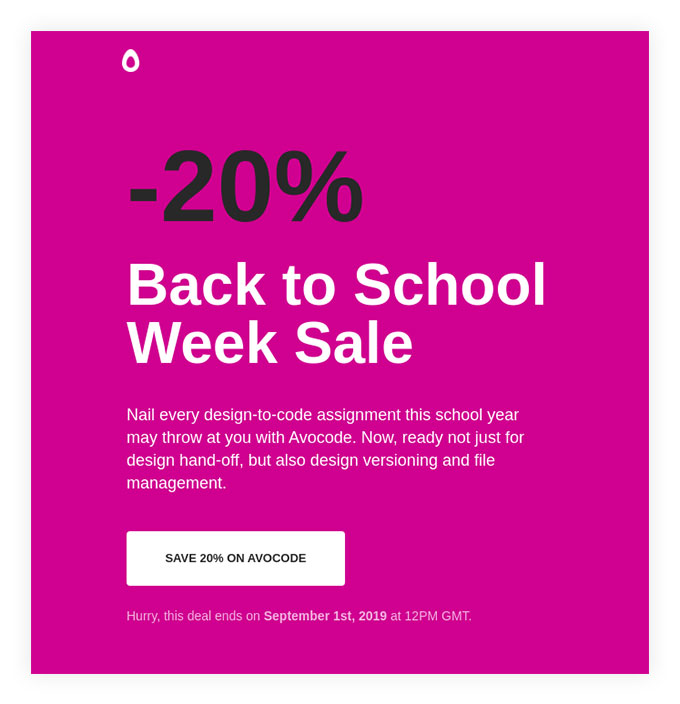 Email list segmentation involves separating your contacts based on where they are in the customer journey. Email marketers can create customer segments based on demographics, lifestyle, location, website activity, business name, and psychographics.
A great example of classification from Avocode. The brand has created a special category to offer targeted discounts to students, making the offer as irresistible as possible to help them complete their assignments.
Segmenting your contact list allows people to take advantage of deals and offers that interest them, making them easier to buy and unsubscribe!
2. Personalization
Email personalization is more than adding a "Name" tag to your email. It can make your e-commerce business stand out in your customers' inboxes, increasing open rates, clicks, and potential purchases.
It strengthens your relationship with your customers and shows them that you care about their interests and preferences.
You can effectively add personalization to your email in the following ways:
Product Recommendations: Suggest a similar product that your customers can buy.
Page-specific automation: Trigger-based email automation based on user behavior.
Smart List Segmentation and Contact Scoring: Send relevant contacts to specific users.
You can personalize your campaigns using NotifyVisitors.
3. Time your email marketing campaigns
The most common question that arises is, "How often should I send emails?" To answer that question, let's take a look at email marketing data:
Emails sent on Thursday were opened the most, followed by Tuesday.
Saturday had the lowest average open rate.
Email open rates peak between 8:00 AM and 6:00 PM.
Regarding frequency, the ideal number for opening your emails is 2-5 campaigns per month.
However, that doesn't mean it will be true for your email list. The more you know about the behavior of your potential customers, the better the time and frequency for your email campaigns.
Also, if you're starting, try sending emails at different times and see what works best by analyzing the results!
4. Leave unengaged subscribers
Let's face it – not everyone who opts into your email newsletter wants to stay on your list forever. People move, change jobs, or lose interest.
Regardless, there's nothing more annoying to your customers than having to go through hoops to unsubscribe from your email list. Don't force subscribers to find a way out; give them an easy way out.
The most common place to include an unsubscribe button is at the bottom of your campaign.
5. Design
The widespread use of custom HTML emails means that good design is a prerequisite for an effective ecommerce email marketing campaign.
Your customers expect eye-catching images, beautiful graphics, and a great experience in their inboxes. Here's how you can use your email system:
Attractive colors and branding
Responsiveness
A fair and consistent call to action
Smart content
Visual attraction
6. Use the double unsubscribe opt-ins

Unsubscribers will have access to your email list no matter what you do. But what happens to those whose names are accidentally dropped?
It can happen anytime, leaving subscribers wondering why they haven't heard from your business. To avoid this, you can use the double unsubscribe option.
This process ensures subscribers receive the message before they leave your mailing list. You can redirect them to another page or show them a message like ThirdLove below:
By taking extra steps, you can reduce the chance of failure.
7. Don't buy email lists
Building an email list from scratch has several challenges. You need to create an online form to capture the attention of your visitors and then convince them to stay with you on the journey.
Of course, sometimes people may offer to sell you their email list. Although it may seem tempting, you should not accept such offers.
Building your list of engaged subscribers is better than buying random mailing lists, even if the numbers are low initially.
The best way to build a list is to create great incentive forms that convince your website visitors to give you their email addresses!
8. Use email newsletter templates wisely
Every email marketing platform offers pre-made email templates that you can use to create list campaigns.
Most email marketing tips tell you to avoid using generic designs that don't reflect your brand. That's right. But that doesn't mean you can't customize the template to your heart's content!
For example, new email marketers can use ideal email newsletter designs to save time and avoid design failures.
Also, in addition to using email templates for your platform, you can create your own and save them to your library for future use!
If you are thinking about customizing templates but are skeptical about them, you can use them as a guide to creating something amazing for your audience. Plus, most of them are responsive, so they look great on some mobile devices and email clients!
9. Write clear and compelling subject lines
Writing effective subject lines is an effective email marketing strategy. If the subject line isn't compelling enough to get your prospects to click on your email, all your marketing efforts will be wasted!
10. Have a clear call to action
Please ensure that all your emails have a CTA (call to action) button.
A call to action (CTA) in your email tells your readers what you want them to do next. You can add CTAs like "subscribe now," "buy now," "get started," or "checkout now." A call to action helps convert your prospects into customers.
11. Create entertaining email content
In addition to being concise and to the point, your email copy should be interesting and engaging. Therefore, depending on your audience, you should add your brand tone and provide a unique experience to your recipients.
Remember, the ultimate goal of effective email marketing is not to close a sale but to engage your reader and make them commit to your content and brand long-term.
For example, Blizzard is a gaming company that uses story-based email copy to deliver different marketing and sales messages to its audience.
This copy for the Blizzard mailing list is spot on, offering readers a great experience outside their favorite games!
12. Reward customer loyalty
Before diving into this email marketing tip, you should first know that keeping existing customers is cheaper than acquiring new ones.
Therefore, if you want to use this skill, you must start targeting your loyal customers first and then invest in acquiring new ones. For e-commerce businesses, this is possible through customer loyalty emails or customer appreciation campaigns.
Your loyal customers will love an exclusive offer or discount coupon that keeps them returning to your store.
Here is an example of an email that Michael Kors sends to subscribers who join their loyalty program:
Rewarding existing customers is one of the best e-commerce strategies to grow your business! So feel free to create a VIP campaign for your loyal fans!
Wrapping Up
An ecommerce email marketing strategy is very important because it helps you build customer relationships.
They also provide important information to make the right decision. Try to combine it with other strategies to reach all your prospects.
So start implementing some of the above-listed tips and strategies immediately, and schedule a demo today if you need help creating your first email marketing campaign!
Also Read:
FAQs
1. What is the Success Rate of Email Marketing?
Email marketing has the highest conversion rate among other channels. Email transactions are 3 times more efficient than social media transactions.
2. Why is Email Marketing Still Effective?
Email is the main way to get a return on investment called roi. Therefore, businesses that use email wisely will save on sales and costs in their overall marketing efforts.
3. Is a Mailing List Effective?
An email list is a treasure for any business, especially an e-commerce store, as it is the best way to connect with existing and potential customers over social media. You can get 6x higher click-through rates by emailing.