Have you ever come across an email marketing campaign and strived to get the desired Return on Investment? It could be because people aren't responding to your promotional emails and clicking on calls to action (CTAs) as you expect.
Have you ever wondered what's holding you back from getting the engagement you want with your email? The answer is poor email design in most cases.
Your promotional email isn't compelling enough to make people want to read it and take the requested action. Poorly designed emails often go unnoticed and unread, wasting all the hard work you put into your email marketing campaigns.
This is where beautiful, expertly designed emails can help you. These emails are designed by experts who know what works and doesn't.
In this blog, you shall learn about promotional email and the best tips and examples to write it.
What Is a Promotional Email?
As its name suggests, promotional emails are those marketing emails written for your audience—whether they're customers, prospects, or customers—to inform them about ongoing promotions. You can create promotional emails for almost any offer you run:
Customer or client special offers
Seasonal promotions
Product launch
Competitions and prizes
Free content includes ebooks, guides, infographics, and more.
Check for other special offers, such as buy-one-one, friends, coupons and promotional codes.
Promotional emails are effective because most customers open their emails every day. Customers also check their email before doing anything else.
If you want your business to grow and your promotional emails to be successful among your target customers, here are some features that will help you create attractive and successful advertising campaigns.
Promotional Email Features
1. Easy to read
Who wants to read a long, boring email, right? Most of us are constantly scrolling through emails to find relevant information. But if the email is hard to read and poorly organized, it will fall apart when the reader opens it.
The key is to be clear and precise about what you want to convey to your target audience. Try to use clear, high-resolution images, vary the font type and colors you use, and highlight important text in bold to increase user interest.
Divide emails into sections and paragraphs to make them visually appealing and easy to read. And make sure your call-to-action buttons are easy to find.
2. Build a positive relationship with your audience
It is true that your company recently placed an order with an interested customer. Now is the time to build positive relationships with your customers. But how? The answer to this question is trust. Whenever you create a promotional email, your main goal is to gain the trust of your target customer.
An email tone should be both personal and professional. It should speak to the reader as if they were speaking to a knowledgeable friend who is benevolent and eager to help them with their needs.
3. Keep the audience spellbound
If you can't attract your audience and keep their attention, simply sending an email is not enough.
Let's say your audience is interested in your offers and has subscribed to your list. Does this mean your work is done? Of course not! You can't rely on this fact and reduce your efforts because you need to pique their interest and regain their attention with each email to stay in touch with you. 
The first step is writing a subject line that grabs their attention. It would help if you convinced them that reviewing your emails is worth their time and energy. When writing email subject lines, please provide enough information to pique their interest without telling the whole story. Keep your promotional email templates attractive enough to keep the audience glued.
Your email subject line can determine whether your target customers choose to read it over the dozens of other ads they receive in their inbox every day.
4. Understand your audience
When you send out any promotional email, your audience will have different expectations depending on your promotion. But it's not just about sending emails. You need to have clear goals and objectives for how you want to present your business. Your email should be very clear to your target audience about what you represent and what you want them to understand.
And if your goal is customer loyalty, be consistent throughout the process and don't walk away from your customers.
5. Offer something of value
Why should your audience be involved in promoting your product? Did you give them something of value? Offering something important to your target customers will help grab their attention and make them aware of your brand and what it stands for.
In addition to helping you build positive relationships, it motivates them to engage with or purchase your products and services. You can also embed your business card with a generated dynamic QR code to increase brand awareness.
Let us now talk about the best examples of promotional emails and how they can be beneficial for your company.
Examples of Promotional Email Templates
1. Headspace

Subject line: There is no time like the present
It is an attractive email template. Its design is subtle yet powerful. The image conveys warm, optimistic vibes and helps support the recipient's benefit from Headspace.
It also gives you a few serious grounds to start meditating. It uses a clear subject line and prompt CTA, which lists the benefits.
2. AIRBNB

Before diving in, new users usually want to know how your product or service works. The welcome email by AirBnB provides clear procedures on how things work.
It provides all the features. The descriptions are apt, and CTA is strong.
3. 500px

Subject: Enjoy the Halloween treat.
Most users are familiar with 500px with "Plus" and "Awesome" accounts. They are frequently mentioned in emails, and calls for improvement are all over the site. So when an email is seen offering a discount, a knowledge base is created.
The key elements of this sample promotional email – "15% off" and "upgrade now" – contrast well with the white background. The user will know exactly what to do.
4. eBay

Subject: You have a special offer from eBay
This offer is made in a sales email. The subject line – "You have a special offer from eBay" – sounds more like a formal announcement than a promotional email campaign\.
The offer is to sell what you would have if you had PayPal credit. It is a perfect example of benefits over features.
5. Starbucks

Subject: Enjoy 3-holiday drinks, get more for free.
It's no surprise to see such a sweet email from Starbucks. They send the best marketing emails (check out their new welcome email too).
Almost all Starbucks offers are timed. It is because people must visit the site, not just the internet.
Tips for Writing Effective Promotional Email
1. Focus on purpose/value

Be careful not to focus too much on the promotion and its features to the detriment of its benefits. Ideally, the link will take your readers to a landing page that details the features and terms of the ad. The body of the marketing email must clarify why this marketing is important to the reader and clarify the ultimate benefits.
2. Sending from a person
Along with the subject line, the "opt-out" section greatly impacts whether your marketing emails are opened, ignored, or sent to the junk. Instead of using your company name, use your name (or the name of someone you work with) to get more involved. People love to read emails from others, but options vary by the audience, so be sure to test them.
3. Introduce your product in the subject line.
When you put your ad in the subject, try to be interesting, conversational and attractive; remember that some words and phrases can trigger spam detectors and send your email to the readers' spam folder.
4. Use the preheader text
Email users see three pieces of information before they open an email: the sender's name, the subject, and the body text. The header looks different depending on your email client and device. Just a few words (anywhere from 40-130 characters) and subject lines ultimately impact whether or not a reader opens your email.
Use this limited space to provide important information about the ad that clarifies the purpose of the email and engages readers.
5. Split the body of the email
Keep the body of your emails short and break up long messages with images, links or bullet points so your readers can read them easily.
6. Add pictures

No email is complete without attractive and eye-catching images. Instead of using the same stock photos that every company in your industry uses, try using your photos. It doesn't take long, it's an easy way to check your name, and it helps break up the text.
Best Promotional Email Templates Software

NotifyVisitors is the best email marketing software that helps in writing effective promotional emails. It has a drag-and-drop tool to rearrange all the elements according to your wish. It makes your work a lot easier.
Its features include the following:
Several templates to choose from
Responsive templates
ROI tracking
Drip campaigns
Pricing: Available on request
2. Sendinblue

Sendinblue offers over 60 fully responsive email templates. In short, you select a template and use its drag-and-drop tool to rearrange different elements or add new ones. This tool requires no CSS or HTML knowledge to create beautiful emails.
However, you're welcome if you want to use the HTML email templates you've downloaded. With this approach, you can use its WYSIWYG HTML editor to make changes.
Its features include the following:
WYSIWYG HTML editor
Segmentation
SMS Marketing
Pricing: Paid plans start at $25/month
3. Stripo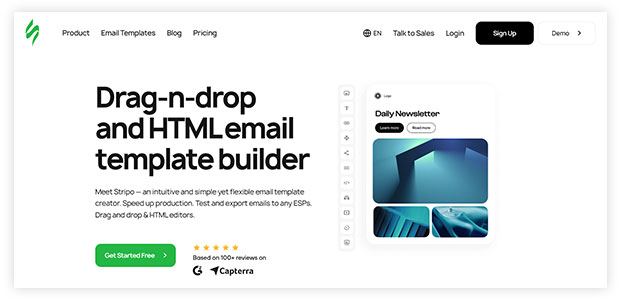 If you like to see many design options and don't want to put much effort into them, this is your resource. With over 1150 email template designs, you are looking for nothing. No matter what type of email you want, you will find several email templates. It's a great source of email templates for marketers looking for tons of unique design ideas.
They also offer customized email templates for different industries. Therefore, all you need to do is use a pre-made template for your industry, and you won't need to do much. 
Its features include:
Largest in terms of the email template collection
Customizable templates
Unique template designs
Pricing: Available on request
Conclusion
Once you have written your email, stick to it. With time people will start identifying your brand by the shades and pictures in your promotional content.
We have covered everything in this post, from promotional email examples to software and tips.
We expect you found this post useful. For more information, you can check out NotifyVisitors.
FAQs
1. What are promotional emails?
Promotional emails are those marketing emails written for your audience—whether they're customers, prospects, or customers—to inform them about ongoing promotions.
2. What are the features of promotional emails?
Here are a few features you should keep in mind:
Know your audience
Build a positive relationship with your customers
Keep your readers spellbound
Offer something of value
3. What are 5 examples of promotional emails?
Here are the 5 best examples of promotional emails:
Headspace
eBay
Starbucks
500px
Airbnb
Also Read: