Are you curious how to take your email marketing campaigns to the next level? You've come to the right place! In this blog post, we'll walk through 27 email marketing ideas that you can use to supercharge your email marketing efforts.
From improving deliverability rates, growing click-throughs, boosting engagement and conversions – as well as ways to start building relationships with subscribers – these tried-and-true ideas will help give a much needed boost for any organization's outreach program. So let's get started on transforming your email marketing today.
28 Actionable Email Marketing Ideas For You
1. Start of Season Announcements

If your business is seasonal or you have different seasonal offers, then sending out a reminder at the start of the season is a great idea.
This is one of the actionable email marketing ideas usually used by clothing retailers to facilitate new seasonal lines and businesses in the travel industry showcasing the season's best destinations. Still, it's a highly useful approach that anyone can use.
2. Contest & Giveaway Announcement Emails
One of the most effective promotional campaigns you can run is a giveaway, and reaching out to your audience through email is a great way to get started with your giveaway that further leads to driving entries.
All you have to do is send out an email about your giveaway, emphasizing the prize and letting users know what they can do to enter. This is especially powerful if your giveaway incentivizes users to share your campaign with their social circles, as it will let you harness the power of your list to create awareness and entice new subscribers.
3. End-of-Season Reminders
Just as announcing the start of a season, it's also crucial to remind people of its end. At the end of a particular season, you're probably trying to move surplus stock and squeeze every last sale from your list.
A wonderful way to maximize sales at the end of a season is to offer special discounts and deals, which give your subscribers a final chance to get their hands on a seasonal offer.
4. Winner Announcement Emails
Every time you execute a contest as a giveaway, you need to publicly announce your campaign's winner. This will give people closure, increase transparency, and give you a solid reason to reach out to your audience and try to propel engagement.
Moreover, your winner announcement emails will thank users for participating, hint at forthcoming contests to keep them curious, prompt them to shop the products they missed out on winning, and even offer them an exclusive discount to further drive sales.
5. Offer Consolation Prizes
One of the best email marketing ideas to drive action from participants is to offer up consolation prizes in the form of exclusive discounts at your store after a contest or giveaway.
This is a wonderful way to capitalize on the excitement of your giveaway and drive prompt action from all your fresh leads.
6. Limited Edition Products
If you've limited edition products or limited-time deals, promptly alerting your email list is an excellent way to make them feel valued and help boost your relationship, regardless of whether or not they eventually make a purchase. After all, they subscribed because they liked to know first.
7. Welcome Offer

A significant way to incentivize email subscriptions and push quick sales is sending out welcome offers to everyone who signs up for your mailing list. It could be a 10% discount on their first purchase, a 2-week free trial, or anything else you feel will help get your foot in the door.
If you like to start giving out welcome offers, ensure you're using your opt-in forms to announce this special offer to prompt as many people as possible to sign up for your list.
8. Host a Sales Promotion
Sales promotions are powerful email marketing ideas to make your offer more attractive and drive many purchases. No one is more likely to get interested with your sales promotions than your subscribers, so sending out an email dedicated to your sale every time you run one is a must.
Promote your sales promotion, showcase what you're offering, and give users a precise call to action that takes them to your sales page.
9. Last Chance Sales Reminders
If you have a sale or special promotion that leads to a close, you should send your subscribers a last reminder and give them one last opportunity to capitalize on your discount.
The psychology of scarcity will lead to a sense of urgency that will encourage users to take quick action and help you drive sales. Incorporating a countdown timer inside your email is a great way to infuse a sense of urgency.
10. Flash Sales & One-Time Offers
Another effective way to drive instant action by running flash sales and offering limited-time-only deals that give users a weekend or even a single day to capitalize on some awesome deals.
The scarcity this creates is incredibly effective for driving sales.
When you take this approach, it's a good move to announce the upcoming promotion in advance. You don't want potential customers to miss out because they didn't check their email in time.
11. Offer Exclusive Discounts
Another one of the great email marketing ideas is to boost sales from your list is by offering exclusive subscriber discounts in coupon codes. This is a surefire way to push sales and a fantastic opportunity to make your subscribers feel valued.
This will greatly improve your ability to keep customers and boost brand loyalty. Moreover, you can track coupon usage and get some cutting-edge analytics on customers' purchasing habits and the effectiveness of your marketing campaign.
12. Show Off Your Results
Showing off user-generated content that emphasizes your value can be a good move to show off some real results if it makes sense for your business.This could be case studies, write-ups about your product from reliable sources, or data that underlines the value of your offering and shows prospects that you can solve their problems and meet their needs.
13. Free Shipping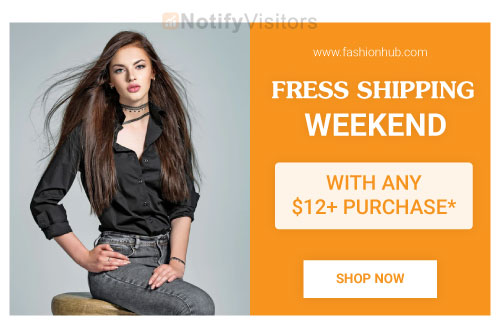 Another email marketing idea you can use to drive sales is free shipping. Free shipping lets you offer a discount without marking down prices. This can be useful if you're offering luxury goods and don't like their perceived value tarnished by price reductions.
14. A Special Gift
Presenting your subscribers with a gift is an excellent way to introduce them to your product and provide them with a taste of what it can do for them. If people like the product you give them as a gift, there's a fair chance they'll start buying it on their own.
15. Teaser Emails
If you're launching a new product, promotion, or marketing campaign, then it's the right move to create hype early on and send out some teaser emails to get people thrilled before you launch.
This is a wonderful way to get people talking about your new offer or promotion so that when you do go live, you're launching to an enthusiastic audience that's primed and ready to take action.
16. Preview and Pre-Sale
Teasers are a wonderful way to get people excited about a forthcoming release, but as the release comes nearer, you may like to give people an in-depth look at what's coming and even give them an opportunity to pre-order it.
People value being at the forefront of exciting new products and innovations, so if you provide your loyal subscribers with a chance to get your new release before anyone else, they're more likely to jump at the chance.
This will assist you further in strengthening your subscriber relationships, driving sales, and getting your new product into the hands of early adopters, who will kickstart the cycle of peer-to-peer sharing and enable your new release to gain traction.
17. Ask Questions
The key to success in any industry is knowing your customers, and there's no better way to achieve this understanding than simply going out and asking for it. If you want useful audience insights, you should try sending your subscribers emails with targeted questions appropriate to their stage in the customer journey.
As well as helping you measure priorities and drive conversions, this email also acts as a nice way to engage users and make them feel engaged with your brand.
18. Webinar Invitations
If you're conducting an online webinar, sending out invites and sign-up forms to all your subscribers is a must.
You should utilize emails to promote your webinar, highlight everything users will attain from it and include a clear, easy-to-follow prompt to sign up.
19. Send Invitations
If you're hosting any event, then sending out personal, thought-out invitations is a great email marketing idea to make leads feel valued and appreciated. If you're selling high-value tickets and have a fairly short lead list, get your team to email as many of them as possible from their email addresses to add a personal touch.
20. Surveys
Organize your customers' email addresses. Reaching out to them with a survey can be an outstanding way to gather highly valuable customer feedback, which you can utilize to enhance your offering and figure out how to connect competently with your audience.
You can also try offering up a coupon to everyone who fills out the survey. This will help you accumulate more survey responses and drive some sales.
21. Product Recommendations
A thoughtful way to re-engage customers and encourage them to make additional purchases is by offering them product recommendations based on their prior purchases.
You can recommend identical products or complimentary products that pair entirely with purchases they've already made.
22. Welcome Emails
Whenever someone new signs up for your mailing list, it's crucial that you instantly reach out and welcome them to your mailing list. You don't have to be fancy here. You can just welcome users to your mailing list and introduce them to what they can expect from your emails.
A welcome email is also a significant opportunity to give users a proper introduction to your business and a straightforward call to action to drive instant activity. If you want to improve the deal, you can even throw in an introductory coupon to enable instant action.
23. Update Emails
Direct email is an incredible way to keep your users and customers aware of important product updates or processes.
Of course, update emails aren't naturally the most exciting emails, but if you're looping users in on modifications to your products and services, these emails can be a wonderful way to show off what you've got and boost your constantly improving offering.
Update emails can even be a simple way to get into touch with your consumers base and keep yourself fresh in their minds.
25. Curated Content
A great method to bulk up your email content is by sharing a curated compilation of new, high-value, relevant articles and videos from around the web. This method will let you send more emails and engage your audience frequently. Just remember to prioritize your content and try not to lead your subscribers toward any of your competitors.
26. Happy Holidays
Sending out emails around holidays is a splendid way to make your emails more compelling and capitalize on people's festive spirits. Whether you're driving a holiday sale, sharing some holiday-themed content, or even just wishing people a happy holiday, this tactic is a surefire way to give your messages an effortless boost in engagement.
27. Segmented Emails
Segmenting your email list is a great way to ensure you send messages that go well with the recipients.
You can segment your list based on any information you feel will enable you to send more targeted emails that are likely to land.
This can include:
Age
Gender
Previous Purchases
Industry (if you're a B2B or SaaS)
You can even use prior interactions with your emails to decide what types of email content specific users are likely to engage with and send them emails based on those behaviors.
For example, you could build a segment of users who have earlier clicked through to links in certain emails and target them with matching offers or messages.
28. News Emails
Sending out pertinent news about your niche is a great way to keep in touch with your subscribers, deliver them value, and drive engagement. If all you do is send out promotions and sales pitches, people will tune out pretty quickly. You have to mix it up with intriguing, valuable content, and sharing relevant news is a great way to do just that.
This is a great method for developing relationships with your audience and placing yourself as a trusted and helpful authority within your niche. This goes a long way in driving long-term customer acquisition and retention. Bonus points if you can lead users to your blog posts covering relevant news updates.
Conclusion
With the right email marketing strategy, you can improve your campaign performance and see a significant ROI for your business. These 28 actionable email marketing ideas will help you get started on the right foot and take your campaigns to the next level. start thinking about how you can use these tips to improve your own email marketing initiatives.
Have you tried any of these methods before? What are some other ways that you've been able to improve your email marketing results?
FAQs
1. What are the 4 types of email marketing?
The four types of email marketing are
Newsletters
Acquisition emails
Retention emails
Promotional emails.
2. What are the 5 Ts of email marketing?
The 5 Ts of email marketing are Tease, Target, Teach, Test and Track.
3. What are the 6 most important components of business email?
The six key components to structure business Email:
Subject Line.
Greetings.
Intro/Purpose.
Details.
Ask/Action.
Closing/Sign-off.
Also Read: