Top 10 Email Marketing Templates to Increase Conversion

Today you are going to see how businesses use email marketing templates to increase your campaign conversions.
Email marketing analytics show that for lead generation, most of the B2B online marketers using email marketing to produce brand-new leads.

The benefits of email marketing are what make it so valuable. However, how are you utilizing email marketing for your company? And what email efforts are you focusing on in 2020?

Email marketing statistics have discovered that for most of the services this year, the leading concern for email marketing is evident. Increase customer engagement, subscriber engagement suggests more sales, higher revenue per consumer, and overall, much better profits.

is evident. Increase customer engagement, subscriber engagement suggests more sales, higher revenue per consumer, and overall, much better profits.

But how do you increase subscriber engagement?

You can analyze your process through an email marketing funnel. You can do this by sending different types of email projects.

If you send the same types of emails repeatedly, subscriber engagement is not likely to grow. For instance, think back over the last 12 months and the number of times you have sent out the same kind of email to your entire list.

Did it increase engagement? Not likely. Relax and hope marketing doesn't work. This is precisely why more companies are buying account-based marketing.

So, what type of emails can you send your email customers?

10 Best Email Marketing Templates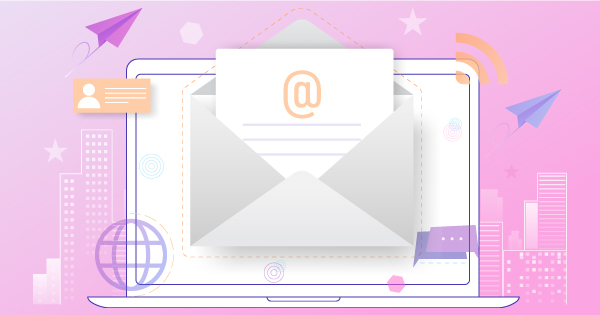 We'll start with B2B email marketing examples from the top of the funnel and work our method throughout the client journey to help you increase engagement and deliver much better results for your email marketing templates.

Before we start, here's a quick pointer: you need permission to send emails to your customers.

A subscriber needs to opt-in to your email plans. If they do not opt-in and you send out a marketing email to them, you run the risk of being fined.

Now that we have briefed you about the method, let's begin!

1. Welcome email marketing templates.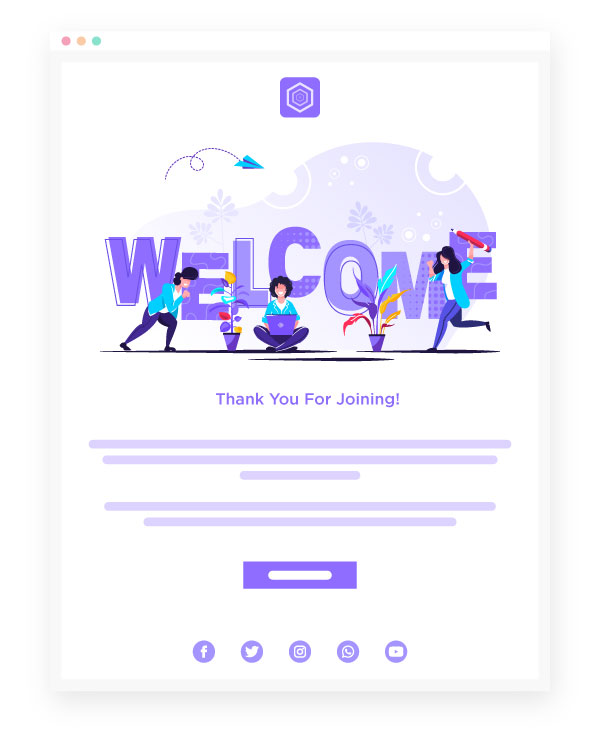 First impressions count. A lot. For that reason, if a subscriber registers something, whether it is to get a future article or a series of email ideas, it makes sense to thank them and invite them. By doing nothing, you make it challenging to create a strong impression. Basic yet reliable! You can also use the best email subject lines to create a more significant impact.

How to implement: You may use auto-responders or send out the emails by hand. In any case, welcoming brand-new subscribers to your business email list is a fantastic method to build a healthy relationship.

In the email, ensure you introduce yourself and the company. You can also offer useful links such as the most popular article or white papers, or links to your social media profiles.

When to send out: Each time you get a new subscriber.

2. Curated material email design template.

Your organization may be in customer care, social networks, banking, or the vehicle industry. You can develop a list of the best content you have checked out and share it through email to your customers. In doing so, you're delivering value without being self-promotional.

When to send: Weekly or monthly, depending on how frequently you can curate material.

3. Business announcement email template.

In the mid-19th century, paper vendors would shout out when there was newer "news." Although the channels have changed (unless you have worked with street vendors recently), relevant content about your company is still essential for your readers. Many B2B subscribers sign up because they wish to be kept informed on business news.

How to execute: Whenever you have news to share, such as winning an award, modifications to item offering, or new rate choices, for instance, announce this news to your customer list. You can either include all of the business news within the email or link the email to a landing page. (This email design template works well for lead nurturing or customer marketing campaigns).

When to send: When you have news to share.

4. Brand new short article email design template.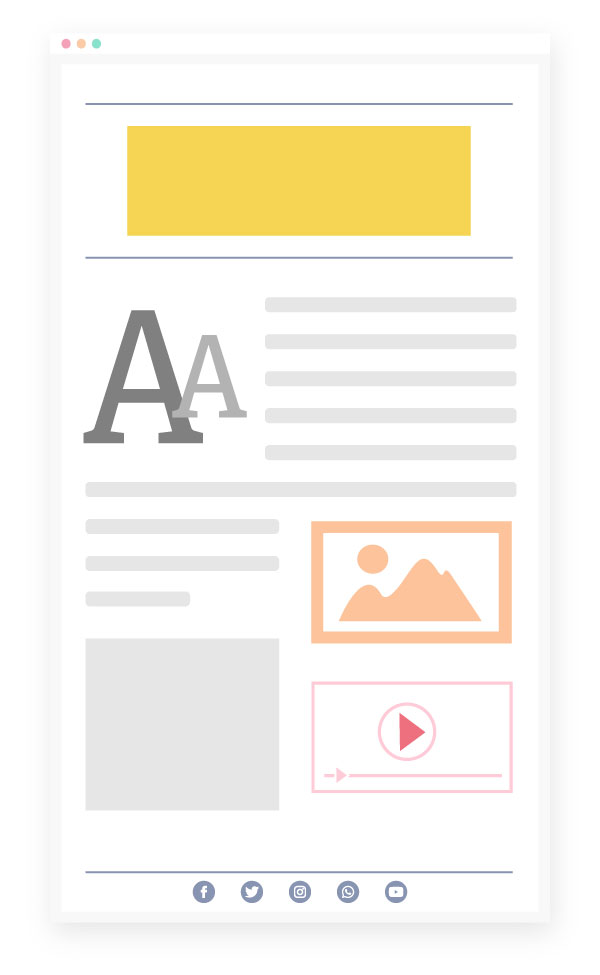 Email material, which is a copy of the short article content published on the site, is an excellent method to update the email subscriber list of brand-new content. This can be done without the subscriber having to visit the website. It's not advertising in anyhow, besides providing the reader with some thought-provoking material.

How to execute: Whether you use this example for brand-new post content or article content, you can copy and paste the material straight into the email. You can even offer a link to the webpage and drive readers to your site.

When to send out: Each time a brand-new article or short article has been published.

5. Video email template.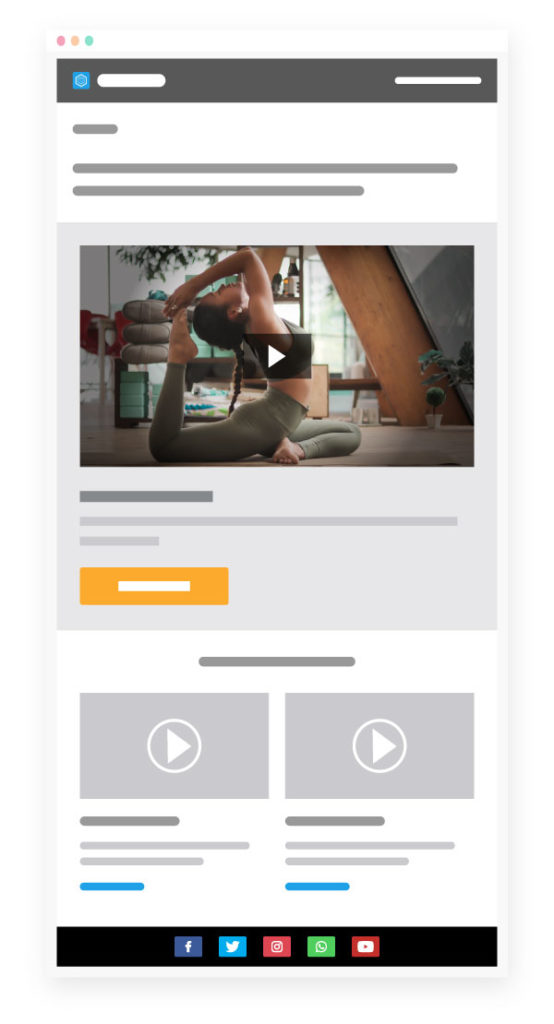 By providing actionable material through video, the organization cannot only deliver worth but also construct a rapport with its customers as they get to see and hear from the company regularly. This develops an even deeper connection with their audience than they would develop as compared to reading web copy. This is because the person viewing the video feels like they truly know the company.

How to carry out: Select the best performing pieces of stuff and develop a video version, and provide the tips in your video. It doesn't have to need an exclusive team or include extraordinary results. All you need is to be visible and on screen.

When to send: Monthly. It's an excellent method to engage on a new level with your audience.

6. Non-active user email template.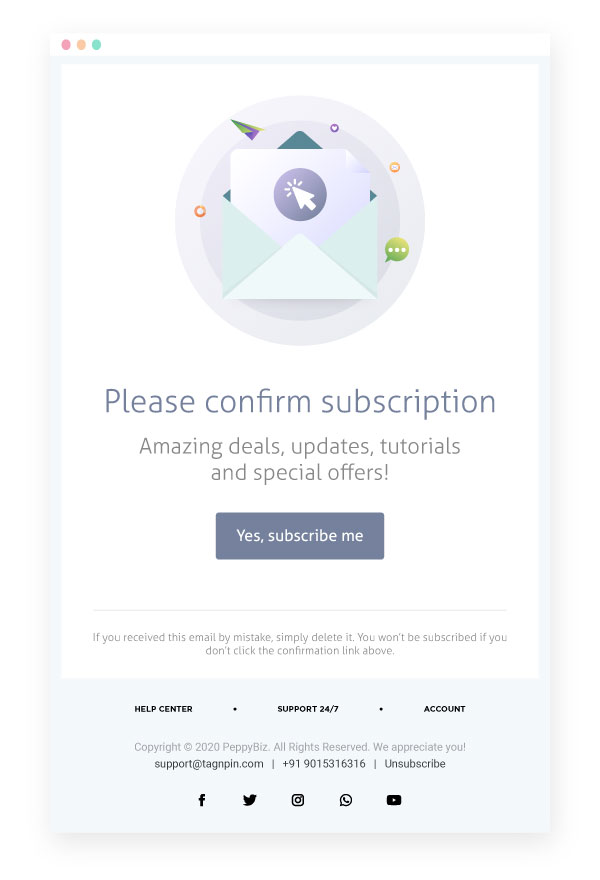 Every time you send an email, even half of them are no longer thinking about speaking with your company. The organization sends an email to a brand-new user who has ended up being non-active. This email is a great method of restarting the conversation and advising the user that they can use the product, or get the answer to any questions they may have.

How to implement: Build a list of email subscribers who have not read or opened an email throughout the last 12 months (or, consumers who have not logged in to the item within 60-90 days). Then send out an email that consists of:

Who you are and what you do.
Why they registered in the first place.
A question or an invite to start a conversation.
When to send out: Two-three times each year.

7. Promotional email design template.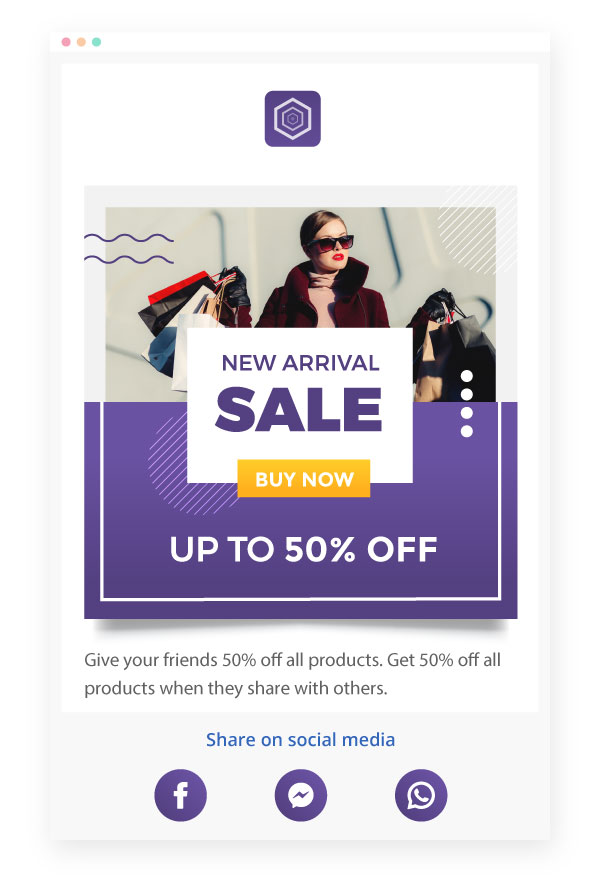 Precise information is necessary for online marketers', specifically when it comes to running tests on their site. They notify their audience regarding every new modification and how it impacts users– and how it can assist them. For prospects on the fence regarding which vendor to select, this type of change can increase to brand-new consumers.

How to carry out: Your business's item will develop. You should keep including a brand-new feature or improve an existing function. It could be the improvement that turns lots of potential customers into a client. However, you need to get the word out and notify them, so they are aware of these modifications.

The next time you upgrade your item, send out an email to your subscribers with a list of modifications/ updates. Keep in mind to utilize simple language. So instead of consisting of "Feature improvement 4.2″, you explain how this modification affects the user, i.e., Users can send out and produce quotes via email in one click."

When to send out: Each time you upgrade your item.

8. Gated material email template.

Each time the business launches a new white paper or guide, they should send out an email to our customer list. By providing instructional content directly to our customers' inbox, we make it easy for them to take in the material they demand. At the same time, the business is retained at the top of the mind.

How to execute: Next time you release a new piece of gated content, announce the launch to your customer list. Like the above example, keep the email short, benefit-driven, and consist of a call to action, which asks the reader to download the guide from a devoted landing page. The goal of the email is to drive readers to your site.

When to send out: Each time you launch a new piece of gated content.

9. Webinar email design template.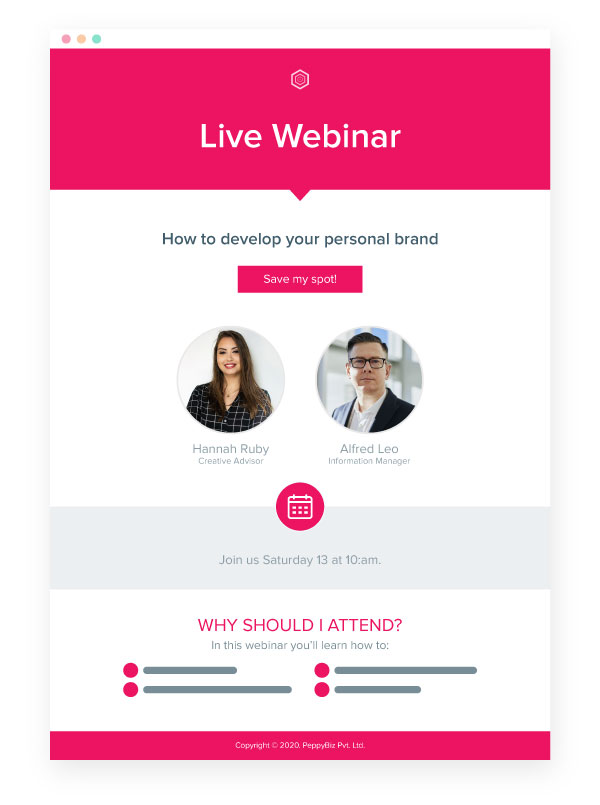 As far as consumer acquisition channels go, webinars are one of the most effective methods of speaking straight to your prospective clients. Organizations should utilize email marketing to promote a webinar, which makes it easy for subscribers' to learn more about upcoming events and arrange the time to attend. Webinars are a great way to display your expertise and engage with buyers' who are even more down the sales cycle and aiming to purchase.

How to carry out: Instead of creating a brand new topic to host a webinar on, use existing material and repurpose it into a webinar subject. Take a piece of content that performed well. You can also take a subject you are comfortable talking about to your customers. Then send out an email to your subscriber list with an invite to a webinar. Make a precise date and time of the webinar. It should consist of a description of what the webinar subject is about clearly.

When to send: Each time you host a webinar.

10. Live occasion email marketing templates.

When an organization releases any event like a conference, it shouldn't be too long until they let his email customers understand it. Do you know why? It's because their customers are prospective event participants (and for that reason, consumers)!

Organizations experience that majority of their ticket sales come from their email list!

There's no much better method to promote an event that to welcome people that currently understand who your business is and what you do. Conference with possible consumers is the most efficient method for B2B online marketers'. Next time you host an event, invite your email list!

How to execute: While hosting an event can be costly and time-consuming, there's no much better method to get face-time with potential customers. There is no method more helpful to produce a relationship than event marketing. Promote the send through email marketing templates and include the details of when, where, and why attendees need to sign up. And for your event, get your most excellent sales individuals all set to meet and greet future consumers!

When to send: Each time you host an occasion (I'm thinking one to two per year).

Conclusion
Backed up by both professional opinion and market data, email has an essential worth for companies in producing sales leads and earnings and keeping consumers.

You may be among the majority of businesses that do not utilize email marketing. Then you must look for inspiration on what to send to your customers. Use among these B2B email marketing templates to help you deliver exciting content to your audience.
Also Read: