When you interact with a business, subscribe to a blog, or download a podcast, you expect to receive confirmation. Sometimes this comes in pop-up form, but it's best to get a confirmation email.
Not only are they an integral part of the shopping experience, keeping your customers engaged, but they also achieve an incredible open rate.
We've therefore created 16 different types of confirmation email templates to help you.
What Is a Confirmation Email?
A confirmation email is an automatic response email triggered by customer actions.
The main purpose of a confirmation email is to confirm that the transaction was successful. Whether it's a purchase, a blog subscription, or a registration form submission, a confirmation email will reassure your customers that their action is complete.
1. Order Confirmation email
One of the most common confirmation email templates is order confirmation email. An order confirmation email is one of the most common emails. When customers pay and order, it's important that they feel confident that their purchase was successful.
An order confirmation email should include at least the following:-
Product Purchased
Order number
Allocated costs and expenses
Delivery and Shipping information
Information regarding canceling, modifying, or query regarding your order
The subject line of this email should be very short and clear.
2. Booking Confirmation email
The next email template on our list is the Booking Confirmation email. A Booking Confirmation Email creates a thank you email, which is sent to customers after confirming their order online.
It will help you build a strong relationship with your customers when they choose your services.
Emergency contact information and Booking information should be included in a Booking Confirmation Email.
3. Registration confirmation email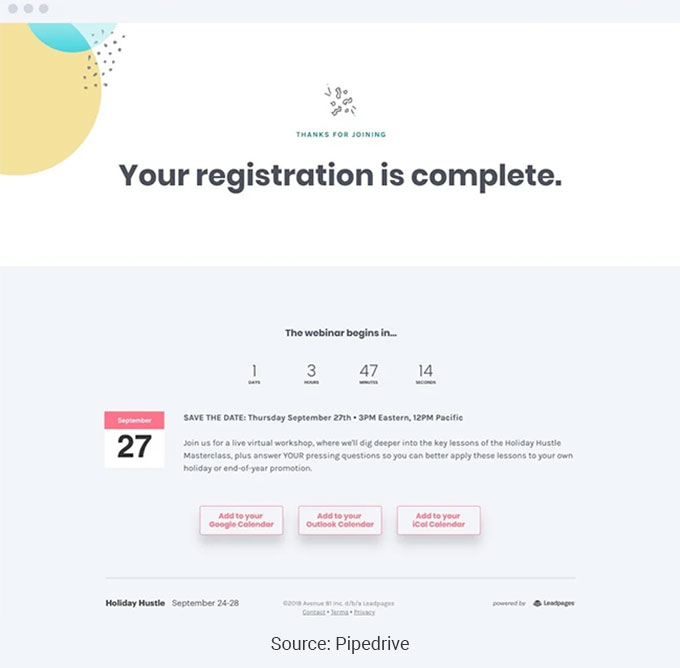 The registration confirmation email is very important for people who want to know whether the registration was successful.
It's also a great way to guide clients through the next step. This type of email is great for events, webinars, apps, and more. They are often used for online registration.
This email from AirBnB provides a great starting point for anyone looking to become a host.
It clearly and succinctly explains the steps involved and provides a concise explanation even for beginners.
4. Subscription Confirmation Email
One of the best confirmation email templates is the Subscription Confirmation Email. A subscription confirmation email is generated when a visitor signs up for your mailing list. It is more important to double-check the confirmation email to confirm that you have the correct email address for the double opt-in.
You can set up a double opt-in system to increase the number of subscribers. It ensures that people confirm that they want to subscribe, making them more likely to receive your messages and ads in the future.
5. Feedback Confirmation Email
The next email template on our list is Feedback Emails. Feedback emails are sent to users when they contact the company.
Their goal is to keep the customer assured that their query or feedback is received while waiting for a response from your business.
It may have a negative impact when you do not confirm with the customers that you've received their feedback. They might think you are not interested in reading their feedback. So, make sure you have a simple template for any feedback confirmation emails.
6. Referral Email Confirmation
Businesses strive to get referrals because a customer's reference is very powerful. However, many businesses leave this opportunity on the table.
Instead of just telling your customers that "your order is confirmed," take the opportunity to get new clients and customers by asking for referrals.
7. Welcome Email (and Confirmation)
This template is great when someone signs up as a member of your email list or is a product user.
This type of email takes a personal approach and encourages the users to respond, which can lead to a sale.
This welcome email is a great opportunity to start a relationship with a lead because you already know there is a better chance of your email being read than any other email.
8. Cancellation Confirmation email
A Cancellation confirmation email lets someone know you have canceled their order or delivery. Creating emails like this is extremely important because you don't want anyone to think you forgot about the cancellation or refund process.
9. Webinar Confirmation Email
The user who registers for the webinar will receive a confirmation email stating the event to be held and the time and date.
The email design of such email is simple and to the point. One of the most visible elements in a webinar confirmation email copy is the CTA button, usually consisting of a calendar.
It encourages the user to set a reminder date on their calendar to be notified so they can attend all the events.
10. Confirmation of event registration by email
The next email confirmation template on our list is the Event Registration Email. As the name suggests, the email contains information about an event. It usually contains the event's time, location, and directions. It helps avoid misunderstandings.
11. Reservation confirmation email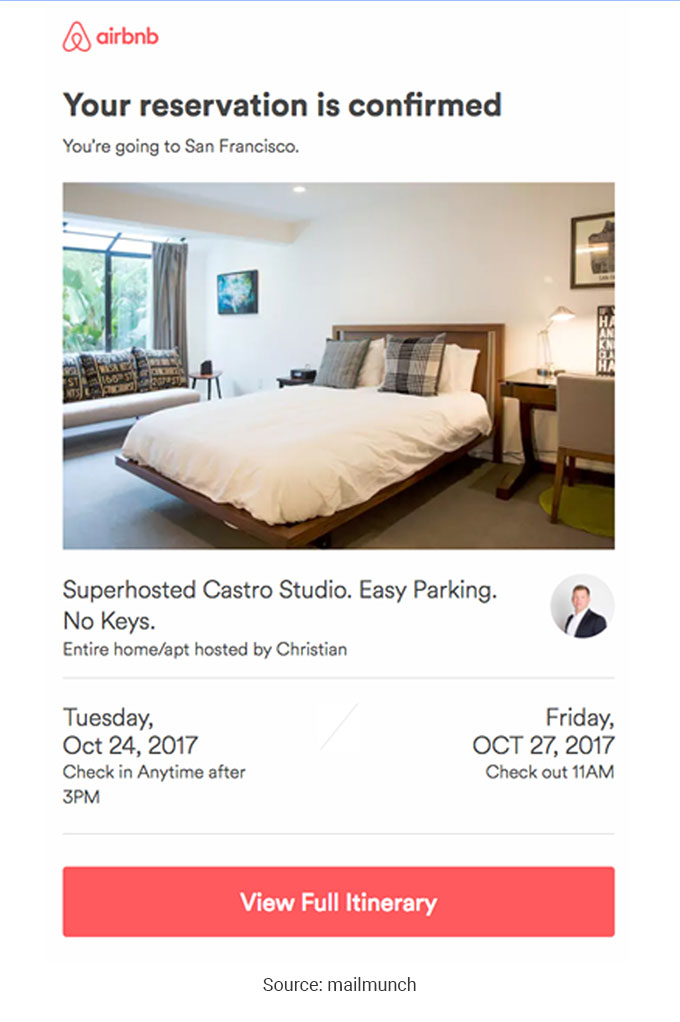 The successful reservation of the customer is guaranteed by sending an email confirming the restaurant or hotel reservation. It contains important information about the time and place of the booking.
This email template is simple and usually consists of date, time and destination information. It also has a CTA that directs the customer accordingly.
12. Flight confirmation email
A customer who has booked a flight from point A to point B expects a flight confirmation email that includes flight details such as date, time of departure, date, terminal, etc.
The email copy usually starts with a simple greeting and confirms the traveller's name. The payment method is mentioned, and the number of reserved tickets is shown along with the payment amount.
13. Venue Booking email

Venue reservations are confirmed by email with booking details such as the customer's name, number of guests, and date and time of booking. In addition, you can add the option of modifying or canceling the booking. You can also add personalized messages and a strong CTA in such emails.
14. Signup confirmation email
Another interesting email confirmation template is a Signup Confirmation email. Brands may incorporate either single opt-in or double opt-in. If your company has used double opt-in for signups, the subscriber will receive an email confirming their email address.
Usually, a link is mentioned to sign up, and the moment you click on the link, you land on the signup page.
15. Double opt-in confirmation email
To increase the number of subscribers, you can set up a double subscription system. It ensures that people confirm that they want to subscribe, making them more likely to be receptive to your future posts and promotions. Such emails are usually simple, with a catchy subject line.
16. Shipping Confirmation Email
Last but not least template on our list is the shipping confirmation email. This type of email provides all the requisite information about your order. It includes the details of your order, package numbers, the company delivering the package and the address. A strong CTA is also mentioned to track your order.
Wrapping Up
After reading this blog on confirmation email examples and templates you may get some ideas to start writing your emails. We've highlighted why they're important and how they can help you.

If you want to leverage confirmation emails for your business, then we recommend you try our product for free. To know more about our product and pricing, schedule a free demo.
FAQs
1. What should be included in an event confirmation email?
An event confirmation email template should be straightforward and include the Event Date, Title, Event Description, Date, and Time of the event.
2. How to write a good confirmation email?
A good confirmation email should include a catchy subject line, an attractive greeting, state the objective or purpose of the email, and list all the details properly.
3. Is it important to send confirmation emails?
It is very important to send confirmation emails. Such emails are important as they confirm that they include important information, and give directions for further action. Usually, all the confirmation emails have high open and click-through rates.