Marketing emails can boost the conversion rates for your Shopify stores. However, you may often become short of ideas to write emails and generic email templates won't suit your e-store. That's why we are sharing some inspiration for your email marketing strategy. 
With these Shopify email templates at hand, you won't be spending a lot of time creating each email from scratch. Besides, these ensure enhanced communication and boost productivity, and can help you effortlessly run highly-converting campaigns.
9 Types of Shopify Email Templates for Your Email Marketing Strategy
Here are nine types of Shopify email templates that you should incorporate into your e-commerce marketing strategy to elevate the customer experience. Whichever template you use, remember to customize it with your brand colors, design, fonts, and tone to facilitate brand consistency. 
1. Welcome Email Templates
Welcome email templates are those that you use to welcome new subscribers and make an excellent first impression on them. Unlike what's commonly believed a welcome email isn't just a single email where you greet and receive a newbie. Rather, it's a series of emails that introduce the fresh subscriber to your brand in phases. 
Here are some ideas in this regard –
Introducing your brand.
Tell your brand's story.
Request them to include you in their "safe sender" list.
Highlight what makes you different from your competitors.
Repeat the reasons why you send them emails.
Showcase your best product categories and offers.
Invite them to follow you on social media.
2. Promotional Email Templates
Promotional emails are intended to acquire new or repeat buyers, quicken the buying process, and/or encourage contacts to take favorable action. These, therefore, inform customers and prospects about existing products or new arrivals. These are also used to announce exclusive content, limited-time offers, and special deals.
When writing a promotional email, it is best to define a single goal and stick to it. This will help focus on the vital actions you want your email recipients to take and create your marketing copy around them.
However, remember that every promotional email needn't be necessarily a sales pitch. Occasionally, include something that will help you nurture your bonding with them.
3. Transactional Email Templates
Transactional emails are those that you send after you've driven sales through your promotional emails. These emails should include information that customers will find useful after making an order with you. These have surpassingly higher open rates than promotional emails as customers eagerly look forward to receiving these.
Here are certain things that these Shopify email templates should bear-
Details of the purchase
Details of how you'll proceed
Contact information if they'd like to contact you with any queries.
A link to track purchases
4. Abandoned Cart Email Templates
E-commerce stores face the issue of abandoned carts on a daily basis. The average cart abandonment rate across all industries is 69.57% (Baymard). E-stores can recover most of their abandoned carts by sending out abandoned cart emails that remind the recipient of the items they've left behind in their cart. 
This too can be sent in a series of three emails. The first can be just a simple reminder to finish their purchase. In the second one, add a deadline. It could be something like- "Things on your cart are likely to go out of stock!". And in the third one, you can include a discount or coupon to entice them into making the purchase.
5. Review Request Email Templates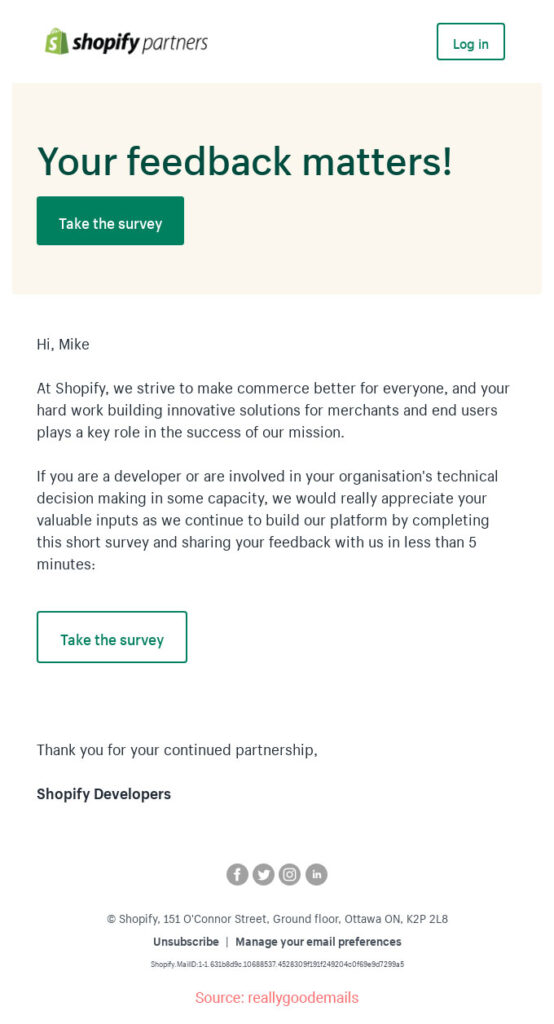 Reviews are greatly helpful pieces of user-generated content (UGC), which other potential buyers look into to decide whether or not to buy a particular product. However, not all buyers leave reviews on their own. They need a gentle nudge in the form of a review request email to do it.
This Shopify email template should be well-written, requesting a customer to post a review about your brand and/or its offerings. The sending time of review request emails matters a lot in helping you generate genuine reviews. Here are some events you should consider sending it-
Immediately after purchase.
When a customer makes a reorder.
When a customer has mentioned your brand on social media.
Soon after a positive customer service experience.
6. Seasonal Email Templates
Festive times such as Christmas, New Year, Diwali, Mother's day, Father's day, Valentine's day, and more present increased sales opportunities for e-commerce businesses. E-stores can make the most of those by sending seasonal email templates.
For, this helps garner the attention of customers and leads and gets them interested in buying some of your festive collections.
While seasonal emails often announce discounts, new arrivals, etc. these can also be indirect promotions. Some camouflaged marketing messages can include holiday checklists, gift suggestions, budget reminders, messages of gratitude for their association with you, etc.
Start with the season's greetings before you go into the body of your message and sign off with 'best wishes' or 'regards'.
7. Newsletter Email Templates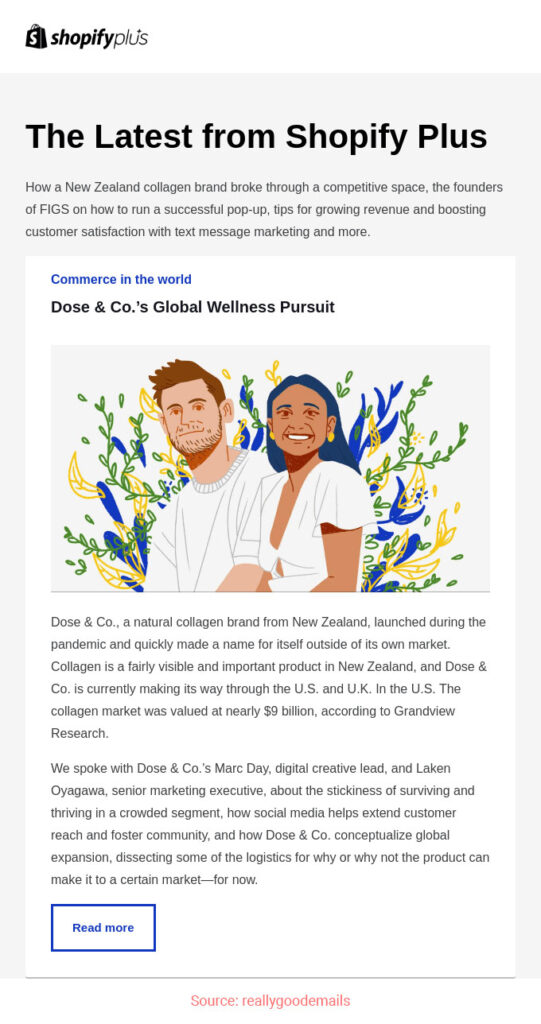 Email newsletters are sent to inform or update your subscribers about the company news, latest products, updates, or tips. These can take the form of weekly content digests, quarterly updates of the company, new product promotions, etc. Your newsletters should focus on fostering customer loyalty by employing useful content.
So, ensure that the content you choose to include is relevant and impactful on your subscribers. Those should keep readers interested, bonded, and updated on what's new in your company or niche.
8. Event Invitation Email Template
An event invitation email is one that invites subscribers to register and attend your event. No matter whether the event you're hosting is virtual or in-person, your invitation should stand out to catch the recipient's attention. Apart from having an attractive design, it should also include the benefits of attending the event and what the audience will take away from it.
Remember to include the name of the event, the date and time on which it's scheduled, its duration, its location, and the hosts and speakers with short bios.
Finally, clearly explain to them how they can book a spot/ register/RSVP. Either state the process in your email or direct them to a landing page where they can find the details. Ensure that your CTA is clear and actionable.
9. Special Occasion Email Template
Automated anniversary emails can help target your subscribers more precisely, improve your relationship with them, and thereby, help enjoy higher returns on your Shopify email marketing investments.
These "anniversary" wishes can take shapes such as birthdays, wedding anniversaries, newsletter signup anniversaries, first purchase anniversaries, and more.
In your message, appropriately wish or congratulate the subscriber on the anniversary and offer a discount or coupon to help him/her celebrate the happiness with you. This will facilitate them to remember and associate your brand fondly.
Final Words
You've just explored nine different Shopify email templates from us. Hope you've gained plenty of ideas on how to get yourself acquainted with your subscribers, build a strong relationship with them, and promote your offering to them through email marketing. 
There are many more email templates like demo booking emails, NPS survey emails, etc. You can find a lot of Shopify-friendly email marketing templates on Notify Visitors Email marketing software. So, do try it!
FAQs
1. Why does email marketing matter for Shopify stores?
Stats say that email marketing brings the highest conversions of 4.29% (Shopify) for Shopify stores. So, e-stores that run on this platform should actively involve in email marketing.
2. What are the benefits of email marketing?
Email marketing is affordable and personal, reaches faster and better, allows automation, facilitates cross-selling and up-selling, enables better targeting, and can be optimized based on data.
3. Why use Shopify email templates?
Shopify email templates eliminate the need to design and write emails from scratch. Thus, they save you time and effort and make you productive. Besides, you get a lot of inspiration on how to proceed with your email marketing.
Also Read: