Promotional emails can be an extremely effective way to reach new customers or encourage repeat purchases from existing ones. While promotional emails have been around for a long time, modern digital marketing tools and strategies have made creating and sending them easier than ever before.
With the right design and execution, promotional emails can drive valuable conversions to your business – but how do you go about generating the most successful campaigns?
In this blog post, we'll walk through 23 of the best promotional email examples out there today in order to help inspire you when crafting your next campaign. From persuasive subject lines and beautiful visuals to engaging content that always has a purpose, these examples showcase what makes an impactful promotional email.
Whether you're just getting started with email marketing or looking for ideas on how to level-up the campaigns you already send out, this blog post will provide key takeaways that any marketer can use to create more powerful promotion emails moving forward!
What are Promotional Emails
Promotional emails are a great way for businesses to keep customers and potential customers informed about their latest products, services, and deals.
These emails are created with carefully crafted content to attract attention and entice recipients to take action or make a purchase. Effective promotional emails often rely on engaging subject lines, eye-catching visuals, and compelling copy to draw people in.
They should also be designed with both mobile devices and desktop computers in mind so that no matter which device users view them on, the message can be efficiently communicated. When done correctly, promotional emails can greatly increase customer engagement and even drive more sales for businesses.
Best Promotional Email Examples
Here are top 23 promotional email examples that can help you build exceptional campaigns for your brand.
1. Netflix

Netflix has a simple but compelling email campaign. While it doesn't seem promotional, they'll occasionally ask for ratings for their most popular show (even if you haven't watched it yet).
You're brought to your Netflix account when you rate the show, where you can continue watching or start the series. This is a wonderful way to expose people to popular shows on the streaming platform.
2. PayPal
PayPal shows their promotional email with a strong incentive: get $30 OFF future purchases if you obtain a PayPal credit card. It's a clear, well-designed, easy-to-read email and gives a solid (and tempting) CTA.
3. Formidable Forms

Formidable Forms has a very illuminating promotional email. They offer many links to different pages on their site, offering users many ways to interact with the brand. They also utilize emojis to spice up the email, though it's mostly text-based.
This is a great promotional email example for SaaS companies with numerous updates and features to showcase.
4. Medium Daily Digest

Medium Daily Digest uses promotional newsletters for the Medium. Depending on customers preferences, it offers subscribers lots of new content. It is a fantastic promotional email because the content is personalized to the user's preferences and interests.
That suggests it will have higher open and click-through rates. That, in turn, should increase Medium's deliverability rates and overall engagement.
5. Best Buy

Best Buy has a smart and professional promotional email campaign perfect for summer.
It exhibits products that go well with the season (like the stand-up paddleboard) and other top-selling items.
Their CTA buttons also stand out with a radiant yellow color, making them extremely easy to find/click for Best Buy customers.
6. Colourpop

This is a wonderful example of a successful flash sale promotional email from Colourpop. It is eye-catching, the timer at the top is ideal for catching the audience's attention, and the promo code is very visual.
7. Crate&Barrel

The "60% Off" in the email has been highlighted beautifully, especially by contrasting colors. That particular number acts as the highlight of the email and lures attention to the email.
8. Sony

This is one of the best promotional emails because it is simple and compact and makes customers believe they can expect large discounts and promotions.
9. Amazon

Amazon's promotional email is one of the best promotional email examples that leads with an incentive: you can save $5 by choosing your pickup location (rather than having your packages delivered).
While there are more appealing email templates, Amazon has done an excellent job consistently branding these emails.
You can usually tell the message is from Amazon just by the campaign's look before ever reading the company name.
10. WordPress

Even though this one does not have a lot of visually attractive and flashy images, the customers' advantages and values are emphasized, and the message is very explicit and precise.
11. Tarte

This email from Tarte is pretty eye-catching, with stunning, attractive colors, and the images build a very colorful vibe. It hits all the checkboxes quite nicely.
12. Loft

If you want to choose the minimalist route, this example from Loft will enlighten you. The color palette used is soft to the eyes, yet the audience comprehends that it is for a flash sale at first look.
13. Headspace

Headspace shows a clear incentive to the audience with a bold call to action for them. With this email, they have tried to prompt the users to take action quickly and have incorporated an offer to elevate their point further.
14. Walgreens

Walgreens does a fabulous job by giving the audience a valuable discount to convert unsure readers into loyal customers. In the example, Walgreens draws the bargain hunter in each of us by offering a 20% coupon.
15. 20||20

It is a wonderful way to promote new products and offers to utilize promotional emails, and this special email from 20 || 20 has followed all the best practices.
The image and the text complement each other, the colors are fascinating, and the benefit for the client is highlighted in a large font so that it is crystal clear.
16. Bose

Bose has a terrific promotional email with lots of cool visuals. The email features different products with multiple CTA buttons throughout, keeping the audience involved and interested in the products. It is a great example of a professional and sleek-looking promotional email that grabs attention.
17. Crashplan

This particular promotional email is focused more on delivering rather than receiving. Crash Plan took a standard promotion and twisted it by facilitating the customers to Gift CrashPlan to someone else and get two months for free yourself.
18. zoom

Instead of focusing on discounts or sales, Zoom has delivered multiple free resources to create customer loyalty. This email builds brand loyalty and gets customers bound for more resources.
19. Whistlefish

The colors, design, and timer are all explicit and eye-catching. They also add a sense of urgency by displaying the timer to let customers know how much time is left to avail of the discount.
20. Doordash

Even though it is text-heavy, the images are stunning, and the CTA button is noticeable. The text talks about the offer so that the customers can't refuse.
21. Wizz Air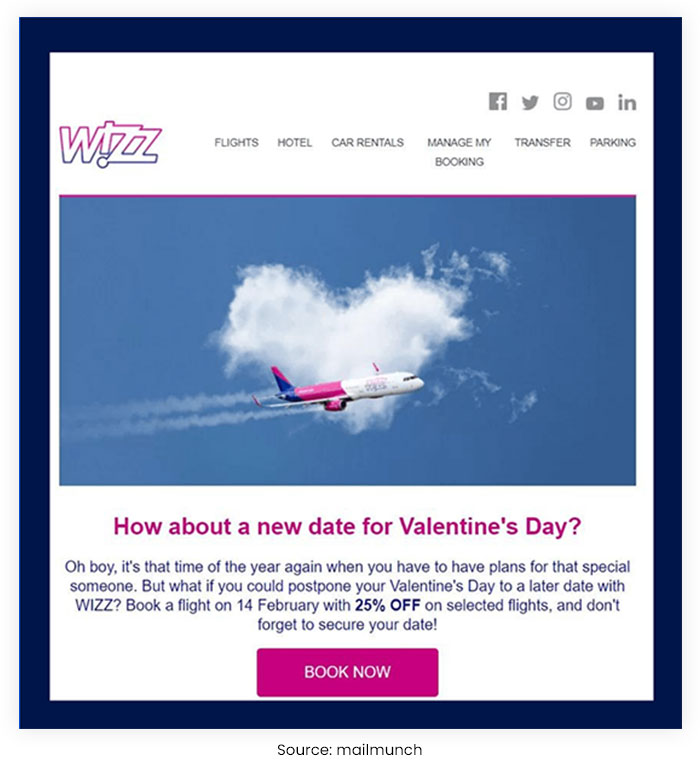 Wizz Air delivered a wonderful discount on diverse flights and services for Valentine's Day, and their unique selling point functions like a charm to persuade the audience to take up their offer.
22. Anthropologie

Anthropologie has closely worked on aesthetics by complimenting colors and font styles while simultaneously being clear with their offer.
23. MOO

Moo's promotional email lures customers to engage with the brand with the 10% off offer. They are a step ahead by ensuring the clients about their quality by swearing them to reprint the product again if it doesn't match their expectations.
Top 3 Email Marketing Software for Promotional Emails

NotifyVisitors is an email marketing software that helps businesses increase their engagement with customers. We combine email templates and intuitive analytics to craft personalized email campaigns for every customer.
Through our platform, marketers can gain valuable insight into consumer trends and develop email campaigns tailored to these preferences. We also provide add-on features such as email automation which assist businesses in creating powerful email content.
Overall, businesses of all sizes can use NotifyVisitors to easily create high-performing email campaigns that engage customers on a personal level.
2. Drip

Drip helps automate email campaigns while also providing powerful analytics and insights that empower marketers to make data-driven decisions.
What's more, Drip provides an intuitive user experience so it's easy to get setup and start automating email right away–something all businesses should consider taking advantage of in order to remain competitive.
3. Sendinblue

Sendinblue is email marketing software designed to help businesses reach their customers more quickly and efficiently.
It allows businesses to store email contact data, create campaigns with email templates, run email campaigns and track customer behavior in order to optimize marketing efforts.
Conclusion
The bottom line is that promotional emails can be an extremely effective and powerful way to reach out to customers, increase engagement, and boost sales. Whether you use the classic 'call-to-action' or a creative and unique strategy, there are numerous ways to use these emails to your advantage.
By implementing one of the 23 best promotional email examples listed above, you'll be well on your way to creating a dynamic marketing strategy with maximum potential for success.
By tailoring your messages to align with client needs and developing clear calls-to-action, you'll create high-converting promotional emails in no time! Even better, why not take it up a notch by personalizing each message specifically for each recipient? In today's hypercompetitive world, the details of your content count.
Finally, hopefully, this list has provided you with lots of quality inspiration; now it's time for you to get out there and design some amazing promotional emails! Ready, set go—good luck infusing your brand with that extra sparkle.
NotifyVisitors helps you design enticing email marketing campaigns so that you can generate better outcomes. If you also want to launch an email campaign, then consider scheduling a free demo.
Also Read: