Having a customer journey map in place is crucial today as it helps you understand how your consumers engage with your business. However, a journey map does not guarantee that you are necessarily fulfilling your customer's expectations.
There may be the scope of improvement and, thus, untapped potential for learning how your customers act and how to use that knowledge into higher profits in this customer-centric age.
Now, you must be wondering how your business can make the most of the customer journey mapping process. Today, in this post, we will be looking at nine simple steps to do customer journey optimization.

9 Steps For Customer Journey Optimization
1. Filter Personas
In today's time, the most important part of customer engagement is personas. With the help of refined and shifting personas, marketing and sales teams can persuade consumers online and further enhance customer experience.
But, on the other hand, if the personas used to encourage engagement are incorrect, marketers and sellers will strive to get traction online and eventually fail to engage. If you want to do customer journey optimization then make sure that you have accurate personas.
You must have the basics included in the information about your personas' age, household earnings, marital status, location, gender, etc. However, there is other relevant data you require, such as:
How do they want to communicate with vendors?
What are other items they have bought in your niche?
How do they hear about products/services like yours?
Where are they active while looking for solutions to problems?
What do they engage with about your competitors?
What content formats do they involve?
The solutions to these questions will give you an insight into how your company can become a more reliable source of customer information.
Moreover, possible differences can contribute insight into a particular persona, such as concerns about the product/service or the integration ease into their present system.
Incorporating these as part of the persona to outline pain points and help put your product/service is necessary for helping them in their lives or roles.
2. Recognize all Touchpoints
Anytime potential or existing customers reach your business at specific touchpoints, the important information should be documented and assembled for easy access.
Usually, many companies focus on the purchasing decision, leaving them unaware of data that could change the customer experience.
However, experiences pre-sale and post-sale are also very crucial as happy customers are equals to loyal ones and can give insight into areas that need improvement at both ends of the sales cycle.
While each company is diverse in nature, but the most obvious touchpoints customers have gone through before, during, and after purchase include:
Prospect stage
Testimonials
Social Media Interactions
Reviews
Advertisements
Marketing/PR
Engagement
Store/Office/Website
Point of Sale
Catalog/Brochure
Staff/Sales Team Interaction
Current Promotions
Post-sale
Invoice
Online Help Desk/Live
Service/Support Team
If you have any of these touchpoints in your customer journey map, your business needs to pull data out of it.
3. Create Multiple Customer Journeys
While planning to onboard customers and making them happy, keep in mind that every customer is not the same, and treating them, in the same way, can make them unhappy.
While customer feedback and review may confer a 90% satisfaction rate, the primary metric to measure is satisfaction across the whole journey from sale to onboarding to post-sale.
Therefore, organizations have to put themselves in their customer's shoes and design scenarios that map out many journeys.
Moreover, customer journeys get more complicated, companies have to anticipate the routes they may need and optimize CX along with the various touchpoints rather than relying on one hypothetical journey.
To achieve this, you have to develop an understanding of what is working and what's not. For instance, are there high abandonment rates at the purchasing stage?
Setting a change of mind away, is the speed of the interaction a problem or the number of forms needed to fill out? Then, energize your marketing teams by taking those communications as customers, observing the experience, and prioritizing the most critical gaps and opportunities.
The benefit of this kind of specificity is the driving force behind the rise of personalization. However, your e-commerce website should adapt based on the data you've accumulated on an individual visitor (e.g., pages visited, purchases made, etc.).
4. Overlay Data
Today big data is the new normal, companies are working hard to use that information that can help in improving customer experience. Therefore, data from all business sources can be important, so the solution is to accumulate data from all touchpoints that have played a part in the customer journey.
The best way to do this is to overlay data from distinct parts of the business to get a complete view of how a customer communicates with your company, from your website to different social media networks to live chat support.
There are some overlay tactics that you need to keep in mind while mining a variety of data that can help you in customer journey optimization
Analytical: This data has been used by most companies. Companies are already collecting data from social media platforms, website interactions, and paid media channels. It further comprises data about a customer's location, age, and purchasing habits. This data is important for determining broad trends and user behaviour.
Anecdotal: This data can be collected from individual customer's experiences and stories. But you can't collect this data as easily as analytical information, some steps need to be considered while framing its objectives and gaining insight. One such good method is social media monitoring. In this method, you can collect anecdotal information, while customer service representatives entering feedback into a CRM can be invaluable to familiarizing the mapping process.
5. Identify the Gaps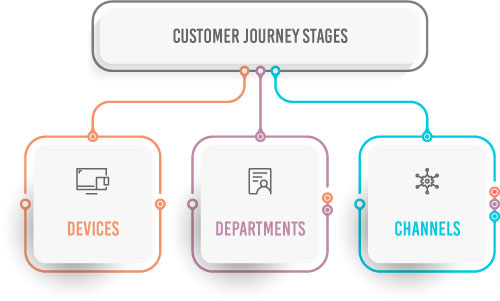 'Gaps' indicate any point within a journey when a customer may choose to take their business elsewhere as friction blocks a steady path forward. Therefore, a customer map requires considering all possible journeys to withdraw customers falling through the cracks or going elsewhere for their business.
Gaps can exist in three stages of the customer journey, which involve:
Devices – Whenever a user switches from one device to another, e.g., mobile to tablet
Departments – When one department handover the customer off to another without providing accurate data or information
Channels – When the user journey goes from one channel to another (e.g., from the social media page to the website)
All the above does not indicate that the transitions are bad, but if you fail to manage them properly, they can become gaps, which is how you can miss potential customers. Recognizing these gaps and removing them from your customer journey will further ensure that your customers are going through all sales process stages and onboarding with comparative ease.
6. Get Enterprise-Wide Buy-In
Commitment and Leadership from the top-down are necessary for any marketing and sales efforts to achieve.
With customers now at the core of any business, principal decision-makers must be conscious of the value of customer journey mapping and how it can further change the customer experience.
As per McKinsey, while most managers understand the journey idea, many wonder whether that pays off in revenue.
The answer to that is evident through the outcomes many businesses that prioritize journey mapping have achieved:
55% of customers will pay more for a good customer experience
13% of consumers respond that at least 15 people about frustrating experiences with companies
72% will say at least six people when they own a positive experience
Out of 26 troubled customers, only one will complain – the rest will go somewhere else, indicating 'customer satisfaction reports may be over-representing positive reviews.
Again, this is where data collection and analysis become necessary.
7. Align with Sales
As marketing and sales automation expedites, teams must work together to push sales and revenue. New technologies allow unique ways to interact with customers. A mutual understanding of how they operate and their value in the customer experience is necessary for today's marketers and sellers.
After all, misalignment is directly proportional to revenue, with lost marketing outlay and sales costing organizations approx $1 trillion every year. Furthermore, a lack of alignment leads to 61-71% of B2B content waste and a failure to convert 78% of marketing leads into sales.
The best example of this is how sales can push your marketing team to better understand your customers. Of course, eventually, salespeople are at the frontline and have to manage those last-minute objections.
But, sellers have insight into what diverse customers need to hear before they seem comfortable purchasing. This information can be invaluable to a marketing team looking to enhance customer experience and get a customer over the line.
This alignment should also refer to other businesses as well such as finance, IT, and customer service.
8. Develop KPIs
If you don't measure the customer journey map's success, you can't expect them to improve much. Certainly, 'revenue' is the final KPI, but you can also monitor to optimize customer journey mapping and its impact on customer experience.
In terms of an e-commerce website, some critical metrics to measure are:
Scroll rate
Bounce Rate
Conversion Rate
CTR Checkout Abandonment Rate
Introducing these as KPIs for marketing departments can further prioritize the customer journey and make sure that these metrics are part of reporting and analysis.
It can also give insight for the sales department as they learn different customer journey points and the stages that may require more attention and support.
Post-sales, KPIs are also worth controlling to determine how usually support staff is contacted, reviews received, ease of onboarding, and referrals.
9. Adapt and Change
Remember, don't make your organization commit the mistake of building a comprehensive customer journey map. As customer's behaviours keep on changing, so will their journeys, especially with technologies emerging all the time.
As a result, an efficient customer journey map needed constant review and revision.
To avoid losing customers over their experience, designate time for the main players to come together and analyze the data on offer and insights across the business to serve into the customer journey.
Has anything broken or shifted? What changes have been made? What are customers telling about their experience, and is it distinct from 6 months ago? Are there any fresh gaps in the business that have come to light?
Taking the time to explore the evolution of the customer experience with your brand will serve to keep ahead of developments and make sure the relevant employees are informed and primed for any developments coming down the line.
Customer Journey Optimization Infographic
Share this Infographic on your website
Wrapping it up
Customer experience is not all about touchpoints. Instead, it's about how a customer communicates with a brand at all points along the customer journey.
This kind of thinking can expect an internal shift and the whole workforce to think about the journey rather than merely several interactions. Those organizations that learn it will enjoy improved customer satisfaction and loyalty, developments in cost and revenue, and an edge over competitors. We hope that you find this blog on customer journey optimization helpful.
Read more: