Are you looking to create an email drip campaign in 2023 but not sure where to start? You're in luck! In this blog post, we'll take a look at 15 of the best email drip campaign examples so that you can get inspired for your upcoming projects and maximize your results.
Whether it's personalizing user onboarding, driving eCommerce sales or spreading brand awareness, learn from these strategies used by world-class brands and turn them into effective campaigns for any industry. So if you're ready to take your email marketing game plan up a notch with strategic and purposeful campaigns, let's jump right in!
What is an email drip campaign?
An email drip campaign is a type of automated marketing strategy that sends a series of emails to contacts or subscribers at predetermined times. It allows businesses to send customized messages tailored to their customers' needs and preferences.
Through carefully planned email sequences, businesses can nurture weaker leads into strong ones, promote new products or services, increase sales, or encourage the adoption of earlier purchases.
Additionally, tracking technology helps provide valuable insight into customer behavior and buying habits so companies can adjust their campaigns as needed for maximum efficiency and desired outcomes.
In short, an email drip campaign is an effective way to automate emails that are personalized and targeted to do what a business wants them to do.
Types of Drip Campaigns
Drip email campaigns are mainly used for these specific purposes-
Welcoming new users – it performs well when a user gets a welcoming email from you whenever they sign up, offering them a heads-up to go ahead with more involvement.

Onboarding customers – familiarizing your customers with valuable information like rudimentary or about brand values and the benefits of engaging with you.


Nurture Leads – You can nurture leads in many forms, like newsletters, sticking to them throughout a buyer's journey with relevant content and inspiring and convincing your product's purchase.


Shop cart abandonment – People usually add items to the cart but change their minds at the very moment for different reasons and leave without actually purchasing the product.

To bring those customers, you can engage them with new offers on those products. Moreover, it catches your reader's attention and instills curiosity in them to return them to the purchase.


Recommendations – It's always good to know what your customer likes and dislikes; some algorithms deliver the desired suggestions to their similar searches and purchases to improve their engagement with your website and lead to more sales.


Renewals and confirmations – You can help them by providing renewal dates of their subscription, providing them with resourceful links to update their content, or contacting them if required. Confirmation emails also play an important role after a purchase is made.

They ensure the purchase is successful and track the product's delivery. Furthermore, a thank you note after a purchase indicates the politeness of your company. It is important to enlighten customers about your brand and its values, the products it caters to, and any new updates the customer must learn.


Unsubscription of users – sometimes subscribes lowers down, but to keep the engagement and make them return, you can try engaging them from time to time to see if they are interested in your feed.
15 Best Email Drip Campaign Examples
1. Gainful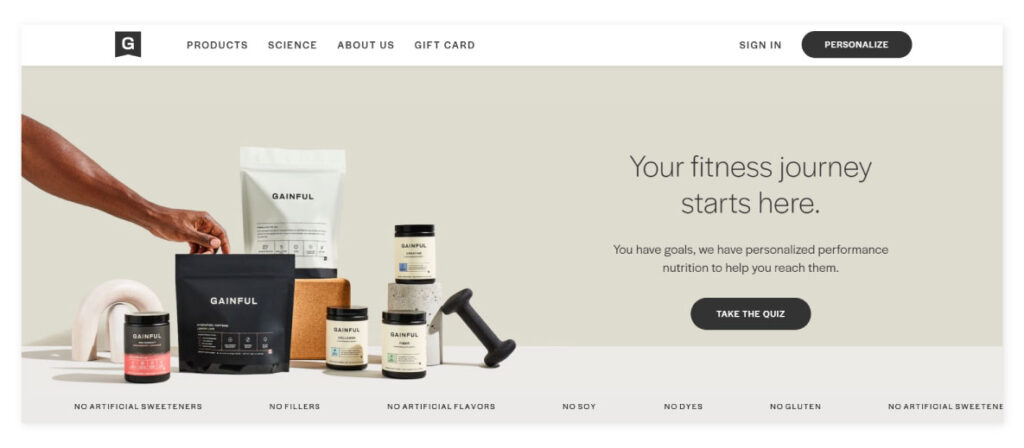 Gainful sells personalized health supplements. Therefore, it's a no-brainer for its emails to discuss common health issues. As we said, this email covers a problem that people will easily relate to combating stress.
The email offers quick tips for reducing stress and facilitates people to follow the brand for more tips. In all, it's an email loaded with a value that shows Gainful's nutrition expertise!
2. MeUndies
It is one of the best email drip campaign examples as it indicates that members of your customer loyalty program may need to re-engage from time to time.
MeUndies members enjoy discounts of up to 30% on every order—which they may like to apply to the brand's newly launched robes and slipper offerings!
The email's subject line is also created in such a way as to pique their interest. Its copy of "For Members' Eyes Only 👀" entices them to open the email and learn what exclusive offer is available.
3. Trello
The festive season is one of the best times to push your marketing. Trello started a unique campaign, "Twelve Days to Trello," that featured links to pages with information on how to use Trello to increase productivity.
Most users are aware of Trello as a tool for project management, but this series of emails demonstrated how you could build holiday shopping boards and lists of fun activities and establish New Year's goals.
This campaign indicates the value of timing your messages. They tended to spark more interest in their product by concentrating on benefits matching the festive season.
4. Patagonia
Patagonia, an outdoor gear and clothing designer, used weather-based marketing to take its email marketing to a whole new level. In brief, they sent customized recommendations to their subscribers to fulfill their location's current season and forecasted weather conditions.
It managed to engage subscribers by keeping things minimalistic and utilizing a simple call-to-action prompt.
5. Tone It Up
Tone It Up shifted to email marketing to share their 21-day challenge with their subscriber list. Once you have signed up for their mailing list, they send you a copy of your workout schedule and various recipes.
This campaign is compelling because it will send you an email with the benefits of the challenge even if you do not sign up for the actual program. Other apparent minor details, including the subscriber's name, help encourage subscribers to join the program.
They also show in this campaign that email marketing can be a golden opportunity to incorporate your social media. A call-to-action message reminding subscribers to follow them on Instagram further increases user engagement and brand awareness.
6. Withings
Withings utilized gathered data by the wearable tech they make to build activity goal badges for their subscribers. They then used a drip campaign to update their subscribers' progress regularly.
What makes these types of emails so persuasive is that they are very personalized. As you engage your subscribers about something that matters to them – their milestones – you build a much stronger connection between your brand and its target audience.
Not only are you honoring their successes with them, but you are also reminding them of your brand and facilitating them to continue utilizing your service or product.
7. Cleancult
Cleancult email drip campaign strategy worth taking notes from.
Whenever a customer signs up to Cleancult's email list, they'll first receive this welcome email.
The welcome email discusses Cleancult's unique selling propositions—to get subscribers feeling good about shopping with the brand!—and gives a discount code for subscribers to get 20% off their order.
Cleancult, after that, "drips" its subscribers this email, which shares how the brand gives importance to environmental sustainability
If subscribers are convinced that using Cleancult products helps them do their bit for the environment, their obvious next step is to purchase these products.
Hence the next section of the email, which features Cleancult's products (and apparent "Shop Now" call-to-action buttons)!
8. Skinnydip
It feels good when a brand takes the time to check up on you. That is why Skinnydip made a point of concentrating on the customer in a website re-engagement campaign.
To support their subscribers' return to their online store, they rewarded them with a discount code. A re-engagement campaign like this shows your audience that you care about them.
9. Amazon
Even though drip campaigns often have several emails, this isn't always the case. Instead, the consumer gets the email "dripped," wishing for a conversion.
The drip campaign began when Amazon's Kindle downloaded the free content. Then, Amazon could determine a user's interest in premium material based on the no. of downloads.
The email describes the benefits of a Kindle membership, connects them to how the consumer already employs the Kindle, and then provides brief instructions on how to sign up for one.
But Amazon continues.
They comprehend what their clients want because they are one of the most well-known companies in the world, and they create drip programs accordingly.
You will occasionally get an email from Amazon that is part of a drip campaign based on your actions, behaviors, and preferences. Why? They know they are persuasive.
10. Kenneth Cole
Cart abandonment is one of the major problems e-commerce businesses face daily. There are several reasons why consumers do not complete a transaction. One of the best ways to lower cart abandonment is to send customers an automated email reminding them they still have to checkout.
For instance, you can enable these customers to complete the transaction by presenting a discount. This is exactly what Kenneth Cole did.
Initially, they show their customers a discount of 15% as motivation to finalize the transaction. After that, however, this offer is only available for 48 hours to increase the likelihood that they will convert.
11. Starbucks Earth Month
Starbucks employed a game within their app to boost engagement and re-engagement throughout Earth Month. Every purchase gives you access to competitions and chances to win prizes. In addition, Starbucks created a drip campaign to continuously remind prospects about the games often played to improve their engagement.
After around a week, the consumers would get a follow-up email from Starbucks, Reminding them there was still time to participate, have fun, and win.
The goal of sending numerous emails in this way is to promote re-engagement.
12. Dollar Shave Club
eCommerce businesses need to determine how to lower cart abandonment and also have to find ways to boost their customers to buy more. This is where cross-selling can be an ideal strategy. In short, it is a sales strategy that recommends additional products or services to customers based on their preferences and the previous products that they have purchased.
Dollar Shave Club effectively utilizes this technique in one of its email drip campaigns. First, in their email, they outline the order by including helpful info about the product(s). Then, in the next section, they give the customer a chance to buy additional products that will go nicely with their first order.
The scheme is to keep it classy if it is easy for this type of email to come across as too promotional.
13. Medium
Now, Brands use emails to verify user registration after they purchase or sign up for a free trial. So it is more like closing the deal, but that doesn't mean that support from your drip emails is no longer required.
Once a user has signed up, you can either send drip email campaigns to say a thank you, use it as a reminder to them about the renewal of purchase, or mainly incorporate links to your products or services first place first step.
Being open to sending receipts away (or automatically sending) of any purchase made immediately is essential. That demonstrates customer support and offering, creating a base for customer certitude and interest.
‍14. Leesa
Like numerous other brands have successfully done before them, Leesa employed limited sales to build a once-in-lifetime offer that their subscribers would find hard to ignore.
The first email in the series suggests to the reader that their sale will be running for a limited time.
Then, those who did not purchase anything during the limited sale got a follow-up email to share the great news that the sale had been extended.
15. Contently
Contently is another one of the best email drip campaign examples. Its way to increase customer loyalty is to do something good for them. It doesn't necessarily have to break your budget.
It could be a drip campaign that conveys information to offer more value. By sending them emails that indicate you care, they will like to return the favor by supporting your business again.
The team at Contently utilized this logic to improve customer retention.
Their sales reps send customers recurring emails with blog posts that add value. What makes this campaign so compelling is that the tone is casual. It quickly gets to the point – here's a wonderful article for you.
Conclusion
If you want to improve your email campaigns, consider using some of the email drip campaign examples we've listed above. With a little creativity and thought, you can create drip campaigns that really work to engage and convert your leads. What have you done to make your email drip campaigns more effective?
NotifyVisitors lets you send email drip campaigns with higher email deliverability. Our feature-rich free plan helps you get started, to know more information about our product schedule a free demo.
Also Read: