Email marketing is an incredible way to reach potential and current customers. It lets you create a warm relationship with customers, build loyalty, and boost sales. However, like any other tool, it's important to implement email marketing correctly to make the most of it.
To make you understand, in this blog post, we'll discuss how to create an email marketing funnel and how to use it to attain your business goals.
First things first…
What is an Email Funnel?
The email funnel comprises a series of emails that guides someone through becoming a customer or taking the expected action.
For instance, you're an author; a potential buyer might:
Visit your landing page.
Sign up to receive your newsletter in return for a free ebook.
Get a welcome email defining who you are and what you do.
Get emails promoting your upcoming novel.
Click the link in the email to purchase your book.
Continue to get emails and updates on your future projects.
Once someone has signed up for your email list, each newsletter in the funnel is a soft nudge towards taking a desired action.
Remember, it should not stop even after the customer buys the product. You can further send follow-up emails to nurture the relationship, upsell other products and create a network of loyal customers.
Stages of an Email Funnel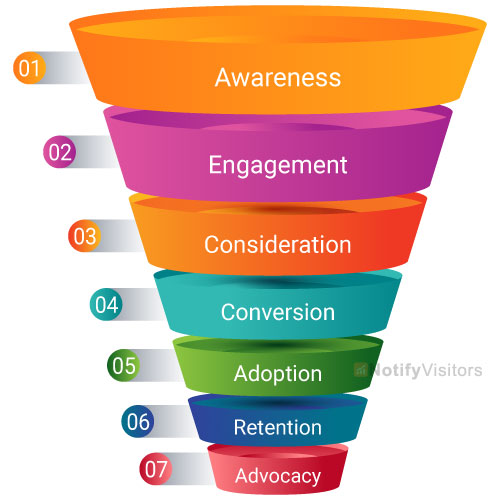 The stages of an email funnel have been portrayed in a few different ways. Here is the most popular one:
1) Top of the funnel
In this stage, people are just getting to know your brand better.
Awareness: It is all about introductions! People sign up to know about you, and you can say hi and show your brand (e.g., welcome email)


Consideration: Now, it's time to go a little deeper and share your story, your values, and what you're marketing (e.g., product newsletter)

2) Middle of the funnel
When people reach this stage, people know who you are and are excited enough to take some action—and continue to work with you in the future.
Conversion: It's crunch time, where you ultimately push them to take the desired action—perhaps with an incentive (e.g., email coupon)


Loyalty: This is where you keep your customers returning to take action. It's easier to keep a current customer rather than continually trying to find new ones (e.g., VIP emails, special points system)
3) Bottom of the funnel
People know your brand precisely by now, so they're willing to spread the love and share it with their networks.
Advocacy: People feel like they are part of your brand and feel happy to leave reviews and share on social media (e.g., affiliate and partner programs)
An email marketing funnel is a framework that lets marketers engage site visitors, determine their stage in the buyer's journey, and set up clear messaging for those visitors.
The goal of the email marketing funnel is to successfully move leads from one stage of the buying process to another, eventually turning them from site visitors into paying customers.
Let's Understand These Funnel Stages More Thoroughly
1. Awareness
The awareness stage is the first and comes at the top of the sales funnel. In this stage, potential customers try to know your brand or product through your active marketing efforts or during the customer's online research.
At this stage, these potential leads try to comprehend their problems and what possible resolutions are available. They look for a trusted authority that can provide the right information to assist them in diagnosing their problem.
Therefore, at this stage, your focus should be on sharing advice and solutions to build awareness. It is mainly accomplished through different forms of marketing, such as blogging, videos, sponsored social media posts, webinars, and infographics.
If we talk about this in email marketing terms, this is when you need to collect emails and other contact information through opt-in forms and landing pages, as your visitors have just become leads.
2. Engagement
In this stage, your leads are interested in knowing more about what you have to say about their pain points and your proposed solutions. Your purpose at this stage is to boost your relationship with them further, building trust and confidence.
You can do this by offering authentic, educational, and reliable content. When you allow customers to understand their challenges and address their problems, they are inclined to trust you and are willing to consider your products as a solution to their problems when they get to the next stage of the process.
3. Consideration
The prospects start to assess you as a possible partner to support and solve their problem. Therefore, positioning yourself as the solution to their pain points is important by demonstrating your unique selling points and benefits compared to your competition.
At this stage, leads will look for trials, demos, customer testimonials, product comparisons, pricing, case studies, and reviews – they may even schedule a demo.
4. Conversion
Once the lead chooses to purchase your product, you join into a new relationship phase. You have to nurture your new consumer, be there to onboard them, respond to all their queries, and generally facilitate the partnership to be fruitful and long-lasting.
5. Adoption
Fulfilling your customer' needs is important for a long-lasting partnership. You need to exceed all their expectations and build a positive experience around your product. When you start doing this, it makes the adoption process smooth and satisfactory for your business and the customer.
6. Retention
When it comes to customer retention it is all about building loyalty. It doesn't matter whether yours is a product or a subscription service, keeping only 5% of your customers satisfied and engaged can lead to a 25-95% increase in profits.
You can do retention and engagement through upselling and cross-selling campaigns. Create offers, promotions, and information to keep them engrossed while addressing any potential issues or roadblocks that may happen as your relationship progresses.
7. Advocacy
When you have happy customers they will tell others about your product or service, thereby boosting your brand awareness organically. Advocacy is a valuable stage in the customer journey as it can help you with your long-term brand growth with minimal marketing investment.
Brand advocacy happens when you nurture your long-term customers and satisfy them. The best way you can facilitate advocacy is through referral programs with attractive incentives.
Benefits of an Email Marketing Funnel
Email marketing funnel ensures that you don't message to wrong recipients. Instead, it enables you to smoothly nudge your prospects toward the sales funnel, offering the right information and incentives at every stage.
Tactics like personalization and drip campaigns are proven super effective. They take the buyer in gradually and non-aggressively while letting you understand their unique needs better and address them directly, forging strong relationships.
Moreover, the funnel makes email marketing much easier for you. It facilitates the buyer journey and gives you concrete steps you can take at each stage. It also delivers a way to quantify results at every step of the funnel, letting you measure performance.
How to Create Email Marketing Funnels
Every business has a unique email marketing funnel. This funnel entirely depends on products, services, and customers. This funnel comprises emails and resources that lead to each stage of their buyer's journey.
1. Determine Your Core Audience and Build Buyer Personas
The first step of the process demands a bit of legwork. It will help if you determine your core audience to comprehend their requirements, buyer's journey, and other factors affecting the decision to purchase or not.
In a B2B environment, this involves targeting the decision-makers at target organizations. Many concepts are employed to guide the design of buyer personas, but those are beyond our current scope.
It would be right to say that with the right software tools, you can gather enough information to build customer profiles and flesh them out into fully-fledged customer profiles. Some of the information you'll need is job titles and main job functions.
You can dig deeper into each one to understand their biggest issues and needs. It is possible through surveys, interviews, and different forms of research. This information will allow you to form specific buyer personas to focus on when creating your email marketing strategy rather than working with faceless prospects.
2. Create Audience Tiers
The next step is to utilize your personas to form different tiers for your prospects. These distinctions will be based on how each persona suits the stages of the email marketing funnel.
Leads—These are in the awareness phase. Anyone who comes to your site is a lead.


Prospects—These are in the awareness and consideration phase. A prospect downloads anything on your site or subscribes to your email newsletter.


Opportunity—This is for prospects in the consideration phase. They are possible customers who have shown a clear interest in your service or product.


Customer—These are people in the decision stage. They have chosen to partner with you by purchasing your product or service.


Closed/Lost—This classification is for those who first qualified as an opportunity and chose to move forward with you.

3. Create Content for Each Stage of the Marketing Funnel
Based on the in-depth knowledge of your core customer group that you have collected by now, you can prepare targeted content to answer their queries and meet their needs throughout your email sequence.
Awareness stage:
Create guest posts.
How-to-videos.
Press mentions.
Webinars.
Blog posts.
Demos
Consideration stage:
Blog posts.
Case studies.
Webinars.
Service or product pages.
Conversion stage:
Discounts
Case studies.
Testimonials.
Loyalty and advocacy:
Promos.
Referral programs.

As we have already said, every stage of the email marketing funnel should have different objectives. You will need to integrate your email marketing campaigns with other forms of content marketing, such as blogging and social media, to fulfill them.
4. Design Drip Campaigns
Drip campaigns are automated sets of messages transmitted over time at specified intervals. The campaign "drips" these pre-written messages to prospects over time-based on their actions, thus keeping in contact with the audience in a targeted and personalized manner.
It will help if you create drip campaigns for every tier of the email marketing funnel. The purpose of drip campaigns is not to sell but to follow up with your email subscribers while supplying helpful and educational resources that your prospects can utilize.
Drip campaigns sustain engagement and help you develop trust and authority for your brand. They give you insight into your prospects' actions and allow you to react accordingly, thus establishing your authenticity and customer-focused approach.
5. Put Together Website Forms and Landing Pages
It is one of the crucial steps when it comes to building an email funnel. By capturing leads' relevant information, you can convert visitors into paying customers. You can employ website forms to enroll users into your email marketing campaign.
One highly useful strategy is to offer prospects something valuable, known as a lead magnet. This can contain PDF resources, videos, discounts, free courses, free trials, and proprietary reports.
You can also run paid ads on social media, and drive the traffic through landing pages with a registration form. To make the most of it consider using best landing page builder for your campiagns.
Best Practices and Tips for a High-Converting Email Funnel
Remember, every email marketing funnel does not work the first time. A compelling email marketing strategy usually results from many iterations and modifications done over time based on research and feedback. However, there are some measures you can take to improve your funnel from the get-go.
1. Use content to boost your efforts.
Quality email content is a great way to unlock conversions. People don't like promotional emails as they get hundreds of emails daily. Therefore, automating two weekly emails and loading them with helpful information and resources will draw your prospects. High-quality content is the basis of good marketing practice and fuel for your campaigns.
It starts with understanding your customer base – their needs, common questions, and issues that keep them up at night. You will set up your email marketing funnel for success when you comprehend these needs and offer content that directly addresses them.
2. Use CRM
CRM is a software tool that tracks your onsite visitors and stores valuable information. It offers tools to help you store and organize them according to your funnel.
The best CRMs will automatically categorize leads for you based on the information they have on your prospects. You can integrate it with different tools to track each prospect and react accordingly to their actions.
3. Capitalize on Automation Tools
Even though email marketing is all about the human touch, it would not be possible without automation tools. At the very least, ensure that you have a tool that enables you to:
Set up website forms and landing pages to capture your leads.


Deploy email marketing and drip campaigns to utilize your

email marketing funnel

.


Access email newsletter templates and designs to quickly and easily create beautiful, engaging emails.


Track various metrics, like open rate, unsubscribe rate, click-through rate, unopened, and conversion rates.

4. Segment Your Audience and Personalize Your Content
Use CRM and automation tools to segment your target groups and personalize your content. Most tools let you create distinct groups based on demographics and their categories.
You don't need to send the same message to everyone on your email list. Instead, taking time to go through your email list and segment it according to changing customer needs lets you target your customers and customize your content for the best results.
Conclusion
Creating email marketing funnels can seem like a lengthy, challenging process. But it isn't too difficult to split the process into individual steps, considering what the funnel looks like and how your customers need to be supported.
Make sure you read this blog carefully so that you can come up with the right approach and appreciate quality above quantity.
To get started with the email funnel consider using the NotifyVisitors email marketing automation tool and see your business grow. To know more about us, schedule a free demo.
FAQs
1. What are some best practices and tips for high converting an email funnel?
Some of the tips to build an email funnel are:
1. Use content to boost your efforts
2. Make use of CRM software
3. Capitalize on automation tools
4. Segment your audience and personalize your content.
2. How to create an email marketing funnel?
Here are a few ways that can help you create the right email marketing funnel:
1. Determine your core audience and build buyer personas
2. Create audience tiers
4. Design drip campaigns
5. Put together website forms and landing page
3. What are the stages of the Email Funnel?
There are a three stages
1. Top of the funnel
2. Bottom of the funnel
3. Middle of the funnel
Also Read: