Email marketing campaigns are still one of the most effective digital marketing strategies for businesses in 2023. It's an incredibly cost-effective way to target a large audience and get your message out. Not only that, but it also allows you to stay top-of-mind with existing or potential customers, which is key in today's highly competitive market.
Whether you're just getting started with email campaigns or looking to level up your tactics, our 17 brilliant email marketing campaign examples will give you fresh ideas and kickstart your creative inspiration!
What is an email marketing campaign?
An email marketing campaign sends personalized emails to existing and prospective customers to facilitate a company and let them learn about new products or services, special discounts, or other updates. These emails usually have a clear call-to-action button.
An engaging email can drive customers to take various actions—from buying to signing up for a rewards program—and can assist you in developing what will hopefully become an ongoing relationship with them. In addition, a successful email campaign can help drive traffic to your website or online store and create a community around your brand.
Email marketing campaigns usually work best when you're working with a large email list. However, it's essential to remember that you should send emails only to those who have willingly signed up to receive your communications.
Let's have a look at email marketing campaign examples one by one.
Best Email Marketing Campaign Examples
1. Netflix
Over 50% of US households subscribe to multiple streaming channels. With several platforms competing for our attention, brands like Netflix have acquired more targets with their emails.
This email from Netflix offers a curated list of new shows the customer may be curious about based on their watch history. It's skimmable, with abundant visuals supporting the new releases, and offers a CTA that encourages you to watch the trailer.
It also utilizes Netflix's familiar black-and-red design so that the recipient feels like they're scrolling through Netflix, showing the significance of keeping branding consistent across all your messaging channels.
The CTAs in this email attract users to stop what they're doing and head over to Netflix to check out the new content. It also contains a "Top Picks for You" section that offers personalized recommendations for the user.
2. Starbucks
This small animation helps Starbucks stand out from all the emails in its recipients' inboxes. It also leverages exclusivity by phrasing the promotion as a blessing of having a Starbucks membership. Usually, this type of positioning makes the recipient feel like they're specially selected, prompting them to take advantage of the amazing opportunity they've been presented with.
At the bottom, "This offer is exclusive to you and this Starbucks Rewards account and cannot be reproduced, transferred, or used by anyone else." This makes it special and unique.
Emails can get static, boring, and impersonal. Starbucks' email subverts those expectations without going overboard. Moreover, its emphasis on exclusivity makes it an excellent addition to any inbox.
3. Venmo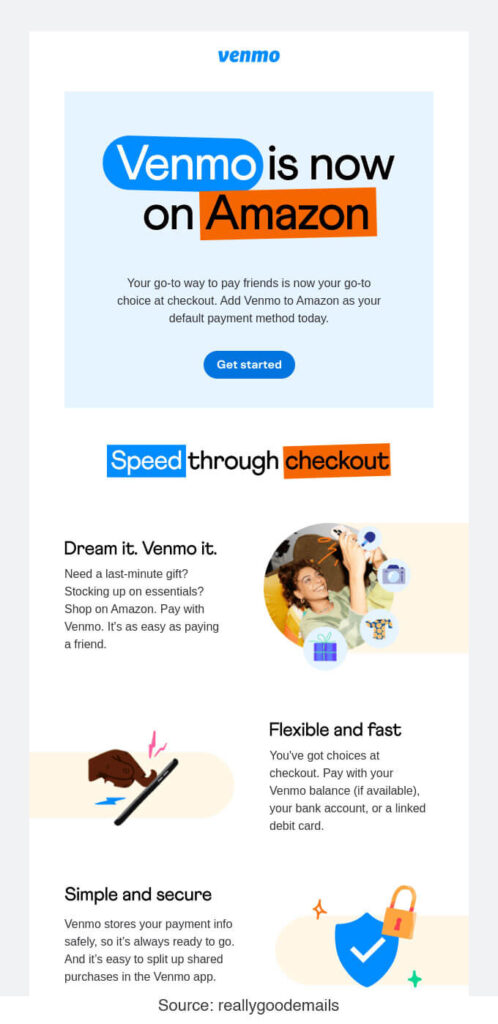 Venmo tries to re-engage lost users with this friendly, informative email. By emphasizing their app's most recent modifications and benefits, the copy attracts recipients to give the app another chance. It also talks about the benefits the recipient may not know about since the last time they used the service.
The email is concise but packs enough information for the recipient to make an informed decision.
Small additions like the "Explore Venmo" CTA and the benefit-focused copy makes the content feel welcoming and warm. We also love the branded imagery and interesting graphics.
4. Litmus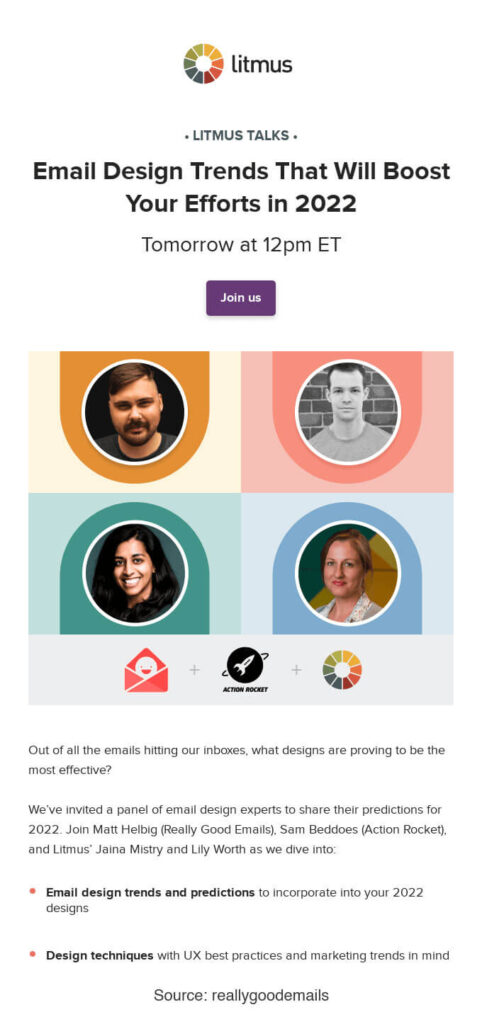 Here's another great email marketing campaign example of animation used to build a more interesting email marketing design. Unlike static text, the swipe gesture that gives recipients a look "under the hood" of their email tool is attractive and boosts you to dive deeper into the rest of the content. In addition, the header does an amazing job of explicitly stating what this email is about.
The animation is subtle, and it's executed in a way that helps to enhance the email's body copy. Even better, it works nicely with the design of the email, giving a matching but distinguishing focal point before the reader dives into the rest of the copy.
5. Birchbox
You can always consider Birchbox when it comes to sending great emails; this email marketing campaign example is no exception. The copy and image work perfectly together and build a sense of playfulness. In case you don't know, the paper object featured here is a paper fortune teller game that many pre-teens and teens have used.
It's an engaging, fun, and quirky way to entertain subscribers and get them enthusiastic at the prospect of which free prize they could get with their first Birchbox order.
6. Mint
It's great to send your subscribers anniversary or birthday emails to show them that you're thinking about them. These emails can be fully automated, making them an effortless way to improve brand affinity and keep your brand at the front of your subscribers' minds. This email marketing campaign example from Mint by Intuit is fun and friendly.
And, perhaps most importantly, it doesn't request the subscriber to do anything or purchase anything. Instead, they can admire the gesture, enjoy their warm feelings about your brand, and move on with their day.
7. Artifact Uprising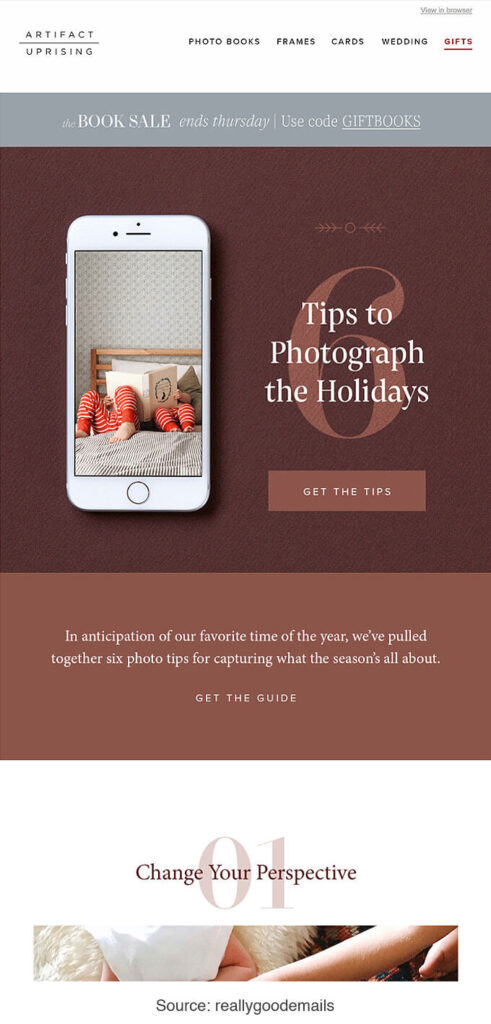 With this email marketing campaign example, Artifact Uprising helps subscribers learn where they stand on a critical social issue and uses this as an opportunity to put their money where their mouth is. This email campaign was created as part of the Black Lives Matter movement and featured a curated selection of photos to "uplift and invest in Black visibility."
While this could have been employed as a tactic by Artifact Uprising to drive more sales for their brand, they took a solid stand by contributing 100% of the profits from this campaign to organizations for Black advancement. If you're designing a campaign around a social issue, this is the way to do it. Additionally, the imagery included in the email is simply exquisite.
8. Uber
Uber's email campaign is very simple yet classy. We love how Uber gets directly to the point in their newsletters. The text is usually very short with a clear CTA, which is ideal for subscribers who don't have a lot of time and just look at the message.
For those who want to know more, there is always a link you can follow. Uber always sends different promotions and provides an awesome map of your rides, with a detailed map of your journey.
9. Patagonia
Here is another email marketing campaign example from the outdoor lifestyle brand Patagonia. New subscribers get this first email after signing up for their email list.
Right away, Patagonia establishes expectations for subscribers. Hence, they comprehend what subscribers will get in their emails from the brand, i.e. product highlights, sale announcements, store events, and environmental action alerts. In addition, subscribers get a friendly "welcome to the family," which significantly improves brand affinity.
Patagonia also shows reassurances throughout their email, from letting subscribers learn that the brand won't share their email addresses to their "Ironclad Guarantee" that closes out the email.
10. PayPal
In this email marketing campaign example from PayPal, subscribers are urged to use the "checkout with PayPal" feature and are shown the advantages of using that feature. It's a simple email with minimal copy that concentrates on the benefits rather than details about the feature itself. It's all presented in an easily skimmable format with soft colors.
11. BuzzFeed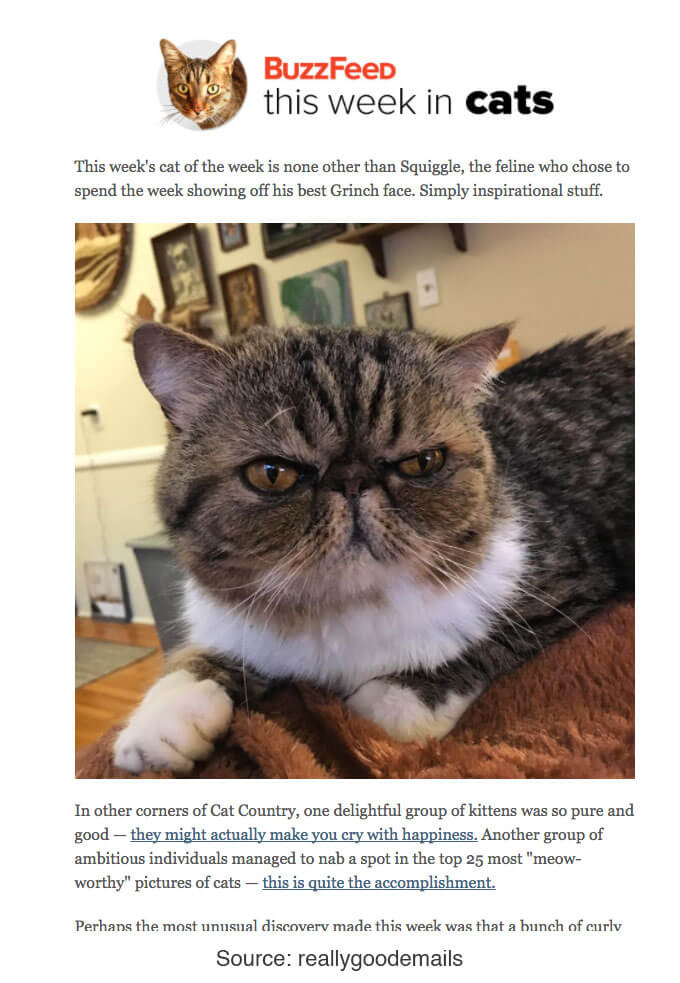 The newsletter evolved as one of BuzzFeed's top sources of traffic. They are wonderful when it comes to writing awesome content. Their subject lines and previews make you instantly open that email! Our favorite and the most influential newsletter you can get is 'This Week In Cats.'
Yes, it is exactly as chill as it sounds. Every Friday, you can get the finest and cutest stories about cats. Those newsletters contain a bunch of links and meow-worthy pictures of cats. Also, you can always ask Dumb Cat for guidance, and maybe he will explain in the next email.
12. On
On is a Swiss running shoe company that utilizes personalization and automation in its email marketing campaigns to associate with running enthusiasts worldwide. It is a formula for success when paired with top-notch, patented running technology.
As runners travel the globe, On gives downloadable running maps they can pick as they visit other cities. Once they've selected a map, it automatically arrives in their email. It shows an intriguing route for a run and underlines restaurants, shops, and local destinations to check out along the way.
The company bases these recommendations on data collected from each customer based on their purchases and interests.
These emailed maps are fun and engrossing without being too salesy and transactional. They're enlightening and useful while giving subscribers a sense of adventure.
13. ‍Adidas
The key to Adidas' successful email marketing campaigns has been personalization. As they acquire customers worldwide, they send millions of emails targeting the specific interests and preferences of people on their email list with corresponding content and offers.
To build this targeted content, the brand reviews all available data, such as location, language, product interest, and purchase history. Then, they recommend other items for shoppers and even new sports and lifestyle changes.
This was extremely successful during the COVID-19 pandemic when most people weren't shopping in stores, and many companies were required to reach customers in new ways.
In this example, Adidas employs minimal text in making suggestions specific to shoppers, and there's no mention of pricing anywhere in the email. Instead, it depends on the product image to entice customers and pique their interest in this promotional email.
14. Mom and Dad's Money
Think of people who read your marketing emails. How much of what you "know" about them is based on beliefs? The powerful buyer personas are based on insights you accumulate from your actual readership through surveys, interviews, and so on — along with market research.
That's exactly what Matt Becker of Mom and Dad Money does — and they do it very well.
This example, design-wise, it's nothing special — but that's the point. It reads just like an email from a buddy or colleague.
15. Postmates
Postmates is one of the best email marketing campaign examples. GIFs are effortless to consume, grab your attention, and have an emotional impact — like the fun GIF in one of Postmates' emails that's pleasant to watch and makes you crave some tasty Chipotle.
You, too, can employ animated GIFs in your marketing to deliver a fun header, draw people's eyes to a specific part of the email, or portray your products and services in action.
It centers the product in a fun, engaging way. Not only that, but it effectively catches the eye of the recipient, distinguishing the message from others in their inbox.
16. Dropbox
You might assume it'd be hard to value an email from a company whose product you haven't used. But Dropbox discovered a way to make its "Try out one of our products!" email professional, polite, and actionable, thanks to an impossible-to-miss call-to-action and direct links to template libraries.
Plus, the email remains concise and sweet, emphasizing that Dropbox didn't want to interfere — it just wants to remind the recipient that Dropbox Paper exists and why it could be useful. When sending these types of emails, you might contain an incentive for recipients to try out one of your products, like a limited-time deal or a free trial.
It utilizes a grid layout that's easy and user-friendly to present its product as a diverse solution. In this email, the recipient gets a peek of what they're missing by not utilizing Dropbox Paper — templates and documents they could start customizing immediately.
17. ‍Etsy
One of the best email marketing campaign examples is Etsy. The design is super eye-catching — without looking messy — and the home items are user-made. Etsy markets merchandise featuring designs from artists worldwide. This offers a golden opportunity to feature popular products across the Etsy community.
This example demonstrates creations by several Etsy shops. When those makers notice Etsy featuring their content, they'll be more likely to forward the email to friends and colleagues.
However, linking to different Etsy shops' products, the email campaign contains a time-bound call-to-action ("Shop the final hours") and numerous eye-catching discounts. For that reason, Etsy's customers are likely to splurge — and open other emails in this campaign to discover more ways to "Save on top faves."
The email lets the items express themselves, showcasing them as art rather than products. We also adore the cohesive aesthetic of the showcased Etsy shops.
18. Spotify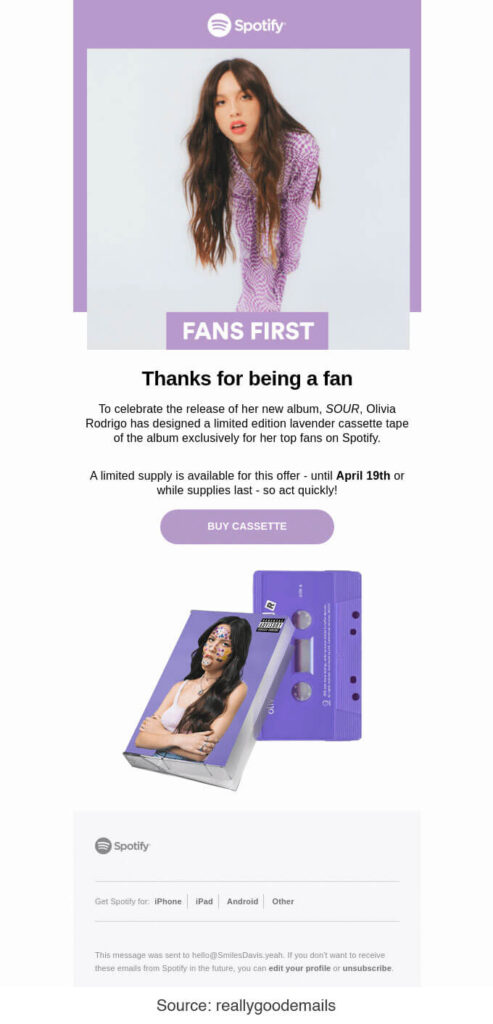 Spotify is the king of personalization (Spotify Wrapped, anyone?), and this email is no exception. The subject line — "Olivia Rodrigo made you something special" — already attracts clicks because only fans of the artist got this email.
In addition, the offer to purchase a cassette of the album harkens to the nostalgic feelings emphasized by Olivia Rodrigo in her songs and recent trends on TikTok and Instagram.
This email is well-poised to cause purchases from the imagery to the call-to-action. We also love the colour palette, which diverges from the Spotify branding only to highlight the colors from the album. That way, it feels like you're getting an email from Olivio Rodrigo's team, not a third party.
Conclusion
Now that you understand what goes into a good email marketing campaign, it's time to start planning your own.
To get inspired, check out our roundup of 17 brilliant email marketing campaign examples from some of the world's top brands. You can create an email campaign to engage and convert your audience with a little creativity and effort. So what are you waiting for? Get started today!
NotifyVisitors helps you design enticing email marketing campaigns so that you can generate better outcomes. If you also want to launch an email campaign, then consider scheduling a free demo.
Also Read: