How To Build A Lead Generation Funnel

Lead generation and lead nurturing are important aspects in the marketing and sales world. The two software are essential to enhance and promote a business. Attracting and engaging more and more customers to the brand is the main aim of every business. The marketing world has developed the concept of a lead generation funnel to help businesses achieve their goals. This funnel is a process, mapping the entire customer journey so that qualified leads can be turned into customers.
What is a lead?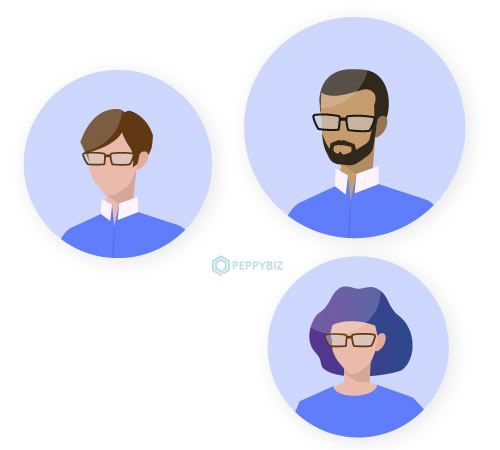 A lead is a potential customer who has shown interest in your business in some way. To put it simply, a lead is essentially a potential customer that has not given you any money. It's someone interested in your product or service who is waiting to be convinced of a purchase. Find your leads with PeppyBiz, and reach the pinnacle of business.
They have taken the first step in learning more about your solution or becoming a customer officially entering them in a sales funnel. From there the sales team will qualify the leads based on some factors.
Four things are very important for a person to qualify as a lead according to the BANT method:
If they have the budget for your solution.
If they have the authority to buy.
If they need your solution.
If they can make a timely purchase.
If the lead is qualified, they are converted into a prospect. If the prospect has agreed to consider your solution, they become an opportunity. If they make a purchase, they become a customer.
There are two different kinds of leads:
Market qualified leads: Marketing qualified leads are people who have shown interest in your business by interacting with your marketing materials. For example, signing up for an email or subscribing to a blog post.


Sales qualified leads. Sales qualified leads are individuals who have shown interest in making a purchase. For example, filling a form requesting a demo.
What is lead generation?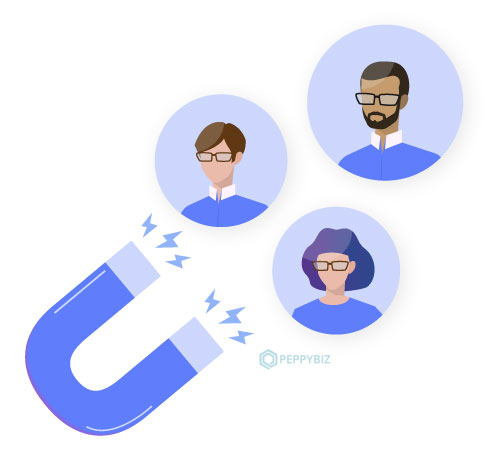 Lead generation is a marketing process of stimulating and capturing interest in a product or service to develop a sales pipeline. As the business processes evolve, marketers must find new ways to combat the noise of other market campaigns. They must also reach buyers, where they are, instead of finding customers through email marketing and cold calling. Marketers focus on effectiveness and relationship building. The service of PeppyBiz will help you reach potential clients.
Since lead generation is a step of the process, quantity and quality are very important. Buyers have learned to ignore messages that are not relevant or appealing. They instead research on their own what they want to know about certain products or services. This makes your company's digital presence more important. In today's digital age buyers are more likely to find sellers than the other way around. A solid lead generation strategy will help you build trust and get and maintain the interest of potential buyers.
What is a lead generation funnel?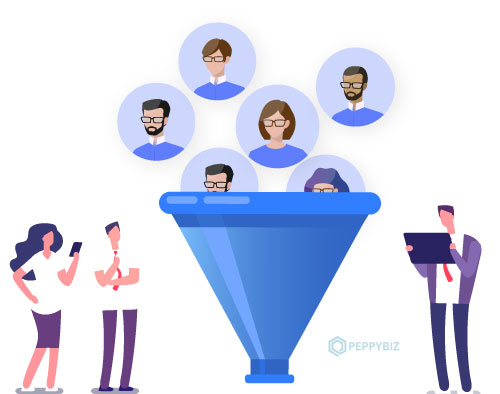 A lead generation funnel helps you get leads. A lead funnel is a journey and a series of steps that a lead has to go through. It is a process that begins from being a lead to an intrigued prospect to an opportunity, and to become a permanent customer. This funnel is best understood as a visual representation that is divided into the various stages that structure the funnel.
A lead funnel was introduced to help businesses to influence their customer's journey. This is a process that guides the buyer's decision.
Since we have learned what lead general funnel is, it's crucial to understand why it is important.
What makes the lead generation funnel Important?
Lead generation is a very important step in sales and marketing. If a business wants to expand and reach a wider audience, this is where its focus should be. To achieve this, the businesses need to analyze the process of lead generation which is also known as the lead generation funnel.
Let's move forward and understand how it works.
What is the process behind the lead generation funnel?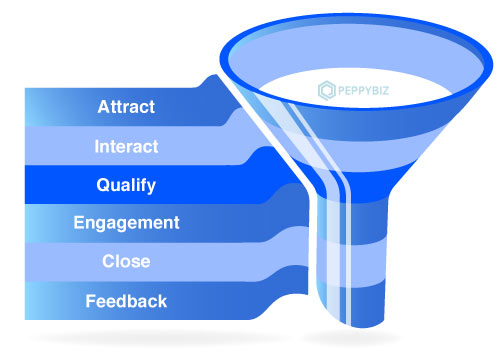 The process of creating a lead generation funnel involves a few steps.
The first step is to make an offer about the product that will appeal to the audience at large.


The content should be created with an intention to surprise and delight. Ebooks, blogs, videos, etc. should be used for manufacturing content that the visitor feels connected to. Optimizing the SEO content and designing content separately for each stage of the lead generation funnel will help.


Analyzing the content of the competitors and using that information to optimize and enhance your content is a great strategy. Your content should provide more value so that the visitors start to develop the faith to invest in your organization.


The next step would be to drive the traffic towards your content through a strong SEO strategy, email marketing, and social media.


Once the visitor feels interested in your solution, collect the personal information using a lead magnet. The entire key in a lead generation funnel is a good lead magnet. A lead magnet is a trade of valuable content in exchange for their information.


Now all this information should be used to close the sale.
Let's have a closer look at the stages of the lead generation funnel.
Stages of lead generation funnel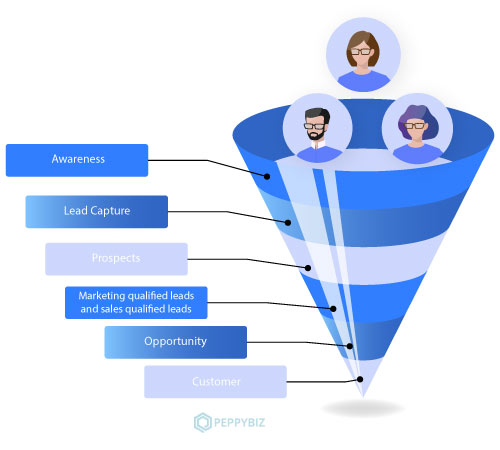 If a business is focusing on ROI, then creating a lead funnel is crucial for it. However, before making plans on how to create a lead funnel, one should be aware of the stages of a lead funnel. The first stage is the top of the funnel stage (TOFU). Here, the main priority is building the trust of the visitor.
1. Awareness
The first step that marketers should take is creating awareness about the brand. For people to turn into customers, they need to be made aware of the business. The businesses presume that the audience is not well informed about the offer they are making and then accordingly put all the information which may trap the interest of the audience.
While advertising some questions need to be answered like what type of business you are, what you are offering, and how you can add value to the life of the customers. You can use marketing tactics like blogs, guides, social media, podcasts, and videos. To select the best tactics for your business, PeppyBiz can give you great advice. It is important to remember that you are building trust here so that the visitors are ready to give their personal information to you.
The second stage is the middle of the funnel stage (MOFU). Visitors have realized that their problem needs to be addressed and are looking for solutions. Here, trust builds, which is used to develop a strong business relationship.
2. Lead Capture
Lead capture is a landing page where you are going to collect information about people that could be potential customers. In a simpler language, it is them permitting you to start talking to them about your product. They are there to get the piece of content you are offering. The focus here should be on providing high-quality content. This is the point when you can start lead nurturing them.
There are some methods by which you can get people to sign up to learn about the content. Some of them may be PPC campaigns where informative and concise landing pages can be created and attached. Another method may be writing articles with relevant keywords to attract traffic to the website. You can also look for an aggregate for the business. Some offline methods can also be used such as conducting events or attending trade shows.
3. Prospects
Nurturing the leads will turn them into prospects. A business should create a prospecting plan. A prospecting plan should include sending promotional content. The content should be relevant, creative, interesting, professional, and informative. Using inappropriate and repetitive content will make many potential customers reject the prospective plan.
4. Marketing qualified leads and sales qualified leads
The marketing team and the sales team play a huge role now. The role of marketing is to bring qualified leads (MQL's) to the sales organization and the role of sales is to take the qualified leads (SQL's) through the sales process to close a sale.
The third stage is the bottom of the funnel stage (BOFU). Once the leads turn into prospects, the focus can now be on selling the solution to them. A business has to reassure them that the transaction with your business will be beneficial to them and is the right choice.
5. Opportunity
The sales team spots opportunities to start selling their products. Here is where negotiation takes place. The salesperson is trying to convince the prospect to close the deal and invest in the solution.
6. Customer
This is the last stage where the prospect finally converts to a customer. They start buying the solution from the organization and are now paying customers. This is technically the last stage but businesses know that they still need to ensure that the customer is delighted and loyal. They need to make efforts to retain these customers.
Conclusion
The lead generation funnel is composed of mainly three stages: attract, engage, and convert. These stages convert visitors to leads and lead to prospects, who in turn are converted into customers. This process not only helps businesses to grow but also builds trust for their brand in a market. That is all you need to know about a lead generation funnel.
FAQ's
1. What are the different types of leads?
There are two different types of leads – Market Qualified Leads and Sales Qualified Leads. The leads generated from the market are usually when potential clients interact with your marketing material and connect with your business while in sales leads it is through the interaction of purchasing a product or filling forms. 
2. What is lead generation?
Lead generation is a situation when a potential customer is interested in your product or services. And it is up to the marketing team to be able to convince them to make the final purchase. 
3. What is a lead generation funnel?
In a normal funnel the content is put in the funnel, sifted and at the end, only the filtered content is obtained. Similarly, in a lead generation funnel, the visitors are put in, sifted, and converted from leads to prospects, and at the end, the customers are obtained. Therefore, it is known as the lead generation funnel.