The Complete Guide to Kanban Project Management

Kanban project management is one of the rising and dominating project management procedures. This procedure maintains the route of documents and data about your assignments. It also prepares them to be available just when you want them. Jira Kanban project management tool is one of the software that gives many Kanban solutions.
Kanban is one of the common frameworks that are in use for executing DevOps and agile software development. It expects real-time transmission ability with the entire clarity of work. On the Kanban board, you can see the vertical representation of work items. This process enables the whole team to watch the state of each chunk of work anytime, anywhere.
History Of Kanban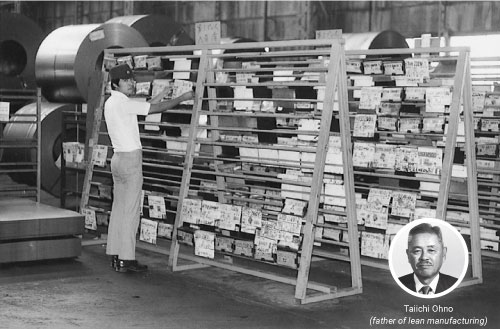 At first, the Toyota car company used this project management methodology in the late 1940s period. It was created by Taiichi Ohno, a Japanese industrial engineer. They took glances at other storing procedures, like supermarkets' methods, and involved them to their factory ground. In general, in a supermarket, buyers shop for the things they want and do not often buy to stock them.
Thus, the supermarket stores the things it anticipates to vend. Taiichi Ohno, the maker of the Kanban project management method, made Toyota evolve a method. In this method, the production series was assumed as a consumer who needs sudden stocks. In further words, the production plant stores the stock of categories that satisfy real consumption.
Using the replenishment cycle, Toyota tracked the consumption levels of the customers. The replenishment rotation process shows the visible line from supplier to buyer. The percentage of demand regulates the percentage of output. Toyota has been trying the Kanban project management approach for managing workflows in their main machine plant since 1953.
Starting from the factory floor in Japan, Kanban methods are now in use by many people. And also, it is one of the leading universal tools for managing lean manufacturing systems. By 2000, it was founded as one of the useful methods to picture the work. It is also used to restrict work in growth, directing on flow, and practicing consecutive developments.
Five Main Principles of Kanban Project Management.


Kanban is an easy framework that does not need certain arrangements or methods. In general, this methodology is very simple for divisions. They can either start with or cover the exterior of surviving workflows.
Various teams use Kanban project management to detect if it lives up to its significance. Such as boosting productivity, giving great quality, and limiting trash. Being one of the leading methodologies, Kanban projects comprise the following five key principles. They are:
1. Picture the workflow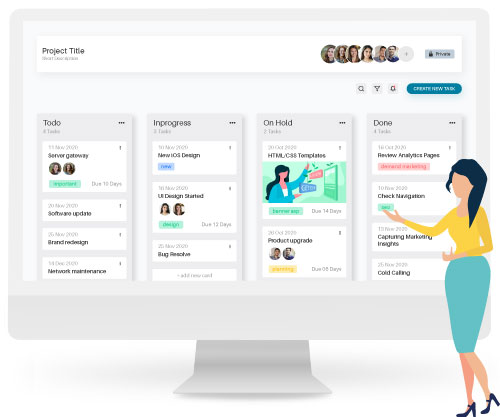 To regulate the work by using Kanban methods, you must be capable of understanding and picturing it. With the help of a real-time and up-to-date Kanban board, it became very easy to visualize the work. This also allows you to mitigate problems in the early stage itself.
2. Curbing work in progress (WIP)
WIP limits, which stand for work in progress limits, specify the duration of time. It also shows the time in which teams can complete each stage of certain work. They also provide tracking solutions for workflows on board. Kanban concentrates on decreasing WIP to improve velocity and effective output.
3. Organizing and enriching the flow
The action of workflow or other functions of work on various Kanban boards will be regulated. After this, you can enhance the workflows. To perform this, it is crucial to calculate and search for action metrics. Such as the sum of elements in the process and the total number of near completion items. All these necessities are in use to evaluate the normal completion ratio and entire cycle duration.
4. Preparing specific workflows
It is crucial to improving the efficiency and productivity of your entire workflows. And also, you have to make sure that every team is familiar with the procedures and methods. To ensure the above things, you must examine your steps on a normal basis. By constantly re-examining the steps in the workflow, it becomes more efficient.
5. Constant improvement
After ensuring all the above things, it is not the end. You have to improve them and make sure that they are on par with the present changes. So, when your team is operating on the Kanban project management system. They should be capable of observing and resolving problems. It is also good to give feedback on the procedure to ensure the main results.
Pros And Cons Of Kanban Project Management
The optical character of the Jira Kanban approach is quite a special feature. It is important when assuming if it is a good project management method for your team or not. Just like any other approach, Kanban project management also comes with a set of both advantages and disadvantages. Here is a look at the pros and cons of using a Kanban approach.
Advantages Of Kanban Project Management
Below are a few pros of adopting Kanban project management. They are:
1. Improving flexibility
The Kanban approach doesn't have any already set stage durations. It is more like a liquid criterion. In this kind of approach, the preferences change over time. You can also reevaluate the priorities with the onset of fresh details.
2. Decreasing waste
The Kanban approach doesn't allow the team or members to spend too much time on unnecessary tasks because it keeps the main focus on decreasing trash, repetitive, tedious, and useless work.
3. Easy to begin
The Kanban approach comes with a certain visual nature. This feature makes it attractive and very simple to understand. It is easy to use the Kanban features, so the staff or teams don't need to adapt and learn a new methodology.
4. Increase flow
The Kanban method concentrates on the just-in-time approach. It also gives value to the tasks and workflow. This approach makes sure to provide work on a normal tempo.
5. Short cycle time
In this Kanban method, the whole team maintains the priority of reducing blockages. It also assures that work is moving along the procedure at a fast pace.
Disadvantages of Kanban Project Management
Below are a few cons of using Kanban project management. They are:
1. Complex board
The Kanban boards are a bit complex. This makes it difficult to get access and use Kanban methods. Kanban is famous for its easy to use functions, so the boards should also be a bit clean and comfortable to read.
2. Old or traditional board
For this generation of people, everything should be up to date for maximum productivity. If the boards are not up to date, there are risks of false or inaccurate data usage. So, to curb this, the teams must underline the significance of maintaining boards up to date.
3. Absence of timing
In the Kanban approach, it provides columns only for certain things like phases. Such as to be done, in progress, in review, done, archive, and more. It doesn't have any sections that can show the time of task completion.
Best Kanban Project Management Software
Below are a few project management software with all-around Kanban methods and features. They are:
1. PeppyBiz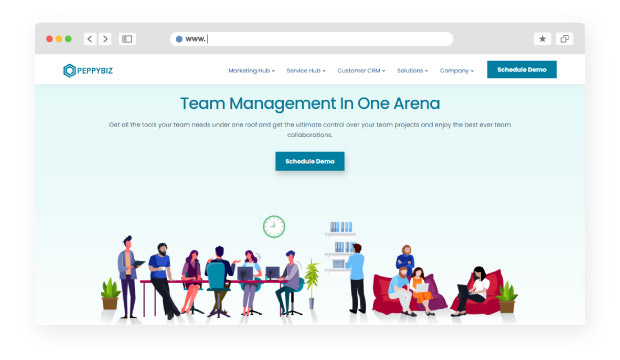 PeppyBiz is one of the rising software in the market. It comes with solutions for various things like project management, CRM, marketing automation, and many more. The present number of customers that are consuming these software services are more than 12,000 around the world. You can assign the tasks to your team in an easy way.
This software also provides features like calendar views, reminders, alerts, time-specific charts, and a few more. All these features make the work more effective and allow them to complete within the deadline. It also offers tracking solutions that you can use to track projects, team progress, and more.
2. Jira desk
Jira Kanban software is very easy to adopt and one of the strongest software in the whole market. This software provides out-of-the-box workflow. It enables users to develop their Kanban boards for tracking their tasks and projects. The Kanban workflows are flexible and robust.
So, you can build the procedure that matches your business. This software provides a sum of 200 and more integrations to connect with other outer apps. Their software allows you to catch problems. You can also assign tasks to others using this software. It also comes with a lot of Scrum approach features along with Kanban features.
3. Trello
Trello is one of the few user-friendly software. Their Kanban project management software is sufficient for personal users or tiny teams. It is also good for those people who are new to this approach. This software enables guests to use and understand their solutions in just a few minutes.
You can create a structure that goes well with your team using this software. One of Trello software's best elements is that it provides integrations with more than 100 digital appliances.
4. ProofHub
ProofHub is one of the widespread software that is in use as a project planning software. This software is in use by many in-house teams, remote teams, and small teams. It has a very impressive optical feature.
You can self manage your teams by watching the projects going through many phases. ProofHub is a software with many Kanban approach tools. Here, you can put in task plans to team units on those schedules. This software offers an online Kanban board.
Conclusion
Many teams from various kinds of industries are acquiring Kanban project management systems for their work. Because of its easy to use, creative, and flexible features. You are free to pick any of the above Kanban software as they all come with many top-notch functions.