What is Enterprise Project Management (EPM)?

Project management plays an important role in any organization. A project manager or the managerial team handles the whole of project management. It is a daunting task to manage one project successfully at a time. It becomes even tougher for enterprises handling multiple projects at the same time. To help out, experts have put together a term called enterprise project management (EPM).

In this blog, we will learn how enterprises manage their projects. We will also learn about the various aspects of the same.

What is Enterprise Project Management?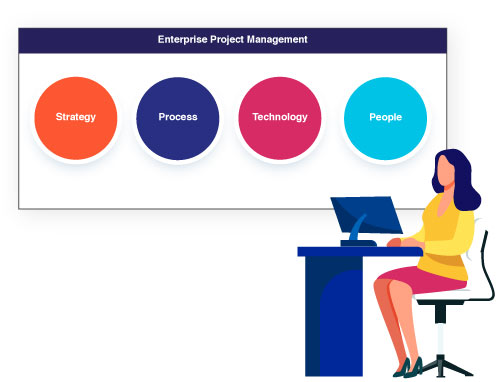 In an enterprise, there are multiple complex projects taking place at the same time. These projects may or may not have a relation with one another. But, they altogether impact the enterprise's business goals. This is why an effective project management strategy must be in place.

EPM is the practice of handling the projects taking place throughout the organization. It helps maintain project deadlines and standards. Conventional project management focuses on only one project at a time. At the same time, EPM focuses on achieving business goals through various projects.

Aspects of Enterprise Project Management?
Shifting to EPM favors the organization in many ways. Since it focuses on various areas, it improves the overall quality of the workflow. It manages the following parts of a project:

1. Resource Management:
Resource management is one of the important success factors in any kind of project. Resources can be anything from human resources, digital resources to time, cost, etc.

Essentially, a resource is something that is a requirement for the project's completion. When multiple projects take place at the same time, it can be difficult to allot resources. EPM helps you manage everything from a wider perspective. It is important to plan the resources before the project starts. Without prior planning, you may run out of resources halfway through the project.

Adopting EPM lets the project manager keep track of all the resources in use. It has strategies to monitor the resources regularly and has strategies to reallocate resources to maintain workflow efficiency.

2. Schedule Management: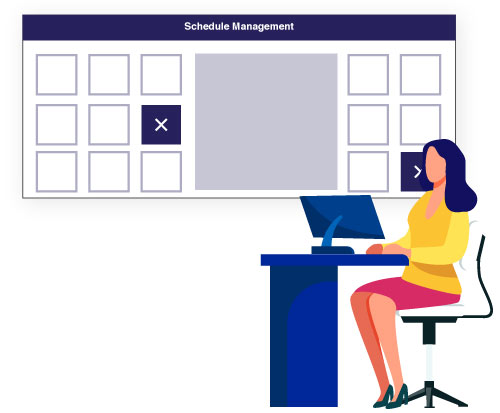 Maintaining deadlines plays a vital part in determining the projects' success. Also, scheduling the delivery on time is a crucial factor. When you have an expert who needs to work on more than one project, you arrange their schedules accordingly. Schedule management is assigning the resources to projects to meet the project deadlines.

Using good project management software increases the efficiency of the scheduling process. You can easily visualize the schedules assigned to each employee in the organization. Detailed scheduling before the project takes off reduces the possibility of delays in a project.

3. Financial Management: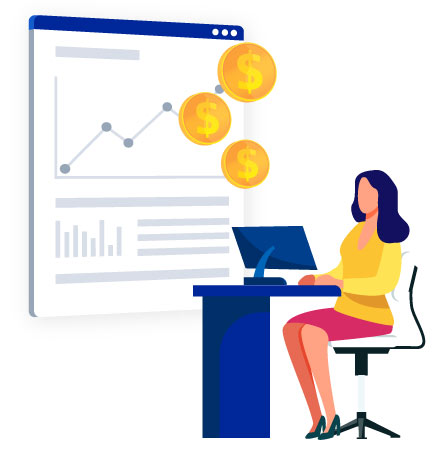 Financial management is an aspect of EPM that everyone places importance on. For a business to be successful, finances must be in order. Failing to do so results in unsatisfactory stakeholders and organizational dysfunction.

Every project has a financial constraint you need to maintain. A good EPM software will enable you to keep track of all the expenses. As a smart project manager, you must strive to reduce the cost. By doing that, you can effectively increase the company's revenue.

4. Risk Management: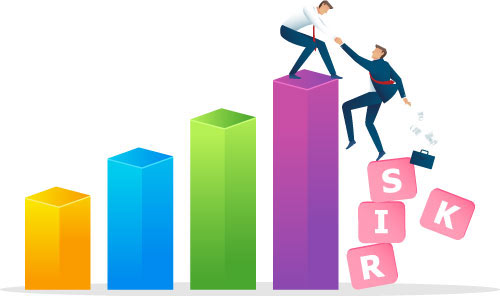 In enterprise project management, assessing the risks associated with every project is crucial. For creating accurate forecast models, you need to consider as many variables as possible. A software solution proves useful in this situation.

There are many unprecedented situations bound to happen in a project. While managing multiple projects at the same time, imagine the number of risks involved. Creating a summary of all the risks and laying out redundancy plans is the smartest way to approach risk management.

5. Time management: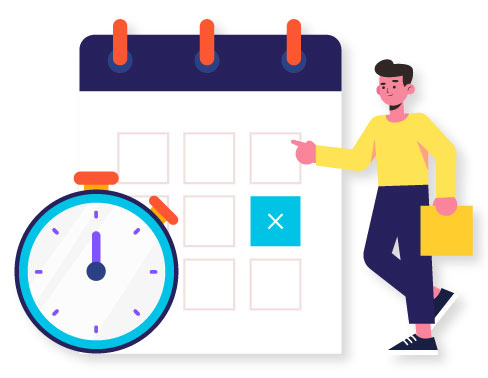 Time management plays a vital role when it comes to handling all projects at once. Each project will have many deliverables and each with its deadlines. This is why you must use an efficient tool to create timesheets. You can easily manage the time spent by employees on each project.

You can also easily monitor the bottlenecks in the process with the use of timesheets. Effective time management strategies also reduce the time spent on unproductive tasks.

6. Team management: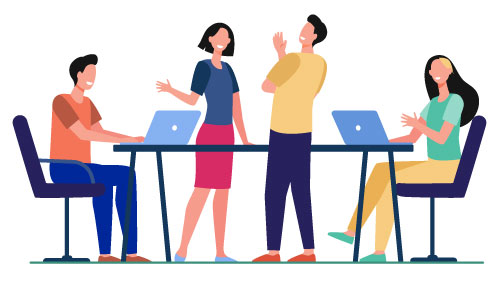 Small organizations receive projects that require a very less number of teams. But, enterprises work on huge complex projects. They require teams of various expertise working on the project. So, proper communication is necessary between the teams to maintain the common goal.

EPM is all about increasing the collaboration between teams to boost productivity. Inefficient communication between the teams results in projects deviating from the primary goals. It also results in projects getting delayed or even halted.

You can have many ways of communicating within an organization. But it is wise to centralize communication between the teams. Most modern project management tools come with tools that can streamline communication. By having separate boards for each project, you can efficiently manage and track conversations.

7. Report Management: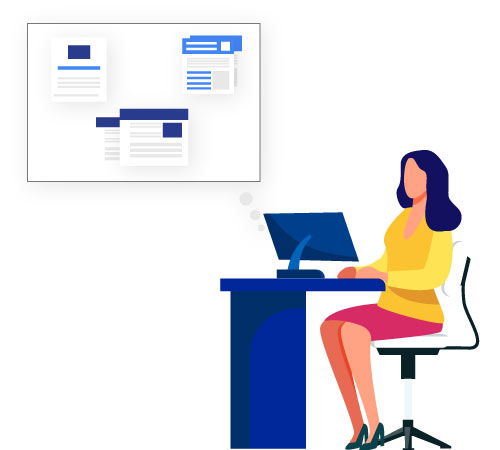 Why are reports so important? Reports are the only way we can effectively monitor the business process efficiency. To know well about how each project contributes to your business objectives, reports are vital.

Creating reports and analyzing them constantly keeps the project on track. After going through the report, a good project manager will identify the areas that need amendments.

The following are some reports an enterprise project management advises you to create:

Team report.
Status report.
Project health report.
Risk assessment report.
Time tracking report.
You can also use suitable software to improve the accuracy of your report creation and management process.

8. Project lifecycle management: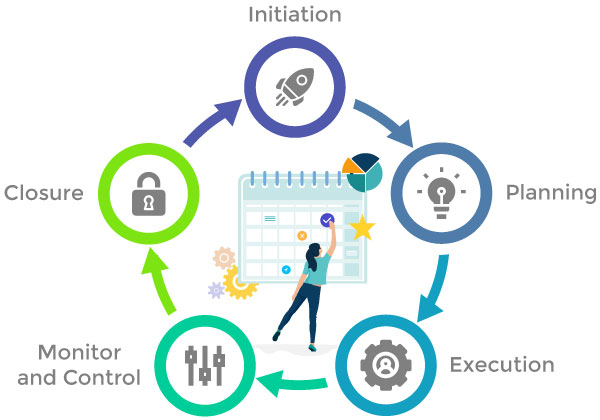 A typical project life cycle involves the following steps:

Initiation.
Planning.
Execution.
Monitoring and control.
Closure.
In the same way, an EPM also undergoes all these phases. It ensures that the projects' processes don't affect the long-term goals. Program management is the term to specify the management of many project lifecycles. You should make sure that the project fits right into the strategic goals of the business.

9. Demand Management:
When managing numerous projects, different teams may need the same resources. Or sometimes, the demand for the project in the market increases due to sudden popularity. Similarly, there are many kinds of demands that you need to deal with.

Having an EPM plan enables you to manage, prioritize and decide easily. Since you have all the projects managed under one roof (E.g., project management software), you can take quick actions. With EPM, you have a wider perspective of what is important. And whether you can squeeze in a few extra resources to meet the demands.

Most successful enterprises meet demands by allowing a separate team to analyze the situation. If answering the demands is profitable for the enterprise, reprioritization takes place.

10. Portfolio Analysis:
A project portfolio lists all the projects taking place in an organization. Just because a project got approved doesn't mean that it will stay in line with your business goals forever. You must analyze your project portfolio occasionally. You can prioritize the projects to suit your business needs.

Furthermore, you may need to spend some time reallocating the resources and other tools. But it will positively impact your business growth. After all, companies undertake projects to grow their business. And not the other way around.

These are the different ways in which enterprise project management concentrates on long-term business goals. And not only on the success of individual projects.

Benefits of Adopting Enterprise Project Management?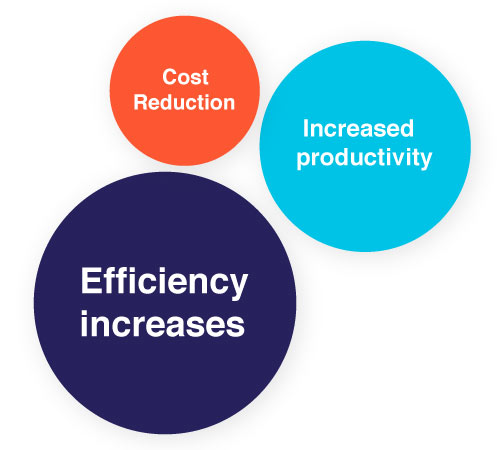 It is quite simple to set up an EPM system nowadays. But it requires an efficient manager to reap all the benefits EPM has to offer. Once you successfully tool an EPM, your business can enjoy many advantages. Below is the list of benefits that most companies gain after implementing EPM:

1. Efficiency increases:
EPM promotes the use of project management software. Using project management software reduces the need for separate documentation and communication channel. Thus reducing the time, it takes to create long and error-prone Excel sheets. EPM also promotes transparency of the workflow. Resulting in employees being clear about the business goals and not just the project goals.

2. Cost Reduction:
One of the advantages of having a wider perspective is the ability to look at alternative ways. With EPM, you will be able to find paths that reduce the cost of the project. Resources rarely go to waste when you have a good EPM solution by your side.

3. Increased productivity:
When employees are well-informed, they tend to work better. EPM promotes such a work environment where everyone understands both the project and business goals. It also prevents organizations from overworking the employees, resulting in better productivity.

Why PeppyBiz?
PeppyBiz is home to one of the most efficient project management software in the market. Our software uses Kanban boards and other modern tools to revolutionize the way you manage projects. With our software, you can manage multiple projects at the same time effortlessly. Check out the impressive features of our software here.

Conclusion
As an enterprise, you must not only focus on projects that have a high price tag. You should also focus on projects that feed your business goals. Whenever you choose a project, be sure that it aligns well with your organizational values. And using enterprise project management is the smartest way to do it.