B2B Lead Generation Strategies for Business Growth.

B2B (Business to Business) companies provide lead generation software to other corporations. These types of software help business firms to operate effectively and also helps to automate the processes. Including startup companies and large enterprises, everyone uses this software to increase their sales, marketing, and customer services with the B2B lead generation process.

B2B lead generation collects detailed information about the customers. Like, email addresses, name, company, phone number, and many more. After collecting the required information, the data are sent to the sales department only after qualification.
The marketing automation process does this. The final purpose of B2B lead generation is to create a lead pipeline system. This helps to turn people into regular customers. 
According to a survey by Salesforce, it is shown that 21 percent of B2B sales time is used for lead research. According to a survey by GetApp, lead generation companies' software is used by around 57 percent.

Five basic lead generation tools are listed below. They are: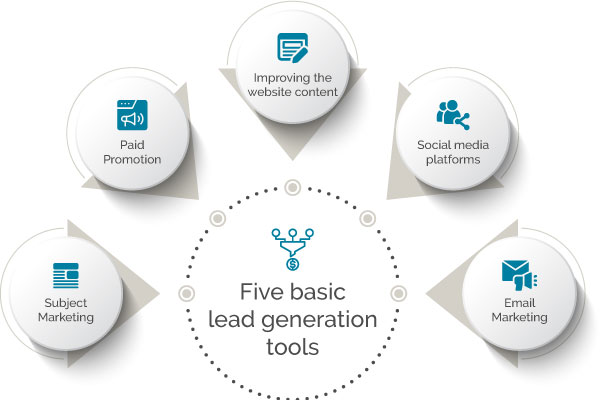 Subject Marketing
Paid promotion
Improving the website content
Providing several social media platforms
Email Marketing
Best Lead Generation Strategies
Lead generation techniques or strategies are few methods to attract visitors and to make them regular customers. Some of the sales lead strategies are explained below.

1. Free trials, demos, and software pricing discount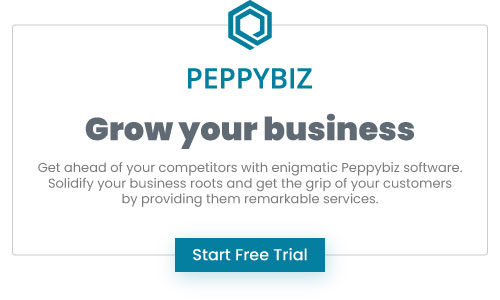 Many customers want to purchase software that is good to use. They want to know how the software works. So, by offering a free trial option for a month, many users will likely buy that software. It is proved that many users choose the software that offers a discount.
Even by offering a free demo or the entire tour of the software, customers have high chances to choose the particular software. Plus, make sure that your software is offered at a reasonable price. 

2. Promoting your software on various social media platforms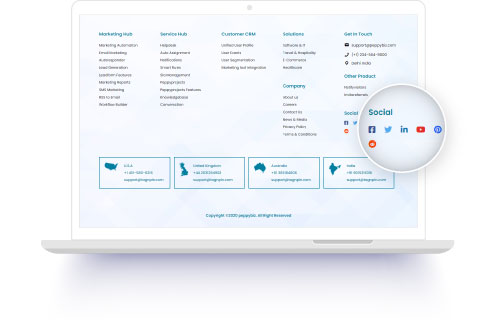 Nowadays, anyone can share anything on social media, and it can gain more attraction. So, it is necessary to make use of these social media channels. There are Facebook, Twitter, LinkedIn, Instagram, and a few more. You can create your software page on these platforms and can also collaborate with other third-party apps.
3. B2B operations in mobiles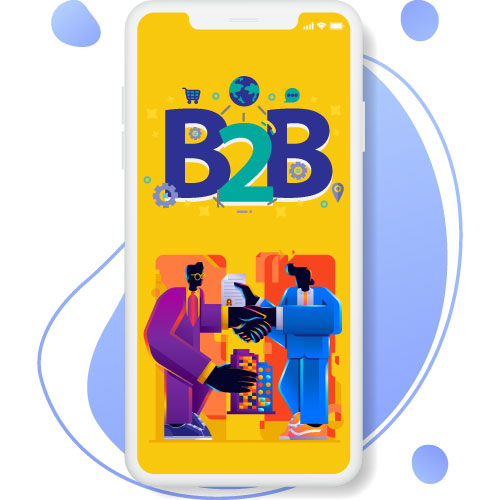 Most of the software usually doesn't work on mobile phones. Nowadays, many people are using mobile devices rather than laptops during the journey to save time. Because mobile devices are easy to carry when compared to laptops.
BCG survey revealed that 80 percent of B2B agents are using mobile devices in their office or workplace. Around 60 percent of the agents said that mobile device operations play a vital role while buying lead generation software.

4. Exit-intent option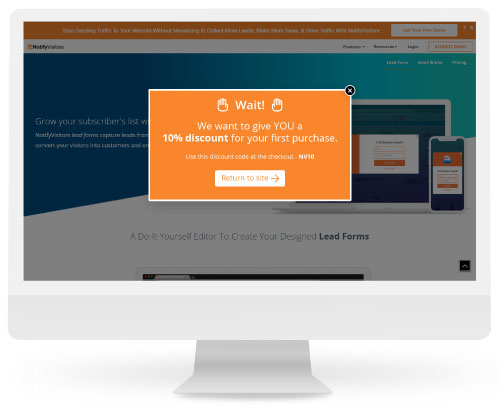 The Exit-intent popup button is the most successful strategy of lead generation software. This appears when the user is ready to close your website. When the user clicks the exit option, the exit popup option appears. This popup button reminds the users about the upcoming offers or ongoing sales of software.

5. Advertising the software
There is no doubt in saying that advertisements are costly. But there are many benefits you can gain from ads. Sometimes it is important to target large buyers, which gives great profits to your company. Advertising software creates awareness among many new visitors. These visitors may turn into regular customers.
6. Referral offers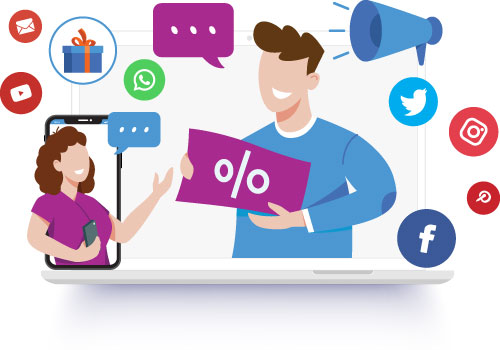 Everyone loves offers and discounts. So, the best way is to create referral strategies. These include getting free purchases or discounts while buying software. The users can have this offer by referring the software to others. When others visit the website with their referral link or referral code, they will gain access to the offer.
7. Locked content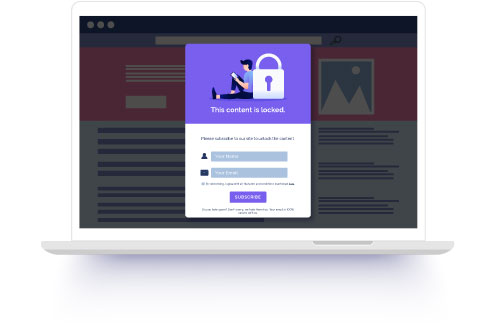 Uploading blog topics about software on the website is normal. Many visitors often read these blog articles. So, to have many customers, you need to create gated content materials. Simply, this means closed content. The key to open this locked topic is filling application form (lead capture form). The locked material may include guides, reports, worksheets, papers, E-books, online courses, and many more.
8. Checking on Previous content and users
There is a saying called 'old is gold.' So, one should never forget about their customers or previous content. Review the old content or subjects to make sure they are in the correct form. When you see an old user again checking your website software, send emails or other messages to inform the user about the new features and sales.
9. 'Out of stock' alternative method
Many visitors may get upset when their desired product is sold or out of stock. This is a loss to the company too. So to tackle this issue, create a link or application. By clicking on this link, the user will get a notification when the product is again available. This is a plus point for both the users and the company.
Some of the Best Lead Generation Software are listed below
1. PeppyBiz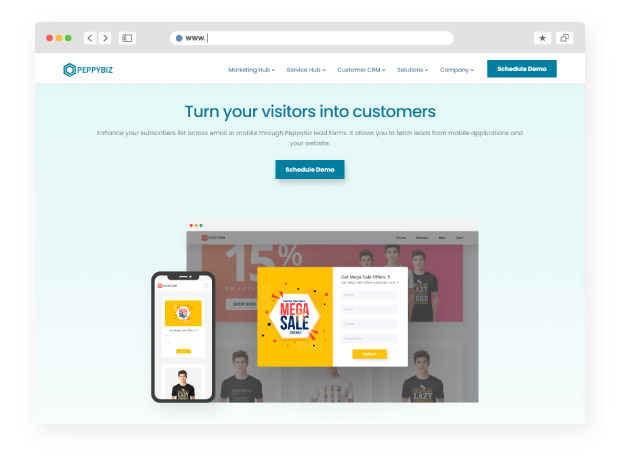 It offers pocket-friendly software and inexpensive software. PeppyBiz offers active software solutions and a variety of marketing strategies. We offer functions such as customer support, list management, and CRM, Email marketing. We clear the customer's issues, track their activity, assigns automatic tickets.
This software offers a good package for startup companies. Many large and famous enterprises have been using our lead generation software. 
2. HotJar
HotJar is a web-based software. Marketing teams and departments majorly use this. You can arrange heat maps to see the high-performing areas using the software. HotJar lead generation software checks website answers using heatmaps, surveys, examinations, and session recordings.
The software captures every login of the customers and makes it easy to group a particular customer's information. 
3. Turnstile by Wistia
Turnstile by Wistia is one of the best sales leads software available in 2020. This software creates sign up or create account CTAs. It helps to save software video viewers into regular customer leads. The software allows you to select the application time(when to appear). It builds custom letters to attract email registrations.
4. Leadberry B2B Lead Generation
Leadberry is a web-based B2B lead generation software. Some of the benefits of using this software give valid and true data, observes the users logged in, records information such as phone numbers, names, emails, social media profiles. It has a robust filtering system, time to time reminders and alerts, comprehensive reports, and many more. Leadberry provides a 14-day free trial.
5. Optinmonster
This is open-source software. Optinmonster lead software is ranked number one as the most powerful conversion toolkit around the world. More than 1 million websites use this software. Some features provided by this software are coupon wheel options, Lightbox popup, Exit-Intent Technology, Geo-location targeting, and many more.
6. LiveAgent
In 2020, LiveAgent Software is ranked Number 1 for live Chat, and it is the most reviewed software in 2020. Some of the features are a universal inbox, an internal ticketing system, splitting, and merging tickets.
7. Pardot
Pardot has been available in the market since 2006. Pardot provides automation that increases communication between squads. The software educates the recent and fresh leads and keeps an eye on the lead management methods.
Some of the features are search tools, landing papers, public connections, and systems. Other features are templates, a visual build editor, several reminders, instant sync data options, and many more.

8. HubSpot
Hubspot service is a dominating development outlet. The main focus of HubSpot software is to attract people and convert them. HubSpot has been active since 2006 and is increasing its customers at a fast pace.
The tools and strategies in HubSpot lead generation software benefit your company. As for now, HubSpot software is being used by more than 68,800 customers operating in 100 plus countries.
9. Novocall
Novocall is a cloud-based software. This software helps the company to simplify the procedure related to communication, call tracking, customer follow-ups, lead generation, and many more.
Customers can use this software to send messages or problems in case of no available lead. The software has various third-party apps like HubSpot, Google Analytics, Salesforce, Microsoft Outlook, and many more.
10. FreshDesk
FreshDesk gives modern, profitable, efficient, and ITIL-aligned service software. This software traces tickets and arranges them properly, and delivers. It offers SLA management. It can generate reminders for tickets and also tasks. The software has an AI/ML automation feature to save both the employee's and clients' time.
11. LeadFuze
LeadFuze is a B2B lead generation software. It is in use by more than 300 million customers, along with 14 million-plus companies around the world. LeadFuze came into the market in 2014, and it has great AI. The software offers simple yet powerful CRM tools. It has many features like a repeat of leads, deep and wide searches, easy access to customer contact information, and many more.
12. Salesforce Service Cloud
Salesforce service cloud is the best customer service solution. Because of its achievements and satisfied reviews by customers. Some of the features are Milestone Tracking, Email-to-case, Multichannel, Macros, and many more.
Conclusion
B2B lead generation software tactics save both the time and energy of the leads. This software has sales leads to automation. It is also combining helpful information for sales agents. These strategies result in creating qualified and potential leads. Many software has various strategies, so choose the software that suits the best for your company and employees.