How To Create Workflow Diagram Using Charts And Layouts

A workflow diagram is a diagram that shows a series of tasks to be carried out to get a job done. It uses standardized symbols to visualize the precise steps to be followed, the individuals or machines responsible for each step, and the conditions that permit the sequence to advance further.
The workflow can be illustrated with the help of charts and layouts or pictures and graphics that represent finances, customers, products, forms, finance, payments, shipping, etc. And the steps are linked with arrows to indicate the flow from the start to the end.
The purpose of using a workflow diagram
Earlier, workflows were used in manufacturing alone. However, today, these are applied in all kinds of industries where repetitive processes are performed. The following are the purposes for which these are used.
Process analysis and improvement– The visualization offered by workflows give you a complete comprehension of how a particular process in business works. This understanding can also pave the way for identifying areas for improvement.


Process instruction– A large amount of knowledge about processes, products, and customers in your company is known only to certain employees. So, when a key employee discontinues or is absent, the remaining employees are left unaware of performing a specific process. This trouble is eliminated when you get the processes documented and visualized in the form of workflows.


Tracking and management– Workflows also help keep an eye on the entire business process in real-time. That is, you get to know information like who is responsible for a task, what is the time frame, whether there are any delays, etc. These help in better management.
Benefits of workflow diagrams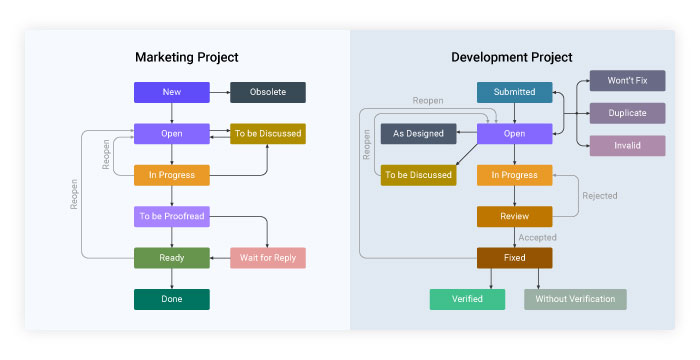 Your business would enjoy the following benefits by using a well-mapped workflow.
Providing greater insight into your business process to yourself and your employees.
Facilitating the identification and elimination of redundancies, and thereby improving your business' productivity.
Letting your employees know their specific tasks, thus reducing micromanagement.
Increasing accountability and visibility of activities through a workflow contributes to enhanced workplace communication.
Improving the quality of your service or product significantly by removing human errors.
Examples of workflow diagrams
As mentioned earlier, workflows can be used in all kinds of industries. Here are a few industry-specific examples of their use.

1. Tracking order in e-commerce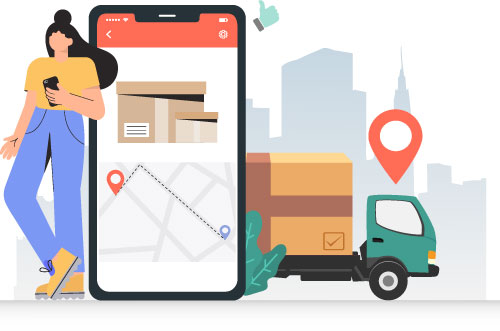 There are four basic steps involved in tracking an order. These include
Step 1: Order submission by the customer.
Step 2: Confirming the transaction and obtaining the payment.
Step 3: Picking of the product (by the employee responsible), and sending it to the shipping partner.
Step 4: Shipping of the product to the customer.

2. Employee appointment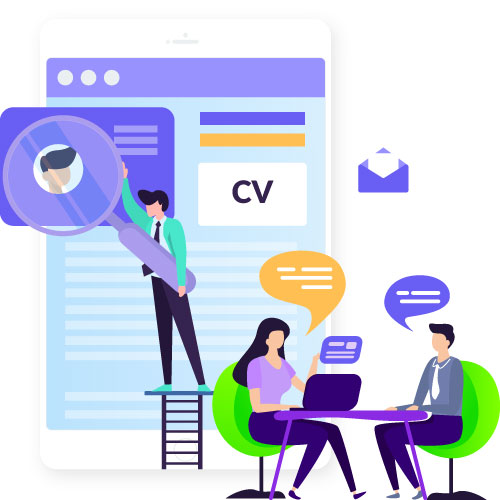 Structuring and optimizing the process of appointing your new employees to begin work in an intended way is crucial. This is made easier with a workflow. The steps involved could be as follows.
Sending out of all the documentation requirements by the HR to the employee.
Sending back of the filled-in paperwork by the employee.
Forwarding of those by the HR to the management for signature and approval.
Ensuring that both the workplace and firm software are primed for the new hire.
Organizing the "employee orientation" for the new employee.
3. Social Media Marketing strategy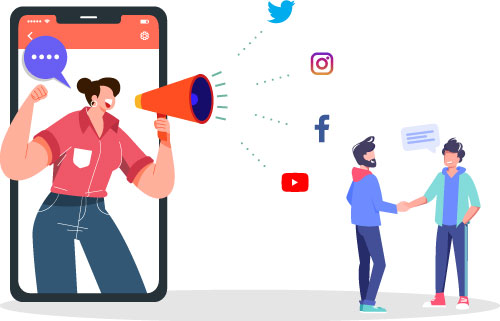 The social media team has the challenging responsibility of creating, approving, posting, monitoring, and tracking updates. Issues like last-minute changes, unanswered emails, etc. can lead to immense frustration. An easy and simple way to address these is by having a workflow.
The visual depiction of your social marketing campaign in a visual form ensures clarity, and gives your team a better picture of the scope of your responsibilities, and lets your clients understand the approach. It also helps save money, reduce errors, streamline the processes, and publish faster.
It involves the following steps
Step 1: Creating an ad for a target audience and posting it on a social media platform.
Step 2: If it gets clicked, directing the audience to a designated blog forum, and if it does not, letting them continue viewing the remaining ads on the platform.
Step 3: Taking the user to the blog forum.
Step 4: Adding the user to the web visitors' custom audience list.
Step 5: If the user views the video, then he or she is added to the video views custom audience list. If not, no further action is taken.

The basic elements of a workflow diagram
1. Standardized symbols: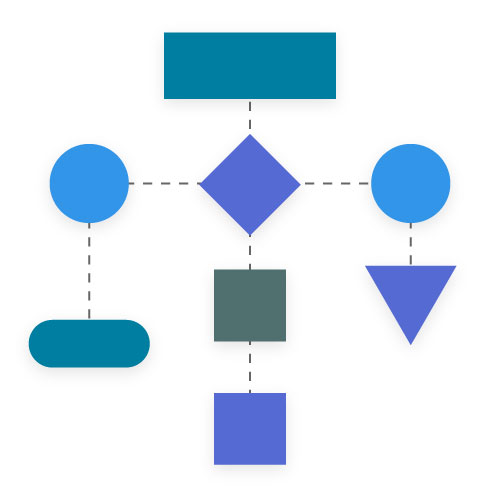 As mentioned in the introductory part of this article, workflows are drawn with several standardized symbols. These include shapes including rounded rectangle (or oval), parallelograms, rectangles, circles, and diamonds, double-lined rectangles.
Each of these shapes is used for specific purposes as shown in the info-graphic below. For instance, the oval shape is used for the beginning or end of a program flow in your diagram. And as shown in the figure, the connection between the steps and the direction in which the program proceeds is depicted with arrows.

2. Workflow diagram Layouts:
Many different types of workflow layouts exist. The most popular of these include process flowchart, Business Process Modelling Notation (BPMN), Swimlane, and SIPOC diagram.
Process flowchart: This is the simplest layout. It chronologically maps the entire process, illustrating the overall flow of activities involved in manufacturing a product, or offering a service.

Business Process Modelling Diagram: This is a graphical picturization of business processes in a workflow.

Swimlane- This layout is like a regular flowchart, however, the process here is divided into separate departments.

SIPOC- SIPOC stands for Suppliers Inputs Processes Outputs Customers. Contrary to the flowcharts, SIPOC does not have the chronological steps within a process. Instead, it focuses on evaluating the most vital facets of a workflow.
How to create a workflow diagram using charts and layouts?
Now that you know the different elements that workflows are made up, and how these are connected using arrows, here is info on creating workflows.
Begin by defining the start point of the process, with an oval (or rounded rectangle) symbol.


Create the process. Add a symbol for each step in the workflow. Now link it to the next step using an arrow. The arrow should point to the direction of the workflow. Follow this procedure until you have illustrated the entire workflow. There may also be instances where the arrow may link back to the initial start point.


Now your workflow diagram is complete. Share it with your employees and clients.
Automating a workflow diagram with software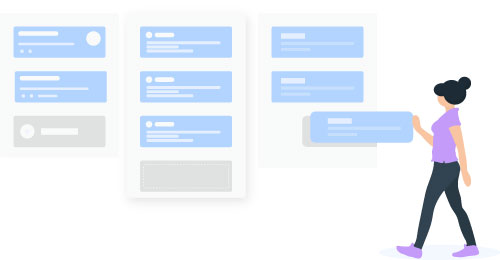 While the employees are provided with a dashboard with to-dos and tasks, you, the management, have a complete view of all the workflows, bottlenecks, deadlines, and more. This would remove work-assignment related issues and pave the way for a seamless flow of work.
This would also save a lot of money for your business, eliminate the risk of human error, enhance job satisfaction of your employees, and enhance their efficiency and productivity. So, do make the most out of this digitalized era by automating your firm's workflow.
Here is a list of activities that you can automate workflows for.
Lead generation: You can automate workflows for effectively handling new leads. Email lists, welcome process, content downloads, webinar signups, and quotes, and proposals are on the list.


Lead nurturing: This involves automatically guiding leads to make a purchase. The areas which can have automated workflows under this category are allocating leads to sales reps, lead qualification, lead segmentation, lead scoring, auto-responding to each segment, applying tags and allocating to list segments, interest targeting, and behavioral targeting.


Lead and customer engagement: This includes automating workflows to engage and re-engage leads and customers till they make a purchase, and keeping them on track for future purchases. The areas covered are onboarding drip campaigns, newsletters, remainder emails, personalized messaging on birthdays and anniversaries, seasonal messages/offers, reward announcements, beta testing invites, cart abandonments, form abandonments, re-engagement emails, etc.


Lead retention: Automating workflows to work on turning one-time customers into repeat purchasers. The list includes upselling or cross-selling, customer life-cycle messages, customer service auto-responses, feedback requests, customer reviews, customer referrals, and relevant special offers.
Thus, the scope and benefits of workflow automation are wide. Here we would like to introduce a useful workflow automation software by PeppyBiz.
PeppyBiz Workflow Builder is a workflow automation solution for effective drip marketing. If the term drip marketing is new to you, it is simply the communication strategy that sends a set of pre-written messages to prospects or customers over time. This software from PeppyBiz offers the following.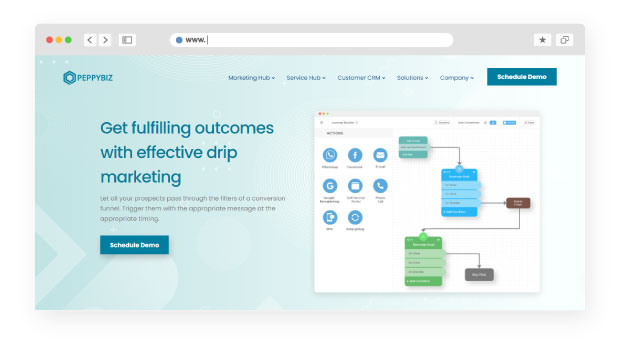 Building a smooth, block-free, easier, short, and flexible journey for your prospects.


Tracing the actions of your prospects and engaging them with varied content. For instance, it initially engages a lead with a product through an email, and after he reads the mail, it re-engages him to buy it at a discounted price.


Constructing several drip campaign workflows using templates.


Personalizing your drip campaigns by including the name of your leads in your content.


Increasing campaign delivery rates via facilitating the setup of authenticated IP addresses, custom URLs, and SPF (Sender Policy Framework).


Creating inter-connected workflows to prompt leads to take multiple paths. This would nurture them at every phase until they get to the final phase.


Seizing the attention of prospective leads with quick sales notification, and keeping them focused till they become customers.


Establishing a set of rules to automate the process of moving a lead into each proceeding level of the sales funnel.


Providing in-depth drip analytics including content and timings. This would help you identify those elements that work and those that do not in your campaign.


Updating data in other apps through automation.
No wonder PeppyBiz Workflow Builder is a trusted partner of more than 12000 customers. Some top names on the list are TATA Sky, Vodafone, Domino's, HDFC Bank, Network 18, and musafir.com
Conclusion
Today's digitalization has paved the way for the automation of workflows, which has simplified it further. PeppyBiz Workflow Builder is a workflow automation solution with many attractive features to facilitate effective drip marketing.