What Is a Conversion Funnel in Marketing? A Brief Guide

The consumer's journey that starts from first contact with the product to the final transaction to buy that product is the most important thing for successful marketing. The company should also maintain good communication with customers even after purchase. Understanding the whole journey of the customer and converting them into loyal customers is the main goal of any marketing tactic. Conversion funnel marketing is the tactic that makes you understand the customer journey in your funnel. If your company is selling products whether online or offline then you have a conversion funnel. You just need to optimize the funnel to get the best results.
What Is a Conversion Funnel?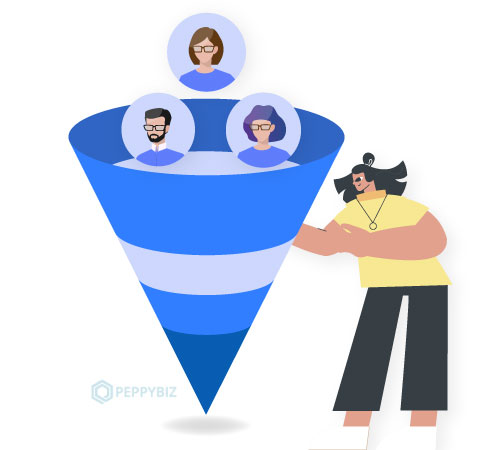 A Conversion Funnel is an e-marketing term that helps you to visualize and understand the full journey of a consumer from a potential customer to be or converted into a paying customer. It starts from the top of the funnel that is when customers get aware of the product and get closer when the customer purchases your product or service.
It is essential for the marketers to know the flow of customers of your conversion funnel as it will help you get more leads, feedback for business, and address concerns.
Why Is It Important?
A conversion funnel is important and meaningful for marketers as it helps them to know how an audience converts into a customer. It helps them to plan the right strategy that will give more customers. A conversion funnel is also known as sales funnel. Optimizing the conversion funnel is essential as it helps marketers to analyze their plan at every stage of the funnel. The framework of the conversion funnel will let you know about its strengths and weaknesses.
Stages of Conversion Funnel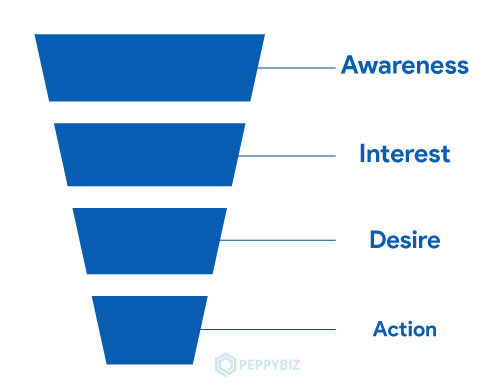 The main goal of a conversion funnel is to get, keep and grow your customer with the help of effective e-commerce marketing strategies and new improved marketing tools to meet their needs. It leads to nurturing, behavioral targeting, retention, and referrals.
Optimization of a conversion funnel is important as it helps marketers to understand the customer journey and develop more effective marketing tactics to convert more people into customers.
To simplify a conversion funnel it is divided into stages. Conversion funnels follow the basic AIDA model (Awareness, Interest, Desire, Action). Each stage needs different tactics to increase effectiveness.
a. Awareness: – This is the first step in a conversion funnel to come into the knowledge of your audience. You have to make that audience reaches you from different channels. You have to analyze or compare that which channel brings the most of the customers to know what attracts them the most. You can make them aware with any channel like social media, search engines, blogs, ads, etc. but you have to present your brand or product at the right place and at right time. You can attract an audience with different content like pay-per-click ads, creating content that is relevant to them, or solving their problems.
b. Interest: – In the second stage of a conversion funnel, you have to build the interest of the potential customer for your product. In this stage, your content is very important. Here you have to understand the user's needs. Content must be interesting which makes the audience engaged. Offer your audience interesting discounts, coupons, and one-time offers. Also, design the website user-friendly and visually interesting. Ask them to sign up for your newsletter.
c. Desire: – In this stage, you have to build trust and keep engaging your audience so they learn more about your product. Nurture them as they are considered potential leads. In this phase provide them with all the necessary information. Focus on the solution and how your solution is different. It will help them to make a smart decision of buying your product. Try to convince your audience with your product that they convert into your customer. Make them think that your product is the best solution for them.
d. Action: – This is the last and most important stage. At this point, the customer takes the action. Up until the point, that potential lead traveled through the funnel and took a few small steps like signing in for the newsletter, downloading eBooks, etc. The main goal of the conversion funnel from top to bottom is to convert a potential lead into a customer. The potential lead buys your product. For that, you have to map out all the relevant information from every stage of the funnel.
How to Optimize a Conversion Funnel?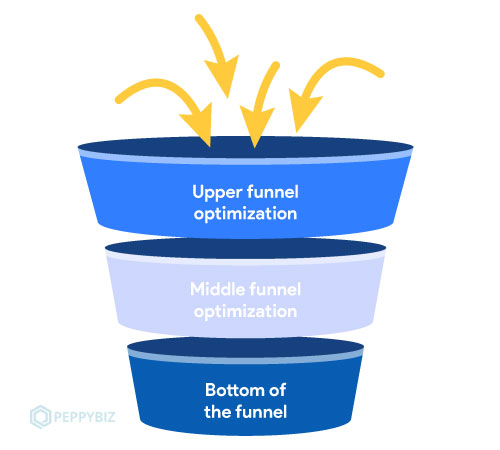 The simplest way to start optimizing a conversion funnel is to break it down. The main phases are upper funnel optimization, middle funnel optimization, and lower funnel optimization.
Each phase of a conversion funnel should be considered as different and must use different and effective strategies for each. The function of each phase is different. Now we will here discuss each phase of a conversion funnel:-
Upper funnel optimization: – This is the Top of the Funnel (TOFU). Your potential customer enters the funnel at this phase. To optimize that phase you should provide the right content to the audience. The audience enters TOFU through different channels like your website, an ad, an email, or social media. Optimize your keywords, create unique content and use the power of social media to capitalize your content.
Middle funnel optimization: – This is the Middle of the Funnel (MOFU). This is the phase where real work starts. As you manage to land your potential customer on your website. Now you have to provide them with clear information about your product and service. You have to engage them more on your website with the right content so that customers get more involved and may sign up for newsletters or start following on social media.
Bottom of the funnel: – This is the Bottom of the Funnel (BOFU). This is the last phase of the funnel, and it is the conversion phase. Here you have to encourage your potential customer to take action by purchasing your product or services. In previous phases, If you provide the right information and convince them that your product is the right solution for them then it becomes easy for you to convert them into a customer. Encourage them to convert by making purchases easy, offering trials, or sending discounts, etc.
A conversion funnel helps you to understand the customer journey. By understanding this you will also know about the audience who take action and who don't. It will optimize more potential to tell you about the leakage or where you lose your customers. Always look from the view of customers and make their journey easier