What is Work Flow | Definition and a Definite Guide

Every organization or industry has its way of accomplishing its defined goals. If the organization is not performing the tasks in the hierarchical order, it can face significant havocs. So to say there must be a discipline followed by the organization to manage their projects. Otherwise, there could be disorganization.

To make things simple you must have a workflow.

So the question arises here is that what is workflow: Workflow is a continuous sequence of steps that depicts the processing of data. When the data passes across the systems, it creates a work flow.
Workflow is a continuous sequence of steps that depicts the processing of data. When the data passes across the systems, it creates a work flow.

In other words, when an organization has the right resources, it enables a repetitive pattern of business activities to transform into a tangible form via providing services or processing information. The stated process, in turn, creates a work flow.

Workflow Definition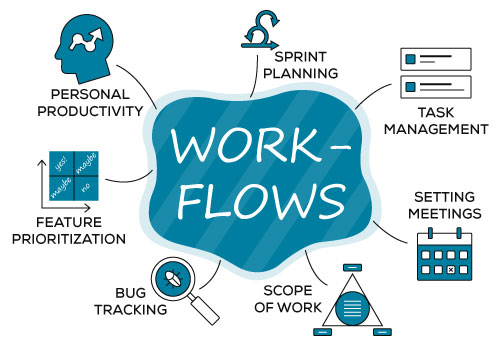 Every business determines the goals that they have to achieve. So, to achieve the goals, they must consider some sequential steps that one must follow regularly.
Let's have a look at the example –
Suppose an organization has hired an employee. The employee is unaware of how the company works. You need to explain to him how the organization works and what their role is actually.
Employee recruitment consists of a series of steps –
An organization gives a welcome letter to an employee.
The company has to fill in the employee's personal information in the database.
The Company readies the workstation of the employee.
Lastly, it trains the employee properly through various workshops.
An employee onboarding usually consists of a series of steps – various meetings, assigning tasks, analyzing reports, and so on. Lastly, everything is checked deeply to evaluate efficiency.
What is WorkFlow and Its Types :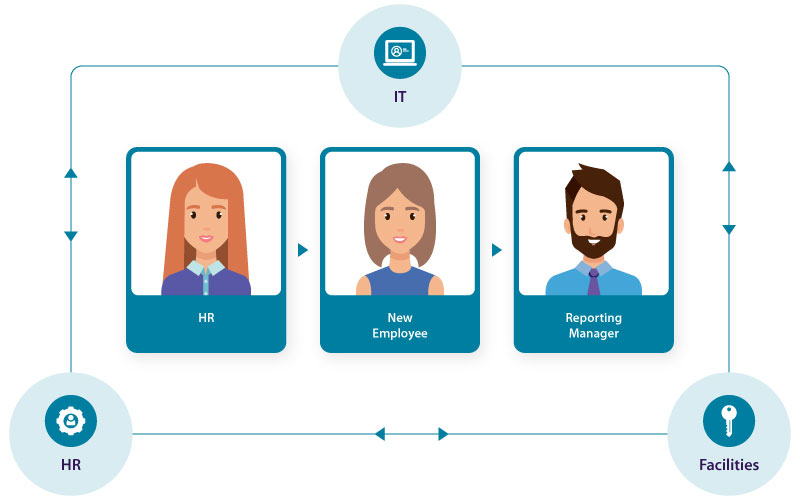 Workflow is of various types. Some are structured, whereas others can be unstructured too.  Workflows depict the flow of data from one task to another.
There are Three Types of Workflow :
1. Process workflow: This type of work flow usually exists when you are already aware of the series of tasks. In other words, you already know what path the workflow is going to take before you even start processing.
For example – The process workflows are usually adopted to manage an innumerable no. of items going through them. One of the most common examples is a purchase requisition approval work flow. Such a work flow, set up with several changes, and you can process any no. of items in it.

2. Case Workflow: The following type of workflow exists when you are not aware of the path an item will take. As soon as you gather more data, the path will itself unfolds.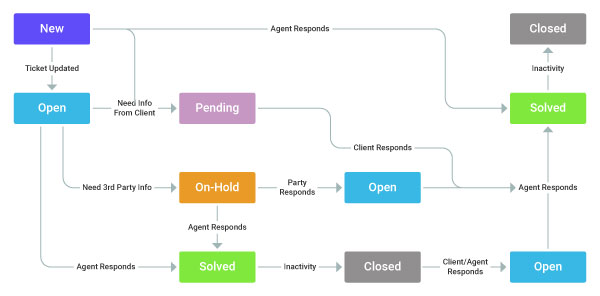 Support tickets are an appropriate example of a case workflow. One is not aware of the processing of the items until and unless you investigate it.

Case workflows are usually dependent on human bots.
3. Project Workflow: Under the following work flow type, you have an organized series of steps. Also, you can have more flexibility as compared to the process work flow.

For example – You are launching a new website. You can easily forecast the series of steps you would take to complete the goal.

Note: Project workflow can only be relevant for one specific item.

WHY CREATING A WORKFLOW IS ESSENTIAL :
Workflows are not the inventions of the modern ages. It came into existence during the onset of the industrial revolution. Henry Gantt was the person who came up with the idea of revolutionizing the ways of organizing a workforce.
He invented new ways of organizing the tasks with the help of massive workforces.
Let's see how Gantt defined the way of accomplishing goals more efficiently :
Define your goals.
Determine who is responsible for which task
Analyze the time taken in each task.
You can only create a work flow once you are able to answer the above questions. Only after measuring and evaluating your work, you can optimize its execution. This way, you can evaluate the limitations of your team and rectify it timely.

HOW TO IMPLEMENT WORKFLOWS IN YOUR BUSINESS
The necessary foundation for implementing a work flow is to sketch out how each workflow in your company looks.

You can simply start from scratch by mapping out a plan :
First of all, sketch out a process.
Use a whiteboard to map out the process more clearly.
Take the help of the process mapping software.
Plan out a meeting with your team for better execution.
The main aim of holding up a meeting is to watch out how efficiently your employees are working and how more efficient they can be with better and much-organized workflows.
HOW CAN YOU CREATE WORKFLOW DIAGRAMS: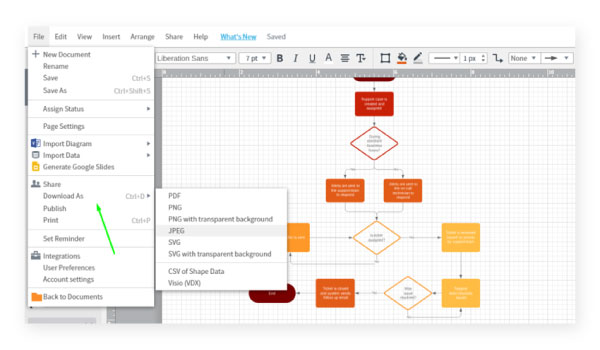 You can only create a work flow once you have accumulated sufficient information about the goal. Once you have gathered the information, you can create a workflow flowchart.

Online graphic tool: You can choose to find an online visual tool for creating a work flow flowchart.
Create an account: Create an account on the tool and choose the template as per your requirements.
List out workflow steps: Once you choose the template, list out the steps in each block.
Export as PDF: Lastly, export the work flow as PDF.
Once you are done with the flowchart, you can create a document or you can install a workflow software. It will simplify your work flow documentation. Despite doing it on paper, you can manage your workflows with workflow software.
How can workflow software help you in managing workflows :

Workflow execution: It is helpful in your workflow execution.
Assign employees: Register employees on the software and allocate them a workflow.
Task automation: System gets notified according to the work flow and the tasks are assigned automatically to the employees.
Conclusion
Workflow Builder software is more efficient than the usual documentation. Also, it is much more efficient. It, in turn, simplifies your process of knowing about work productivity in real-time. You can also imply what drawbacks you are facing in reality.