Different Types of CRM Software and their Roles in Business Growth

Any business that is trying to make a future for itself is switching to easier technological means that help boost the business' growth. Every organization knows how important it is to maintain a good customer relationship with its clients. It is the only way a business can sustain itself in the long run. Stick around with us to learn more about different types of CRM.

That is exactly why Customer Relationship Management Tool (CRM) has maintained a name for itself in the market globally. More and more companies are transitioning to these tools to keep up with the competition in the industry.

In fact, according to a study by Gartner, the CRM market of software has attained a position like none other and is worth 3/4th of the application software revenue worldwide i.e. $193.6 billion.

Let us understand by what exactly is a Customer Relationship Management tool and what does it do.

What is a Customer Relationship Management (CRM) tool?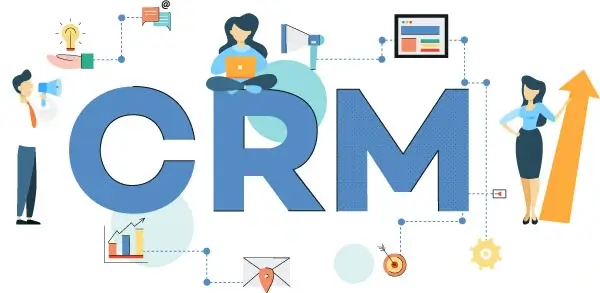 A customer relationship management (CRM) tool is what takes over the repetitive mundane tasks of the companies today. This software is the means for all the strategies and techniques that aim to maintain relationships with the clients and thereby help in targeting potential leads and maintain and retain old clients.

It helps your companies increase overall profits by optimizing your operational process. It ensures a smooth workflow by helping companies with sales, marketing, and all the management related to service.

What does a Customer Relationship Management (CRM) tool do?
A CRM generally streamlines all your processes. It focuses on improving your customer's satisfaction by assisting them at all stages, improving your sales process by supporting all the activities taken over by the team and improvises the company's marketing efforts.

A great CRM is the one that helps you with multiple tasks and is your one solution to all your problems.

A CRM pulls in important information from your client's social media to help you with a more personalized approach with your clients.
A CRM also focuses on targeting potential clients for your project that turn into paying customers.
A CRM becomes your team's voice by taking over tasks such as emailing, messaging, reminding, alerting your clients.
A CRM takes helps you with better scheduling for your team.
A CRM also helps you prepare analytical reports based on the data that you feed in and it picks up from different platforms.
A CRM can not stick to one definition since it caters to so many services. This is not all as it is always undertaking developments for bettering its services. It is multi-purpose software that provides a solution for all your problems.

There are huge benefits of having a CRM in place for your business' operations as it can really accelerate your performance.

Let us understand the different types of CRM software available in the market and their roles in your Business' Growth.

Different Types of CRM Software and their Roles in Business Growth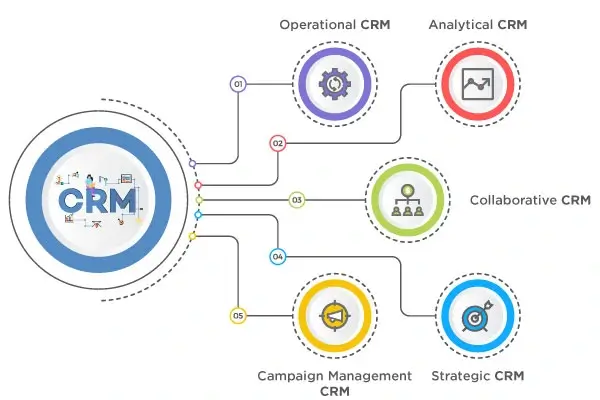 In the pool of different vendors available for great CRM's out there, you really need to understand what kind of CRM you need to choose for your business to progress. So let us get you to understand the different types of CRM Software available and their roles in business growth.

Let us first understand these different types of CRM in short and then we will get you to understand each of these and their roles in your business' growth.

Operational CRM: Operational CRM focuses on helping your business operate smoothly by collecting data and feeding it in the system easily. It thereby uses this data to manage your business better and faster.

Analytical CRM: This type of CRM focuses on providing you with better insights about your business. It allows for real-time data visualization to better see how your business' performance is and in which direction it is moving so that you can assess progress and make better decisions.

Collaborative CRM: This type of CRM entirely focuses on facilitating a better and smoother interactive channel with your vendors and even distributors by fetching from the shared customer data.

Campaign Management CRM: A Campaign Management CRM is a sum of both analytical and operational CRMs, which is then used to run the sales and marketing campaigns undertaken by the business by using the information and the contact collected and fed in the system.

Strategic CRM: This is the kind of CRM that takes a customer-centric approach and puts your customers first and helps you make decisions better based on the information collected and based on the current market trends in the industry.

All these types of CRM are different in nature and aim to solve different purposes for the business. To understand what you need for your business, let us get into the specifics of each of these CRM's and their roles in business' growth.
1. Operational CRM
An operational CRM is like the support system for your business' operations as it serves to be a strong pillar on which your business' activities are dependent upon. It provides you with operational support for your different departments such as marketing, sales, and customer service. It even helps you take care of your potential and existing clients.

It helps you grow your business as you can set a standard structure in the way your contacts and information are stored in the system and the procedure in which your business works, which can then be made accessible to all the different departments and tasks to be automated thereby for Sales, Marketing and Customer Service.

Wondering how is it beneficial?

By setting this standard procedure, it helps all your different departments to collaborate their efforts effectively to acquire and nurture leads and clients and close on more deals for your company.
Not just that, such an effective system in place also ensures that operational efficiency is improved as all the important information is stored in one place and accessed by everyone.
Automating tasks also ensures that the probability of losing on a deal is very low as no task is now missed and overlooked by the team and the chances of any mistakes happening are also very low.
One of the great Operational CRM is PeppyBiz.
2. Analytical CRM
As the name suggests itself, an Analytical CRM focuses on analyzing the data and the information that is brought into the system by the Operational CRM. The analytical CRM is used to make proper use of the data about the customers in the system.

While operational CRM fuels your Sales by getting more information, this CRM fuels your business' growth by making better use of that information. This can be inclusive of your customer's tastes and preferences, the different channels, their point of contact, their interests and hobbies, etc.

Wondering how this is beneficial for your business?

The analytical CRM helps in data mining and also recognizes the different patterns in the data set. These kinds of analytical insights help your managers foresee the outcomes and make informed decisions that can be fruitful for the business.

Some of the known Analytical CRMs that have made their names in the industry are Zoho and Salesforce.

3. Collaborative CRM
No business survives in the industry if the clients that it serves to, are not satisfied by its products or service. All companies are moving towards adopting a 'customer-pleasing' approach wherein serving the customer comes ahead of any of the operations of the company.

Collaborative CRM helps you take on that approach and serve your clients in the best way possible. A collaborative CRM helps to effectively share the information stored about the customers by different teams in the business organization.

The difference between the first 2 CRMs – Operational and Analytical CRMs and Collaborative CRM is the focus. While Operational and Analytical CRMs major focus is on business activities like Sales and Marketing, the focus for Collaborative CRM is on Customer Service.
Sales and Marketing are 2 strong and separate departments of a business. However, oftentimes businesses are unable to effectively operate or underperform as some of the information lies with the Sales Department while some lies with the Marketing Department and there is a lack of communication or collaboration.

With such a CRM in place, it enhances the communication between the 2 departments to exchange information and also support teams at the same time.
It also helps in serving the clients and maintaining relationships better as now there is complete information from both the departments unlike before where they were storing information separately.
Some of the best Collaborative CRMs that are popular in the industry are PeppyBiz and Pipedrive.

4. Campaign Management CRM
This CRM is an amalgamation of Operational and Analytical CRMs. It's a blend of both these tools as it has some features of both.

If your business's ultimate goal is to specifically make use of the contact information to efficiently plan better, manage effectively, and analyze campaigns better.

In order to run a campaign effectively through a CRM, it is essential to integrate with various email providers for campaigns like MailChimp. However, in this case, it is the opposite as the CRM can be used to run the campaign successfully which can then be distributed through email integration software.

An example of such a CRM that aims to run email marketing campaigns specifically is ActiveCampaign.

5. Strategic CRM
A Strategic CRMs also adopt the customer-centric approach as it aims to serve your customers better. It aims to improve your interaction with your customers better by collecting information related to them.

This helps in maintaining long term relationships with the client. This helps your business grow by maintaining a good brand image for your company. This type of CRM is adopted in business when a business's aim is not to fetch short term sales or effective short term campaigns but to maintain sales in the long run by serving your clients better. Its ultimate aim is long term sales and maintaining relationships with your clients in the long run.
Conclusion
There are too many different types of CRM in the market but what may be best for the industry may not be the best for you if it does not solve your business's problems.

In order to fuel your business' progress, it is extremely essential that you break down the needs and goals of your business and analyze the areas that need work.

Based on that, you should look for the CRM that caters to your problem and aligns with your organization's goals.

If you're investing, it is important that you study the market, your organization's needs, and your business's aspirations as it is not just an investment for short term profit but you are aiming to invest in the future of your business!