What is a Sales Leads? A Complete Guide

Each customer of yours has begun their journey with you as a sales lead. A lead, however, may or may not become your customer. Only by nurturing your sales leads at the right time, you stand the chance of converting them into prospects or even repeat customers. This blog walks you through all that pertains to sales leads.
Going through our write-up will tell you everything from what sales leads are, how they are classified, how to generate them, and how to handle them and drive them to closure.
What are Sales Leads?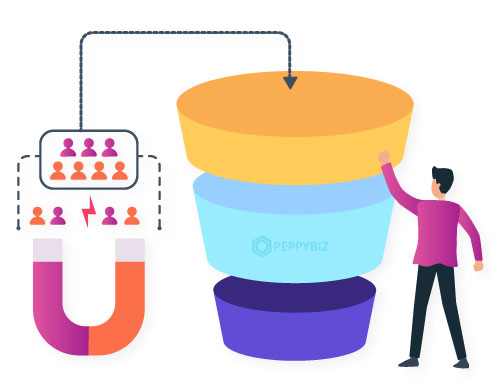 Sales leads are businesses or individuals that are likely to become your customers. They can come to you via different channels. The ultimate goal of all marketing and sales efforts is to bring in leads. Now you may be wondering if your prospects are your sales leads. If so, just know that they are not.
For, sales leads vary in their extent of likelihood to convert into buyers or repeat customers. Some would have better chances of converting, some may have lesser chances, while yet others may not convert at all.
Only when you qualify a sales to lead into a potential buyer, he becomes a prospect and enters your sales funnel.
What are the Different Types of Sales Leads?
Sales leads are categorized into three major groups based on their level of interaction with your brand.
(a) . Cold Leads: They are companies or people who have very limited brand awareness or haven't yet heard of your business, or have very limited brand awareness. Though they suit your target market, they haven't exhibited any notable engagement in any of your channels. As evident, this category is the hardest to become your prospects. So, you shouldn't concentrate more on them.
(b). Warm Leads: A lead is said to have become warm when he takes a favorable action like filling out a form, subscribing to your newsletter, attending your webinar, etc. Generally, warm leads aren't yet ready to buy, but they're interested in your brand and its offerings. You can convert warm leads into prospects by nurturing them.
(c). Hot Leads: They are leads who have already expressed their intent to buy a certain product or service. Since they're already seeking a particular service from you, and most probably have the money and authority budget to buy, you can consider hot leads as prospects. You wouldn't need to nurture your hot leads much.
7 Ways to Generate Leads for Your Business
Since the marketplace is becoming increasingly competitive, you need to bring in leads through multiple channels. Here are seven ways to do it.
1. Ask for Referrals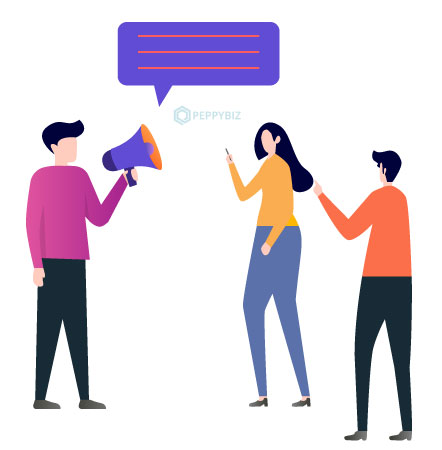 Studies say that people trust recommendations from friends, folks, and other people they know much more than they trust brand advertisements. You can tap into this potential by running a referral program. This is more likely to generate leads and turn them into prospects and loyal customers.
Asking your current customers for referrals may seem tough, but you can make them become your brand advocates by incentivizing them. This may take the shape of a cash reward, a discount, an added feature, a freebie, or something they value. Also make sure that you ask only those customers who are happy with your brand, and ask them for it when they're soon after closing a good deal or when they're speaking positively about your brand.
If you can afford it, have a two-sided incentivizing referral system, where both the referrer and the referred are rewarded. This will motivate your current customers to refer your brand to their circle, and new people to become your customers.
2. Employ email marketing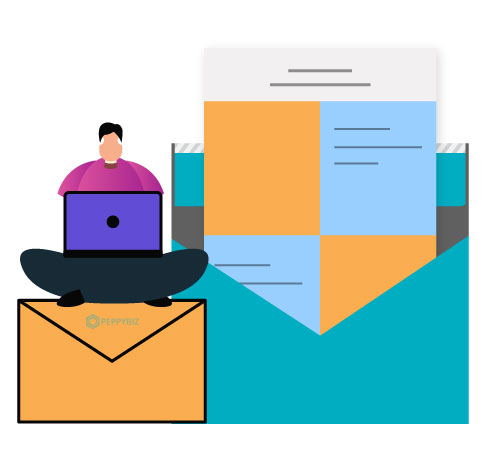 Though emails have existed for a long time now, these never have lost their glory. Still, they are powerful marketing channels. Create and set emails to be sent at regular intervals or when a lead takes a specific action, like registering for your webinar, subscribing to your blog, etc.
Email automation software can help you in this regard. It can also aid you in segmenting your leads, personalizing your messages for them, finding what messages or part of those work in your favor, etc. (using A/B testing).
Your email's copy may contain meaningful info like introducing your brand; explaining you help consumers solve their pain points with your products/services; sending discounts, coupon codes, one-time offers, etc.
3. Make use of Social Media
You can find all your leads online. You just need to get in touch with them. Building a social media presence can immensely help. Establish your presence in multiple social networking channels like Facebook, Linkedin, Instagram, Twitter, etc. where your target audience is.
Post interesting and niche-related content. These can take the shape of blogs, articles, videos, GIFs, images, and more. Make them shareable and wherever applicable, use customized and brand-specific hashtags. You may also host live shows, organize contests, partner with influencers, and offer flash sales to connect with your leads.
4. Have a Blog Section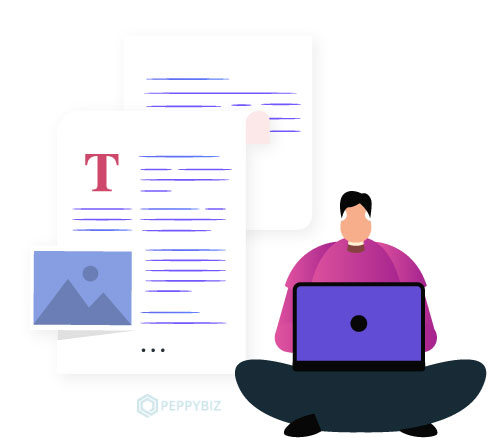 Allocate a section of your website for posting useful and informative blogs. This will help establish yourself as an expert in your niche and give the perspective that you are an authority in the industry. Having a blog will also drive traffic to your site, which may become your new leads.
Though you can choose from plenty of topics, we suggest that you put useful info. It should help readers become more knowledgeable, beautiful, healthy, skilled, etc; reduce costs, become more efficient, boost sales, and so on.
5. Retarget Lost Opportunities
Often businesses lose opportunities, some of which may not be permanent if retargeted. For instance, if one of your salespeople leaves your company, make sure that the customers he had been in contact with aren't neglected. For, they can be warm or even hot leads that can be quickly contacted and turned into customers.
Another scenario is where you have reached out to some prospects that weren't ready to buy at the time. Eliminate those names who wouldn't at all purchase for any reason. The remaining ones are solid leads. Contact them again to know why they didn't buy then if they would like to buy now, and what it that you could do to make them buy (maybe a discount, an added feature, a one-time offer, or something else).
Take such measures once every four to six months. This will help them remember your brand when the need or situation arises.
6. Run Brand Awareness Campaigns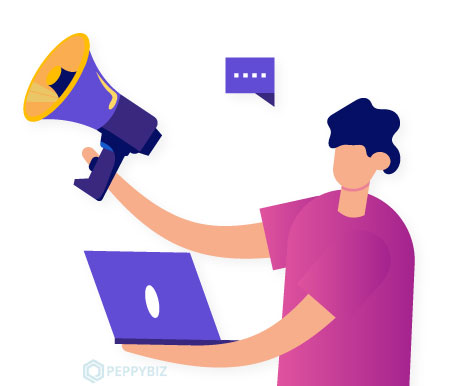 Brand awareness is the level to which a brand is recognized and rightly associated with its products or services by its prospects. In the case of small businesses, their extent of brand awareness may not be a buzz, but may take simpler forms like-
Consumers are what your business sells.
Social media users know that your ads are entertaining and funny.
Customers opt for your brand over others, even if your counterparts are cheaper.
Search engine users type your business' name or its products or services into search.
For familiarizing your audience with your business, you can take measures like:
Have ads displayed on Google Display Network run.
Sponsor or take part in local events.
Create a custom hashtag for social media sites.
Post regularly on social media using your brand name.
Give freebies like pens, Frisbees, etc. with your brand name on it during local events and festivals.
7. Have lead forms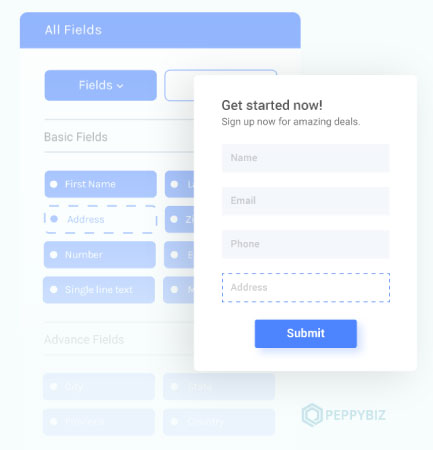 Once you determine your buyer personas and the ways to approach them, you'll need a plan for getting their contact information. You can do this by gathering the contact details of all prospects by having a lead form on your site. They can share their details in exchange for a free ebook, sample, discount, or something else that they would value.
Here are some tips to design lead forms that increase conversions-
Customize your lead form to match your brand in terms of colors, fonts, images, etc.
Ensure that it is mobile-friendly. For, many internet users today users their smartphone to browse the net.
Have only a few fields to collect the necessary details. For, people are happy to fill in and submit shorter forms. And this can increase the lead from conversions.
Incorporate a lot of white space to promote readability.
Include color-contrasted or bolded text above the form to explain what it is about.
Use a bright, color-contrasted CTA button at the bottom.
How to Manage Your Sales Leads?
Now that you have learned ways to generate leads, you need to nurture them to make them ready to buy. The key tactic is enhancing your buyer's experience so that they become your loyal customers. This is where a CRM system can help.
A Customer Relationship Management (CRM) software like PeppyBiz can simplify the entire process for your business. This tool can smoothly and quickly track not only the details of your leads but also their activities and engagement with your business. This helps you engage with them contextually, enhance their experience, and ultimately close more deals faster.
Here are 8 ways a CRM can help you manage your sales leads-
(a). Optimizing Website Conversions: CRM platforms have Conversion Rate Optimization (CRO) capabilities that facilitate tracking your on-site visitors' activity and finding out what engages them and locating the areas that make them lose interest. And based on these findings, you can optimize your website to increase conversions.
(b). Capture leads directly into your CRM: After you identify those areas/pages where visitors engage the most, you can place lead gen forms to collect lead information. Likewise, you can also employ chatbots to welcome visitors, ask why they're there, and thereby capture lead information.
(c). Lower Response Time: Long wait times result in customer churn. So, you need to lower your response time. This is where a CRM's auto-assign capabilities help. It can help connect leads from different touchpoints to specific salespersons.
(d). Target the right leads with relevant campaigns: A CRM tool enables segmenting incoming leads based on their demographics and on-site activities. This allows you to personalize your communications with them. You can share relevant content with them at the right time.
(e). Prioritize high-quality leads: Some powerful CRMs can also help score your leads based on their likelihood to convert. This in turn would facilitate you in targeting high-quality sales leads that are the most likely to convert.
(f). Boost email engagement: A CRM also helps you make your email engagement visually appealing with their in-built templates. Besides, it also lets you optimize emails for various devices. You can also automate emails to reach your sales leads at the right time. The analytics also helps you comprehend email performances.
(g). Automate follow-ups: Not every lead is ready to purchase at the very beginning. It may take up to five follow-ups for certain leads. CRM software can help you follow up with leads to consistently engage them.
(h). Have contextual conversations: A CRM provides you with a complete view of all lead interactions. This helps you get essential context for driving meaningful conversation with the lead.
Rounding up…
Sales leads are businesses or individuals that are likely to become your customers. They can be cold, warm, or hot. While the ones you need to focus most of your attention on are the hot leads, you also need to nurture the warm ones. Do make use of the seven ways we have listed to generate more leads. And do not forget to nurture them to turn them into your loyal customers. A CRM tool like NotifyVisitors can help you in this regard.