How to Create an Effective Project Timeline in Simple Steps

Governing a project is no simple effort. You need to discuss, schedule, enforce, and analyze it. Along with ensuring your team is following right through the project management timeline. Your team needs to perform all these processes at the same time keeping in mind the final goal. A tip to guide the project management system is by building a project timeline.

The project proposal timeline may look easy, but it is the main element that guides the project towards the end objective. The timeline also minimizes the barriers and obstacles along the path. The project timeline is an overview that tears down every project into easy small tasks and historical stages. It also makes sure and fixes the practical time limits and check-ins throughout the procedure.

Types Of Project Management Timelines
There are different kinds of timelines. Each timeline has a bundle of motives and restrictions. Few sorts of project timelines emphasize the outcome or on a reserve. Whereas some other lay extra focus on tasks. Here's a look at the most familiar types of project management timelines. They are:

1. Record or Chronology kind timeline
This type of project timeline solves every task in historical order. In here, all the missions and tasks maintain a connection from beginning to end. This figure displays all the incidents opening from the left side.

2. Timeline on a bar graph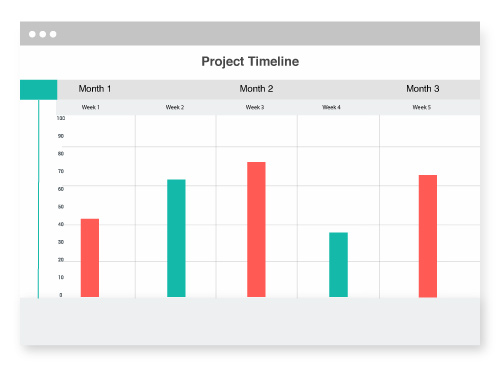 This category of the timeline is more important in the economic division. Also, in applications where the emphasis is put on a sole result anytime. The horizontal or x-axis indicates the growth of duration. Whereas the perpendicular or y-axis reflects the reserves and resources.

3. Gantt project timeline
This is an extensively famous kind of project timeline because of its versatile features. Maximum recent project management mechanisms in-demand practice this category of the timeline. Because it is active, demonstrates similar tasks, and accepts changes. This timeline group is quite simple to recognize the reliances, preference order, and many more.

Steps To Create An Effective Project Timeline
An effective project management timeline must be instructive, simple to solve. Also, it needs to maintain clear and accurate goals. Take a look at the best steps to obtain for developing a helpful and productive project timeline. They are:

1. Outlining project scope or spectrum
Before developing a project timeline, it is important to define the scope of your project. The project scope is a vivid caption used to define the goals, purposes, tasks, and deadlines of the upcoming project. Other names for project scope are the statement of work and scope statement. This project scope summary sketches the crucial project deliverables. These are the deliverables that you need to attain by the climax of a project.

2. Rising a work breakdown structure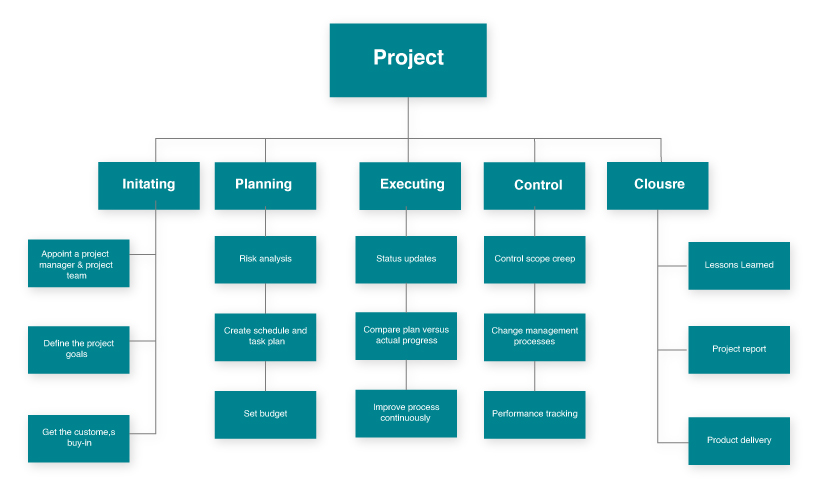 Regardless of whether the project is tiny or huge, it moves toward a set of goals, time limits, and tasks. Crushing down these sole duties is vital to the achievement of any project. If not, then they will be piled up, making it difficult to complete the project. Here comes the work breakdown structure (WBS) in the equation.


3. Slicing into manageable subtasks
After coming up with a work breakdown structure, use it to distribute the project goals into small subtasks. Create a to-do list of the entire project. Check the tasks that you need to complete the project within the deadline. For lengthier and more difficult steps, crack them into tinier, easy-to-finish chunks. This process assists you in gathering the accurate scope of the task. Also, it verifies every minor element and makes it extra manageable. Make sure that all the small tasks are easy and effortless to complete in time.

4. Noticing dependencies and cycle of stages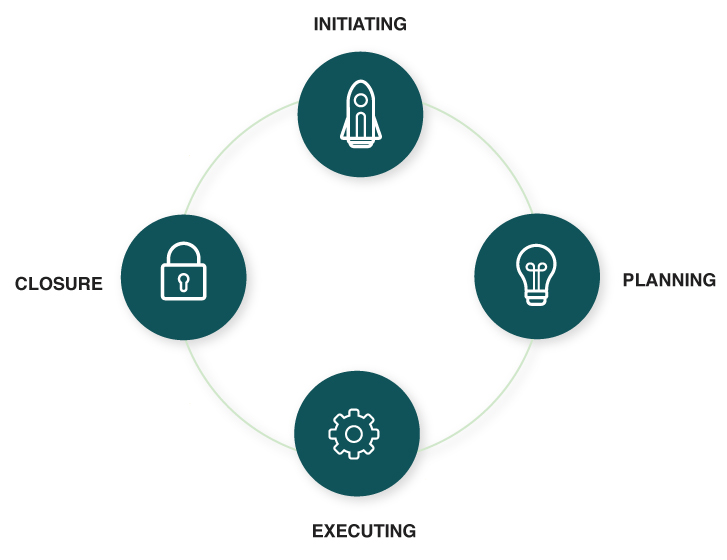 While operating a project, a few tasks might need to be complete at the same time. In simple words, some tasks depend on other previous tasks. If only they are completed, then you can start this task. This is why creating a timeline is very significant. You can see every step's visuals and how they overlap, and which tasks need to complete first. The visual project timeline assists you to continue on the track of the project. It is good to point out all the dependencies and the series of every task. As it puts the project puzzle together. This is where you can assign duties to individuals and groups to prevent chaos and delays.

5. Calculating time to finish a task
Now you have the small tasks that are placed in a sequence. So, it is the moment to assign a fraction of time for every project to perform and finish off. By doing this, you can maintain a balance and complete the tasks within the deadline. After realizing the amount of time every chunk will take, you can plan out an accurate strategy to establish a project roadmap.

6. Picturing roadmap
You can use a comprehensive project management list not only at the beginning of the project. But you can use it throughout the entire process of the project. You must need to use the project management timeline to maintain the project progress tracking. Along with conveying improvement at status conferences. To obtain the absolute value out of the project program, it must be useful, practical, and visualized.

7. Setting up the timeline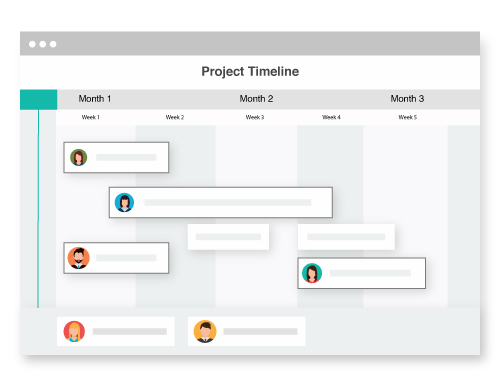 Now you have everything to formulate a timeline. Starting from a clear overview of objectives, small tasks, milestones to timeframes. If you prefer to know about project growth and the entire project overview, use any project management solution. These solutions help you with every single element of project management. Such as task planning, management, budget plan, and more. It also gives a project dashboard where you can track every project and task on a sole sheet.

8. Sharing and reviewing with stakeholders
After creating the project management timeline, it is vital to share it with the involved members. If you use any project management software, then you can share it in a seamless and fast way. You don't need to email them or use multiple documents. Before confirming the project timeline, examine the entire plan with the stakeholders, teams, and consumers.
Best Project Management Software
Here is the list of best project management software that allows teams to easily and productively build project timelines. They are:

1. Yodiz
This is so far the best project management software for teams who are using scrum and agile methods. You are free to do anything for planning your sprints, projects, and more. This allows you to develop stoner stories, and nest stoner tales within epics. It is also easy to formulate sprints and fix sprint periods. This software provides integrations with apps like Slack, GitHub, and a few more. Yodiz software operates on various platforms like the web, Android, and iOS systems. Their free plan comes with endless projects but only for 3 users.

2. Freedcamp
Freedcamp offers solutions that suit the best personal projects, private tasks, and professional teams. You can schedule your project using their incredible features. This software lets you establish the tasks either on Kanban boards or in a basic to-do list. They offer both milestones and calendars to deal with both short-term plans and long-term plans. Your team can surface the message using their widgets board which has 12 flexible widgets. A few Freedcamp software functions are CRM tools, labels for clients, my history options, invoicing, and more. They provide many integrations with other apps.

3. Asana
Asana is also on the list of best project management software. This software allows you to crush big projects into categories and sub-lists. It also offers impressive dashboards where you can see the progress of the project. This software has flexible and more creative features for to-do lists. You can create extra lists and can share them with certain people. My task option pops up when you assign projects to other team members. Asana software also furnishes many third-party integrations. It is worth trying their free plan that gives better storage capacity, and unlimited projects free for up to 15 users.

4. AceProject
AceProject project management tools are web-based software. They have the best tracking elements and coordinate the tasks from different ends. Their software is better for those who wish to operate important workflows. You can finish the tasks within the timeframe by using their incredible features. It also extends tracking methods and simple moment clock and automation solutions for users. AceProject software delivers a decent dashboard, which highlights data with colour-code items and diagrams.

Conclusion
It is not that hard to create your project management timeline. With just a few productive steps, the timeline is ready in just an instant. Use any of the above project management software to boost efficiency and earnings.