39 Essential Project Management Statistics For 2023

The main focus of this blog article is project management statistics. Along with stats it also focuses on some other things in the writing. Such as the benefits of project management, and PM software.

Basic Understanding of Project Management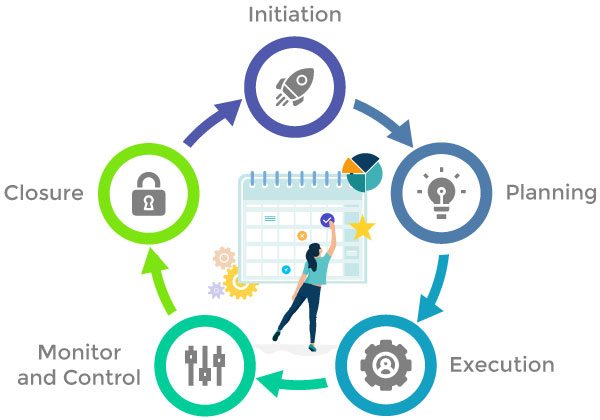 First of all, a project is something that has a beginning, ending, and generating a deliverable. So, project management is a procedure. That helps in scheduling, monitoring, controlling, and reporting the project and status. In common words, the meaning is present in its name i.e., managing the project. It also covers and has a mixture of various kinds of disciplines and subjects. Such as resource management, planning, task management, risk management, scheduling, and a few more. Case management, business process management, and decision management have their connections with project management.
Is there a need for statistics?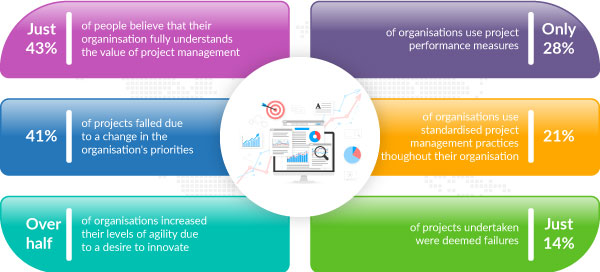 What are the fresh tools of the PM system? How much budget is being wasted because of failed projects and tasks? What is the true project downfall rate? What are the benefits of using any kind of PM software? How many opportunities are you losing because of not using PM tools? What are the challenges faced by PM software? And What type of PM solutions is best for your company?

To answer all these questions in a simple and understanding way. Then only project management statistics are suitable and it works. Statistics are not just numbers or percentages. They also give a deep and broad explanation of the particular topic. In the next section, you will learn a lot about project management through stats.

General Survey and Project Management Statistics
Some of the project management statistics of certain surveys are below. They are:
According to the project management institute (PMI) 2018 survey:
1. Around 9.9% of every single dollar is wasted due to terrible failures and results.
2. Almost 32% of the allocated budget goes to waste. Because the project fails in achieving the objectives and goals.
3. 39% of projects fail because of the shift in preference by the company
Sources from the Workplace Insight survey and the blind survey revealed that:
4. Unstable communication and uneven supervision among teammates is common for 88% of remote employees.
5. In fact, in just 60 days the impact of covid-19 expanded the exhaustion rate of the workers by 12%.
6. The main reason for employee burnout is the bulk loads of work for 20% of workers.
7. For 83% of the employees, a huge bundle of emails is the reason for tiredness.
Statistics On Project Management Benefits
8. This part shows the benefits of using the PM system or software through statistics. They are:
9. PMI study reveals that the companies with an evident project management pattern saw an increase in creative projects by 38%.
10. Project management methodologies such as agile and waterfall are in use by only 21% of businesses.
11. Gantt charts and view feature of project management is famous and mostly used by 45% of teams.
12. The most requested element of project management is file-sharing tools.
13. Real-time file editing and managing document features are mostly used by 62% of profitable businesses.
14. The second most searched feature is the time tracking feature and tools.
15. Methodical project management strategies are in use by 23% of companies
16. Integrations of emails, Gantt charts, and budget supervision. These are the next desired features in the project management software
Budget Stats On PM
In this section, it is all about the project management statistics on the budget and money.
17. The projects are finished using an initial allowance without adding any costs by 66% of corporations that use project management software.
18. It is said by 47% of organizations use project management software.
19. That PM software created an optimistic impact on the project expenditure values accuracy.
20. The company that uses project management methods, saves 28 times more money. compared to the businesses that do not use those practices.
21. We can see a 200% increase in budget in at least one project out of every six IT projects.
22. 50% of IT projects with a minimum fund of 1 million dollars are failing in meeting the goals.
23. For every 1 billion dollar investment, at least 109 million dollars costs for project management disputes.

Time-related statistics on PM
24. Below are some of the project management statistics that relate to time.
25. On average, any project management software saves almost 498 hours (20.75 days) in a year.
26. Tasks and projects are done before the deadline by 61% of business firms that use PM solutions.
27. 46% of leaders say that completing the mission within time is one of their biggest problems.
28. One entire day is in use by 50% of project managers for building KPI reports of the project.

Communication Statistics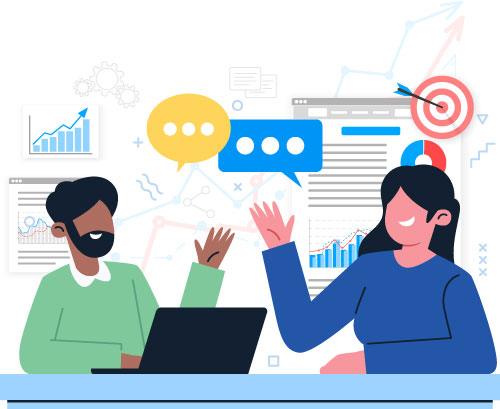 29. Below we will be knowing about the statistics on the communication feature and the challenges of communication.
30. The first reason for project failure is said to be uneven communication by 31% of enterprises.
31. Communicating is a huge barrier for 59% of employees in the United States of America.
32. Poor and unstable communication results in a loss of 420,000 dollars every single year in companies with less than 100 employees.
33. Moreover, in enterprises with 100,000+ employees, it costs around 62 million dollars.

Other Statistics
34. 29% of American employees explained that the shortage of responsibility interferes with project achievement.
35. In project management, the absence of interest by higher officials creates a great loss. Because it is one of the reasons for the huge project downfall for 41% of the companies.
36. Participation as a team is necessary for 90% of the projects rather than sole commitment.
37. Unspecific and clouded duties are the reasons for 12% of the loss of the project.
38. The satisfactory rate of the executives with time allotment in the company is just 9%.
39. The interaction of employees is one of the topmost factors for accomplishing the project by 71% of managers.
Best Project Management Software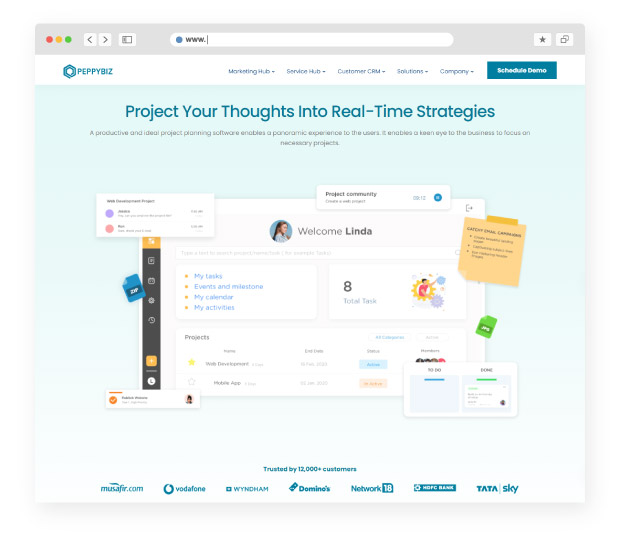 It is essential to have project management software. Because it has everything and also the best tools. Starting from Gantt Chart to tracking tools, Kanban boards to a traditional spreadsheet. The software gives a clear and open view of the project and also the objectives. All these tools help in giving high profit and success rates.

1. PeppyBiz
This software is Indian software and has been offering its services since 2019. It is one of the awesome software that is available in the current market. Their software is suitable for every type and size of corporations. It has solutions not only for project management but also for other various things. Such as email marketing, CRM, marketing automation, and sales hub. Their software has 12,000+ customers around the planet. Some of the features of this software are tracking options and time-specific Gantt tasks.

2. Celoxis
It is good for organizations and corporations that need robust solutions. This is an Indian based software and it came to the market in 2001. Some of the features are agile methodologies, custom templates, and tracking tools. Other features are testing, creating portfolios, and many more. It can deploy and operate on various platforms. They are installed windows, cloud-based, installed Mac, SaaS, and web-based systems. They give a 360-degree view of insights along with custom reports, and dashboards. This software has a free trial plan for its consumers.

3. Score
Their software is an end-to-end business and also project management software. This software has been present in the United Kingdom since 2013. It has some of the key solutions. Such as billing, project and task management, quotes, and KPI dashboard. Other features include time calendar views, invoicing, reporting, deadlines, templates, and many more. This software helps in streamlining the growth of the project. It assists in creating a single and central database for conserving time. This software is free for users for up to 14 days.

4. Clubhouse
It is suitable for medium-sized companies, large enterprises, and software teams. This software is an American based company and came to the project management market in 2015. Some of the features are client portals, Kanban board, auditing, and to-do lists. Other functions include various tracking tools, collaboration tools, scheduling, and many more. It can deploy and operate on web-based, Android, SaaS, iOS, and cloud-based platforms. One of the best advantages for users is they offer both a free trial and a free app version of its software.

5. Onboard
Onboard software is best suitable for various high-level business persons. Such as C-level executives, board directors, corporate secretaries, IT managers, and leaders. This software helps in streamlining the meetings, drives meetings with efficiency. It also helps in centralizing communications and interactions. Some of the features are process control, voting, tracking, real-time editors, and many more. They offer a free trial for almost a 3months period.

6. Bluescape
This software is best suitable for medium industries, and also big corporations. Bluescape software has been offering services since 2012. This is present in the United States of America. It has various management features such as contact management, project management, calendar management, document management. This software operates on various systems. Such as SaaS, Android, web-based, iPhone, cloud-based, and iPad. Other key features are discussion boards, meetings, Gantt charts, and many more.

Conclusion
Researchers estimate that this project management traffic may reach 6.6 trillion dollars by the end of 2020. Project Management is on par with the current developments. It is evolving with fresh and new techniques, strategies, and tools. All those project management statistics show the present scenario of project management. It has many benefits, so it is better to choose the best software to gain more profits and growth for the company.