What is Project Management Framework | Definition with Example

Any plan is described as a specific series of tasks that you will perform so that it will lead to the completion of an end-goal, that is, a project. When working on a project, you need to keep in mind the resources available for your use, the time you want to complete the project, and its money. It can range from anything, be it the design of a product you want to launch, starting the renovation of your house, marketing your brand, organizing a meet, preparing a thesis, authoring a book. Even planning a trip to some wonderful vacation island and returning safely and establishing a successful business above all else.

You will consider many factors before starting a successful project. What are the hands-on skills available to you? Who are the people you will choose for your team? Do they have the willingness, patience, and perseverance required to complete the project? And of course, the cost of everything you will do for the project. An essential ingredient in the whole process of creating a project is making sure that you complete it from start to end without difficulty. That is where the Project Management Framework comes into play. What is a Project Management Framework? What are its benefits? Which is the most effective Project Management Software for you?

Let's see how the Project Management Framework works.

What is a project management framework?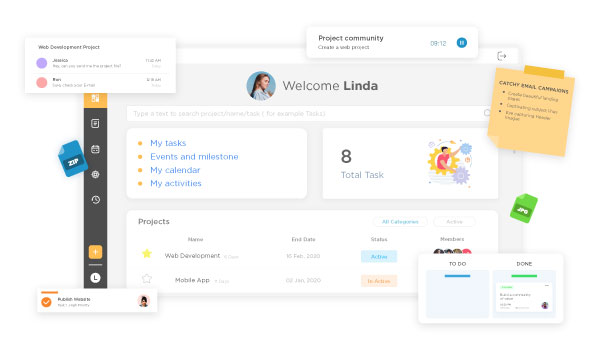 The software you are using to help you organize and edit your writings to finish them properly is a Project Management Framework. The website that allows you to delegate different tasks among your team members, which need to be completed before the end of the month for your business, is a Project Management Framework. Or just any other application that helps you get the work on your project done efficiently and in no time. In short, any service you use to ensure the proper start and finish of your projects is a Project Management Framework.

For a more formal definition, a Project Management Framework is any project management software, service, website, application, etc.

It provides you with a wide range of options, tools, tasks, and other functions, helping you complete your projects from start to end without any cluttering, hassle, or difficulty.

Understanding how project management framework works
Here is where we get a bit technical with our words, so fasten your seat belts.
For this bit, we will imagine that you are going to start a new business venture.

Project's Life Cycle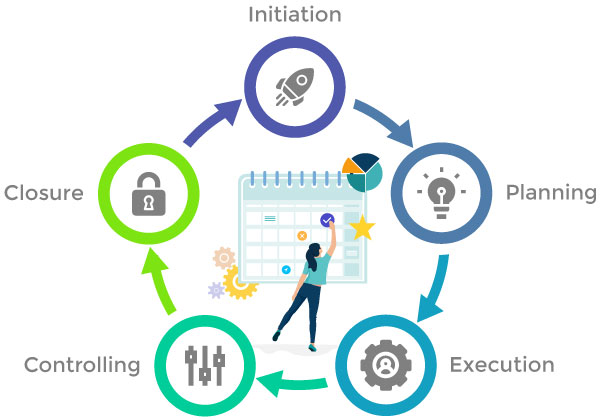 Your first step in starting a business will be the decision you make to start a business. Your first act in starting the business is Initiation.


The second step will be to plan. Deciding what your business will offer, what will be different about it, and who will be its main focus, etc. This is Planning.


The third step will be doing everything needed to set the wheel turning. Hiring a team, creating a base, guidelines, product-line, website, etc. This is Execution.


Fourth is to manage and control everything. They are seeing that the people work sincerely and ask your help when facing an issue, etc. This is simply called Controlling.


Finally, you will make sure that the business venture you have started will take off the ground, and then you will pray to God and work hard for its success. In simpler words, you will conclude the project of starting a business; this is Closure.
Project Control Cycle
This part of your Project Management Framework is hand in hand with Project Lifecycle's fourth step. It consists of properly monitoring everything that goes on in the project and controlling its working proficiently.

Tools and templates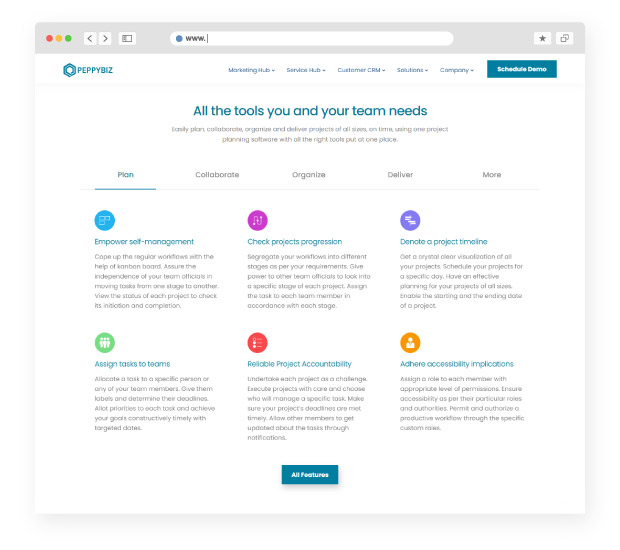 As simple as it sounds. All the tools, designs, reports, options, templates, etc. that your Project Management Framework will offer is under this heading.

Why is having a Project Management Framework essential for you?
We live in a time ruled by the Internet. Modern problems need modern solutions. We plan to start the projects and the attention it can demand from us, not keeping in mind the work it needs almost always manages to become too much for us.

You start with passion and enthusiasm. Setting aside everything else, you work on your project with great hopes of success, and it will come. But, sometimes, your project starts to take away your attention from other responsibilities.

Or it can be that it's proving too difficult for you to micro-manage everything where there are so many meticulous details involved. Is it that you have a very large expansive team and handing out every minute task to every single individual comes in the way of your organization's smooth functioning?

Whatever the reason is, having a suitable Project Management Framework for your project is important. It is very handy in managing every small task, every detail that needs attention, regular reports that need to be handed for your project's progress. You name it. You can give specific tasks to individuals in your team or a part of your team. You can create timelines for each phase of your project. Encourage self-management among your team members, so their work is not conflicting. You need to be sure that one phase's work is complete and error-free, so you can easily take reviews of every stage of the project before you move on.

All of the things above are made possible with a Project Management Framework.

Gain the ability to allow any team member to work on your project to handle the tasks needed to be complete. Every person part of your project has a hand in managing a project, even if their title does not contain "Manager" in it.

If we sit down to count the benefits of using a Project Management Framework, the list will go on. So, the main question for you is:

Which Project Management Software will meet all my requirements and present me with the most effective Project Management Framework?

Which Project Management Software will give me the best user-friendly framework and the most time-saving experience?

Let's see.

Here is why PeppyBiz is the best one for you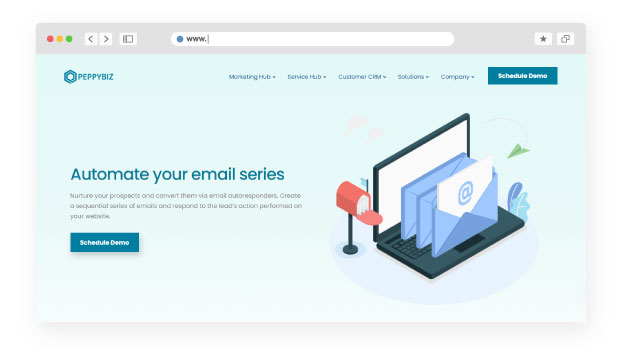 PeppyBiz is an online platform that started with the goal of helping businesses in their journey.
They aim to offer products and services for any business. These include many different services like:
Marketing Automation
Email Marketing
Auto Responder
Workflow Builder
Lead Generation
Email Clutter Remover
For this post's purposes, our focus is on their Project Manager, which is a Project Manager Software with an integrated Project Manager Framework.

Their Project Manager is like no other. The tools and utilities offered on their platform are mind-bogglingly extensive. They have left no component untouched. Everything a project holder will find himself in need of is present there.

Let's explore some of the features their Project Management Framework offers.

Features of PeppyBiz Project Management Software
1. Discussion Board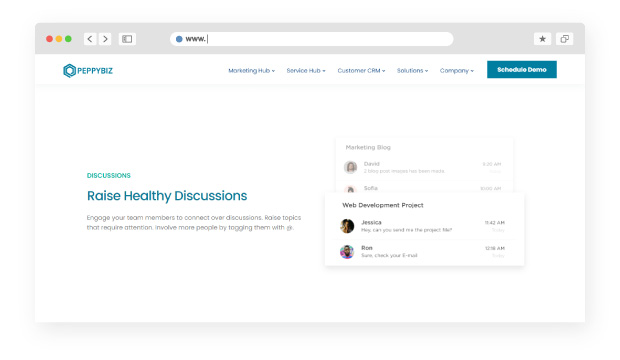 Creates active engagement among different members, which ensures the exchange of fine details, queries, and proper communication.
2. Tasks
Formulate tasks and assign them to any member. Create deadlines and assess their performance too.
3. Kanban Boards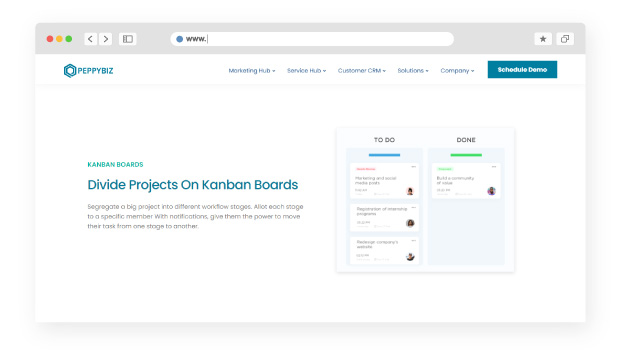 Allows division of big projects into smaller chunks for a smooth workflow.
4. Gantt Charts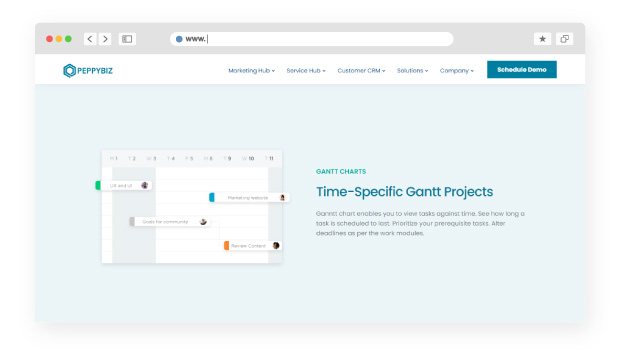 Establish a timeline for your project. Manage deadlines, observe schedules, and set priorities.
5. Calendar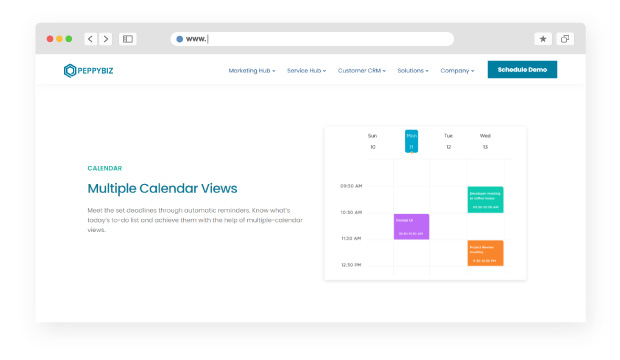 See any important project phases coming up, tasks of the day, and automatically get important reminders.
6. Files and Documents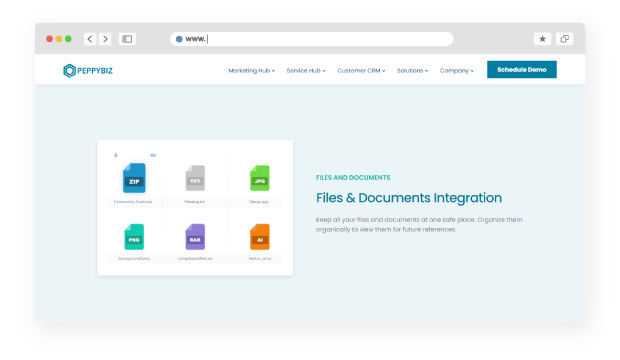 Organize, view, and edit all your files and documents.
7. Custom Roles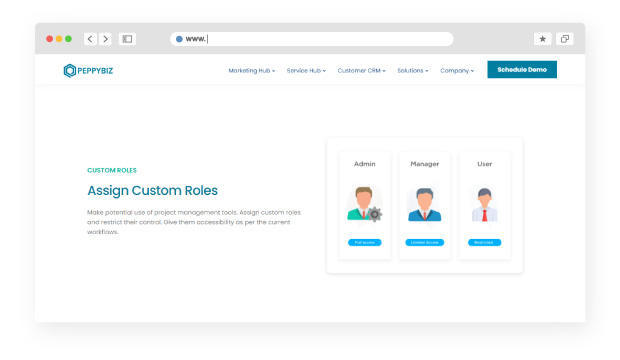 Give unique roles and restrict or allow accessibility for members.
8. Chat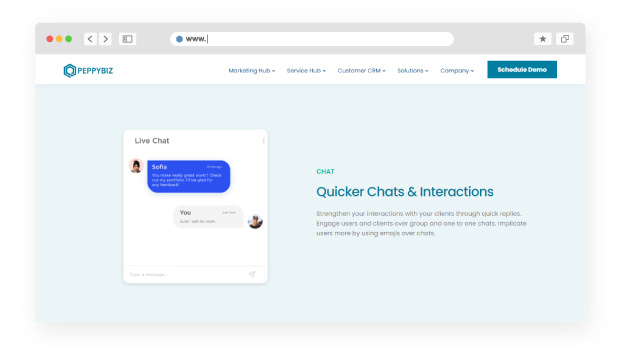 A simple and quick chatbox.
9. Proofing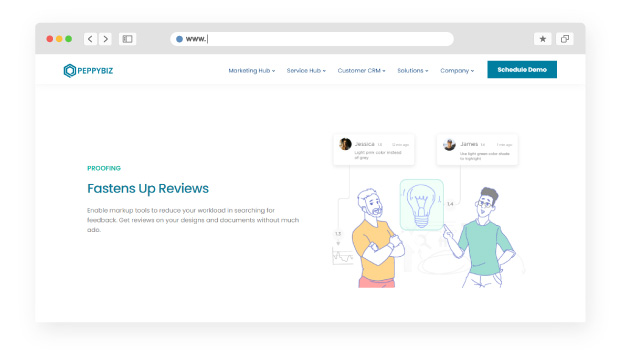 Reduces the hassle of searching for reviews.
10. Timesheets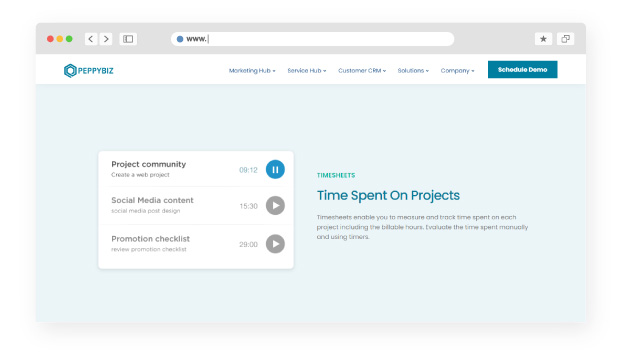 Timestamps that tell you how much time you have spent on a single project.
11. Project Reports and Analysis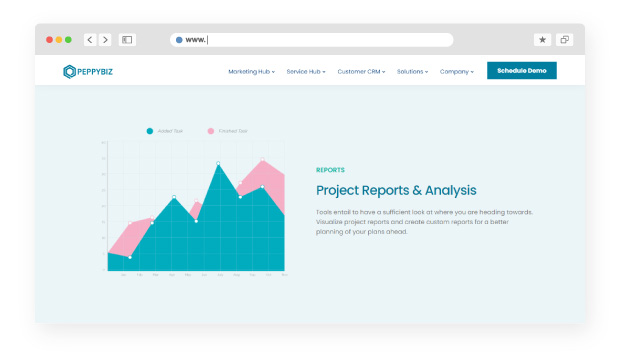 Statistics on your projects.
12. Qualitative Project Information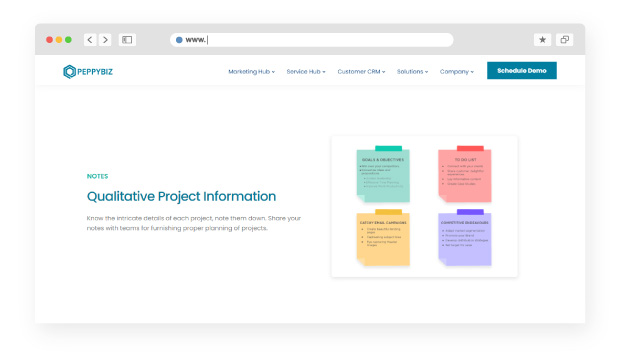 Identify every small detail of your project and share them with ease.
13. Project Manager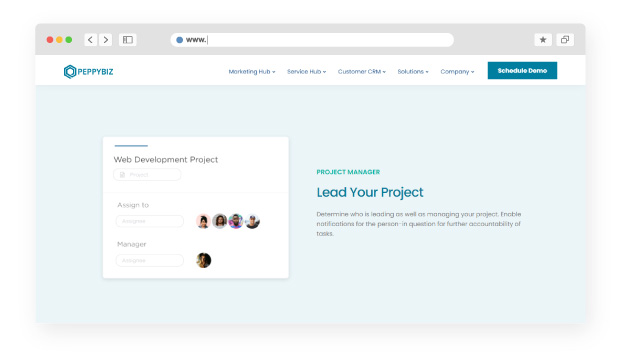 You decide who leads your project and manages it
14. IP Restriction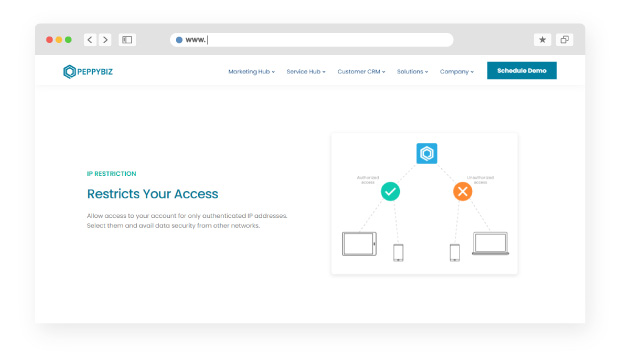 Secure your data and privacy by restricting access to unauthorized IPs.
And still, there are so many features not mentioned here.

PeppyBiz's services are available in multiple countries worldwide, including U.S.A, United Kingdom, Australia, and India, each with its supported helpline number and email address. They have been the subject of much media coverage among start-ups, businesses, and entrepreneurs and have also been featured in many exclusive blogs and websites.

Many well-known business corporations have used our Project Management services. Amongst them are:
Domino's
Vodafone
Tata Sky
HDFC Bank
Health Kart
And many other versatile giants.

What's best about PeppyBiz? They offer a free schedule demo to see if their service is suitable for your needs. You won't be wasting any money, and your projects have a promise of being worked with efficient workflow and effective management.

PeppyBiz is the best there is, and if you are looking for an amazing, highly resourceful, user-friendly platform for managing your projects, then it's the most worthy one you will find. You should try it out once you are done reading.

Conclusion
Whether you are a new start-up, an up and coming entrepreneur, or an already established agency, firm, or organization. Project Management Frameworks are processes designed to suit your needs as a project manager, offering the best tools for you to easily complete your creative and productive projects without any tedious work.

Leave behind the traditional tiring method of writing down and keeping a written record of your projects, utilize the Internet well, select the best Project Management Software and be the best Project Manager among your peers, employees, and team members.
So, learn more about this highly used tool in the business world and grow your venture today.