45+ Lead Generation Statistics you Need to Know About
Lead generation was never an easy task for businesses. With an increase in the modes of communication with the prospect, it has become much tougher. There's a high possibility that the lead you find also shows up on your competitor's radar. Hence, it is important that you lay out well-defined strategies to improve the lead generation process.

For arriving at an effective plan, you must know the up-to-date lead generation statistics. Hence, in this blog, we will list some of the trends you must know to make a firm stand in this competitive world.

Lead Generation Statistics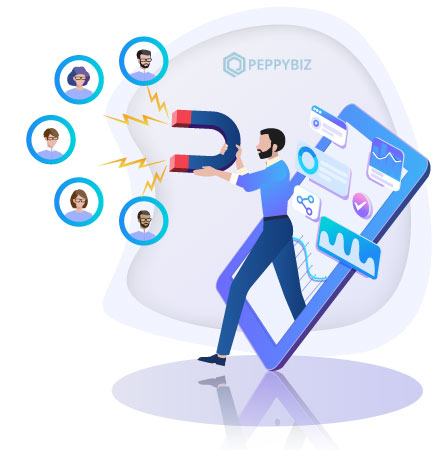 #1. Organizations with an effective lead generation process see a boost in their revenue by 133%. (Marketo)

This is a general statistic that highlights the importance of setting up a standard lead generation process. Depending on the maturity of the company, the rate of increase in revenue also varies.

#2. Lead nurturing improves conversion rates by 50%. (Writer's Block Live)

Lead nurturing is the process of educating your leads to understand better the product you serve. The more educated they are, the more likely they are to buy.

#3. Effective lead generation strategies help more than 56% of organizations to surpass their revenue goals. (Marketing Charts)

Lead generation techniques highly focus on gathering quality leads. Thus, you spend useful resources only on leads who are more likely to convert. Resulting in a result where almost everyone achieves the set revenue goals and more than half exceeds them.

#4. 68% of businesses use landing pages to generate more leads. (Marketo)

Strategic landing pages usually have forms that acquire critical user data. It helps you create a more efficient sales funnel for the prospect.

#5. Email marketing makes up 78% of the lead attraction techniques. (Demand Metric Research Corporation)

Most prospects consider emails as one of the reliable sources of information about the product. Hence, most businesses use email marketing as the primary marketing platform.

#6. Event marketing plays a role in almost 73% of the lead generation strategies. (Demand Metric Research Corporation)

Apart from email marketing, the next best method is event marketing. Almost every business hosts events to attract potential customers.

#7. 67% of the organizations place their bet on content marketing. (Demand Metric Research Corporation)

Lead targeting is possible through content marketing. This makes it a worthy addition to every kind of business.

#8. More than 85% of B2B businesses set lead generation as their preliminary focus. (Content Marketing Institute)

Successful B2B strategists consider leads generation to be the backbone of a good marketing plan.

#9. Almost 70% of marketers consider videos to be the best way to bring out quality leads. (Vidyard)

Videos are easier to comprehend and also deliver persuasive content in an informative way.

#10. 93% of businesses claim that content marketing yields more leads than conventional marketing. (Marketo)

Content marketing uses product information to deliver content as well as turn the traffic into sales easily.

#11. Budgets allotted for lead generation have increased in 70% of companies over the past few years. (Demand Gen Report)

As the lead generation statistics become more visible, many businesses focus on creating a demand for their product.

#12. Web analytics tools play a role in almost 88% of marketing strategies. (eMarketer)

These tools aid in understanding the lead better and create an effective generation plan.

#13. Digital marketing technology enjoys 26% of the total marketing budget. (Forbes)

Awareness of various methods for lead acquisition created a demand for digital marketing products.

#14. 79% of the global B2B marketers prioritize acquiring quality leads. (eMarketer)

Successful businesses understand that quality leads convert faster than regular leads.

#15. 75% of marketers focus their resources on increasing traffic to their website. (eMarketer)

A website visit is the start of a leader's journey. You can gain useful lead information through websites.

#16. Improving brand reputation is the primary goal of almost 57% of marketers. (eMarketer)

Lead generation becomes easier with popular brands. Hence, marketers work on improving brand recognition.

#17. 47% of businesses place importance on ways to boost customer loyalty. (eMarketer)

Loyal customers bring in more leads than other marketing ways. Hence, customer satisfaction is vital.

#18. 15% of organizations consider lead generation data as a metric for measuring the success of their marketing strategy. (HubSpot)

A marketing automation software is essential to discover the metrics at play in your business.

#19. Almost 19% of businesses attest to live events as the best source for lead gathering. (Content Marketing Institute)

Live events on social media improve the visibility of your content as well as creates a brand reputation.

#20. Almost 75% of the businesses that used content marketing saw success in generating more leads. (Content Marketing Institute)

Case studies available on your website serve as the most potent content in attracting quality B2B leads.

#21. Customer engagements through email saw an increase in the past year, according to 80% of marketers. (HubSpot)

Email automation plays a vital role in the base of this metric. It led to the discovery of newer methods to reach prospects and save time.

#22. Targeted emails improve revenue by 760%. (CampaignMonitor)

Targeted emails help you create irresistible content. It is the best way to leverage the collected info.

#23. Only 20% of businesses use targeted emails despite proven advantages. (HubSpot)

Lead generation statistics point out the benefits, yet most businesses refuse to use these techniques.

#24. More than 17% of businesses are delegating half their budget towards social media marketing.

Considering the impact social media has on its viewers, it remains an effective way to get in touch with potential customers.

#25. Almost 89% of marketers trust in the effectiveness of influencer marketing over other methods. (BigCommerce)

Most successful businesses have affiliates who are social media influencers working for them to promote every product they sell.

#26. 63% of leads inquiring about your product will not convert for at least three months. (Marketing Donut)

Not everyone who interacts with your product will convert into a customer. This point in lead generation statistics highlights just that.

#27. Online leads contacted within 5 minutes are nine times more likely to convert. (Ziff Davis)

The quicker you contact, the faster you can close the deal.

#28. Lead nurturing campaigns generate more than 57% of successful leads.

A lead well-educated about the product will convert more quickly than a leader who is starting to earn.

#29. Effective lead generation strategy results in an increase in sales revenue, according to more than 70% of marketers. (Ascend2)

Incorporating the right mix of email marketing, automation, and lead forms are the best way to enhance your plans for lead generation.

#30. More than 40% of business professionals consider the lack of a strategy as the only hindrance to the success of lead generation. (Ascend2)

Almost all lead generation statistics point to the importance of having a well-laid out plan to carry out lead generation.

Now let us list some of the least known statistics to understand the benefits better.
#31. Almost 68% of successful marketers consider lead scoring based on content as a revenue contributor. (The Lenskold and Pediowitz Groups)

#32. 80% of businesses that used marketing automation realized an increase in the number of incoming leads. (VentureBeat Insight)

#33. Marketing automation is the reason for the increase in the conversion rates of almost 77% of businesses. (VentureBeat Insight)

#34. Nurtured leads buy 47% costlier items than non-nurtured leads. (Online Marketing Institute)

#35. Despite the benefits, only 44% of the businesses use lead scoring to sort their leads.

#36. Increasing lead generation takes up 61% of importance in the strategic goals of marketing automation. (Ascend2)

#37. Outbound lead generation methods cost 39% more than inbound techniques. (HubSpot)

#38. Lack of lead nurturing is the cause of 79% of leads dropping out. (MarketingSherpa)

#39. 84% of companies trust CRM as the most beneficial tool for determining quality leads. (Demand Metric Research Corporation)

#40. 55% more leads pour in when the number of strategically placed landing page links increases. (HubSpot)

#41. Almost 68% of organizations face huge challenges during the lead generation process. (CSO Insights)

#42. Only 56% of businesses qualify their lead before passing them onto the sales department. (MarketingSherpa)

#43. LinkedIn-generated leads make up almost 80% of the quality leads generated through social media. (Oktopost)

#44. Almost 80% of the time, you need to make five follow-up calls before a B2B customer converts. (DemandGen Report)

#45. Only 16% of businesses create mobile-specific content for their leads. (Smart Insights)

#46. Content marketing reduces the cost of expenditure on marketing by 62%. (Demand Metric)

#47. Inbound marketing produces 200% more leads than outbound marketing methods. (HubSpot)

#48. Businesses that include blogs on their website gather 67% more leads than businesses that don't. (MediaBistro)

#49. Employing automation tools for lead generation improves revenue by 10%. (Gartner Research)


Conclusion
To sum up, the above-mentioned lead generation statistics are essential to guide your lead generation venture. You can never be too careful while selecting your strategy for generating leads. One that works for your competitor might not work for you. Adapting to the latest trends is one of the best ways to keep your sales funnel flowing.