What Is An Enterprise Help Desk And Its Benefits

Successful business ventures are made up of many different departments or components. The marketing team, the project managers, the sales team, the revenue and finances department, and many other important departments—the IT department.

The IT department is further broken down into different parts, just like any other complex structure. We can find many important components in the Information Technology department. They are renowned personnel that helps the company run and maintain all the technology used by the company.

This includes the hardware, software, installation of technology, server upkeep, maintenance of the network, etc. The IT employees are the guys you contact when experiencing an issue related to the areas mentioned above (and many more related to Information Technology).
But there are professional names to address their variety of teams that handle the different spheres of Information Technology.

We will focus on the elements of the IT department that help end-users, clients, and other company personnel resolve any complaint or request they might come across relating to the technology they use for the company.

We'll answer questions like how the IT service desk works, what is IT Service Management, and lastly, what is an Enterprise Help desk Software that large organizations boast of using.
Let's begin.

What is the service desk?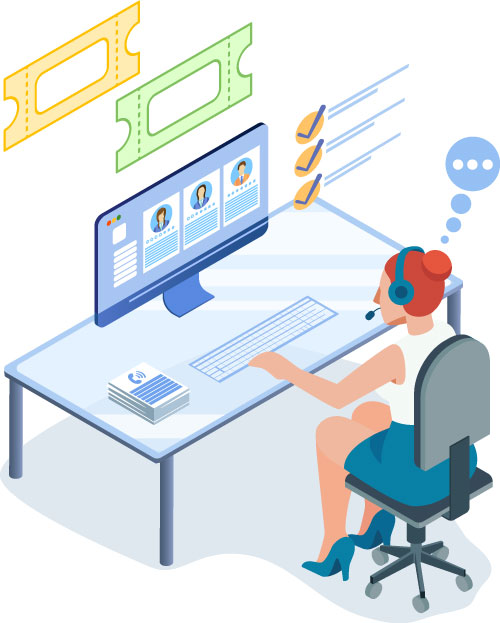 The service desk of your company is the team that will handle all of the operations regarding problems faced by the employees, staff, personnel, executives, and clients of the organization.
How does it work?

The team comprises skilled individuals who have been hired for their specialty in dealing with one issue or the other relating to IT. One individual may be apt at resolving account accessing issues; another may be more resourceful at solving hardware problems. At the same time, another may be better at updating and maintaining the software and OS of the tech used by the company. You get a general idea.

While in the old days, one may have to walk up to the service desk and address their issue, we are now way ahead of that. All the means and modes of communication have progressed a lot since the last few decades.

Gone are the days when you would sit and argue with an operative at literally his desk, trying to explain the problem you face.

The modern service desk works based on a 'ticketing system.'

'Tickets' are the complaints, questions, and requests that the end-user submits, highlighting and details the issue that the person is experiencing. There can be a variety of ways to submit a ticket.

It can be a call that is then recorded for review, an email, a live chatbox, or reaching out from a social media handle.

For the issues that pop up very frequently, the right helpdesk software can create automated replies.

PeppyBiz offers many of these useful and much-needed features with a dedicated Enterprise Helpdesk Software.

What is IT Service Management?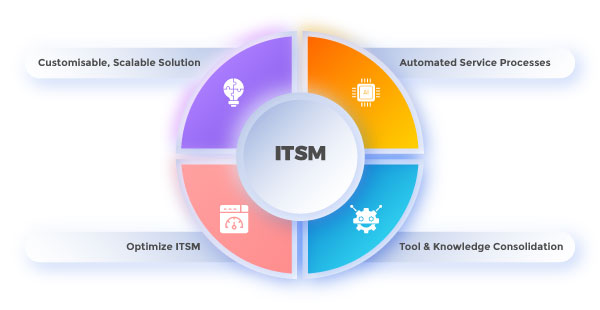 Some call IT Service Management a craft; others call it rules, or even activities, principles, fundamentals, etc. We are going to define it as a discipline.

IT Service Management (ITSM) is a discipline that consists of a series of processes that aims to design, create, implement, manage, deliver, and support IT services in their lifecycle.
While people commonly think of IT Service Management as the IT department's simple support to the end-user, there is a lot more going on underneath the surface.

ITSM practices also include maintaining server upkeep, upgrading the technology from time to time, solving unforeseen bugs that people have not yet encountered, and more.
IT Service Management practices affect five major elements:
Services: Hardware, software, applications, network framework, etc. provided by Information Technology Services.

Cost: Being able to resolve IT issues with the most cost-effective budget.
Quality of service: Resolving Information Technology-related issues with efficiency and aptitude.
End Users: Personnel and clients of the company who use the company's IT services.

Why is ITSM important?

IT Service Management is different from other IT-related practices like network management and IT systems management.

How so?

ITSM completely dedicates itself to achieving customer/end-user satisfaction rather than focusing more on IT systems. It is designed to focus more on the clients' problems and how to make their work easier rather than just ensuring that the IT tech is working or not.
This means that the staff needs to have communication and qualities like patience, understanding, tolerance, and even be able to guide the person effectively on the other end.

Suppose there is one rule in the business world. In that case, it's that the satisfaction of clients, staff will only determine an organization's success, and customers with the overall experience they have with your company.

Benefits of IT Service Management

Benefits related to Information Technology:

Efficient implementation of best practices
Increased understanding of IT services
Quicker resolution of IT issues
Easy processes to follow in a systematic manner
Statistics and reports to enhance IT performance
Establishing roles and responsibilities
Benefits related to the Business:
Satisfied client experiences
Meeting end-user expectations with greater ease
Major IT issues become less common
Again, faster resolution of common IT problems
Greater service at a lower cost
A standard procedure to follow that makes business operations easier.
Now implementing IT Service Management practices has never been easier. How? By using the dedicated Service Hub of PeppyBiz. It not only has a structured, easy-to-use helpdesk software, but it also provides other software and services that make running your Business easy like Project Management Software, Knowledge Base, and Conversation.

Practicing IT Service Management has never been easier or faster; check out PeppyBiz after completing the read.

Now we come to the main topic of this blog post: what are an enterprise help desk and its benefits.

First, let's understand the enterprise helpdesk and how it differs from other IT helpdesk software.

What is an Enterprise Help Desk?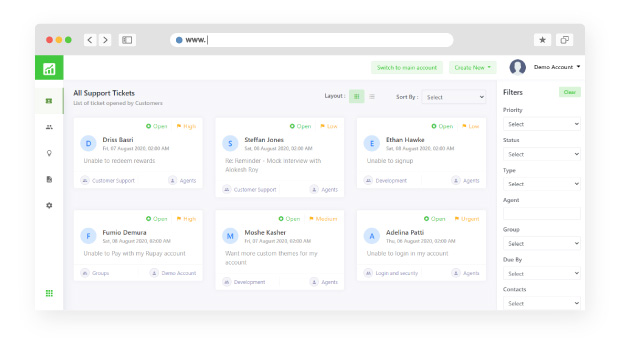 There are five major types of IT helpdesk software out there. They are the On-Premise Helpdesk Software, Open-Source Helpdesk Software, Cloud-Based Helpdesk Software, Web-Hosted Helpdesk Software, and finally, Enterprise Helpdesk Software.

While each has its specialty and areas where it outshines the other, the Enterprise Helpdesk is meant for large-scale business corporations that have lots of resources on their hands and are willing to invest a lot more in their service desks that the end-user/client experience is optimal.
It still begs the question, what is an Enterprise Helpdesk Software?

If a small-scale business has one help desk to assist in all company operations, then a larger organization will have more than one help desk that focuses on one of its products.

This means if there are major production of product A, product B, and product C, each of them will have a separate helpdesk assigned to tackle and resolve issues for each distinct product.
This means for product A there is a help desk A for product B, help desk B, and for product C, help desk C. The staff and personnel assigned to these teams will specialize in knowledge of that production line. But understand, do not confuse this with customer care; this is only confounded to the company's IT services.

And again, all of this is operated by one software; there is no need to implement three different software for all operations. Thus, it is called an Enterprise Helpdesk Software.

That's the simplest and most easy-to-understand that can be provided for an Enterprise Help desk Software.
PeppyBiz offers a wide variety of functions that allow you to implement that Enterprise Helpdesk model for your company's service desk. It has many reputed names attached to it like SBI Life, TATA sky, Axis Mutual Fund, PVR Cinemas, Lemon Tree, and many more.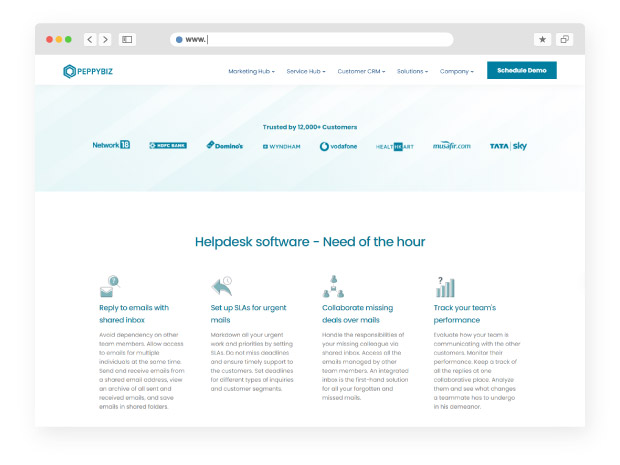 With over 12,000+ satisfied customers, it boasts the leading Helpdesk software in the field.

Benefits of Enterprise Helpdesk Software:

Makes company operations easy and smooth to run
Enhanced workflow
Ability to handle larger volumes of tickets
Higher customer satisfaction turnover
Self-control through features like Live Chats and Answer Bots
And so many other numerous benefits.

Conclusion
It is not too difficult to choose the correct IT helpdesk software for you after being aware of the quirks, the pros and cons, and all the other details related to them. Just because one may appear better doesn't mean it is better for your operation. Since you are searching for Enterprise Help desk Software, it means you have already been in this field and have implemented other types of IT Helpdesk before. Now you are fortunate enough to turn a large scale, and that's what Enterprise Helpdesk Software helps you with.

And the best place where you can find this software that implements all the best IT Service Management practices is PeppyBiz. So why not start there and turn your Business into the giant of the industry today.