Step-By-Step Guide to Create a CRM Strategy for Your Business.

Customer relationships need more maintenance, and that is why businesses must create their own CRM strategy to manage customers.
Today customers have much bigger expectations where customer service is concerned. They will stay on if you can completely satisfy them. To get customer loyalty, you would have to develop a strategic approach that includes collaboration with cross functions and certain tools.
We instantly think of CRM software when we speak of strategy. In reality, it is only one aspect of the much bigger picture. To get the max out of technology, you need a working strategy that guides it.

Companies use a CRM strategy to use CRM software to grow sales and enhance customer service. It incorporates business strategy taking input from sales, customer service, and marketing. The CRM strategy also addresses the touchpoints that occur during a customer journey, including sales processes, goals, and technology requirements.

How can your business benefit from CRM Strategy?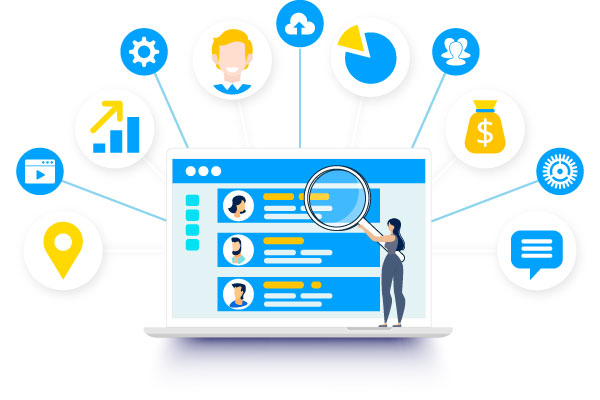 CRM Strategy can help your business grow in many ways. Some of them being:

It gives an optimized experience to customers at all touchpoints of their journey
It puts marketing, sales, and customer service on the same page
It helps to keep track of leads and potential customers moving through the buyer funnel
Execute Marketing campaigns
It produces definite data and figures to help you plan for future business strategies
So now, you are aware of how CRM Strategies can help your business expand. Let's go through some valuable steps that can help you build your CRM Strategy from scratch.

How to build your CRM strategy from scratch?
1. Analyze Your Complete Business Strategy
You need to understand your overall business strategy before beginning with your CRM strategy. It should answer questions as to what, who, where, and how you will function in your industry that will form your quintessential sales strategy. You need to define some important elements before making your sales strategy.

2. Define your Business Goals and Vision

When you set your business vision and goals, you can better address other elements related to customer relationship management strategy. This puts you apart from most other companies and your competitors as they do not monitor their present goals.

At this point, you should think about how your CRM strategy will contribute to your business success. Your vision should be precise about what you plan to accomplish from your CRM strategy from the start. High level and precise Goal Making will include:

Making your Customer Service team more efficient
Increase new business margins by 7%
Initiating a volunteer program for your workers
Yearly revenue should be boosted by 25%
Your CRM Strategy does not end here. Its purpose is to see you through the execution of all your business goals. Therefore it is necessary to integrate it with your overall business strategy.

3. Create a Unique Selling Proposition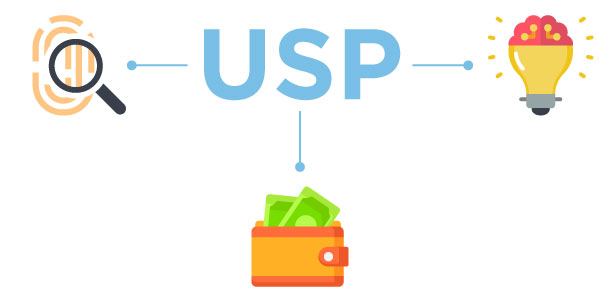 A unique selling proposition or USP defines your product aspects that make it stand apart and better from your competitors. Being aware of your USP helps you define how you stand in comparison to other companies. Your USP is the base of your entire marketing strategy.

a) State Your Value Proposition

Value proposition states the results that a customer can expect from your product or service. It also defines what value they will get upon using your product/ service. This will interest prospective customers and put you apart from your competitors. Please do not make loose imprecise value propositions like:

"Providing cheap phone services for long-distance calls to small businesses."
"Providing solutions to reduce your accounting stress so you can sleep better."

b) Your Value Proposition can look like this: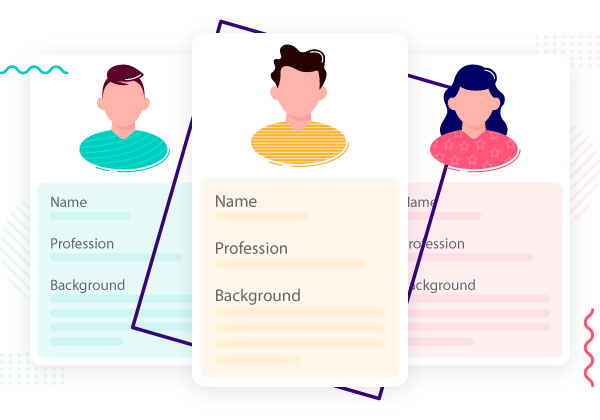 Awareness of Buyer Personas of Your Customers. It is important to know who your potential customers or buyers are. It gives you a grasp on how you will be marketing or selling or servicing them. Building buyer's personas put your business in a better position knowing these buyers' requirements and goals. Buyer Personas are important representations of your customers that allow you to build their character, likes, dislike habits, buying preferences, and much more.

Each business has a few personas less than five because you cannot cover too many messaging bases as it takes away from marketing. Personas build a buyer profile around the following areas:

Demographics – age, gender, location, education, marital status, income, job title.

Psychographics – goals, interests, challenges, personality, values. To make effective Buyer
Personas, company avail of Customer persona worksheet

c) Knowing Your Competitive Landscape

You are in a much better position if you know who your competitors are, how your company fits in perspective, or you will be at a big disadvantage. It helps you identify where the industry trends, how your competitors sell and market, and you can change the competitive advantage to your side. There are a multitude of ways to compare and evaluate your competition. But some of the most important methods include-

4. Mapping the Customer Journey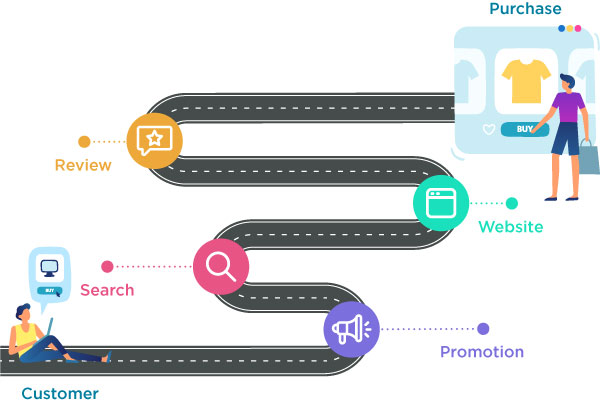 It is a roadmap of how your customers and prospects interact with your brand and their experiences during your company's journey. This includes many aspects as:
Operations
Sales
Marketing
Service
Support
These aspects can have many customer touchpoints with your business as-
Website
Social media
Email marketing
Paid ads
Yelp reviews
Most importantly, you enable your customers to reach their goals by educating the prospects or customers about your software or using the features of your software.

Customer journey maps are similar to buyer personas because they are both fictional representations of how interactions will happen. The steps and journey are dynamic.

5. Recognize Existing Challenges

As your customer journey map is outlined, you can determine the challenges and issues you are facing with each aspect. For instance, you introduce an app, and you find the conversion rate to be low, you need to determine the cause of why it is so?

And you may want to look into different aspects of whether they are using the trial? Are you providing them with sufficient info? Are you providing them with manual or digital help and support and support the community?

6. Content Plan for Each Touch-point

You would have to have appropriate content to support different phases in the customer journey. The type of content for various potential customers will also differ. You could include an appropriate ebook to show how a specific user can resolve trouble giving issue. "How to make the most of Heatmaps" may be given to the user.

For customers, content helps guide how to use a product, new complementary products, informational or instructional webinars.

7. Establish Sales Process and Networks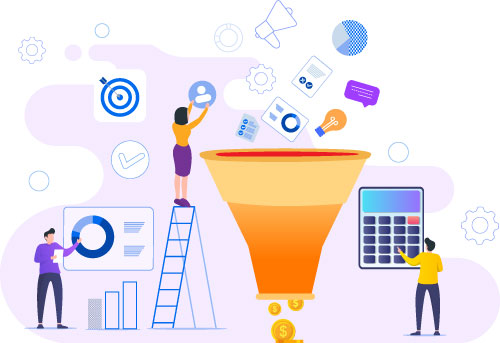 If you have been in the business for a while, your channels for selling your services and products and solutions must already progress. If you are a plumbing company for residences, you must be selling directly to the customer. But if you are a B2B business to business software startup, you would have many sales channels to think about. What and to whom you sell will chalk out your sales process and how it will fit into your CRM Strategy.

8. Include Reseller or Distributor in Selling

If you choose to sell your products and services via reseller or distributor, you give up direct interaction with the customer and the sales process control. You put the quality control and the branding of your product in the hands of a middleman.

These sales channels are not necessarily dead-end. For some businesses, they mean growth. You can add them to your sales model of selling directly to maximize your growth opportunities.

Why should you add in a distributor or a reseller?

Firstly you get immediate access to already established contacts and businesses, which will propel your rate of growth
You will gain experience of the reseller who has already sold similar products
You will be able to enter new markets easily
Stand above your competitors
9. Outline the Sales Process

Sales process creation is an important CRM strategy. However, it's essential for your business and sales team growth. Your sales cycle and process are as detailed as per its complexity.

You can begin by outlining the pipeline stages. These should bend towards transforming a visitor to a customer and must be tracked in your CRM. The most vital stages include
Prospect
First contact
Demo
Proposal review
Won
Lost
You can put in what all it encompasses and what outcomes you expect for each step.

10. Recognize the Structural Dynamics

No matter if you are putting your CRM to use for the first time or simply switching platforms, you must decide who all will have access to CRM and what effect it will pose on your team.
Add in the concerned employees at different stages of the process to your CRM from the initial stage of setting goals to CRM software selection. Employees who have a voice in the selection process will accept the new technology.

If CRM has not already been introduced to your team, get a pulse of prospects. Identify the users and let them know about the new technology. It would help if you had an idea of your team's-
CRM Experience
Platforms they have used
Likes and dislikes in using the platform
How was it helpful in better job performance
a) Appointing CRM Roles

You could give access to CRM to someone in the office as the admin. The admin would have knowledge of CRM and business processes. Alternatively, you could hire a CRM strategist. The professional will have the know-how of developing, implementing and managing the CRM strategies.

b) Align Sales, Marketing & Service

Marketing, sales, and service departments use CRM mostly. It is best to bring them together and understand how they will use the tool for their purpose and whole. The marketing heads can use software to send promotional emails weekly and saves the par extra in cloud storage, which no one has access to.
It is best then to get a CRM that integrates with the mail system and storage to send weekly emails automatically. And it is better to go for a CRM with unlimited storage if the need is to give others access.

c) Outline Goals for each Team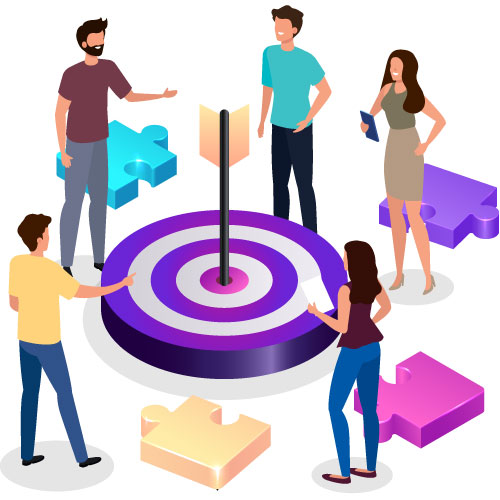 It is best to set goals for each CRM using team groups like sales, etc. These goals must address the overall objectives of your business.

These will set employee expectations and CRM requirements. For example, a career company holds seminars for employment and closes only 50% of attendants, whereas the target is 70%. Sending follow up automated emails post seminars could help them to meet their target. The effectiveness of the emails can be tracked by CRM that provides such a service.
How to Choose the Right CRM for Your Company?
You would like to weigh the price, ease of use, and features or capabilities of the CRM. Also, it should be mobile-friendly and have the capacity to integrate other tools you use.


Once you decide on the software, you need to outline the rules and appoint an administrator and roles in using it. You would need to outline how the teams will use it and the frequency of usage.


Define different elements of CRM
What makes a Lead?
Who are the Prospects?
What is Opportunity?
Which leads are qualified for sales?
You would need to set a committee responsible for setting definitions and training staff in CRM software usage.


Please do clean your contact list before you import them to CRM for a relevant and updated database.
1. Create Pipeline and stages of Deal

You will not require a pipeline immediately, but you can define one and define the stages too. If you sell services and products, you will have to make separate for both categories. They will differ in the sales stages. You would have to track them separately in your CRM software for proper management and reports.
Define steps involved in the conversion from lead to a customer. I can include different steps as:
First Contact
Call
Demo
Proposal Review
2. Set KPIs or Key Performance Indicators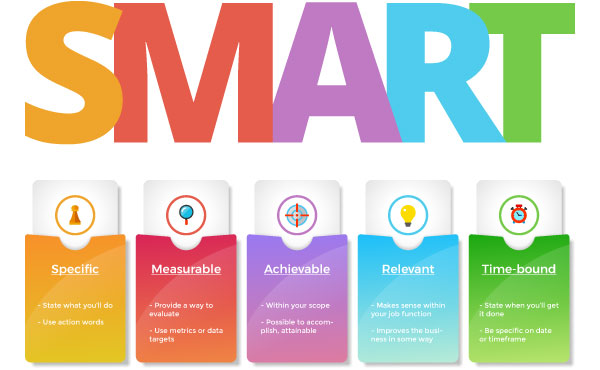 All your strategic actions will have to be backed by data and figures so you may measure the progress.
You already defined your desired outcomes. Your next step is to give a definite target to your teams. Make sure that the targets that you set are SMART
Specific
Measurable
Achievable
Realistic
Time-bound
You can include your customers'

Satisfaction
Retention
Churn – when they leave your company
Profits – whole, total per account/customer
The more committed your team is, the better successful chances your CRM strategy will have. So include your employees from the start. You must dispatch timely information, educate them, and keep them updated. This will help them to be operational quickly.

Conclusion
So it would be best if you had an effective CRM strategy for your business's growth that will increase sales and improve your customer service. You should include all departments to touchpoints besides the sales team. PeppyBiz helps you to deliver the relevant content automatically so you may meet your SMART goals. With PeppyBiz Marketing Automation, you can visualize and design your desired customer journey. This will include the website experience for customer support.