What is Business Process Modeling Definition, Importance, and Basics

The concept of business process modeling has been present for a while. Still, the modifications in the process modeling generate more efficiency and business productivity. So, let's get to know the definition and benefits of business process modeling.
What is Business Process Modeling?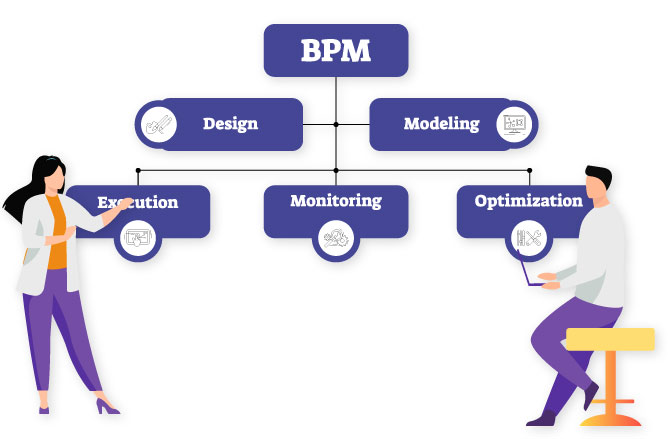 Business process modeling is the analytic presentation of business strategies. In other words, process modeling is a description of a company's business procedures. This is also the visual drawing of a firm's business techniques or workflows. The main motive is to recognize potential growths. In general, this is done using various graphing tools. For example, dataflow graphs, flow diagrams, pie charts, and a few more.
The process modeling is in use to point out two distinct stages of the procedure. The first state is 'as-is'; it shows the procedure's stage without creating any alterations. The second state is 'to-be'; it shows the result after going through alterations. It is also one of the significant elements for both helpful and productive business process management.
Business Process Modeling Vs. Business Process Mapping

Business process modeling is pretty similar to business process mapping. Sometimes can be used interchangeably too. The business process mapping handles both the low-level and high-level mappings. This means it is an overall indication of a procedure. At the same time, process modeling handles only low-level procedure graphs. And keeps the procedure growth as the major goal.
Is It Necessary To Use Business Process Modeling?
The basic thing about business process modeling is it helps with reflection. You can obtain a wide awareness of how your procedures function. Along with how your company is using those functions. Furthermore, there are many extra benefits by using process modeling. They are:
1. Increasing efficiency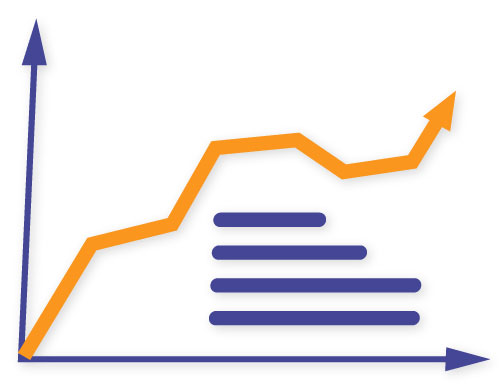 The basic purpose of BP modeling is to develop the technique for getting procedures done. So, as a result, you can discover many ways to enhance your way of work. This, in turn, provides better efficiency, high productivity, and easy outcomes. All these results in gaining more earnings.
2. Execute the best methods
If your company is a huge one, you may know about various teams operating on the same task but in unique ways. Developing the best methods and practices is very promising as they assure that everyone notices and learns how to do the procedure.
3.Procedure agility
Suppose the business process examination is a criterion in a company. Then they will someday create a culture of creation and modification. If you often squeeze business systems, you can grow up in the cover of a technological revolution.
4. Clearness
If you use any business process modeling techniques, every employee in the firm will be aware of the processes. They will know better or less how the procedure works, how it regulates, the main goals, and many more. This directs to responsibility, which means you can know who is responsible for which work. So, the whole process becomes translucent and gives clarity to everyone.
5. Win against the competition
By using all these methods and processes, your company can be ahead of other competitors. This means you can outlast your opponents, and thus you can remain as the ultimate one!
Business Process Modeling Techniques
Business process modeling expresses using scripts, charts, graphs, diagrams, programs, and many more. But, you have to keep in mind that not all these will be successful, and some have a few flaws. To be precise, a total of 12 process modeling techniques are there to choose from. They are:
Business Process Modeling Notation (BPMN)
Flow chart strategies
Workflow methods
Role-activity diagrams (RAD)
Simulation models
Gantt charts
Colored Petri-nets (CPN)
Role-interaction diagrams (RID)
Integrated definition for function modeling (IDEF)
Data flow tables
UML activity drawing
Object-oriented methods (OO)
Top 3 Most Common And Popular BP Modeling Techniques
You are free to select any of the above techniques. But here are the top 3 popular and widespread techniques of process modeling in the business world. Let's take a look at them.
1. Business Process Modeling Notation (BPMN)
In simple words, BPMN is a graphic drawing of the business procedure by using basic items. The BPMN 2.0 is something of a common syntax that is in use by procedure reviewers. Also, those who develop business modeling solutions. It is a very natural practice of lines, needles, and geometric patterns. One of the benefits is this model is prevalent, which gives rise to collaboration in an easy way. Also, the maximum number of modeling solutions permits BPMN. This makes it very simple for sharing and editing, even if you use other kinds of software.
2. Gantt Charts
Instead of revealing the steps in a sequence, Gantt charts are eligible to reveal the whole procedure with the 'time taken' option. Gantt charts compare a schedule of actions to a period scale. Even though it is in use to depict a procedure with the help of graphs. The main goal is to regulate the recent circumstance, project timeline, and reserve allotment. In general, the Gantt chart is a grid that records the tasks in a procedure on the vertical axis. Each layer includes a sole action title, which comprises names and numbers. Whereas the horizontal axis contains the columns. These columns reflect action length, skill phase. Along with the name of the responsible person for a certain task.
3. Flowchart strategy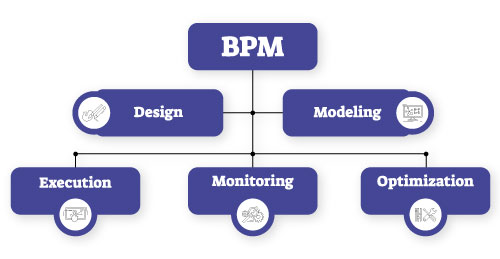 The flowcharts clarify difficult procedure flows in an easy yet productive manner. They define procedure steps in a serial order. Starting from intakes to the real procedure to outcomes. Also, flowcharts deliver the fundamental framework for BPMN to show progressive procedure flows. Flowcharts are perhaps the most outstanding diagram kind of techniques on the planet. As it gives birth to a few norm symbols that are easy to understand. Also, you can assume the BPMN technique as the advanced edition of the main flowchart method. Also, maximum diagram software favors the invention of flowcharts. Because it is in use by a vast amount of audience.

Top Most Business Process Modeling Software
Take a look at the best process modeling software in the market. We made a list of top selections, including some of the customer favorites. They are:
1. Decent no-code BPM software – Quixy
Quixy software is one of the best cloud-based applications that are available in the market. It is also user-friendly software that permits tools to users for automation with no coding techniques. You can also create company-grade apps with the help of their easy to use drag and drop layout. It works fast ten times in comparison to the traditional strategy. You can establish bespoke applications without any coding requirements. Along with automation of procedures and workflows. Quixy software gives a lot of ready-made tools for a wide range of cases. For example, service requests, CRM, expense management, project management, travel and incident management, and many more.
2. Best Dashboard – ProWorkflow 
ProWorkflow software is formulated as a BPMS solution to benefit inner workflow and contact necessities. This software gives the best user-friendly dashboard, and it shows up instantly when you log in. The dashboard reveals a graphic overview of the new stats for ongoing, finished, and forthcoming work. You can also receive a birds-eye-view of the ongoing programs and missions. Along with quotes, proposals, time tracking, current activities, invoices, and many more. This software also has a 'recent work' option to see who is responsible for which task and members working on the project. It also provides extensive messaging functions that gives email integrations.
3. Best Visual BPM system – Kissflow 
Kissflow software is one of the digital office apps with no-code process management features. These functions are straightforward to adapt to every kind of business procedure network, even in unusual settings. This is also one of the most important and widespread BPMS. It comes with features such as a simple to execute interface, scalable user information, and real-time analysis. To our surprise, it also has 50+ more ready-to-use applications. For example, travel reimbursements, employee onboarding, reimbursement, and more.
Conclusion
The capacity of process modeling is incredible for every company, regardless of size and industry. Adopt the modeling skills for day-to-day cycles at your company to get more profits and effectiveness. You are free to pick any of the above business process management software. As they come with top-notch quality functions and features.