10 Best Project Management Software for 2023

The present blog revolves around the best project management software. It also includes the best software for small businesses and also some of the best free software.

What Is Project Management And Project Management Software?
Coming to the basics, a project has an origin, finishing, and producing a deliverable. To put it simply, project management is a method of managing a project. At the same time, project management software is a tool that comprises many solutions for governing a project.
You don't need to pay for some software, i.e., there are many free project management tools out there in the market. 

It is very crucial to acquire the best project management software. The project management software has every tool and solution, which are important for managing a project—for example, tracking tools, Kanban boards, Gantt Charts, spreadsheets, and more.
Still, free project management tools are nonetheless in comparison to paid software. The free software also provides a precise and clear understanding of the project goals. So, project management solutions assist in handing out big earnings and accomplishment percentages.

Significant Statistics On Project Management Software
1. Time-Saving: Almost every project management software protects 498 hours per year, which means 20.75 days in a year.
2. Communication: 31% of businesses say that the main factor for project failure is unstable communication.
3. Teamwork: The whole team participation is essential for 90% of the projects instead of sole duty.
4. Budget: 66% of businesses using the best project management software are completing projects without additional budget.
5. Interactions: 71% of project managers tell that staff's effective communication is one of the main aspects of completing the project.
6. Methodology: On average, 21% of firms use project management methodologies like waterfall and agile.
7. Money Saving: The corporations trying project management software are saving money 28 times extra.
8. Features: The widespread project management software features are Gantt charts and views for 45%. Real-time document and file sharing feature for 62% of users.
9. Employee burnout rate: The major reason for employee burnout is bulk emails for 83%. For 20% of employees, it is a huge volume of work.
10. Priority: Because of the company's shift in choice, 39% of projects fail.
Best Project Management Software
Some of the best software for managing a project is given below. They are:

1. Meistertask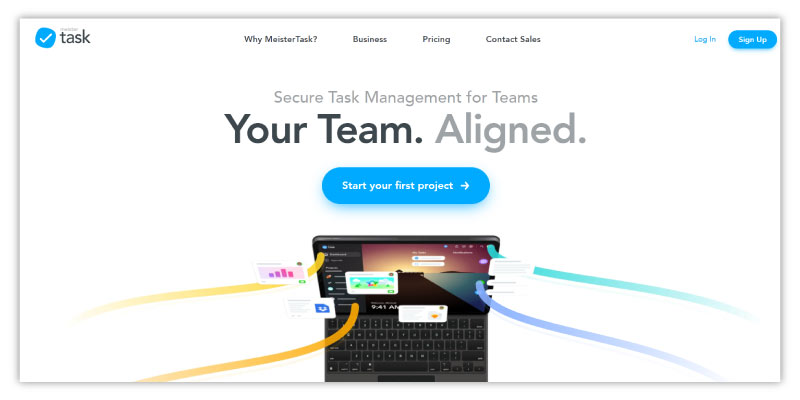 This software is a cloud-based project management software that moves along with the project workflows. If you are using this software, then you need to try their Kanban boards. Because their kanban board is practical and you can add due dates, comments, tasks, and many more.
This software has very creative project boards to use. Meistertask has a user-friendly interface and offers various tracking elements. They offer few integrations with Zendesk and slack apps. Their free plan supports an unlimited amount of projects and also project team members. The users get the file sharing and attachments with a 20MB storage capacity in the free plan. 
2. Nifty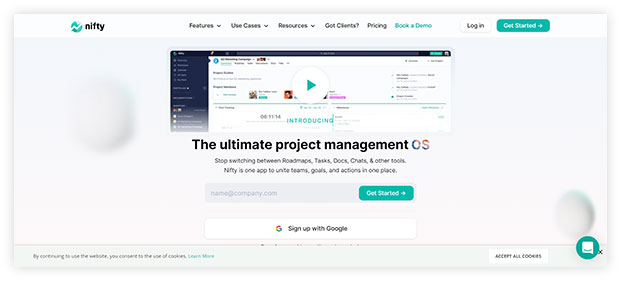 Nifty's award-winning platform brings project management and collaboration into a single place for teams of all types.
Project Milestones group tasks and automate the progress reporting of their completion to proactively answer the question "where do we stand?" for all project parties.
Nifty's legendary ease of use makes set up and managment simple and effective, helping you keep every initiative within the project management triangle of scope, cost, and time.
With built-in chat, embeddable Google docs, as well as a choice amongst video call integrations, Nifty becomes the singular hub every phase of a project's lifecycle.
3. AceProject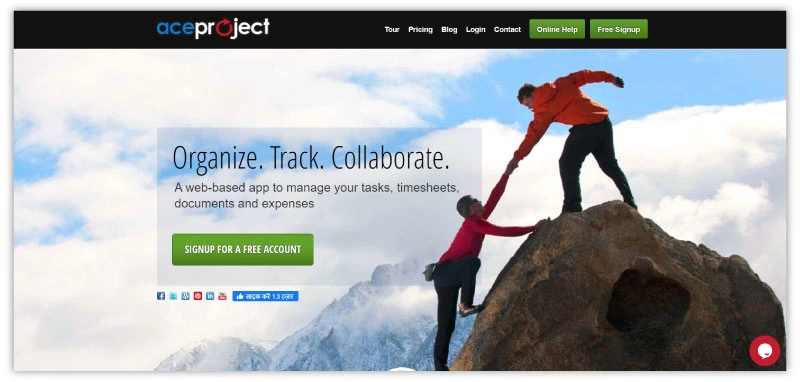 AceProject software is a web-based project tracking tool and organizes the projects from one end to another end. This is suitable for companies, individuals, and project teams who want to regulate crucial workflows. It also gives the tools for completing the projects within the budget and time.
Their software offers expense tracking functions and easy time clock automation tools. AceProject software provides a project dashboard. This dashboard delivers flash data along with color-code details and graphs. They also give Gantt charts that show the complex progress of a project.

4. nTask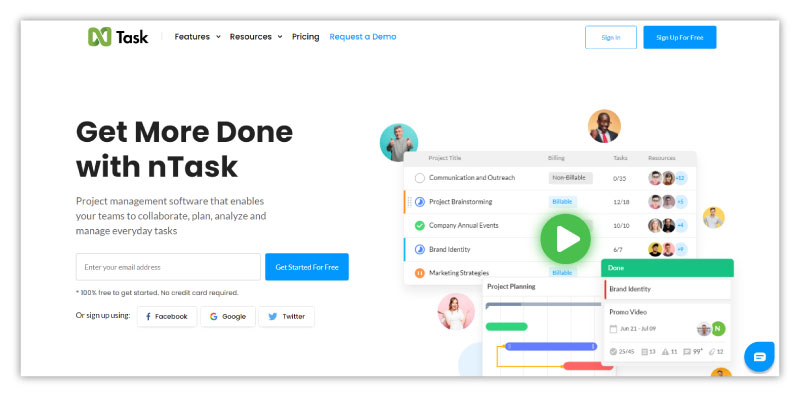 nTask is another project management software that comes with a combination of details for project and task managers. This software encourages creating numerous tasks or projects at a single time. It also gives an active and strong Gantt chart function.
Their software allows users to formulate a budget, roles, milestones, and many more. nTask also has an easy drag and drop tool to adjust the projects. It has many workspaces that are specific to various kinds of tasks and projects. This software provides in-app integrations and collaborations with various apps.

5. ClickUp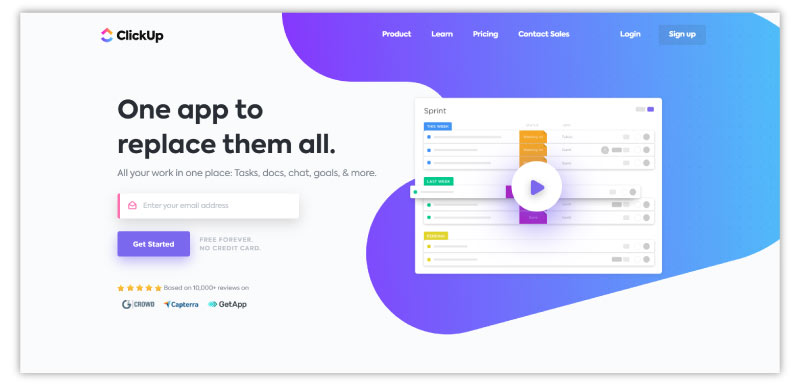 ClickUp is an all-in-one project management software. This software prevents overlapping and has the best sales, development, marketing, and design teams. It also has many sync options; for example, Google Calendar two way a sync feature.
This software composes the projects by considering the preference and then allocates the work to the teams. ClickUp software offers custom options for managing every kind of project. They provide a simple way for screening, sorting out, and searching for certain tasks. This software is home to around 57 integrations with other third-party apps and also image mockup tools.

6. Freedcamp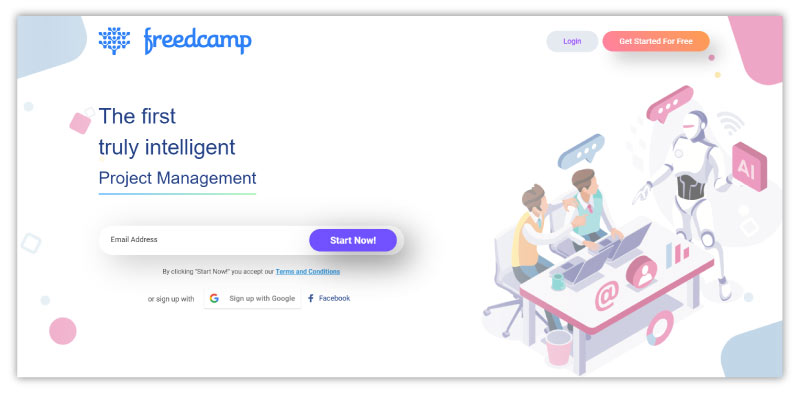 Freedcamp software is one of the project management tools that are good for both professional and private projects. It provides files, time tracking tools, milestones, and calendar views for every project. Their dashboard delivers a precise overview of the project.
This software offers multiple views, such as Gantt charts, list views, and Kanban boards. It is home to a discussion feed that appears in a message board style. Some of the features are invoicing, CRM skills, and also white captions for customer spaces. Freedcamp software gives a lot of integrations with external apps.

Free Project Management Software
Below are the best free project management tools that are available in the present market. They are:

7. Paymo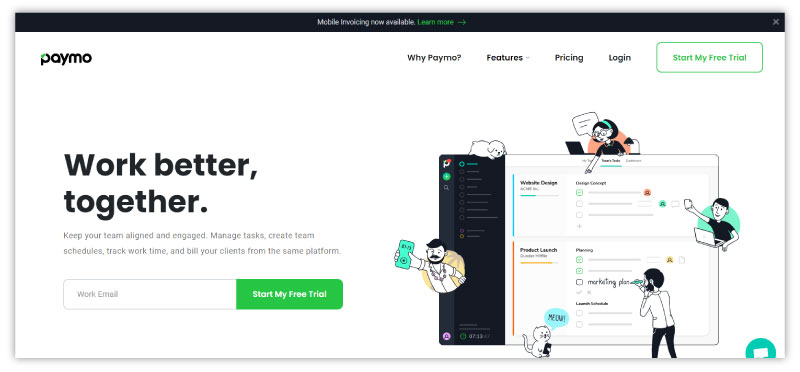 Paymo's free version is good for freelancers and small project teams. This software is one of the best options for customer invoices, tracking finances, and hours. Paymo software enables the teams to build to-do lists and establish project timelines.
Their software helps you to keep up on the initial budgets for many projects at one time. Arriving at their pricing plans, Paymo software is free for only one user, but it is very effective for individuals.

8. Project.co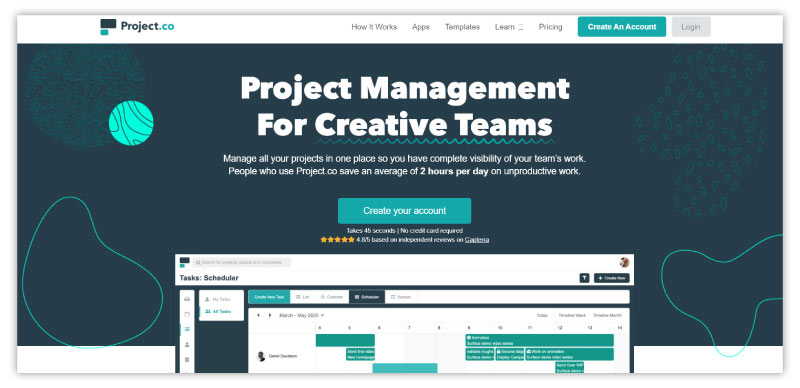 This software is one of the customer-facing free project management tools. It attaches the project management team with the clients' teams in a single platform. Every work can have its notes, tasks, discussions, records, and milestones.
Their software also helps in recording the time of every project. This software has the skills to attract inner and outer users at a fast pace. It also provides discussion news of every project by using email warnings. This software integrates fast and secure payments and also accepts card payments done by using a system. Coming to pricing details, this software is free for five users and five active projects.

9. Trello
Trello software is one of the best kinds of drag-and-drop tools. They help shift the projects, be it private or personal or professional, through many workflows phases. This software allows you to create the stages, for example, to be done, on hold, in progress, in review, and many more.
It also enables you to create personal cards such as things to buy, daily lists, and more. You can add a name, due date, images, files, and many things to a card. It has templates for various types of projects. They have an amazing forever free plan in which limitless personal boards, lists, and ten team boards exist.

10. Toggl Plan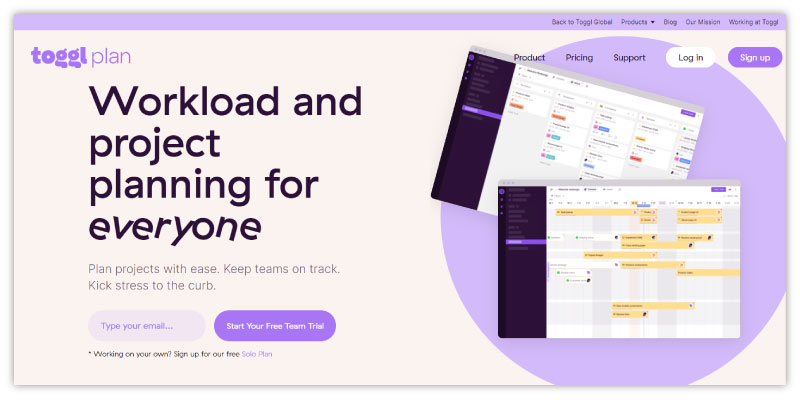 The Toggl plan is one of the effective project management software. This software helps in the automation of the project or task delegation procedure. It also imagines and shows the projects that are completed and the projects that are near completion.
This is best for the companies and teams that often collaborate with other parties for projects. Their software also gives a lot of integrations with outer apps. It provides Gantt-chart visuals for tracking crucial project deadlines. This software has task notes and calendar view options while collaborating with others. Toggl plan software offers a free plan for a limitless number of projects but only to five users.

Conclusion
So, now you know the best project management software and also the best software for small businesses. Currently, it is your call to choose the software that will be suitable for your team. If you want a free trial first, you can try the free project management tools mentioned above.