5 Best Knowledge Management Software Tools of 2022

The modern business works heavily on the age-old maxim – Knowledge is power. With nearly every service or its variable being provided online, Knowledge, more specifically, customer insights, depends on the success of a business.
Every application is designed with a frontend and a backend. The front end is what the customers use, while the back end stores the data which customers generate upon usage. This data needs to be managed effectively for successful operations. This is where Knowledge Management Software comes in handy.

How companies use Knowledge and Data?
In the age of the internet and digital business, data is Knowledge, and Knowledge is power. The company which has data has the power to operate effectively. Sometimes companies do misuse this data that their customers generate. But most often, companies use this data to serve their customers better. To do this in a maintainable manner, companies need software systems that help them track, manage, and use their user-generated stores of data. For this purpose, Knowledge Management Software is used.

What is Knowledge Management Software?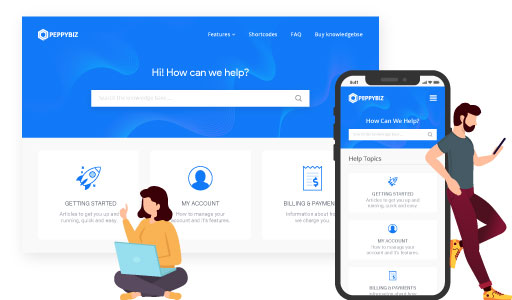 Knowledge management software helps in storing and organizing data to be quickly accessed. Knowledge Management Software also has the option of creating and sharing content. It can also integrate with CRM and Project Management Software, which creates the opportunity for several features and functions such as:

1. Fast Cloud Architecture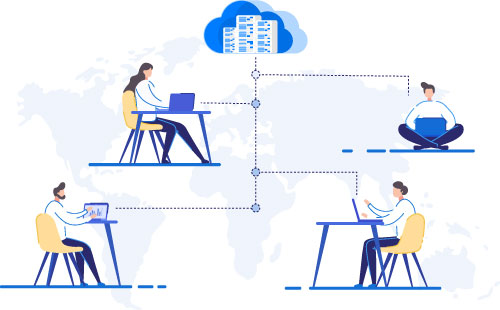 Almost all modern web-based software (including knowledge management software) use a cloud architecture, making it easy to store, save, and access data at any time and from any device. The cloud-based architecture also enabled seamless integration of data with other apps and software. This means that accessing and using any data and data insights becomes extremely easy and quick.


2. Easy to Access Data Insights
Knowledge management software processes data into usable data insights. The software stores user interactions and records in a database that serves as a knowledge base for anyone to access and use.


3. Shared Knowledge Base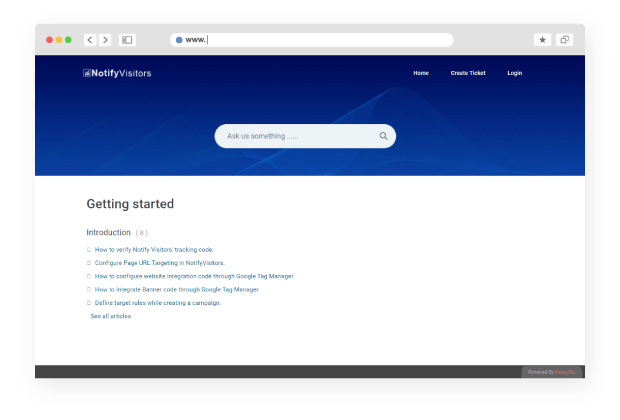 One of the primary uses of a knowledge base is to store and create technical documentation about products and frequently asked questions such as how to use etc. This knowledge base is open and versatile. It is available for employees and customers alike, making it easy for customers to access it and solve their queries. At the same time, employees can access it to solve their work-related issues.
4. Reduced Time and Increased Volume
Having a shared database also reduces the time it takes for customer service teams to solve and complete customer queries. Increased speed means an increased volume of work that gets completed.


5. Personalized Customer Servicing
With knowledge management software, companies can provide personalized, fast, and precise customer service with a large and easily accessible database.
with a large and easily accessible database.
Now that you know what are the features and benefits of knowledge management software. Let's have a look at the best knowledge management software for 2021.
PeppyBiz
Hubspot
Document 360
Helpjuice
Bitrix 24
Best Knowledge Management Software'fasts of 2021
1. PeppyBiz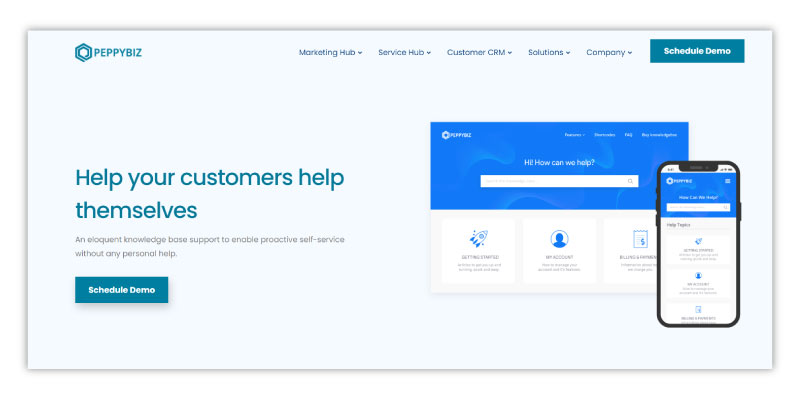 PeppyBiz has been our personal favorite this year. It is not just software but also a platform with a complete suite of different software and services that a business needs in 2021. PeppyBiz provides several features that put it on the top of our list.

Features
PeppyBiz is built on modern cloud architecture, offering in-depth tracking and data storing experience.
PeppyBiz has an integrated CRM module that will allow you to save customer information and data in a very easy and user-friendly knowledge base.
Data and insights are so accurately stored that you can easily create personalized content based on it. You can publish this content in the form of FAQs, user guides, troubleshooting articles, etc.
Its slew of added features and modules make it the most versatile platform you can use as a project management software, knowledge management software, and hub for all your digital and online marketing efforts. There's more – you can even create full personalized and precise help desks, Technical customer support service, and an online IT ticketing system.
All round, real-time tracking enables you to make changes in real-time and track your campaigns' progress as soon as a person sees it.
PeppyBiz is an enterprise-level software. The business of any size can use it. Small businesses will require few services while a bigger company will need more, but that's where PeppyBiz's software shines the best; it provides you so many services that you can use at any moment when you truly need it.

Best Uses: Knowledge base software, Project Management Software, CRM, and Help Desk

Preferred User: Startup, SME, Local and Regional Business, Corporations

Cost: Varies with modules and services used

2. Hubspot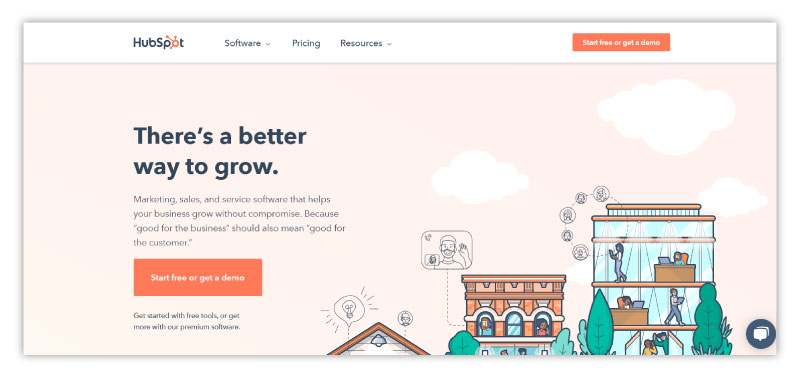 Hubspot is primarily a CRM platform with the added capabilities of a knowledge management system. It is completely free to use and has a very lightweight and user-friendly design, which puts it amongst our best. You can use HubSpot to integrate your online sales process with HubSpot's CRM and start generating user data.
Data is Knowledge, and knowing your customers is business success. Hubspot lets you do just that. It is fast and agile. Hubspot stores and organizes data in its internal knowledge base, which you can use to create content later on.

Features:
Agile, Lightweight, and User-friendly UI
Sales and Marketing Funnel oriented CRM
Inbuilt knowledge base and data storage
Real-time tracking
Cloud-based architecture
Completely free of cost
If you are looking to improve your sales pipeline and have an integrated knowledge base that lets you track, store, and manage customer data, HubSpot will be the best option for you.

Best Uses Knowledge Management Software, CRM, Digital sales tracking, and Pipeline management.

Preferred User: Freelancer, Blogger, Content Creator, eCommerce, Start-ups and eCommerce Enterprises

Cost: Hubspot is free for use

3. Document360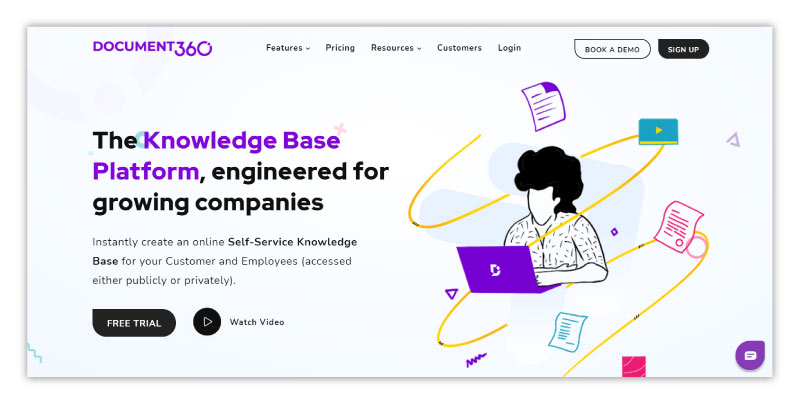 Document360 is the most versatile knowledge management software we have encountered so far. It is built with the specific purpose of creating online self-service knowledge bases. Because of this, it caters perfectly to the need of technical customer service desks.
Companies can use Document360 to create, collaborate, and publish product documentation and self-service documents to access and solve their product related queries. It has many advanced features, such as:

Features
Custom built for creating self-service customer desks.
Advanced Design tools to create beautiful and pleasing user documentation
Fast, Simple, and Clean modern UI which can be used by anyone
Cloud Database and storage which can be used from anywhere
Advanced analytics tools for tracking and producing user data reports.
Ability to create public and private knowledge bases which can be accessed by customers
Advanced knowledge bases will allow your technical support teams to reduce service load by creating an easy to use and guided self-service knowledge base
Document360 seems like the perfect solution if you just want to build a simple, powerful, and easily accessible knowledge base. Its advanced design tools and data storage options will allow you to produce the most content-rich and aesthetically pleasing knowledge base which your customers will love using. Document360 makes content production easy by connecting customer databases with design tools. You can create knowledge bases for both internal employee use, which can be private and, at the same time, create an open-public knowledge base that can be accessed and used by anyone as they wish.

Best Uses: Knowledge management software, project management software, Content Creation platform, self-service tech desk

Preferred User: Start-ups, Local Businesses, Enterprises and Corporations (Tech and IT specifically)

Cost: Document360 offers 4 plans
Start-up – $49/month
Business – $149/month
Enterprise – $299/month
Enterprise Plus – $499/month
4. Helpjuice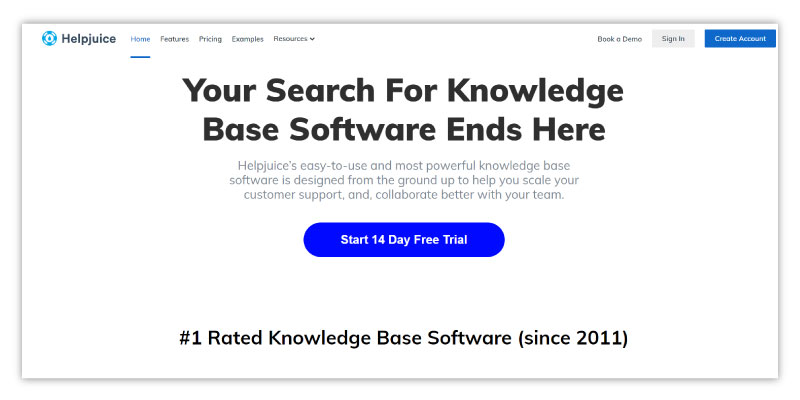 Helpjuice, as the name suggests, is a highly customizable and dedicated knowledge base software. It has an advanced design, which is extremely simplified, making it usable by designers and non-designers alike. The entire software is also designed in a very simplified manner. You won't need any training and tedious demos for your teams to use it. Users can simply jump on the software and start using it. Help juice also has a very Google-like search function based upon its advanced analytics and data management features. You can instantly find what you want in all the piles of endless datasheets with extreme speed and ease. Here's a look at its features:

Features
Advanced data storage and management capabilities.
Highly advanced and technical data analytics tools
Google-like search and indexed database functions
User-friendly design tools
Simplified usability to suit any kind of user
Highly advanced content creation tools which create and publish SEO friendly content
Multi-language Support
Once again, like before (document360), Helpjuice is a dedicated database and knowledge management software. It is designed specifically for non-designers and laymen to create content that is pleasing and fulfills the purpose. Its advanced knowledge base can be used in various versatile ways, and that's why it comes to one of the top places amongst the best knowledge management software of 2021.

Best Uses: Knowledge management software, project management software, Content Creation platform, self-service tech desk

Preferred User: Start-ups, Local Businesses, Enterprises and Corporations (Tech and IT specifically)

Cost: Helpjuice offers four plans
Starter – $69/month
Run-Up – $150/month
Premium Limited – $220/month
Premium Unlimited – $369/month
Helpjuice also offers a 14-day free trial to use and test out their software.
5. Bitrix24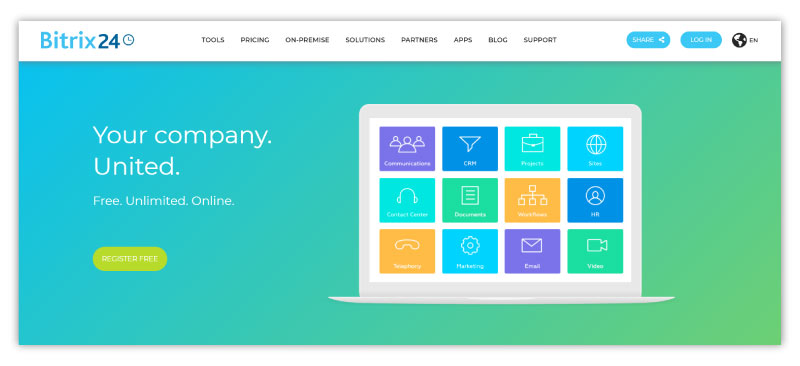 Like PeppyBiz before it, Bitrix24 is also a multi-layered software platform with several useful features and facilities. With Bitrix24, you can create websites, create project management plans, and collaborate with your teams. You can also track your created content, projects, and websites, enabling you to track, store, and use data generated by your customers and end-users. Here are its features in brief:

Features:
Powerful and Multi-layered Software
Design and create websites, project management plans, and self-service knowledge bases.
Use Bitrix24's powerful analytics tools to track, store and use data generated by the customer
You can opt to host bitrix24 on your server for security purposes or use it on the cloud
Bitrix24 also functions as a versatile and purpose-built CRM
Build effective and efficient help desks which your teams can manage
Bitrix24 is the perfect 'one size fits all' solution. It's a package of multiple features that will boost and improve business, sales, and marketing. If you are looking for software that fulfills all purposes and is completely customizable, this will be the perfect software for you.

Best Uses: Knowledge management software, project management software, Content Creation platform, self-service tech desk, and Website Design Software

Preferred User: Start-ups, Local Businesses, Enterprises and Corporations (Tech and IT specifically)

Cost: Bitrix24 offers several plans including a completely free Plan
Start+ – $19/month
CRM+ – $55/month
Project+ – $55/month
Business Standard – $79/month
Business Professional – $159/month
Conclusion
While there is no top contender in the quest for selecting the best knowledge management software of 2021. The ones we have chosen above are winners and worth looking at. Whatever your needs are, these software's will be the perfect fit for your needs.