18 Knowledge Base Statistics You Need to Know in 2023

With the present technological advancements, knowledge exists in a better disparate spot. Information is present in tickets, emails, comments, social media platforms, and many more. The knowledge base is a technology used to stock complex form and formless data of a computer system. In simple words, it is an online self-service archive of data about some topics, such as information on stock, product, division, service, issue, and more. The knowledge base is just a solution for your every query. The knowledge base statistics show the importance and usage of the knowledge base system.

It is better to create a knowledge base system. Because some consumers like their privacy while others don't want to inquire about simple or silly questions. A few customers don't want to contact agents because of previous negative impressions. The quality of the product or service is essential, so is the knowledge base. Construct a knowledge base that is effective and accessible 24/7, from any place in the world. This is the biggest benefit for international businesses, as clients can have access to their questions at any time, right from their device.

Knowledge Base Statistics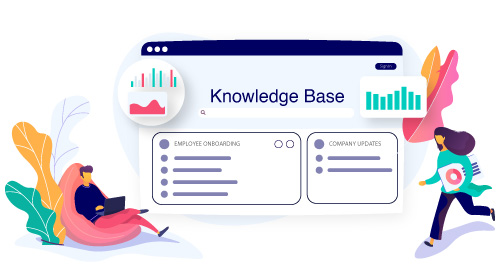 Take a look at the below knowledge base statistics that deal with the knowledge base support for the customers. They are:

1. The percentage of consumers that use phone services for problem-solving is reducing for a few years. Because most of the consumers are dealing with their issues using knowledge base support. There are many reasons for this, one of the finest reasons is buyers don't wish to depend on phone calls for common or everyday customer service problems. So, the customers are choosing honest client service through self-service. So, businesses should develop a knowledge base or FAQs to provide clients with a chance to solve their issues independently.

2. The usage of the knowledge base and FAQs is improving like a wildfire. In the year 2012, the usage rate of the knowledge base or FAQs is only 67%. Whereas, in 2018, the usage rate of the knowledge base is 81%. You can see that it has a high improving rate. Nowadays, customers want to use the knowledge base support to get a solution on their own. The present generation of customers likes to be independent while dealing with common topics. The organizations can tone down their customer live support expenses by contributing a sufficient knowledge base.
3. A maximum number of consumers wish to assist themselves. In a survey, 53% feel that they must resolve their problems rather than customer service agents. The percentage of people who feel the same between the age of 18 and 34 is 60%. A significant number of clients are cheerful to support themselves. So, corporations just need to provide them with accurate knowledge base resources.

4. 91% of customers are willing to try an online information base if it is accessible and matches their necessities. If you deliver a rich content knowledge base, massive amounts of clients are ready to try it rather than asking for help through tickets. That implies you can chop down the repetitive questions by formulating a good knowledge base. Most of the problems of clients just need 300 words or less to resolve.
5. 47% of corporations that possess a knowledge base saw a positive rise in sales. 45% of companies who took part in the survey say they observed a rise in sales via self-service. At the same time, 54% recorded an upswing in network traffic. The main reason is that a knowledge base replies to various technical issues even before purchasing by the consumer. By transforming the old-style FAQ section into a fresh knowledge base, you can keep a step ahead of your opponents.
6. 70% of consumers like to use a firm's website to obtain responses to their problems rather than using emails or phone calls. Because no one wants to dial digits taught by a noted reminder, a survey from 2009 reports that consumers must wait at least 24 minutes to get into the customer service chain. But the present-day customers don't have time nor energy to wait that long. In simple words, phoning or composing lengthy emails is not a nice fit for contemporary consumers.

7. 31% of clients expect instant online assistance, whereas 40% of consumers want to receive a response in 5 minutes or less. The customers need instantaneous entry to information and response to issues. To match such great intentions, a company must provide an automatic knowledge base, created with your consumers in a sense. The help center or knowledge base should be simple to open from any appliance. Also, firms need to develop a knowledge base outlet, where consumers receive a personalized understanding.
Others Knowledge Base Statistics
A few important stats on the usage and importance of knowledge base from surveys. They are:
8. Most of the consumers give more thinking about solved problems rather than being thrilled.
9. 97% of customers say that customer assistance is a crucial aspect of their patriotism to the company. So, the companies should provide a positive customer experience not only through interactions. But also through providing various beneficial knowledge base sources.
10. Buyers don't prefer to be kept aside or think like they're finishing all the chores. So, just because the companies provide the knowledge base doesn't mean that they should stop checking on the customers.
11. 67% of consumers choose the knowledge base self-service over talking to a business agent because of privacy issues.
12. 36% of clients explain that businesses should expand their inquiry functions and website usage skills.
13. Estimates show that 85% of customer interactions will be done without mortal interactions by 2020.
14. 54 % of businesses that offer network or portable self-service saw an improvement in their website traffic.
15. By expanding the company's help division, it can diminish the volume of calls by 5%.
16. 40% of consumers select self-service over mortal communication.
17. 57% of phone calls arrive from consumers who took a visit to the business's website first.
18. 51% of buyers choose technical assistance through a knowledge base portal.
Best Knowledge Base Software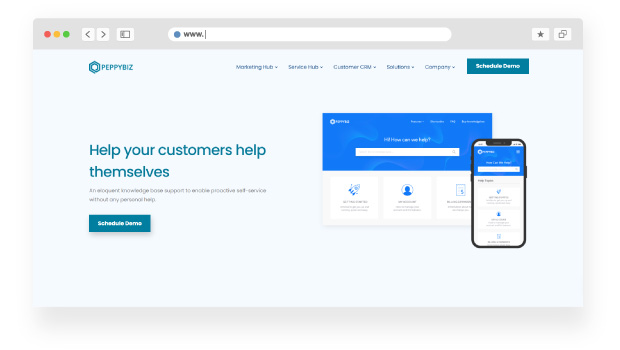 Here is a few promising knowledge base software. They are:

1. PeppyBiz:
We offer the best knowledge base software. Not only that, but it gives the best CRM, automation, marketing, sales, and email marketing solutions. It supports consumers by giving tutorials, how-to guides, live chat, common FAQs, training, and many more. You can get the most out of your money using their services. It provides the best automation tools that save the time of your staff. PeppyBiz tools are both pocket and budget-friendly. A total of 12,000+ clients are using this fresh software that came to the market in 2019. You can enjoy their services for free either using their free trial plan or free app version.

2. Helpjuice
Helpjuice software is one of the prominent SaaS platform knowledge base software. This is a cloud-based network. They give solutions that are perfect for organizations with huge teams. It also promotes the best beginner-friendly information management network. They deliver free custom tools to arrange knowledge bases at an easy and fast pace. It also pledges a 5-minute reaction period to assist client tickets. The process of creating a knowledge base is very simple by using this software. They allow you to build serves by yourself and, if needed, helps with the transition.

3. Document 360
Document360 promotes a beginner-friendly design procedure. This software is a very easy software that is built for developing content-rich knowledge base outlets. It is a cloud-based software that gives a clean and steady stoner interface for putting together both personal and public knowledge base platforms. Their software offers a simple to use markdown editor feature. This software performs in online mode and gives access to users to operate even from mobile appliances. Their search strategy promotes auto-suggestions when tagging in the inquiry box. It has a search analytics feature that obtains every search quizzes, including failed inquiries.

4. ProProfs Knowledge Base
ProProfs Knowledge Base is a strong software that comes with special features, creative sites, and strong integrations. This software is a great help coming to building an online knowledge base outlet. It also assists in establishing help sites, documents, guides, FAQs, and many more. This software helps you in every factor of knowledge base supervision. For example, subject authoring, formulating, customizing, and someday distributing it. It is very easy to execute and doesn't need HTML or any coding techniques. Many small businesses and big organizations choose this software because of the comfort and flexibility.

5. ServiceNow
This is an exact outlet that enables businesses to digitize their consumer administration and workflows. ServiceNow software is good for great enterprises and is user friendly. Their software permits you to develop a special knowledge base for your corporation's team. Also, to satisfy the consumer, you can build a general knowledge base. It even comprises an app shop and gives integrations that are good for cultivating a progressive knowledge information base. This software is excellent for preparing onboarding workflows and evolutions. It also provides decent search results depending on the last incidents using their search tools.
Conclusion
Creating a satisfactory knowledge base expects duration and action. Because it needs constant information updates on products and services. As you see from the above knowledge base statistics, it is clear that it will conserve your staff's time and retain the consumers. This, in turn, will give much more profits. It is up to your opinion to conclude which is the best software for your company and team. But make sure to analyze all choices before settling to purchase software to develop the knowledge base.