10 Best CRM Software for 2023

As you know, CRM simply means customer relationship management. The main intention of CRM is to boost and enhance customer connections. Also, it supports the rising sales and productivity of the company.
CRM software is an all-time solution to organize consumer details and for adding statements. It also delivers emails and client satisfaction and many more. You can choose among the best CRM software for small businesses, startups, medium, and big corporations.
Customers are always the center of any company, and it is important to have customer-centric service for a positive experience. Because 82% of customers manage to abandon the company that provides a bad customer service experience. The CRM software also assists in the lead procedure. It obtains the guests, trains them, and at last converts them into sales leads.

Top 10 Best CRM Software For 2023
Take a look at the best CRM software that are providing good solutions. All these upgrade the productivity and efficiency of the organization. They are:
1. PeppyBiz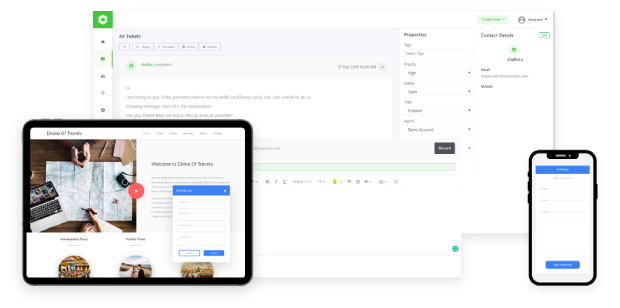 PeppyBiz software is a pocket and budget-friendly software. It is also one of the fresh and leading CRM software in the market. This software has been in use by 12,000+ customers around the world since 2019. It has a perfect mixture of solutions for startups, small-scale businesses, medium and large industries.

This software doesn't stop just at CRM solutions but also gives marketing, automation, sales, project management, and more. Almost every kind of industry, such as IT, software, travel, e-commerce, individual freelancers, and a few more, use this software.
It allows you to assign customer tickets and also yields automation services.
This software's key functions are calendar views, segmentation, quick chat options, ticketing automation, and many more.
PeppyBiz software offers 24×7 support using live chat, phone calls, webinars, tutorials, and many more.
You can admire this software's services without spending even a pound by using their free version or trial.
2. Apptivo CRM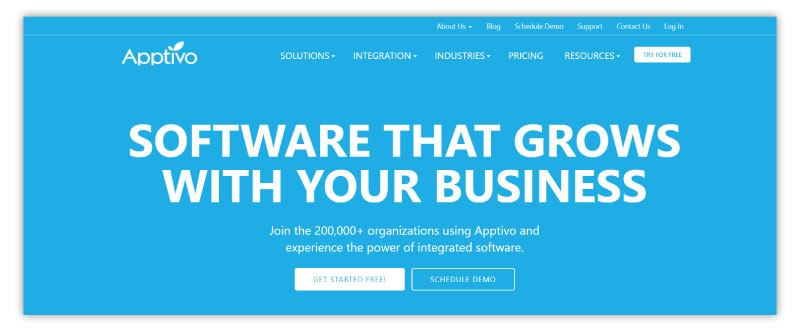 This software is one of those cloud-based and all-around CRM software. Apptivo CRM suits best for compact and medium enterprises who wish to have practical functions. It is also one of the user-friendly software that comes with a lot of customization features.
They give many features with different kinds of custom choices. This software comes with 24×7 service support, protection and safety controls, and simple phone applications. Apptivo CRM gives you more than enough integrations with other outer apps.
It helps and lets the company govern customer problems and ticketing automation.
They also have tools that are good for both work teams and individual employees.
You can either signup for their free app or use their free trial that functions for up to 30 days.
Their free package is limited to 3 users, including many CRM features and 500MB storage space.
3. BIGContacts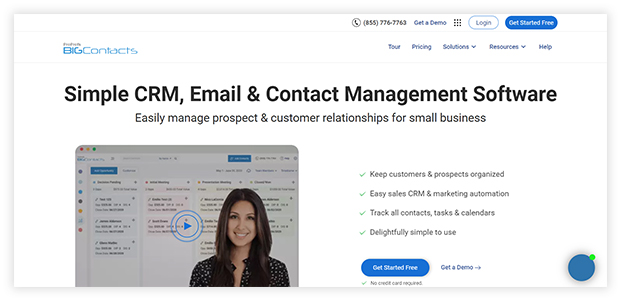 BIGContacts stands as a stellar choice in CRM software, designed with a focus on simplicity, making it an ideal choice for small teams, yet scalable for companies of all sizes.
As part of its wide-ranging feature set, BIGContacts offers customizable contact records, automated task reminders for follow-ups, email marketing capabilities, and in-depth reporting.
Creating a 360-degree view of all your contacts, BIGContacts allows storage of all emails at a single location, enabling seamless team communication. It also offers the ability to customize fields, processes, and workflows to suit your unique business requirements.
It prioritizes ease of use, making it simple to navigate and manage prospect and customer relationships.
It offers custom fields, automated tasks, reminders, and the ability to create distinct roles and permissions.
You can experience the benefits of BIGContacts without any upfront cost by taking advantage of their free trial.
Sales pipeline management and real-time tracking of data improve business performance.
In addition to its intuitive design, BIGContacts offers 24/7 support via phone, chat, and email.
4. Pipedrive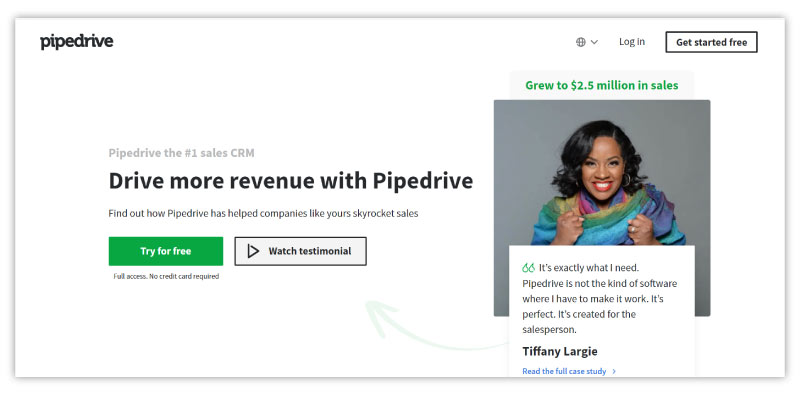 Pipedrive software gives solutions that put the main focus on sales. This software offers various communication tracking tools. So, you can track information across chat, email, mobile phone, and many more. They also come with a set of email reminders and mobile alerts, making it easy to complete tasks within the timeframe.
It also gives more than 150 integrations with outer apps like Google, Zapier, Trello, and the list goes on. This software uses automation methods for organizing sales and streamlines the maximum sales process.
It comes with a solid API, which makes it easy to collaborate with other apps.
One of the finest aspects of this software is its lead management tools, which help search for potential leads.
They also offer many email templates along with email integration options to maintain the sales.
It operates and functions well on both Android and iOS systems.
5. Teamwork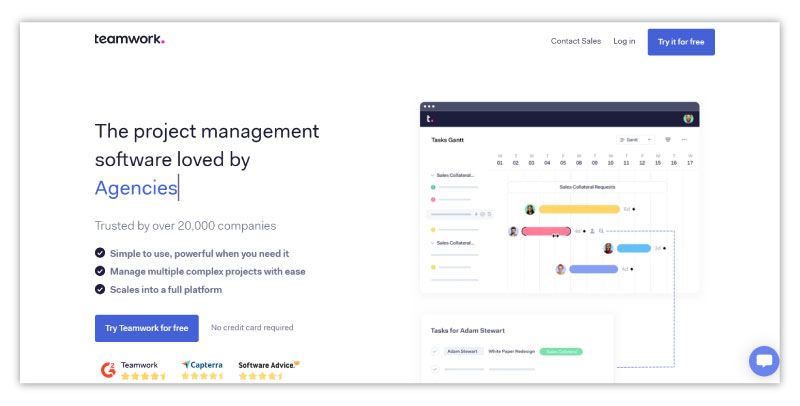 Teamwork software offers CRM tools that suit best almost every type of industry. They have the best customer-centric functions, which make it great. This software assists in consolidating personal employees and teams. It also provides updates on the project's progress.
This feature makes the remote teams know more about their projects. If you are using this software, you can track and view customer tickets, emails, and a few more.
Teamwork software gives a lot of custom solutions to make it easy for you to use their services.
It comes with a personal messaging function, which enables you to save the project aspects confidential.
They also maintain navigation tools that prioritize and fulfill the demands of the team.
Gantt charts, customer tracking, deadlines, and various views are a few features.
6. Freshsales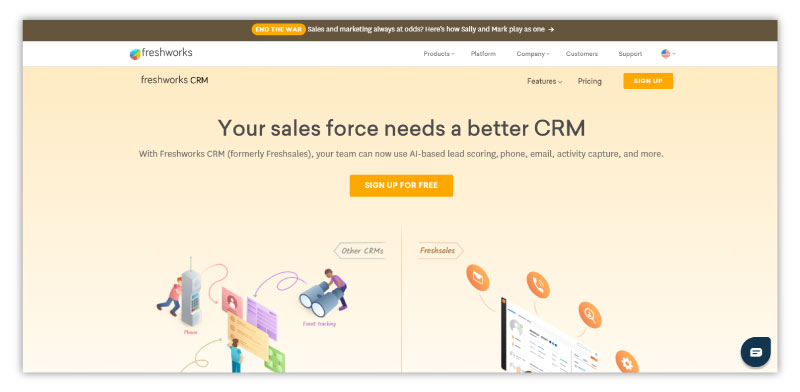 Freshsales CRM software has its mark on the list of best and famous software. It has solutions which are very suitable for every company. They come with functions that keep full focus on sales, which increases conversions.
Their dashboard is simple yet effective and provides instant access to contacts, phone calls, articles, emails, and many more. You can also arrange bespoke workflow automation tools. This software gives an overall 360-degree entry to consumer forms and touchpoints.
They provide not so many integrations but collaborates with famous third party services and apps.
It comes with an AI-based lead solution that observes leads and helps in improving sales.
You can have mobile integrations, which makes it easy to regulate the business.
This software uses automation methods for updating profiles, tracking leads, and many other things.
Best CRM Software For Small Business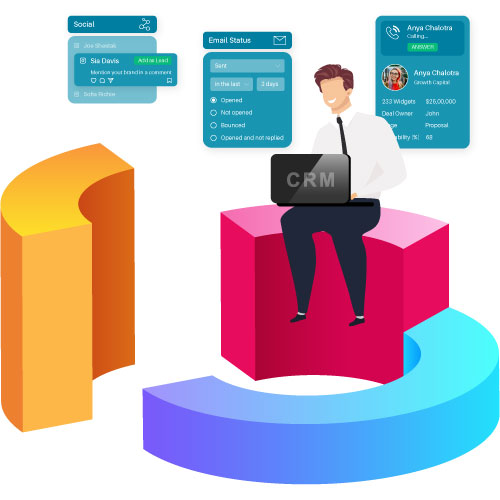 CRM software is not just limited to big enterprises. There are many software which is specially made for small business, startups, individuals, and more. Here is a look at the best CRM for small businesses that give small and tiny business firms the best solutions. They are:
7. Drip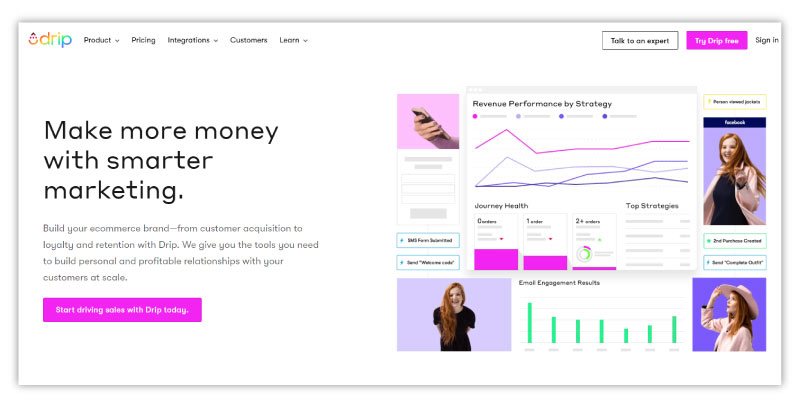 Drip software is one of the dominating CRM for e-commerce industries, along with tiny firms. This software comes with an important and elegant interface, and also, this is very simple to use for any enterprise.
They provide some good tools which let you develop a workflow, email campaigns, and automation easily. You can keep and choose the type of email building with their optical builder or script builder.
This software comes with easy features like intent marketing, segments, custom contents, and many more.
It also allows you to have one-on-one conversations with the clients and offers tracking tools.
They offer easy integrations with almost every other kind of app.
It also maintains lead generation workflows for various platforms such as Instagram and Facebook.
8. Constant Contact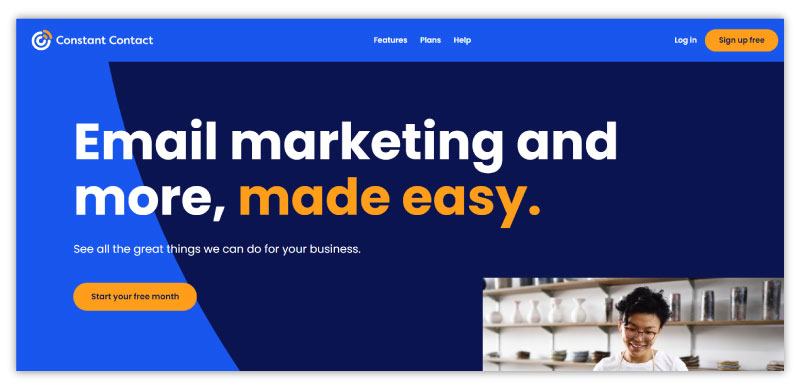 Constant Contact is one of the best software that offers both email marketing and CRM services. Their solutions are more than enough for small firms who want multifunctional CRM software. It has a powerful and simple dashboard to use, which makes it easy for you to use.
They have functions like sales funnels, reporting, and marketing automation tools. It comes with more than 100 email templates and gives you many choices to choose from.
This software lets you store consumer contacts and helps in arranging buyer data.
It also provides third-party integrations along with e-commerce integrations.
Some of the main elements are scheduling, segments, list cleaning, and ads.
You are free to create incredible emails using their drag and drop builder.
9. Agile CRM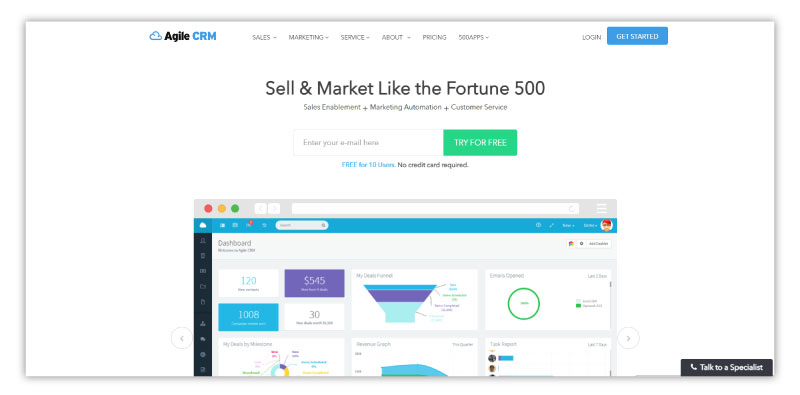 Agile CRM has its place in the table of the best all-in-one CRM software. You can have consumer service, sales, marketing, and management in a single dashboard.
Also, it is very simple to use their dashboard. It comes with a pack of 1-click calling, voicemail features. You can build landing pages and network forms using their full marketing automation methods. They give marketing solutions that help in producing and catching leads.
This software gives full 360-degree views for various things.
You can establish and organize campaigns on various platforms using their drag and drop interface option.
This software authorizes you to organize email newsletters, berth pages, and assists when delivering emails.
It also comes with built-in chat options, fresh lead tracking, and reporting options.
10. HubSpot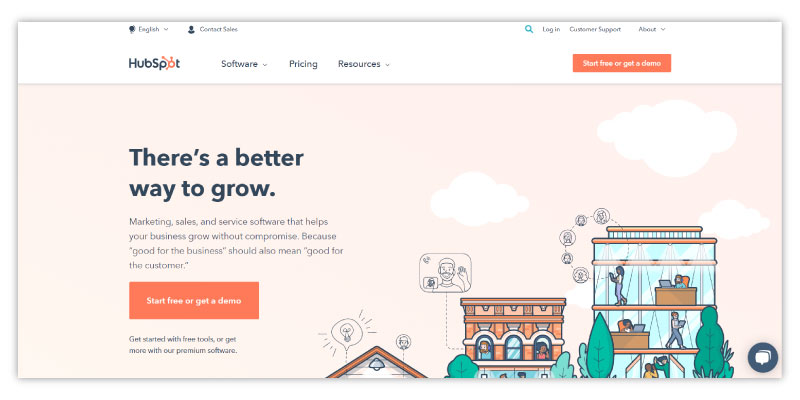 HubSpot software also arrives with other kinds of marketing solutions. Such as service, sales, management, ticketing, and many more. This software has been surviving since 2006, and as of present, it has a sum of 68,000 customers.
All these users are spread around more than 100 countries. HubSpot includes templates for various things. Such as sales, landing pages, emails, web pages, blogs, and a few more. This software allows you to construct a post with inner teams and divisions. You can develop designs, including images, gifs, videos, and more.
You can develop links and share them using their tools.
Organizing the connections in a sequence is one of the functions of this software.
This software gives birth to powerful yet easy to use CRM solutions.
You can try their forever free plan free for up to 1,000,0000 people, and it comes with endless data storage space.
Conclusion
CRM software usage is increasing every day and is one of the leading kinds of software in the entire market. The CRM system also maintains a high ROI, conversion rates, customer service experiences, cuts our unnecessary budget, and many more. You are free to pick any of the above best CRM software, which is right for your business as they come with their set of top-notch features.