B2B vs B2C Marketing Automation Know the Difference

B2B vs B2C marketing automation depicts the difference between how both companies use marketing automation to achieve different goals. B2B companies are those who are seeking other businesses as their clients, and B2C companies find customers as their ultimate audience. As the marketing strategies and business models, if both the companies differ from each other, so do their marketing automation processes.
Both will be using different technology, different data, and analytics. They must be defining all these on specific target parameters that they have set. Read this blog to know the difference " B2B vs B2C marketing automation ".

Before we go further, let us know what marketing automation is?

Marketing automation is an AI-generated software which helps in sending email campaigns to customers and prospects based on precisely defined rules. Marketing automation simplifies the process of targeting customers based on their specific journeys instead of sending a particular email to all the prospects. That means marketing automation enables you to trigger prospects so that they turn into customers based on their actions.

Note: The journeys created by marketers are specific and relevant to a user or a recipient.
Marketing automation helps in strengthening the bond between the customers and marketers and generates brand loyalty. Also, it leads to generating higher revenues and profits.

What are B2B and B2C marketing automation?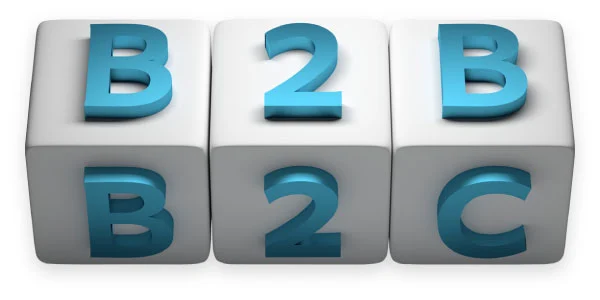 Today marketers are creating personalized campaigns and engaging more and more with the customers. Hence, brand interaction has also taken a big leap. But earlier, these marketing automation tools were only reserved for big enterprises. A B2C enterprise could hardly think of implementing them as they were quite expensive. On the other hand, many B2B marketing automation software solutions such as cloud tools are still available, which were only used by big enterprises. Now they are also accessible to medium-sized enterprises.

The popularity of these tools has led to its accessibility to almost all, including the medium-sized businesses. Now we are aware of all the marketing automation and cloud-based tools such as AB testing, landing pages, and webinars. Their popularity and usage have made them more easily accessible and affordable.

How b2B and b2C companies use marketing automation to achieve their goals :
According to the current statistics, many B2C companies are already flourishing and expanding with the help of marketing automation software, and they are earning higher conversion rates as well.

Both the companies – B2B and B2C use marketing automation to send timely messages to enhance engagement and earn profits. It does not matter what tools they are using, but there would be standard components in their marketing automation processes.

Let us see what are those standard components :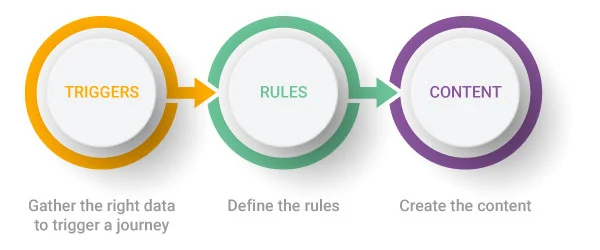 Triggers – Collect the relevant data to trigger a user's journey
Rules – Define the laws that govern a specific user journey
Content– Create the content pertinent to engage them
Although the goals of both companies would be the same, i.e., conversion, But the tactics and their focus would be different altogether.
Below are the similarities and differences in both the companies marketing automation process :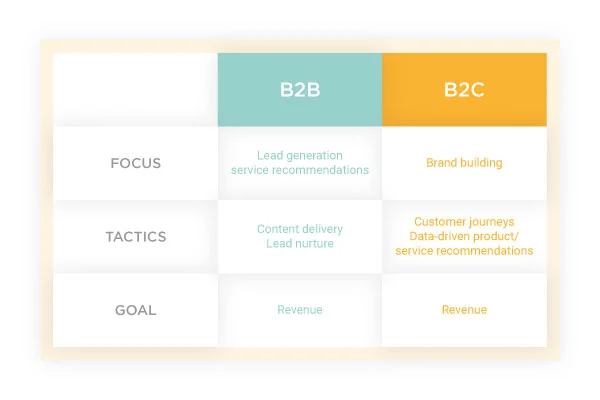 Similarities :
Build brand value: Both companies aim to build their brand value by engaging clients and subscribers with relevant messages and content.
Key metrics: They both aim to get the key metrics. i.e., data analytics to know what is catching the user's attention and whatnot.
Efficiency and revenues: Both strive towards gaining the ability and enhancing their revenues.
Differences :
Focus: B2B companies create campaigns that are usually related to the mass audience, whereas the B2C marketing automation stresses out on creating personalized and relevant messages to reach their target audience.
Value: B2C marketing automation focuses on enriching the awareness and knowledge of mass audiences and aims at nurturing a lead through sales funnel, whereas B2B marketing automation focuses on the individual customer journey.
Now that we know the fundamental differences and similarities between the marketing automation of two. Let us know how their marketing automation works to clarify the minute differences.

How do B2B and B2C marketing automation work :
B2C companies use marketing automation to send automated messages to users based on their actions. These messages are relevant and personalized as per every user journey.
Below are the examples :

1. Sending special offers: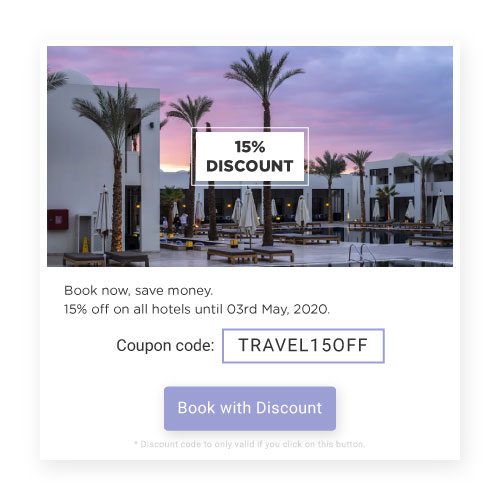 Suppose a cosmetic company such as Nykaa has come up with catchy offers and discounts. It can use marketing automation to send such proposals to only the customers who have already purchased from them and not to the mass audience through a mail series. The company will engage customers depending upon their purchasing power and their purchasing history. Therefore, a customer who has just made a single purchase would get a different message than the customer who has been loyal to the brand so far.

2. Birthday offers: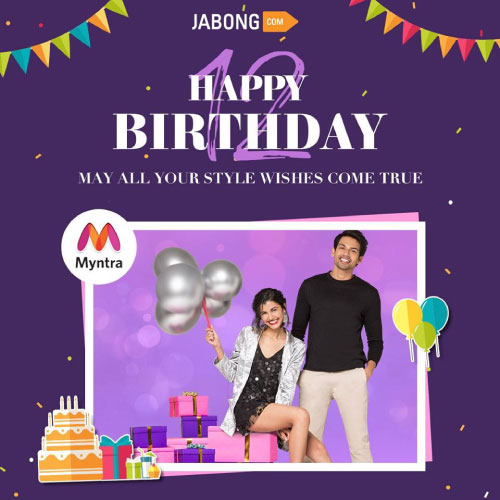 Many famous companies use marketing automation to engage customers with unique product recommendations while sending them birthday wishes. They usually trigger mail based on the birthdates of the customers, which they gather during the checkout process. Companies such as Myntra are already known for marking such offers.
3. Reminding offers: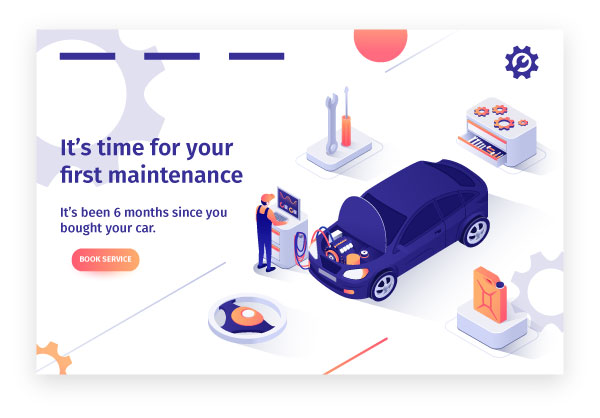 Many automobile companies such as Maruti and Santro use marketing automation to trigger users with reminder mail. Generally, they tell customers about their after-purchase services. Then they send follow-up messages to the customers based on the services they have booked for or what services are still pending, which customers can avail.

Note: B2C companies are already gaining the benefits of marketing automation through personalization. Such emails tend to have more click rates than non- personalized ones. Also, customers generally don't give a damn to the non-personalized content. Marketing automation eases the company's tasks to send and create every mail to the customer. Marketing automation enables them to provide a seamless customer experience.
B2B companies generally use marketing automation to make onboard users and provide values to the leads and their business clients and partners. Like B2C companies, they don't focus on creating personalized content that is user-specific.

Below are some essential points which B2B companies consider while using marketing automation.

Objective: The main aim of these companies is to keep things for a wide range of recipients.
Send emails: These companies usually send trigger emails to drive more sign-ups, to onboard more customers, and finally to generate revenues.
Educate and awareness: The companies send educational and event-based content through emails to make the subscribers aware of the events.
Many B2B companies are using marketing automation platforms and getting successive results rather than working with single vendors or using cloud-based solutions. Marketing automation tools provide them the ultimate exposure through which they can reach a broad audience such as creating landing pages, posting updates on social media, and email marketing. With these tools, they can stay in contact with the contact and keep them updated about their latest events.
Why do B2B and B2C companies have different marketing automation platforms?
1. Engagement channels:
B2C companies use more customer engagement channels as compared to B2B companies. Although Email remains the consistent mode of communication in both companies. On the one hand, it is the primary component for B2B companies as compared to B2C companies, which usually focuses on multichannel and omnichannel engagement. That means they have to reach customers at those channels where customers are present.

2. Data patterns: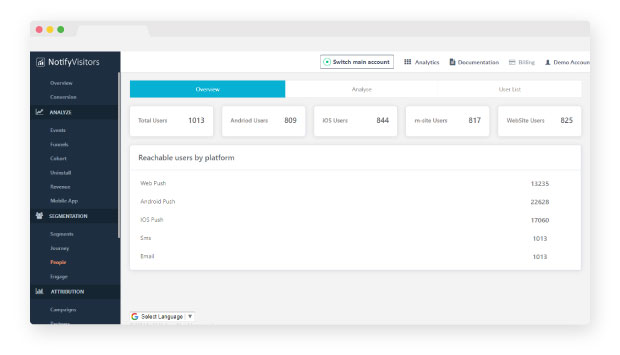 B2B companies focus on the user's activity on their website so that they could begin conversing with them. Also, they have to collect user's data based on their demographic, psychographic, and geographical. Further, they need to create segments to engage users with relevant content.
B2B marketing automation platforms focus on the data such as the size of the company, contact's position and industry, etc. They collect data mainly from CRM, and further complementing this data with the visitor's browsing behavior, they can score the leads. They are not required to build a database like B2C companies which accommodate more data.

3. Prominent features: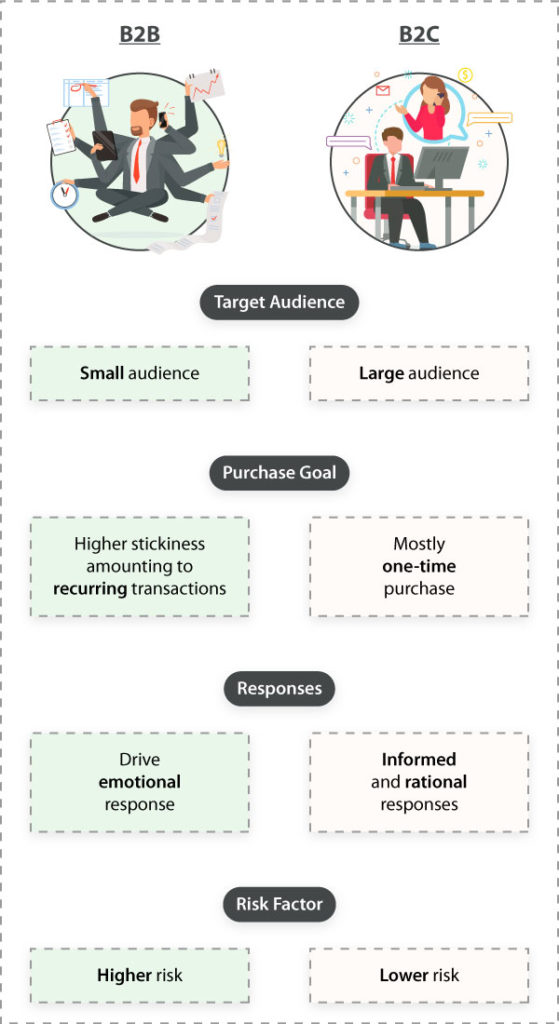 The main aim of B2B companies is to sail the leads through the funnel. i.e., lifecycle management. B2C companies' main goal is to retain customers.

Let us see the differences in their prominent features :

Target audience: Target audience in B2B companies is usually prospects, whereas the target audience in B2C companies is wider.
Purchase goal: In b2c company, a specific user is likely to make a purchase. But the b2b company is after the whole of the company.
Responses: B2C companies drive emotional reactions from the users, whereas the other one focuses on informed and rational responses.
Risk factor: B2B products leverage higher risk as there are no. of levers involved within a product. The transactions included in B2B products are recurring, while B2C companies usually include one-time purchases.
Addressing points in B2B marketing automation platforms are lead nurturing, lead scoring, and CRM integration, whereas the addressing points in B2C companies, is retention, retargeting customers, and multichannel engagement.

4) Process and experimentation:
B2B marketing focuses on creating extensive user profiles with the help of CRM, which B2C companies don't do. They focus on building micro-segments and enhance their brand value by engaging those segments.

B2B marketing is more about a detailed process where you have to look after the problems faced by the entities who share common traits such as business sizes, industry types, revenues, etc. B2C marketing is more about understanding your users recurrently, which contradicts B2B marketing. B2C companies implement tests and experiments to analyze which campaigns work or not to provide much better human experience in the future.

Conclusion
Both the platforms are continuously devising their strategies to adapt to different goals. They both have been shifting their focuses. For example- Focus of B2B companies is now on multichannel engagement, whereas B2C companies are turning to nurture leads.