For creating a website for your business and launching it to gain profit & increase your business, you need to get visitors to your website.
The more visitors you get, the more opportunities you get for your business to grow and develop.
For that, you need to test or practice different designs and strategies. So there are some of the best AB testing software and tools in the market to help you optimize your website design.
An AB Testing needs the right KPIs, access to the necessary information, and a good set of CRO tools to run successful tests. Every company is different as customers. You need to understand your customers.
What is AB Testing? And why is it necessary?
A/B testing is a method used to create and compare two variants (A and B) of a web page. It is a powerful tool or software to improve conversion rates.
Marketers use AB testing, as they are struggling with getting good leads, online stores come across high cart abandonment rates, and digital media suffer from low viewership.
Advantages of using A/B testing for your website:-
Improve Content
Increase User Engagement
Decrease Bounce Rates
Increased Conversion Rates
Deduct Risks
Increases Values
Easy in Analyzing
Now take a look at some of the best AB testing software and tools that will help you to optimize your websites' design for better conversion rates.
20 Best AB Testing Software & Tools in 2023
NotifyVisitors helps you create campaigns and provides an extensive, undo facility to fix problems. Our A/B testing software works across all devices like mobile, tablet, and desktop websites.
Key features: –
It has a simple handy editor that helps you to drag, move, and type. You can modify your website and landing pages without any knowledge of coding.


You just need to provide your website URL and create AB tests and other campaigns in minutes.


NotifyVisitors tell you which designs produce maximum conversions.


The built-in heatmap tool analyzes visitors' click behavior, scrolling behavior, mouse movements, and browsing habits.


Works with responsive websites.
Pricing: Free plan is available. Paid plan starts at $49/per month.
2. AB Tasty
AB Tasty is one of the top companies in the A/B Testing category that comes with AI-powered experimentation, personalization, and product optimization.
It provides a whole range of solutions that will help you increase your website conversion rate.
Key features: –
Provides A/B testing, split and multivariate testing, and funnel testing also.


Drag and drop editor: – that allows you to easily customize your website with popups, widgets, and other add-ons.


AI-powered personalization: – It includes features like heatmaps, page flow reports, and basic personalisation.


Analytics and Reports: – analyze every point of your user's journey and convert data with just a click. To validate test results, it provides a real-time view of your tests and their respective confidence levels.


Goals: – keeps tracking experiments and creates multiple combinations of goals to evaluate performance with robust KPIs.
Pricing: On request
3. Optimizely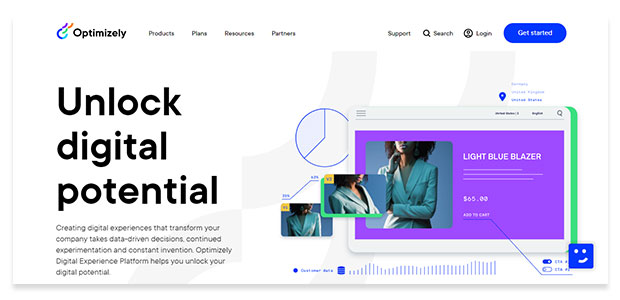 Optimizely is trusted by millions of customers for its compelling content, commerce, and optimization and is one of the top 5 A/B testing sites worldwide.
Optimizely is a Digital experimentation platform that helps you to test, learn, and deploy digital experiences. You can use it to experiment across websites, mobile apps, and connected devices.
Key features:-
Focuses on Personalization: – It uses data to build better experiences for your audience. It helps you to deliver personalized messages to different audience segments, offers, and relevant content.


Advanced Visual Editor: – to build variations that can create experiments in a few minutes without coding or IT support.


Advanced experiments: – Optimizely lets you experiment with both side marketing as well as a product team. You can perform multiple experiments on a single page with industry-first features like exclusion group.


CDN A/B Testing: – It conducts testing and experiments from each touchpoint of your customer experience without hindering your website's performance and speed.


Experiment dimensions: – Optimizely offers testing on dynamic websites, various experiment dimensions like an ad campaign, geography, and cookies, and various experiment segmentation parameters like device, browser, and campaign.
Pricing: On request
4. Adobe Target
Adobe Target supports 200,000+ websites to generate high conversions and increase revenue. Adobe target is a power-packed tool that comes with an optimization engine. It helps you to optimize images, UI, copy, and more.
Key features: –
Optimization on the mobile app: – Unique mobile optimization capabilities. And automated personalization, recommendations based on your customers' behavior and data.


Three-step process: – in which you can create variations that easily target your segmented audience depending on your experiment hypothesis, and then you can customize goals and settings for the test.


Multivariate Testing: – test multiple elements simultaneously and provides testing and personalization activities without activating them.


Multi-Armed Bandit testing: – It automatically optimizes the website and finds the best combination of layouts to get accurate and actionable test results.


Target-based algorithms: – Target-based self-learning algorithms that target continually and automatically adjust themselves by creating associations between visitor behavior and content to give the best results possible.
Pricing: On request
5. Omniconvert
Omniconvert is trusted by top brands like Whirlpool, Samsung, WWF, and more. 5000+ websites leverage Omniconvert. Omniconvert nurtures eCommerce growth with its extremely powerful data-driven tools.
Key features:-
Segmentation tool: – combine with their A/B testing tool which enables you to test more than 40 segmentation parameters. Improve website user experience, product features, and content's ability to engage and convert.


Split URL: – testing to check major changes.


Stacked Tests: – Stacked testing speeds up the optimization process by using the winning variation from a test as the default so that you continue to run the same test to collect more data and ensure your results are reliable.


Advanced Reports:- Omniconvert leverages a statistical calculator and other advanced tools to make impactful and actionable reports.
Pricing: Starts at $167/month
6. Google Optimize and Google Analytics 360
Google Optimize and Google Analytics 360 come under the Google Marketing Platform to help brands improve their website's performance. Google Optimize is a free tool whereas Google Analytics 360 is the paid version.
Key features: –
Run simple A/B tests, split URL tests, and multivariate tests. Google Analytics 360 can test multiple variations of a page.


Google Optimize tool allows you to create and test different website versions and analyze which one performs better. With Google Analytics, you can have robust research tools in your arsenal as well.


Google Optimize allows endless possibilities without writing any code or spending hours setting up experiments manually. It uses raw HTML and Javascript code editors to experiment more. It uses Google's WYSIWYG (What-You-See-Is-What-You-Get) editor.


It offers you multivariate testing for multiple elements on the same page.
Pricing: Free version and Paid version both
7. Zoho PageSense
Zoho PageSense is an affordable and two-in-one conversion optimization and personalization platform.
Key features:-
Drag and drop visual editor offers you to create web page variations in a screenshot.


ZohoPagesense monitors website revenue by setting revenue goals to compare each value.


Heatmaps show you where to place important information for your customers and know from where your customers are scrolling.


Zoho PageSense shows a detailed report of web page performance.
Pricing: Starts from $17/month
8. Oracle Maxymiser
Oracle Maxymiser is a testing and experience optimisation software tool that makes up part of the wider Oracle Marketing Cloud software offering.
Key features: –
Creates personalized and relevant customer experiences across all channels, like websites, mobile apps, email campaigns, and more.


Maxymiser visual editor has the ability where technical and non-technical users can collaborate.


Heatmaps that give you predictive insights of your web page and see how your customers interact on the page.


In-depth analytics and reporting systems that help in higher conversion rates with A/B testing.
Pricing: On request
9. Kameleoon
Kameleoon is a full-stack personalization platform with Artificial Intelligence (AI) to help marketers, developers, and product teams to boost engagement and conversions.
Kameleoon has 23,000+ websites as its customers. It is a popular choice for healthcare and financial services.
Key features:-
API integrations that help you to get started quickly with any app or website.


Smart code editor creates a complex yet more impactful experiment using Javascript to save time and minimize mistakes.


Split testing AI algorithms.


Kameleoon provides an easy-to-understand reporting interface.
Pricing: On request
10. Convert
Convert has helped 50,000 +websites to optimize their website experience for customers. Trusted by brands like Sony, Unicef, and Jabra.
Convert has been a SaaS company since 2006, and it understands that every visitor is different and has unique needs.
Key features:-
Run unlimited tests or create a number of variations to meet business goals.


Uses WYSIWYG (What You See is What You Get) for building code-free experiments that make it easy for all marketing teams.


Split testing and multivariate testing to test variations on a particular page.


Easily integrate any third-party tool like Google Analytics and API integration and run limitless A/B tests.


Advanced segmentation tool that segments your visitors based on geo locations, historical behavior, or JS events.
Pricing: Starts at $699/month
11. VWO
VMO (Visual Website Optimizer) is the most trusted and popular web testing and conversion optimization platform. It focuses on graphics and design.
VWO has helped 2,500 brands across 90+ countries to conduct 600,000+ experiments to date. (geekflare) It is trusted by top brands like Vodafone, Toyota, Samsung, and eBay.
Key features: –
Powerful visual editor: – advanced code editor with limitless customizations, dynamic features, and AI-driven copy suggestions.


Custom Widgets: – advanced widgets and elements like banners, modals, timers, and other prompts to generate leads.


Split URLs and multivariate testing: – It allows you to run tests based on visitors' behavior like spending on a page, clicking on the element, etc.


Customize report: – customizable report with VWO's advanced reporting.
Pricing: Start at $199/month
12. Freshmarketer
Freshworks uses Freshmarketer for CRO (Conversion Rate Optimization) – techniques for increasing website conversions.
Key features: –
User-friendly interface for A/B testing and split URL tests.


Uses WYSIWYG editor and reporting interface.


Use Heatmaps to know what your customers are doing on your website.


Session replays to diagnose UX issues and determine needs for testing on the website.
Pricing: Starts from $49/month
13. SiteSpect
SiteSpect describes itself as the "Fastest Optimisation Platform," which is important for websites that focus on high-impact graphics and user experiences.
Key features:-
Recognize users across tablet, mobile, and desktop devices.


Analyzes campaigns and variations to make data-driven decisions and improve the overall user experience.


The visual editor enables you to make changes to the user experience.
Pricing: On request
14. Crazy Egg
Crazy Egg helps you test landing pages and websites product pages. Also lets you view results in real-time.
Key features:-
Simple Setup: – Just add the snippet to the webpage to test the website.


Experiment with different sales copy, product descriptions, or headlines.


Offers intuitive conversion tracking and reporting tools.
Pricing: Starts at $24/month
15. Convertize(Glassbox)
Convertize gives businesses innovative A/B testing software to upscale conversions at an affordable price.
Key features: –
Autopilot:- It has built-in algorithms that automatically manage your traffic to shift more traffic to your best-performing pages.


Smart Editor for creating code-free experiments.


Lightning mode that keeps your pages loading quickly during tests.


Statistics Engine offers all the insights to create a meaningful design.
Pricing: Starts at $49/month
16. KIBO
KIBO helps you to track the import of your test in real-time. It provides a new hybrid service.
Key features
Advanced Dynamic testing monitor experience.
Multivariate testing: – support scaling for your experiment.
Offers API or third-party integration.
Helps you to measure, visualize, test, and optimize customer lifetime value.
Pricing: On request
17. HubSpot
HubSpot is a full suite of marketing software divided into four key products and a unified platform including hubs for sales, customer service, CMS, and operations.
Key features:-
CRM for handling customer data
Drag-and-drop editor, website themes, and SEO recommendations.
Marketing automation
Lead management
Pricing: Starts at $800/month
18. Unbounce
Unbounce is an A/B testing tool that helps you to increase conversion rate by creating AMP (Accelerated Mobile Pages).
Key features:-
Allow adding custom HTML, JavaScript, CSS.
Customize any pages with a few clicks.
Offers100+ templates to choose from.
Use high-quality SVG graphics.
Pricing: Starts at $120/month
19. Evergage
Evergage is an online integrated conversion optimization and testing tool.
Key features: –
AI Personalisation
Advanced targeting & segmentation
Test hypotheses to increase shopping experience.
Analyze campaign performance
Pricing: On request
20. Leadformly
Leadformly provides in-depth form analytics and A/B testing features to maximize conversion rates.
Key features: –
Multi-step form templates designed to maximize conversions
Conditional logic
Invisible spam filter
Intelligent field validation
Pricing: Starts at $37/month
Conclusion
A/B testing is necessary for a website to get better conversion. It helps you to get a better insight into your customers.
It helps you to know which combination attracts visitors and converts them into customers.
So, these were the 20 best AB testing software and tools that we mentioned above are reliable and trusted.