Website personalization tools are creating a personalized experience for the visitors who are coming to your website. You certainly cannot sell a particular product to a generalized group that could have different tastes and preferences. There could be different visitors coming from different perspectives and would want to buy a product as per their wish.
Therefore, website personalization comes into the forefront of creating a generic website as per the customers' needs. You can personalize the websites' content or create a user-friendly route to the content that could help visitors navigate easily through your website.
Marketers use data to personalize the website in real-time, and if we notice keenly, social media websites are already following this trend for a long time.
Read this blog to know more about website personalization and website personalization tools, which increases conversion rates.
What Is Website Personalization?
Personalizing a website is the process of creating and serving customized experiences for website visitors. It is a fact that you cannot help every customer a similar thing as one size does not fit everyone. A personalized website will give customers a unique experience and provide an equal supply to fulfill the customers' demands.
You can leverage customer data at every stage of their journeys and serve them at every step to sail them down through the sales funnel.
What makes personalization important ?
Personalization has become an integral part of the user journey. Whether it is about online shopping sprees, the news feed, or social media, customers are pulling off expectations at every point to receive a personalized experience.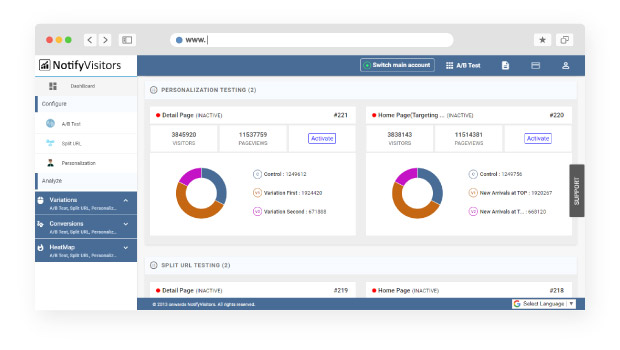 It has now become a raging trend as customers are switching from one seller to another to receive a personalized experience. According to a recent study, e-commerce companies that have not personalized their website have suffered a loss of about 756 billion dollars in a year.
Therefore, you can assume how not having a personalized strategy could take a toll on your business.
What do you need to serve users personalized content :
First of all, you need to look at what your competitors are serving to the customers; here comes your responsibility to help customers differently.
You can only achieve personalization if you have in-depth data about the customers. It will not only catch users' attention but will keep open & relevant communication between the customer and the organization.
You must have the required data and tools to give a personalized experience to fulfill the customers' demands and needs.
What are the benefits of website personalization ?
Personalization gives you the power to provide relevant product information to the customers.
1. Serve customers as per their needs:
Divide your visitors' base into segments, and further divide them into groups. Understand your customers better and provide them the webpages which align with their needs and preferences.
2. Nudge users to stick to websites:
Allow users to spend more time on your website by giving them the content and information to stick to your website.
3. Save time in creating an audience:
Create a marketing campaign that helps you segment the audience and accordingly change the content and information you want to provide them to retain better.
What are the personalization hacks to attain conversions ?
Personalizing your marketing strategy will give you astonishing results, but it all depends on how you are creating your strategy; otherwise, there are still many marketers who are struggling with practicing personalization.

1. Track pageviews
Customer surveys are a professional tool to know about the users' preferences and needs, but it takes a bit of time. Also, people who don't know you or have little knowledge will not immediately follow you through. Therefore, you need a technique that could immediately nudge users to take any action and create personalized messages based on the visitors visiting a page or their previous purchase history.
2. Link clicks
If you do not get enough results from a survey, it's time to change your strategies because no matter how much you try to convince the customers about filling up the surveys, it will take time and will not work out immediately. Therefore, change your strategy, you can send personalized emails to the subscribers inserting the links to your product page or the pages they visited but did not take any action. It will indeed work!
3. Ad campaigns
Suppose a visitor visited your site but did not perform any action on your site. What would you do? Does it lead you to disappointment? No, you should not feel disappointed as you have the opportunity to send the users retargeting ad campaigns. You can automate the ad campaigns based on the past purchasing history of the customers. Also, you need to track how people are reacting to your ad campaigns. You can retarget users on different marketing channels they are on.
4. Create smart lists
Create smart lists based on conditions. You need to set criteria that allow you to decide whether a visitor will join a specific list. It is similar to segmentation.
For example – Say if someone adds a product to the cart, then reflects that they are interested in purchasing that product. Therefore, you can put the user in a list to send him personalized campaigns to re-engage the visitor if he has not bought the product even after adding the product to the cart. These lists automatically update the background by adding the people that resonate with the list and kicking off the visitors that do not resonate.
For example- If someone has visited your site for the first time, add them to a list of retargeting ad campaigns if they have already clicked on the ad, then eliminate them from the list and add them into a new list. It will give you more power to personalize the website.
Now that you have realized the value of personalization to serve customers, see below the website optimization tools which can help you attain conversions :
Best website personalization tools

NotifyVisitors is a marketing automation software that provides AI and machine learning-powered personalization. You can create different visitors' segments based on visitors' behavior, such as page URLs they browse or their locations or cookies. Accordingly, you can send personalized content to the visitors. Also, you can ab test the campaigns to provide personalized and optimized content to the visitors.
2. Adobe target

It is an excellent website personalization tool that enables you to automate and optimize testing on your websites. It has four primary features: Multivariate testing, automated personalization, and mobile app optimization. You can optimize and automate the users targeting process with this automated personalization feature. Accordingly, you can deliver personalized content based on real-time data.
3. Google optimize

It is another website optimization and personalization suite from google. It offers an AB testing suite too. You can run various website experiments to decide what is actually fetching users' attention and converting them quickly. After you know what is inevitable for the users' interests, you can quickly provide them personalized experiences that promote user engagement and enhance conversions.
4. Barilliance

It is a website personalization tools that are created explicitly for e-commerce websites. The tool allows you to gather in-depth information about the users, building a unique customer profile. This customer data will help you create content for the customers and recommend products to them. At the same time, you can send behavior -triggered emails and personalize your website based on consumers' needs.
CONCLUSION
Personalization is both a challenge and a solution for all your marketing strategies. But it is up to you how you are creating a personalized strategy and at what level you are using it to serve the audience. The power of the right personalized tool and effective strategy can help you do away with the worries of attaining conversions.
Also Read: