With today's world increasingly becoming dependent on automation, many businesses are employing chatbots to help them perform a variety of functions.
When chatbots are used to promote your products and services, it is referred to as chatbot marketing. With this kind of marketing, businesses can keep their users engaged with their website or app.
Technological advancements have made chatbots smarter and surpassingly good at striking natural and organic conversations.
These can help order a cab, book a restaurant, find an entertainment avenue in a specific locality, track eCommerce orders, send money, and more using the necessary app integrations.
This blog lists several chatbot marketing examples and the benefits of using chatbots in your marketing strategy.
10 Examples of Chatbot Marketing to Grow Your Business
Here are ten roles that were traditionally performed by sales, marketing, and customer service and support teams now replaced by chatbots.
Looking at these can help you identify the areas in your business where you can utilize the ability and skill of these virtual assistants.
1. Answering FAQs
Chatbots are implemented on FAQ landing pages to answer simple questions. Website visitors find it far less daunting to converse with these chatbots than a service agent.
You need to program such chatbots with question options and their corresponding answers. This enables the chatbot to answer the question selected by the visitor.
2. Sales activities
Chatbots employed for sales can show users your current deals, provide info on pricing, link them to product/service description pages, opt them into subscription updates given, let them book an appointment, and more.
This allows customers to feel more relaxed and avail of your sales services at their convenience.
3. Customer service
Customer service chatbots can simplify the process for both your business and its customers. Its inquiries flow smoothly as it can switch the conversation over to a suitable customer service agent who is capable of handling their issue.
This eliminates clumsy passing of customers to multiple agents and the customer having to repeat themselves to each of them till they find the apt help.
4. Lead generation
Lead generation chatbots popup from a corner of the webpage your visitor is browsing and ask them for contact details like email address, phone number, etc.
Thus these help in capturing warm leads who can be nurtured by your marketing team. These can be designed to go one step ahead to ask the visitor how it can help him. This will engage him with your brand.
5. Survey
Survey chatbots are automated messaging bots that motivate visitors to take part in and complete surveys. They simplify the process for them and make it less effort- and time-consuming. By employing these chatbots you can identify the dark spots of your business.
6. Brand awareness creation
Chatbots can also be used to automate regular tidbits of info to build brand awareness among your subscribers.
Since people love learning new things and getting inspired, these chatbots are employed to share quotes, tips, inspirations, and other content that helps gain loyal followers who look forward to receiving your content daily.
7. Drip campaigns
Drip campaigns can engage customers all through a buyer's journey. However, drip campaigns carried out through emails are too slow and boring.
Employing chatbots for your drip campaigning can quicken the process by striking real-time conversations. These are designed to segment audiences based on the option they select and then deliver relevant drip campaigns.
8. Lead qualification
Manually qualifying leads is a lengthy and boring process. Using a chatbot for lead qualification can simplify it and save you countless hours.
It can be designed to arrive upon lead qualifying decisions based on info like goals, timeline, budget, company info, etc. Then based on the selections made, it can further categorize them into more qualifying segments before making the final decision. 
9. Handling tickets
Chatbots can be used for providing customer service. They can collect tickets from users and hand them to the internal service team for follow-up. This can significantly lower the volume of service tickets, reduce wait times, and make the process more efficient.
10. E-commerce
E-commerce chatbots can help online stores engage customers at each stage of their buying journey. It provides visitors with the same kind of personalized assistance that they would receive at a brick-and-mortar store.
They can understand customer requirements and offer relevant products. They thus enhance a customer's shopping experience.
21 Benefits of chatbot marketing
Chatbot marketing is great for your business and convenient for your consumers. Businesses can enjoy several unmatchable benefits by implementing a chatbot for their marketing. These are discussed below.
1. Modernize your business
Chatbots are one of the latest technological advancements of today. They work based on Artificial Intelligence, Machine Learning, Natural Language Processing, and Predictive analytics.
So, having these to execute the marketing of your business can modernize your business. Thus, chatbot marketing can aid people in perceiving your business as up-to-date and of superior ranking.
2. Improve customer engagement
As mentioned earlier, people aren't comfortable being approached by or initiating conversation with human staff. But they are at ease with a chatbot and this improves customer engagement.
Chatbots can make personalized, real-time, one-on-one, and data-driven interactions and deliver consistent answers. So, visitors tend to continue the conversation and stay longer on your site.
3. Save time and money
Since your chatbot takes up a significant amount of your work and frees up your time, your business can concentrate its resources elsewhere. An employee can spend the time spared on other important facets of the business.
The money thus saved can also be allotted to other aspects of business management. These in turn will improve your business and increase revenue.
4. Improve lead generation
Chatbots can effectively engage customers and guide users to make quick decisions with personalized messaging all through their journey.
They can persuade them to make immediate purchases or nurture them by giving personalized recommendations, depending on the readiness of the leads. This ensures higher conversions.
5. Enhance customer satisfaction
At times, sales representatives and customer support staff tend to lose their patience- a human-related failure. But that's not the case with chatbots; they can be patient. This ensures high customer satisfaction.
6. Gain insights from consumer data
Chatbots can monitor user data to analyze consumer behavior and track purchasing patterns.
This can help your business to create customer profiles, understand customers' greatest pain points, learn their expectations, provide product details and suggest relevant content, send push notifications, optimize your website, improve products, and market products differently.
This can help expand your reach.
7. Allow instant transactions
Chatbots can instantaneously carry out actions like querying or changing records. This can notably reduce time consumption, lower efforts required, and improve customer satisfaction, which are other benefits of chatbot marketing.
8. Handle repetitive tasks
Tasks such as researching a topic, arranging meetings, etc. can be monotonous. When human staff handles these, they can find them boring. You can automate these tasks with the help of chatbots.
They can do these efficiently and without getting irritated or bored.
9. Personalization
Advanced chatbots can remember and recall contexts better than customer service specialists. They can access the history of a user's interactions with your business to deliver personalized experiences.
These kinds of chatbots are in their infancy now but soon you'll find them being used by many businesses.
10. Consistent answers
When a customer talks to a customer service rep, he has no guarantee that other reps are also giving the same responses. If a customer isn't satisfied with a particular response, he may try to call again to see if there is a better response from another rep.
Such situations are eliminated by employing chatbots, which give only consistent replies.
11. Reaching new customers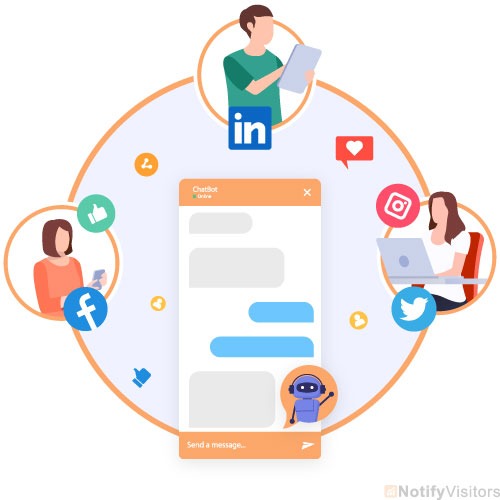 Some chatbots integrated into social media apps like LinkedIn, Facebook, Instagram, and Twitter help businesses reach new customers who otherwise might not get in touch with your business.
Likewise, chatbots on your website also help smartly grab the attention of people visiting your site without any intention of doing business with you.
12. Self-assessment
Chatbots aid businesses in evaluating themselves. You can get to know your business's strengths, weaknesses, opportunities, and threats (SWOT) by using a chatbot.
This helps you highlight your strengths, work on your weaknesses, and fortify your businesses against the threats faced.
13. Round-the-clock availability:
The 24/7 availability of these virtual sales assistants and customer support staff is a boon for your business. These facilitate round-the-clock sales and remove lag in response times, which is the biggest frustration for customers.
So, with chatbots, your brand can live up to customer expectations in terms of sales assistance and response times.
14. Reduced human errors
Manual work is associated with unpredictable human errors. This happens particularly during collecting and forwarding customer information and presenting pricing information.
Often, these errors give rise to significant issues like bringing down your brand reputation. Employing chatbots ensures accurate and error-free service that helps avoid complications.
15. Gathering and Analyzing Customer Feedback
Customers often give their feedback only when they are rewarded or incentivized. However, chatbots can collect customer feedback without that.
They soften the process by asking regular questions to know their opinions about the brand or business. You can also get chatbots to analyze the gathered customer feedback with the right programming.
16. Data collection for content marketing:
Your target audience passes through three phases of their journey to decide if your brand would suit them. These include Awareness, Consideration, and Decision-Making.
You can automate a chatbot to guide them through this journey by asking apt questions and instantly giving the relevant solutions.
17. Enhancing Your SEO Ranking
By delivering an outstanding customer service experience, chatbots can aid in improving your SEO ranking. For this, you need to program your chatbot to suit your business requirements.
Apart from knowing your complete range of products and business operations, your chatbot should be able to value your customers and help them.
18. Guide Users to Better Outcomes
Users always aren't knowledgeable about where they can find the information they are looking for. Sometimes, they may not even know what they are interested in.
Maybe they unintentionally came across your business and decided to explore. A chatbot can guide them to the right webpage by asking a series of assessing questions.
19. Increased sales
Chatbots offer a frictionless platform for making suggestions and smartly presenting your company's new products and services to customers.
This, along with the reduced wait times, fast responses, and 24/7 can boost sales. Reports say that chatbots have averagely increased sales by 67%.
20. Increasing revenue
Conversational marketing by chatbots can help increase your engagement rates, lead generation, and conversions including product sales. This in turn increases your revenue generation.
21. Multi-language support
A great benefit of chatbots is that they provide support in multiple languages. This particularly is useful for global brands.
Chatbots can be programmed to identify the user's language preference through their input phrases or ask the user their language preference at the start of the conversation.
Getting Started with Chatbot Marketing
After knowing the benefits of chatbots and how they can be employed in several areas of your business, you certainly would have got interested in creating your chatbots. The idea of creating and installing your own can be exciting.
NotifyVisitors Bot builder lets you build your chatbot easily without any programming language. Using it, you can set up your conversations within just 5 minutes.
The tool has powerful features like pre-built templates, memory management, webhook, rich media, Artificial Intelligence, and Machine Learning.
Some top names using it are Religare Health Insurance, Apollo Munich Health Insurance, and Axis Bank.
Aren't you thrilled to try this tool?
Also Read: