How To Write An Effective Business Proposal In 2023

A business proposal can be a do-or-die situation for procuring new clients. A well-effective business proposal can actually help to bring customers.
Write a below standard one and you might lose the chance of forming a great deal.
So, if you wonder how to write a business proposal, then this article is your one-stop solution for it.
Learning about how to write a business proposal is pretty easy if some points are kept in mind.
To be discussed :
Briefing business proposal
Business proposal v.s business plan
Format of writing a business proposal
Length of your business proposal
How to write a business proposal
By the time you finish reading this article, you will become a master at writing effective business proposals. Also, keep in mind the better your business proposal is, the more scope you have for business process improvement. Let's get started.
Briefing business proposal
It's a formal document that you will send to a company or a client, defining all the services that you'd offer to them and outlining why you are best suited for that particular job.
It's a formal ápproach by telling them that you will complete a specific job, a project, or in some cases, become an intermediator of a certain product.
Business proposal v.s Business plan
Don't get confused between the two. They are not the equivalent and have plenty of contrasts.
In short, a business plan amounts to the strategy of how someone's business operates and generates revenue. While a business proposal is a way of offering your services or selling your products to clients
You are selling your products to other people, not to your own company. Overall, you are trying to make a sale.
The format of how to write a business proposal
The most important part arrives now. Take a deep look and clear all your doubts.
Title page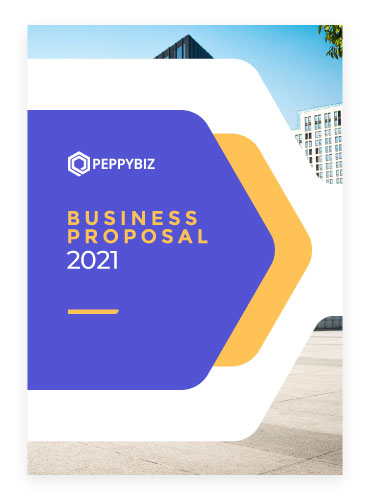 This part of the proposal includes your name, the name of the company you are associated with, the name of the client you are sending this proposal to, and finally, the date submitted.

Table of contents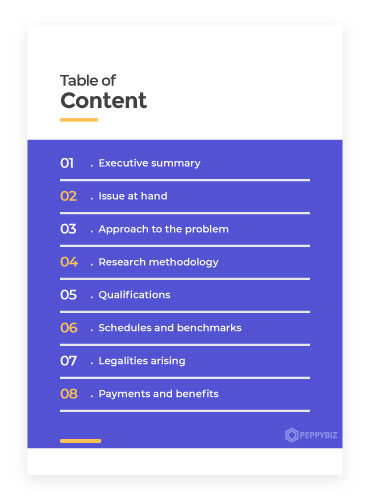 Everyone wants to read the text in an organized manner. Adding this might give your proposal a better look.
Include this just after your title page, so it's easy for the reader to get to specific locations quickly.
Summary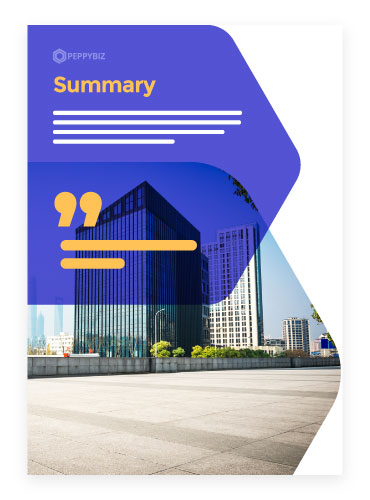 Add a beautiful summary, mentioning every detail seamlessly. Choose the words wisely as this proposal reflects you and the services you are going to offer.
The summary must be written in a way that briefs the company why you are the perfect candidate for this job. Working on these points will sell your proposal easily.

State the current problem being faced
Right after the summary, discuss the problem faced by the client. Understand what they want and demand from the products and services they are searching for.
Understand the job and ask yourself whether you stand out of the crowd in some way or another.
Make your client believe that you understand their needs, and are ready to fulfill them.
Write in such a way that makes your client convinced that you acknowledge their problems.

Mention your proposed solutions
Now is the best time to come up with solutions that make all the problems faced by the client disappear.

Use this space of your business proposal to fulfill the client's needs. While other sections of this proposal went plain, this section must be thorough and detailed, clearing your client about all the steps you plan to take.

Be careful while going in detail, not too much, not too less.

Your qualifications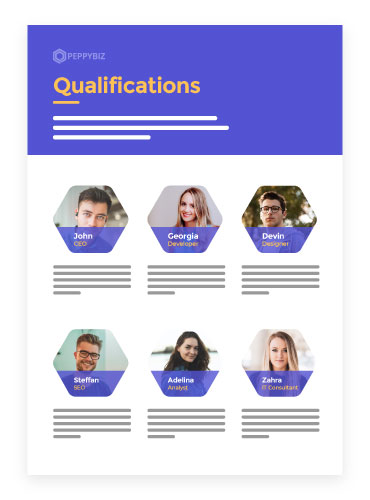 This is the section where you might want to brag about yourself a little bit. Use this section appropriately to convince your client to choose only you.
Mention your academic qualifications, your experience, your certificates, your industry skills, and your visions and ambitions.
Don't forget to mention your past projects if you have done any.

Costs and payments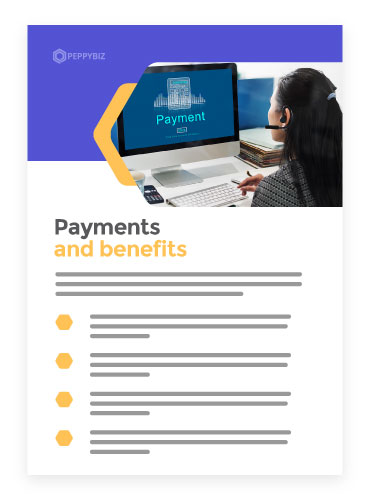 This part entirely depends upon what kind of product or service you are offering. Be realistic and demand the payment accordingly. Don't skyrocket your costs if you are new to this field.

Request an amount that suits both you and the client. Moreover, feel free to include any legal issues you are facing currently. This builds trust.

Working schedule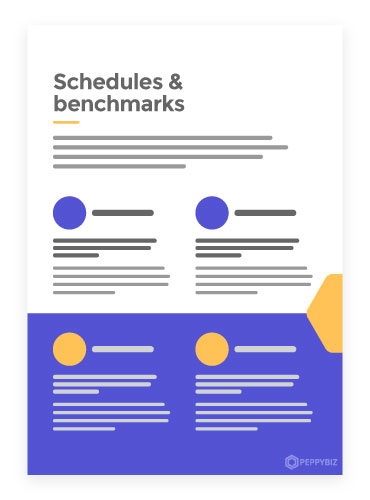 Be clear about your schedule and double-check whether it meets the client's needs or not. Ask the client questions such as: How long is the project? When do you want it to be submitted?

Being on the same page as your client will help to maintain positive relationships between you two. Make sure, to be honest, so that you don't set your client up with unrealistic expectations.

Alter this section in a proper manner and remember not to promise what you can't deliver.
Outro
This brings us to the last part of the format. Use this area to mention your remarks, thanking the client for giving their time to read your business proposal.
Consider this part of the proposal as your final call, don't forget to mention the benefits and advantages of hiring you over others.
Frame it in a way that impresses the client, explaining how their business can scale and grow from hiring you and your solution.

Length of the business proposal
This solely depends upon the industry you want to get into, the client's demands and needs, your expectations, and the project itself.
Still, determining the length of your proposal can make it a million times better and interesting to read.
No one reads extremely long proposals and no one believes way too short versions.
Keep these points in mind and then move forward to initiate the process of writing your business proposal.
Conclusion
All things considered, this article reaches a conclusion. Start by following all the points mentioned above and you might just crack the code of making a winning business proposal- getting hired for jobs and securing new customers. Now you can be an expert in how to write a business proposal.