Find Out The Best Help Desk Software For Businesses in 2023

In a fast-paced, digitally dominated world, chances are you have to be acquainted with the field of Information Technology. What does this mean? You have to know the ins-and-outs of computer software usage about your work, learn some handy uncommon useful tips and tricks around a desktop and master the computer skills that your job description demands of you.
This is well and all, but it comes with its occupational hazard: bugs, glitches, unwanted automated default settings that make you go lost, unreported software issues, technical errors, so on and so forth.

Well, what do you, as a determined employee, do in this precarious situation?

You reach out to your IT service desk, hoping they are equipped with the best help desk software and resourceful personnel to help you. What if they aren't? In that case, read on and pay attention to what we have in store for you.

Whether you are a business looking to enhance their pre-existing IT service desk, an IT student who wants to get up to date with his knowledge, or a startup looking to brandish the most productive help desk software, this is the post for you.

Let's explore IT service desks and the best help desk software for you as a business in 2023.

What is an IT Service Desk?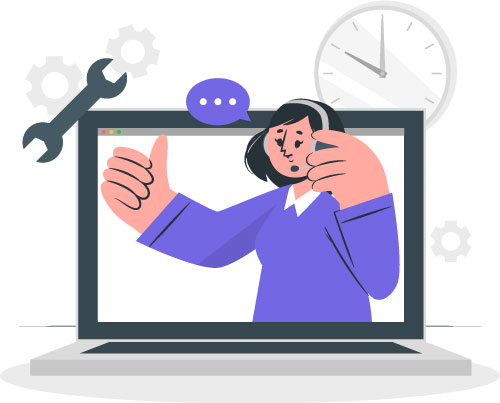 One may describe a service desk as a communication channel or a hub that acts as a SPOC (single point of contact), which consists of an individual or team operating to help end-users with the difficulties or issues they might face related to Information Technology. That's as simple as it can get.

For a more specific definition, it is a technical function that aims more towards fixing issues with the technology than the user of that technology.

An IT service desk will help you navigate through your computing, software, hardware problems, maintenance, and updates and other issues associated with your desktops' operation.
Characteristics of an IT service desk are:
The first level of support for any business or organization
Helps in basic IT computer troubleshooting
Diagnose computer-related problems
Customer-oriented support system
In simple words, its main purpose is to help visitors of the website, or users of a software or application navigate through their issues in the usage duration.

The above descriptions fall under the scope of a business or organization, and it's particularly focussed on the employees rather than the consumers. It makes an IT service desk different from call centers or customer support (other forms of SPOCs).

Service desk and Help desk are almost synonymously used in layman vernacular. Only those peaky in-depth ITians like to point out subtle differences between the two. For the sake of this post, consider the terms interchangeable.

History of the Service/Help Desk
In its early days, it was simply known as the helpdesk. Its main focus was not on ease of the user using the tech, but rather just making sure everything works with stability. This was before the advent of the Information Technology Infrastructure Library (ITIL).

ITIL arose in the '80. This marked a shift from the traditional face-to-face contact-based approach to a more sophisticated reliance on Information Technology. With the advent of ITIL arose a set of practices that standardized this approach with guidelines; this is what we call Information Technology Service Management or ITSM.

A few experimental years go by, and we find ourselves relying more on help desk software than on people (for a good reason too). Now the focus is not on developing your social and communication skills to guide people over the phones effectively but to become more adept and knowledgeable in IT.

This does not downplay the importance of having clear speech. There will often be times when you have to intervene in a sticky situation physically. Still, a smart man realizes that help desk software is gaining greater importance in driving modern organizations' enterprising machinery.

What is a ticketing system?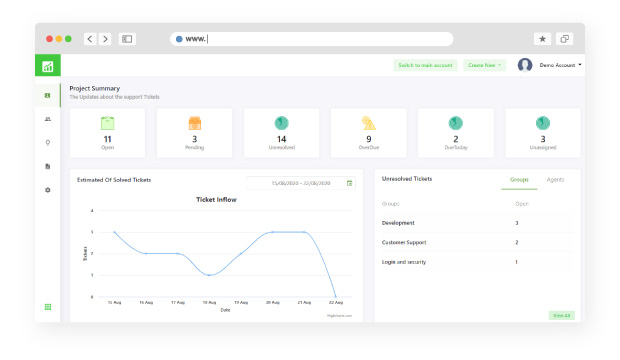 When researching and looking up the right help desk software for your IT service desk, you will often notice the term 'automated ticketing system' used by versatile leading MSPs (Managed Service Provider).

So, what does it mean?
As the name suggests, a ticketing system is an automated function that helps process customer queries, requests, questions, etc. Ticketing tools are getting more popular, with organizations shifting their conventional means to a more digital methodology.
There is hardly any popular business now that doesn't make use of ticketing tools. This leads to only one conclusion; the perfect help desk software waiting for you must have a smooth automated ticketing system integrated into its features.

If your company is transforming from being a local small-scale business to a more expanded enterprise, it should be on the top of your bucket list to get the right help desk software equipped with just the right ticketing tools for your IT service desk.

We will touch on the right help desk software later in the post.

Types of Service/Help Desks
1. Local Service Desk

As the name suggests, it is contained within the locality or the community's premises or targeted consumers that the business serves. An individual or team operates from an assigned space in the vicinity of that focused audience.

2. Centralized Service Desk

It is cost-effective and more economical. A centralized service desk reduces the number of local desks and merges them into a more expanded operation that operates from one location or a number smaller spread out locations. A lowered number of personnel handle a larger volume of work.

3. Virtual Service Desk

This is the one that concerns us more. A virtual service desk is more or less a variation of a centralized service desk. The IT service desk receives automated tickets from different devices of the organization's branches spread out in different locations through the internet's use. The use of help desk software drives it.

4. Follow the Sun Service

Interesting name, and you will understand why it is suitable. A Follow the Sun Service is wide and international, spread out over the geography of different branches of the business or organization, which means that 24/7 there is an IT service desk available for help. Hence the name, Follow the Sun.

Why do you need a help desk software?
If you have been paying attention while reading, you may already know why.
To survive and reach the top as a prospective business, it is a must for you to get your organization equipped with the latest tools, software, and technology.

Being known as a company that caters to its employees' reports, issues, and queries goes a long way in determining how high your business will reach.

A speedy, efficient, and responsive IT service desk takes up a huge chunk of that. Establishing yourself as a body that fulfills its SLAs (service level agreements) on time and reaches out to IT issues quickly is no longer possible without having a proficient help desk software integrated with it.

To that end, here is the help desk software we think you need to check out as a business in 2023.

PeppyBiz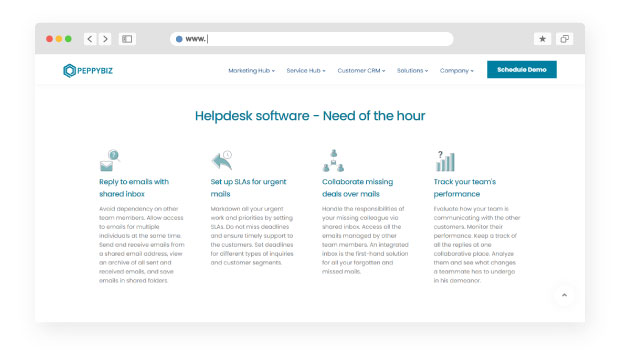 As with any other online platform, there are so many good ones that it makes it quite difficult to choose one.

PeppyBiz is an online platform that is designed to cater to the needs of businesses and corporations alike. It is integrated into many noticeable businesses that are titans in their industries.

Their help desk software is a fully functioning toolkit with a completely automated ticketing system in place. This means there is no delay in reaching out to people experiencing issues with the digital assets at their disposal.
Some of its features are: –
Email clutter removing tool
SLA setter
Shared inbox
Team performance tracker
Centralized communication
Customer records
Report analysis
External tool integration
Automated responses for common queries
Reply collision for already answered questions
Ticketing tools
And many other features that will help you get the right help desk software for your growing business.
They have other services like Project Manager, Email Marketing Automation, etc. That may be worth your while checking out.

Conclusion
By the end of this post, you must have realized the significance an IT service desk has for your organization/business and having the right help desk software equipped with the appropriate ticketing tools.

The traditional methods of calling up and guiding an employee through the computer bug are slowly fading out, and features like remote-access desktop are slowly taking over. The right course of action for you as a business owner, in that case, can only be to incorporate a veritable service for your progressing business.

This post has informed you of all the basics you need to be aware of and led you to a help desk software that might just be the perfect one for you.
So, instead of scouring the internet for the top ten help desk software, why not start here?