A Simple Guide to Create Email Marketing Funnel

Speak with any digital marketer about their email marketing goals. They will tell you the same thing. Everyone wants to grow their list and transform leads into customers using email marketing funnels.

Everyone talks about the value of an email list and creating brand supporters. It does not talk about converting them into consumers.

The reality is that this goal is partially the problem. As a digital online marketer, you are in control of the actions to influence your customers. But how your leads act, runs out your hands. Your sphere of influence is extended. It might consist of hiring internal employees and advertising on social networks or on Google Display Network. It may also consist of putting cash into your research and development department.

Why create an Email Marketing Funnel?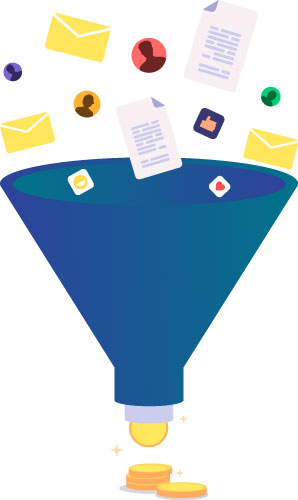 While these are all efficient methods, email marketing remains the most powerful method. 73% of marketers use email marketing to increase their conversion efforts. It is predicted that over 319.6 billion emails will be sent daily worldwide by 2021.

Email marketing has also shown to be the most reliable tactic to affect leads. It is applicable at every phase of the purchaser's journey.

Even so, it is vital to produce a strategic plan on how to move leads into the next step. The next step may be email marketing or any method, for that matter. Else your customer might just not retain.

This is where an email marketing funnel enters into existence.

Do not worry if this sounds complicated. We will assist you to comprehend how to develop an effective email funnel. Read on to discover what is an email funnel for conversions. Also, discover how you can carry out one into your marketing technique.

5 Marketing Funnel Stages (That Your Client Goes Through)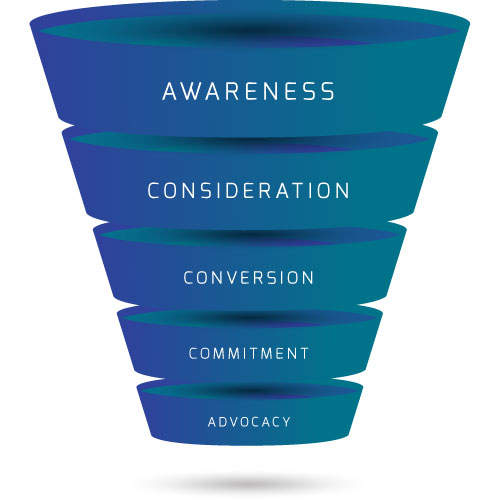 The marketing funnel stages refer to the probability of a customer, completing transactions. The possibility of becoming customers increases, when prospects reach the funnel bottom. Not every possibility who gets in the funnel ends up as a sale. Some will get lost at the same time, some may lose interest, or also might fall for what you have to offer. Let us walk through each action of the funnel.

1. Awareness

The primary step at the top of your marketing funnel is Awareness. At this step, you introduce your service to your visitors and work on catching leads. Awareness is where your customers originate. You can aware your customers through :
Online search engine.
Blog site pages.
Social media marketing.
The pay-per-click project, and others.
The very best technique to capture leads is by using free value at the first interaction. Provide them resources like :
Downloadable PDF file.
Whitepaper.
Coupon/discount.
Giveaway, etc.
On the one hand, it enables your potential customers to feel how it is like to do business with you. This can be done if you are doing B2B email marketing. On the other hand, it helps you establish a favorable client relationship.

2. Consideration

Once interest evokes, your subscribers will begin learning more about your company. They will see what you are offering. And you should be doing the very same thing during the consideration phase. Find out about your clients! You can do so with targeted content and showing them as to what attracted your subscribers in the first place.

The objective in the middle of your funnel is to deal with cause and find out the thing that they are precisely searching for. This indicates understanding their objectives, background, and interests. Utilize this info to advise ideal options for them to resolve their problems.

Apply various touchpoints that can help move your consumer along in your marketing funnel. Always keep in mind to have a clear call to action after each touchpoint, so your leads understand what the next actions are.

3. Conversion

Focus on what differentiates you from your competitors. Share existing client evaluations, advantages, and describing using your item. At this phase, your email copy ought to include:

Try now.
Join us.
Buy now.
Register today.
Get started.
Sign up now, and so on
4. Commitment

When you convert your leads into clients, the relationship never ends. You are supporting your new clients in a continuous activity for your organization. It increases client commitment level to your brand name. Also, sending clients some relevant email content increases your customer lifetime value at the same time.

5. Advocacy

Advocacy occurs when your clients end up being something more than clients. When the customers are satisfied with their experience with your organization, concentrate on getting insights during this phase. This could be in the form of client feedback. It is essential to gather feedback to improve your product or services.

Devoted customers promote on behalf of you to broaden your business reach. To encourage advocacy of your brand to loyal consumers, establish a client delight system to reward them for their recommendations.
What is an email marketing funnel for conversions?

Before you establish an email marketing funnel, you need to understand what it is and why it works. An email funnel is a representation of how a subscriber turns into a potential client through marketing and instructional email communications. For reliable email funnels, online marketers need to match the subscriber's needs and send an email at the right time to elicit action. Email funnels demonstrate the four-stage customer lifecycle:

Engagement.
Discovery.
Purchase.
Retention.
While numerous services may not put a lead in every stage, it is necessary to comprehend the actions your subscriber can take with your brand name. Nevertheless, the end goal is to keep them transforming and moving down your funnel to turn them into loyal customers eventually.
Why do you require an email marketing funnel?

Subscribers are no longer deceived by traditional marketing strategies and are turned off by blatant advertising strategies. An email marketing funnel enables online marketers to engage customers with personalized interactions. Customization alone can enhance your open rates by approximately 26%.

Email marketing funnels treat every prospect as an individual– not just as another name in your list. This helps you to pinpoint where they remain in the purchaser's journey and communicate efficiently. There are numerous benefits of installing an email marketing funnel. Here are a few of those advantages:

Did you understand, it is ten times harder to get a new client than sell to a current one? With an email marketing funnel, you will have the ability to produce new leads while preserving your existing email list consistently.
Your email funnel will continue to cost you on auto-pilot, with the ideal technology, like a proficient salesperson working all the time (with less invasion and tough sales pitches).
When you consistently offer clients a positive brand name experience, they will become your super-fans to further promote your items . An email funnel gets them there.
Four easy steps to produce an email marketing funnel for conversions

While there are countless methods to pull your customers through an email marketing funnel, you require to start with the four standard actions to engage and retain your leads.

1. Top of the funnel: produce leads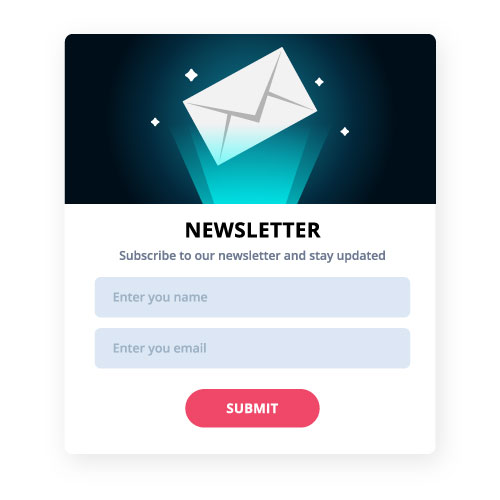 Unlike your social media fans, you own your email list and have more control over your interaction with them.

There are two reliable methods you can collect email addresses: opt-in kinds and dedicated landing pages. Email opt-ins are ingrained throughout your website or blogs and typically just ask for the user's name and email address. Opt-in forms are terrific for newsletters to keep your subscribers engaged.

Dedicated landing pages are concentrated on one lead magnet– like an email course or free trial– that informs the user enough to enter your sales cycle. Landing pages work because you are offering the user worth, which is a preview to what they can get out of your email communications.

2. Middle of the funnel: lead nurture subscribers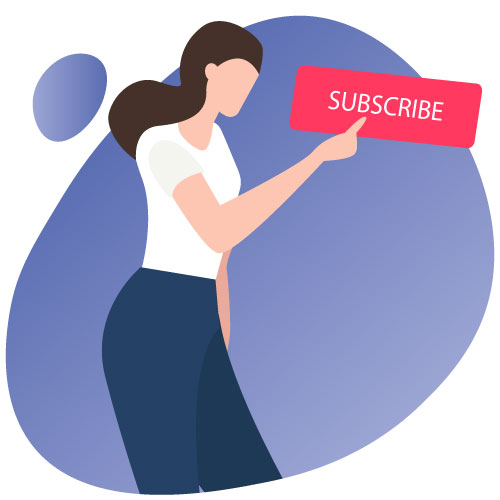 Nurture leads when you have found a lead generation tactic that brings in subscribers. You can create segmented lists to provide the most appropriate value proposal, product, review, etc. to each subscriber. While this sounds complex, the best automation platform can instantly divide your subscribers based upon the lead magnet or a registered form. You can segment on the basis of their website actions, behavior or demographic information.

Lead nurturing emails must contain relevant and personalized content that place you as a trustworthy brand amongst them. Each email is a brand-new chance to develop and strengthen a relationship.

A few nurturing emails for this stage include:

Customized communications based on their choices.
Case studies, customized success stories, and user-generated material.
More complimentary resources, like webinars or blogs.
3. Bottom of the funnel: convert leads into clients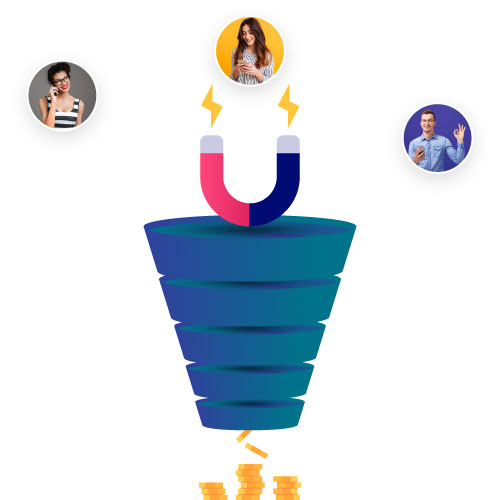 You have to prioritize your leads for the massive conversion, if your subscribers have made it past the first two actions. You have developed a relationship by supplying value, which has generated a psychological response from your subscriber. Step three is to continue sending tailored- nurturing campaigns with a more aggressive conversion technique.

Final conversion emails include:

Retargeting: Retarget your warmest leads with effective strategies who have abandoned the carts. These strategies deliver ads on the basis of the items in which they have shown interest.
Time-sensitive offers: Create urgency in your offers to nudge actions from them. These emails could include vouchers, birthday offers, or perhaps messages to customers who visit your site for an extended time.
Onboarding: if you have utilized a lead magnet through free trial duration, you could transform those users into full-paying customers once the free trial is about to end.
4. Repeat funnel: keep clients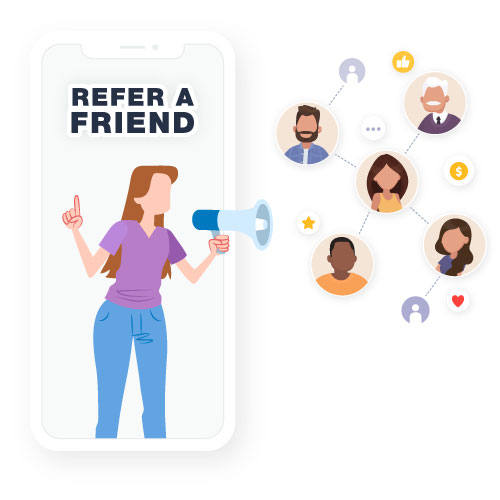 Even after a subscriber transforms into a consumer, your job is not done. Keeping consumers and constructing long-lasting commitment is essential in extending their lifetime worth to increase your marketing ROI. Loyalty promotes repeat purchases and recommendations, which means you require to work towards their next purchase once they transform. This is a similar method to step two that is nurturing leads. But the messaging is a little different because the brand is being promoted more directly.

How can you accomplish this? Think about the following:

Keep your clients engaged with your services or items, whether it is through a weekly progress report or innovation upgrade, to remain at the leading edge of your customer's minds.
Match upsell and cross-sell items based on your client's purchase history to promote more significant deals. The trick here is not to come off pushy and, instead, offer a better option.
Deal recommendation loyalty projects that motivate sharing and word-of-mouth advertising from your customers. The offers can include earning points towards a free item or cash off their next order.
Some other Vital Emailing techniques

There are many fluid actions to convert a consumer. Think about the following actions to begin with the process :

Grow your email list: Make use of opt-in kinds and dedicated landing pages to attract prospective leads with the pledge of delightful content.
Support your subscribers with valuable content: Send out emails that consist of deals, webinars, and case studies that position your business as a solution to the customer's problems.
Convert subscribers into customers who pay: Use time-sensitive messaging or retargeting approaches that push your subscribers towards conversion.
Retain your customers with repeat purchases: Continue to nurture your leads even after a purchase to construct a community of brand supporters, who are devoted to your brand.
Conclusion
With an email marketing funnel established for conversions, you can turn your possibility leads into repeat consumers like a well-oiled device. The automation software application enables you to not only construct an email list but also offers your leads with value, all with the click of a button. An email funnel helps increase your ROI, while saving a lot of your time in manual tasks.