The Crucial Importance of Customer Service Management

Imagine that bad software is installed in your system. It will ruin the whole operation. So is the case with unhappy customers. They can easily ruin a brand's name. The customer's happiness is the key to growth for every business. This is where the role of customer service management comes into play. It is about providing complete support to customers to maintain the brand's worth. Customers are the essence that keeps the profits of business up and going. One of the quintessential factors that determine business growth is the company-client relationship. Now, you might be well acquainted with the term CRM system. However, customer service management and customer relationship management are not similar.

What is customer service management?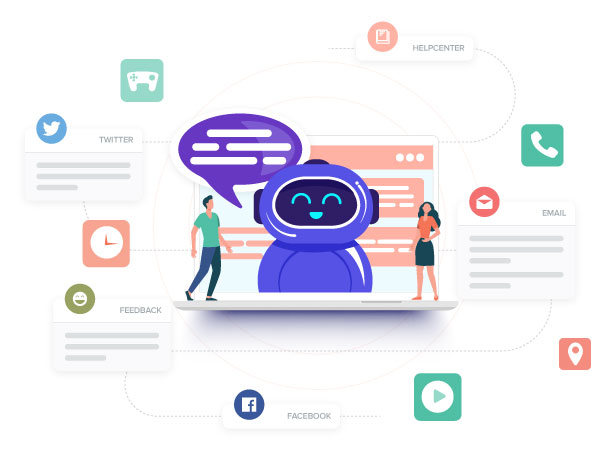 You can consider customer service as one-sided. At the same time, the CRM system is double-sided. Customer service mainly focuses on services and products offered to customers. On the other hand, CRM aims at building customer relations along with services. Customer services revolve around the provision of the best experience with products. It isn't just about sales and conversions, rather also about products and customers.

Impact of customer service management on businesses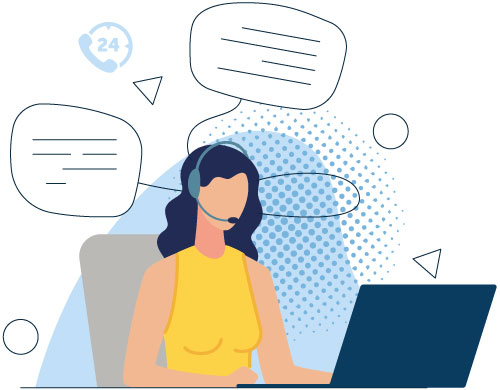 Every business can have a different strategy to interact with customers for better services. However, all these services impact the businesses and help them in some way or the other. Here are some of the most common and impactful ones:

Provision of accurate customer data: Data is the key to any type of analysis. Instead of playing the guessing game, it is important to have the data in hand. This helps you in understanding customer behavior and provide products accordingly. The data helps in laying a groundwork for campaign implementation of customer service management.


Organizing customer data: It isn't always about data gathering. But, more about how the data is put to the right use. With customer service management, you can access the data anytime. The accessibility to data helps in taking the right actions.


Inter-company communication: Usually, there is a team or several departments which work for the satisfaction of customers. Customer service helps you put all on the same platform. This eliminates the compatibility issues, also making the customers happy.


Better customer support and resolution of problems: It helps you in resolving the queries and increases valuable customers. With an enhanced method of customer support, you can easily resolve the problems and reduce unproductivity.


Reduction of time-consuming tasks: You cannot deploy all your workforce to just work towards customer management. With effective customer service implementation, you can reduce the time spent on lengthy tasks by a substantial margin.
Types of customer-service management
A customer can easily upscale or break the reputation of a company. This is why relationship management with customers is so important. While the CRM system looks after the kith and kin of customers. With customer service management, you need to provide customers with the best products. For this, the customers can reach out to you through various platforms. These include live chats, calls, emails, etc. Here are the types of customer service management platforms:
a) Live answers
What the majority of the customers expect from businesses is instant response. Many choose to have phone calls with the brand representatives over other methods due to its ease of use. Consider a situation where an individual buys a product from the site. But, the product has defects. So, he wants to place a return on this order. If there is no availability of calls on the site, this will immensely decrease the brand reputation.

b) IVR representative
Interactive voice representatives work with AI (Artificial Intelligence). It integrates voice recognition working along with a live representative. Many big businesses are using it nowadays to reduce manual efforts and prioritizing calls.

c) Live chat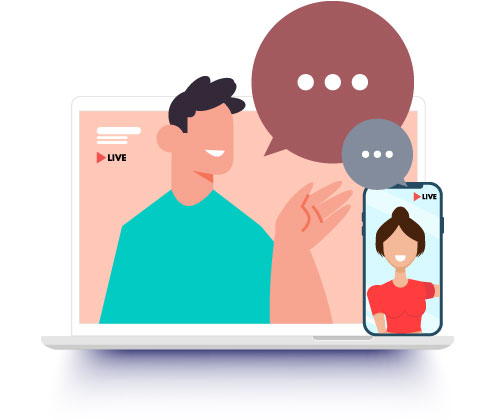 Many websites provide this option. All you have to do is just type in the query. The live chats also have a higher percentage of customer satisfaction. You can easily download the plugins from various online platforms.
Importance of customer service management
Good customer service is directly related to branding. The higher the level of customer satisfaction, the more their inflow of customers. Customer service is equally as important as the marketing team. They help in relationship management by bridging the gap between these aspects. When you are running low on finances, investing in customer service management can be a wise option. Here are all the reasons which justify its importance:

1. Customer retention is cheaper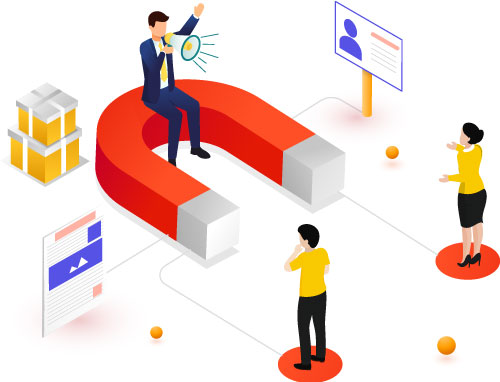 When compared to marketing and branding, customer retention is affordable. Once you complete customer acquisition, you just need a reliable customer service team for their retention. Marketing is surely a high-budget drill, but retention is not. If you can retain just 5% of customers, you can expect about 25% of your brand's profit.

2. Representation of brand image through customers
Word-of-mouth sounds like a traditional method, and it surely is. But, it is still persistent in the market. Customers represent your brand image. All the expensive marketing goes in vain if customers are unhappy. The customer service team plays an essential role in connecting with customers through products. Customers can be the strength of your brand image.

3. Good employee management leads to happy customers
It is equally important to keep the employees happy as it is for the customers. You will have better outcomes if the employees put in their best. The employees must interact well with the customers. This works on the give and takes method.

4. Increase in referrals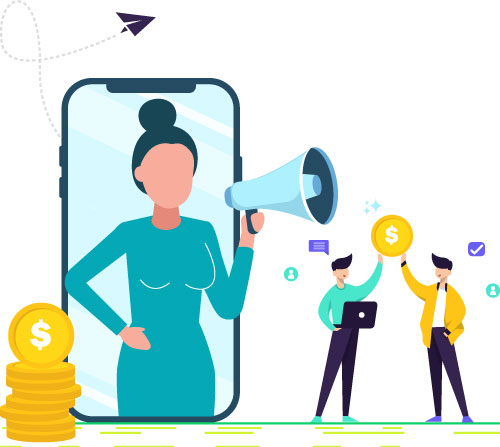 Whenever you shop from a website and find the product worth, you recommend it to others. The happier the employees are, the more they will work for customer contentment. And so, the customers will help in increasing referrals.

5. Increase in customer loyalty
Loyal customers are an asset to the brand. Good customer service helps in increasing customer lifetime value (CLV). More than ideas and products, customers trust the services offered by any brand. Surely, you like the products that you buy. But, what matters, even more, is a good experience with the brand and its services.

6. Affordability is not an issue with good customer service
When a brand offers exemplary services, the customers even end up increasing their budget. They can work at high prices if the quality of services is satisfactory. It is up to the brand representatives to establish the worth of their products.

7. Customer service offers a competitive advantage
In the cut-throat competition, you want your business to be the best. Among all this, there is nothing more worthy than the customers. They are the sole purpose of all business strategies. It is quintessential to always provide the best services. One bad experience can ruin the whole customer journey and trust.
Best customer service management software to choose from
Do you want your customers to keep coming back for more purchases? For that, it is important to have good customer service management platforms. This will eliminate the risks of manual procedures and handling everything with automation. With the growth in technology, there are many platforms that offer customer service management software. You must choose the one that fits your requirements well. Here is a list of the best customer service management software to choose from: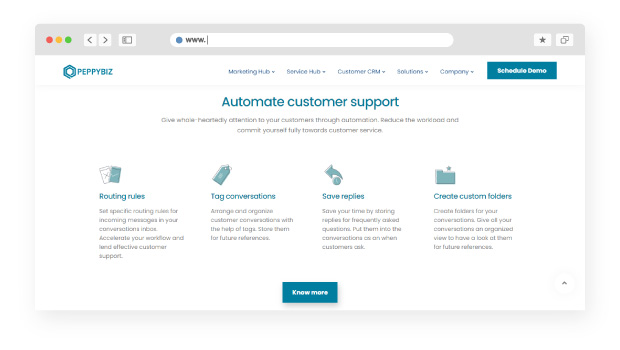 Peppybiz: It is a one-stop platform for all your customer service requirements. Right from employee collaboration to customer reports, it suffices all. Peppydesk works well with all and offers the following features:

Team collaboration
Helpdesk software for faster resolution
Seamless integration with other applications
Consistent reporting
Zohodesk: It is quite a popular name for customer service platforms. It offers several IT solutions and is not just limited to ticketing or CRM. Alongside this, they offer specific plans depending on your business requirements. So, whether you have a small business or a complex one, you have the perfect solution in hand with Zohodesk.

HubSpot: It isn't just an inbound marketing platform. They offer solutions across three domains, including sales and marketing services. The HubSpot service hub manages customer issues through exceptional solutions. Some of the free features that it offers includes:

Live chat
Chatbots
Conversations inbox
LiveAgent: Its name justifies it all. With this, you can easily manage all customers from several platforms in one place. There are various prices and plans they offer according to the requirements. Some of the features it offers are:

Live chats
Calls (voice and video)
Social media integration
Emails
Zendesk: With over 150,000 businesses using it, it is surely one of the most trusted ones. Its suite offers everything you need to manage your business well. You can access all the CRM data at just one place without having to wander a lot. It offers a flexible and supportive environment. It provides you with several suites. You can choose them according to features and affordability.
Conclusion
In brief, customers have certain expectations from the brand. It is the sole responsibility of the brand to fulfill it well. You do not always need a complex CRM system to manage it. You can easily use the customer service management software for this purpose. However, having a customer support team is essential for every business, small or big. You can utilize the software as mentioned earlier for the best services. To evolve your business in the best way, ensure that you offer exceptional customer services.