An Ultimate Guide To Conversational Marketing In 2023

With the evolution of technology, the way customers want to be interacted with is constantly changing. To address their altering expectations and behaviors, businesses need a contemporary customer experience catered throughout the customer journey.
Your strategy must be personalized, efficient, and flexible. This is where conversational marketing helps. Read on to know what conversational marketing is, its importance, and its use cases.
What is Conversational Marketing?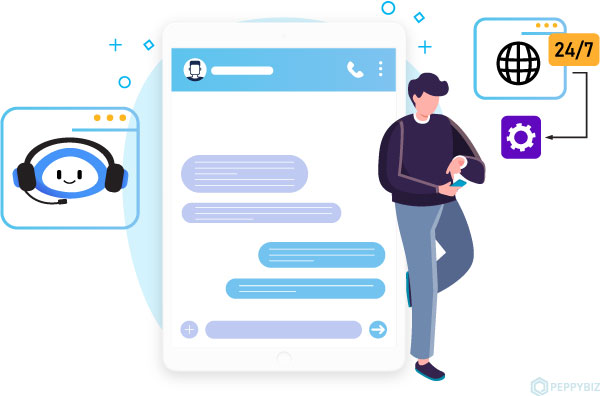 Conversational Marketing is dialogue-driven marketing where a business talks with its consumers. Here, a two-way conversation happens via voice assistants, chatbot, live chat, targeted messaging, or other forms of conversational AI. These experiences can be incorporated into websites, e-commerce stores, paid ads, social networking sites, digital devices, and other channels.
Conversational marketing enables you to convert conventional marketing materials into something interactive. It easily makes the customer experience smooth, drives engagement, builds trust, creates relationships, and increases conversions. So, many businesses (5 out of 10) are using conversational interfaces in their marketing channels.
Owing to the recent advances in conversational AI, conversational marketing has evolved into a channel-independent practice that improves every way you reach your audience.
Importance of Conversational Marketing
a) Convenience
Today, people expect a great user experience while shopping for products and services. Convenience is everything- making travel reservations while watching TV, booking movie tickets while chatting with a friend, updating his mobile phone plan during lunch break, and more. People are able to achieve such things on their convenient time, favorite channel, and choice device via conversational marketing.
b) Reach customers
Conversational marketing improves your sales funnel by structuring conversation to end with a vital recommendation. Further, conversational marketing also allows businesses to reach customers and prospects at the places where they spend their time.
c) Connection
Conversational marketing allows you to connect easily with the right customers, at the right moments. People prefer messaging because it is convenient, easy, and quick, and feels like a real conversation. Further, deploying conversational chatbots on messaging channels enable personalizing relationships, reaching more customers, and rendering conversations scalable.

d) Reduced wait times
Conversational marketing is crucial in this era when people aren't patient or do not have time to wait for a response. Marketing automation chatbot enable companies to provide the instant real-time responses their customers seek. It has been helping brands and businesses cut short the feedback loop, resolve issues faster, and build long-term relationships that foster loyalty.

e) Customer satisfaction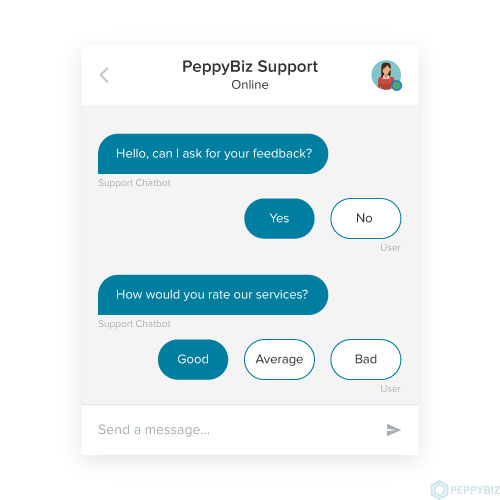 Most consumers expect brands to adopt advanced technologies that would provide them with a way to engage with them. By leveraging conversational marketing, you can deliver a consistent and meaningful experience at each touchpoint. This in turn can enhance customer satisfaction.
f) Scaling
Conversational marketing allows companies to interact with their customers in a personalized manner without employing a human staff for it. AI can scale this effort to any scale required by the firm. This also enables providing services and support 24×7, that there is no question of working outside office hours.
g) Useful insights
Conversational marketing can also provide your organization with a lot of data. Using these insights can help you optimize your websites, improve your ads, or enhance your products. You can also optimize future strategies by analyzing how messages are resonating with your consumers.
After knowing the numerous benefits of conversational marketing, it becomes sensible for businesses to use it in their digital marketing efforts.
12 Conversational Marketing Use Cases
Here is a look into the scenarios where conversational marketing can be successfully employed.
1. Virtual Consultation with Doctors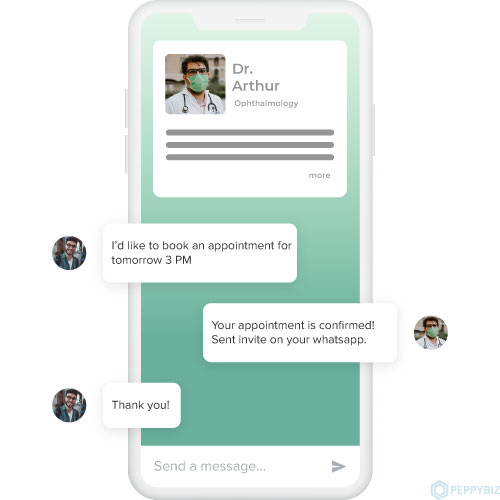 The use of conversational marketing has become extensive in the healthcare sector after the worldwide pandemic. People have started availing themselves of virtual consultations with doctors for less severe ailments like dry cough, flu, etc. Besides, since chatbots can screen the patients' info and provide it to a doctor beforehand, a lot of resources and time are saved.
2. Recommending products on e-commerce sites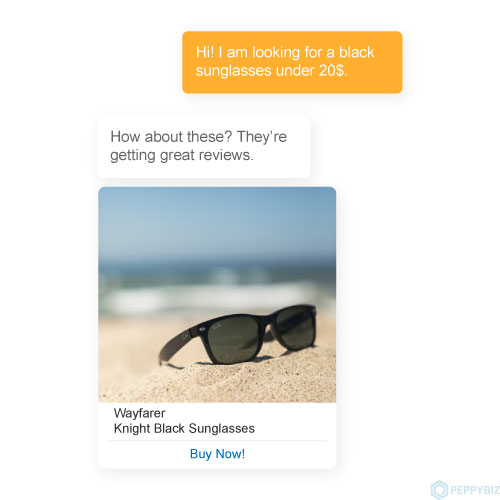 Oftentimes, shoppers at e-stores become overwhelmed by the plethora of options available under each product category they are looking at. So, online stores employ conversational chatbots to help them with selecting products that they are most likely to like.
For instance, AI can understand a customer's preferences related to pricing, color, material, etc. of individual shoppers and make appropriate recommendations.
3. Promoting Blog and Video Content
Many times, visitors to your website are there to learn something about your brand's niche. Maybe they are there at your clothing e-store to know how to know the ideal size of their innerwear. In such a case, using conversational marketing, you can market your video or blog content bearing related information. This in turn can increase your rapport and brand engagement.
4. Affiliate Marketing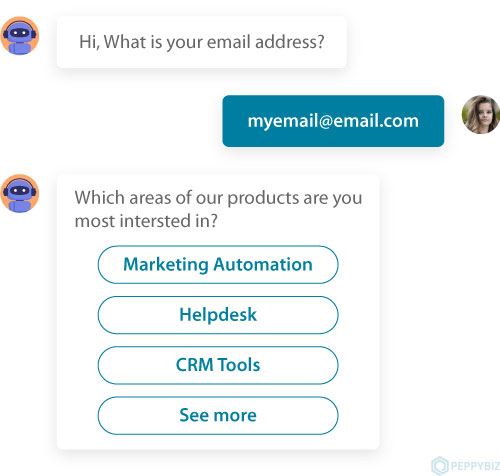 Today, there are escalating numbers of big and micro-influencers. Influencers often find it time-consuming to market a product to their fans. They can automate responding to basic queries from their followers and get in for consultations through the bot only when the scenario necessitates it.
5. Keeping Fans Informed
Some popular communities have millions of fans across the globe. It is not practically possible for them to respond to all the messages of their fans on websites and social media in real-time. So, they employ chatbots to interact with their fans and keep them updated on all events.
6. Answering common questions
Many times, businesses employ chatbots on their websites to answer commonly raised questions. They program a chatbot to answer those questions that visitors regularly ask them. This frees time and resources for businesses.
7. Eliminating or supplementing lead forms
Using chatbots to collect lead information rather than lead forms can bring in 15% more leads, accelerate the sales cycle by 3 days, and reduce time wastage, says a study. So, websites are now eliminating or supplementing lead forms with conversational marketing.

8. Scheduling sales meetings
AI-powered conversational chatbots on websites can lead to sales calls if linked with the team's calendar. They can suggest possible timings for sales meetings, and automatically include meetings in your calendar.
9. Assisting sales
Companies also employ conversational marketing to qualify hot leads off to sales, pursue lower priority or less qualified leads, engage cold leads and execute consistent follow-ups with prospects. This helps marketers and salespeople to strike more meaningful conversations with your qualified leads.
For instance, London & Company, a UK-based firm that helps users find a mortgage, uses a visually pleasing and well-designed chatbot to seamlessly qualify leads by asking certain questions.

10. Educating customers and learning about them
Businesses also employ chatbots to educate consumers by answering their questions. They also learn about the customers. And this creates value for the business. For instance, a restaurant's chatbot makes personalized menu recommendations based on food pairings, recipe preferences, or a quiz. For the consumer, it feels just like a human conversation.

11. Providing personalized customer service
Unique and personalized customer service can attract, delight, and engage customers. A chatbot enables doing this at scale. For instance, Dom, Domino's chatbot, places orders for users and provides real-time updates on their pizza's delivery.

12. Taking orders
Conversational chatbots are also employed to greatly simplify the process of placing orders. One company that does this excellently is 1-800-Flowers, a New York City-based flower retailer. Its chatbot on Facebook Messenger lets customers choose their preferences and place an order with just a single click.

How to Get Started with Conversational Marketing?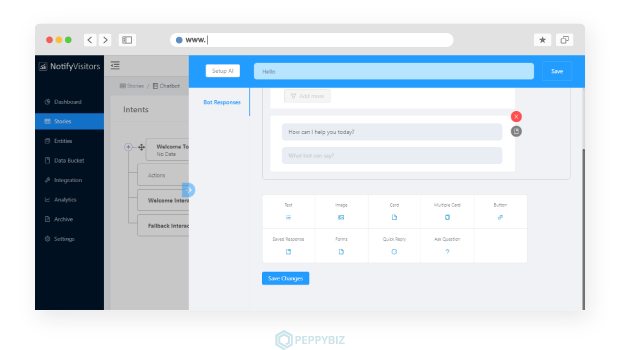 Starting with conversational marketing may seem a big, tough task initially. However, tools like NotifyVisitor Bot Builder have made it easy and simple for every layman. You need no coding knowledge to create your chatbot with the intended conversational flow. It is AI-powered to let you build, train, and launch your customized chatbot.
You can use its user-friendly dashboard to create your chatbot in a few minutes. It offers several pre-built chatbots with varied conversation flows, user intents, and entities. You can incorporate rich media such as emojis, images, carousels, cards, buttons, and quick replies to make your bot visually appealing and enhance the user experience.

The Chabot builder helps you come up with a bot that can save important information from user input for future use. Such memory management helps strike human-like conversations. Further, since it is equipped with Machine Learning, your bot gets better with every human interaction.
You can integrate the AI-backed chatbot to your website easily and add connections to your API and external devices.

Top names such as Religare Health Insurance, Apollo Munich Health Insurance, and Axis Bank have built their bot using NotifyVisitor Bot Builder. So, why don't you too use the tool for creating your chatbot?

Conclusion
Brands and businesses cannot afford to miss out on conversational marketing systems in 2021 and beyond. There are several areas where you can employ voice assistants, chatbots, live chat, targeted messaging, or other forms of conversational AI.
This blog has discussed many of those. Determine where you can use your chatbot to provide a personalized and unparalleled experience.