How Business Transformation Can Drive More Sale

In today's world changes occur constantly. Businesses face changes like higher competition in their niche, the introduction of disruptive technologies, a cost reduction and/or efficiency drive, diminished customer satisfaction, rising customer satisfaction, merger or acquisition, political climate, etc.
Often when organizations experience some kind of change, they choose to undergo a business transformation. This is crucial to ensure a competitive advantage.
Here is more detailed information on business transformation.
What is Business Transformation?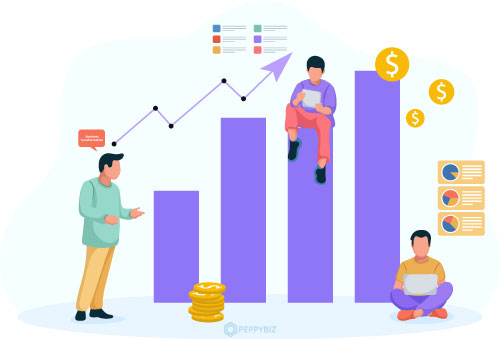 Business Transformation is the process of changing the processes, systems, technology, and/or people across a part of or whole of a business. It is done to achieve quantifiable improvements in effectiveness, efficiency, and stakeholder satisfaction.
Business transformations are bold shifts that businesses make to add value and accelerate growth beyond usual incremental advances. It may mean becoming more effective to amplify the firm's potential, exercising intellectual proprietary and property technology, and unleashing the potential of employees.
Business transformations are enormous, multi-year initiatives requiring holistic changes to basic aspects of the firm. However, today, due to the support available and the urgency of these changes, the timelines have been accelerated. Often these changes are completed within months rather than years.
Types of Business Transformation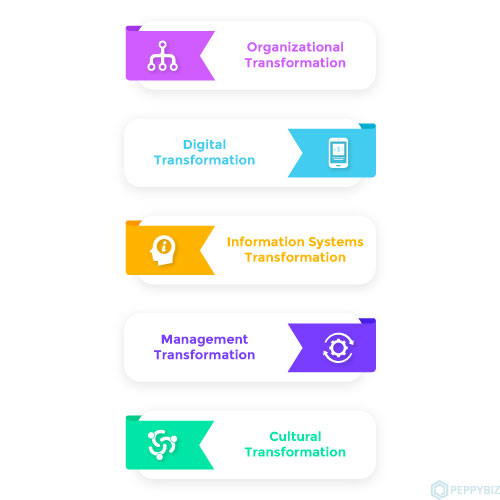 Business transformation can be categorized into six different types. These are discussed below-
Organizational Transformation: Organizational transformation involves redesigning a firm's mode of operation and structure. This process is driven by general management and focuses heavily on the employees. A real transformation can occur only if they're helpful and accommodative with the new work processes.


Digital Transformation: This involves reforming the business model of a firm with a digital strategic attitude. The administration frames a digital business transformation strategy and determines the technology to be implemented to enhance each facet of the customer experience including the product.


Information Systems Transformation: The fundamental of a business transformation involves changing its information systems. This includes modifying all information management resources like staff, processes and technologies.


Management Transformation: This involves shifting to a more fluid leadership model with redefined internal relations and hierarchical structures to help cope with future changes. It is a change to eliminate too many middlemen and rigid systems that hamper growth and the ability to foster real talent.


Cultural Transformation: This is the most difficult transformation for long-established firms. It involves changing the attitude of the company as a whole as well as that of its individuals. You can implement a new corporate culture only after a managerial transformation has occurred and a vision is established.
What are the Benefits of Business Transformation?
If done rightly, business transformation can usher in the following benefits.
Increased efficiency
Better customer experience
Increased productivity
Cost savings
Higher returns on investment
Revenue growth
Increased transparency
Increased flexibility
Greater resource management
Better sustainability
Increased safety
Better employee engagement and culture
How to Implement Business Transformation?
For your business transformation initiative to be successful, you need to know what goes into an effective transformation. Here are the steps you need to follow while taking efforts towards your organization's business transformation.

1. Assess your current business situation
Before you opt for a business transformation to cope with the challenges faced, you need to recognize the degree of those challenges.
Based on your business transformation project's scope, you may have to assess all of the current procedures, practices, policies, and workflow used by different departments, functions, and divisions you want to transform. Only after you get a vivid image of your existing processes and challenges, you'll understand how new processes and technologies can help eradicate the issues faced.
2. Discuss its benefits
Owing to their complicated nature and resources required, it can be difficult to convince your C-Suite (executive-level managers) about business transformation. So, it is vital to discuss the benefits of business transformation to them. They need to know the long-term merits of it.
After they are convinced, they would communicate it to their subordinates. This will help it in setting and conveying organizational objectives across the organization. The employees should know why the business transformation is good for them and how the changes will influence their job roles and lives.
3. Engage every employee in the conversation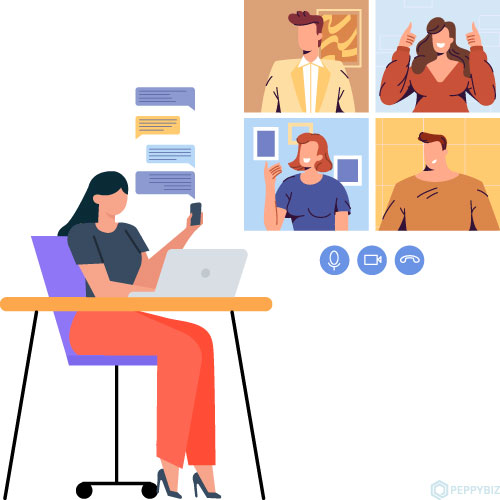 The business transformation would succeed only if employees understand what is going on in the company before, during, and after the implementation of changes. So, start engaging your entire workplace in the company's daily conversations.
These need to be two-way conversations rather than monologues from your end. Your employees should be able to share their thoughts and freely express themselves.
4. Focus on your communication strategy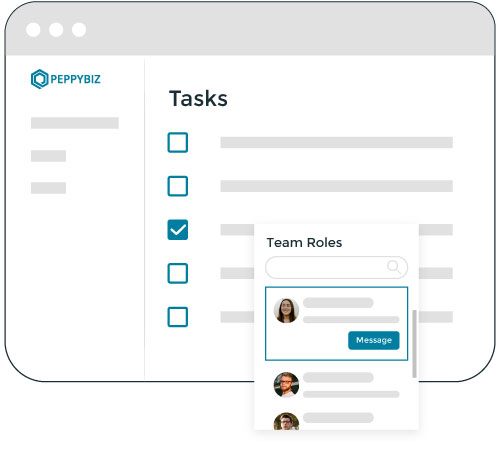 Any business transformation project should be based on clear and continuous communication between the organization, the management at all levels, and the project team. Each member across the organization should be informed and engaged.
This way, employees will understand their specific roles and the availability of resources to enable them to accomplish their objectives. Constant communication will also help build a spirit of cooperativeness.
5. Build an effective change management process
Since the ultimate thing about business transformation is change, there will be numerous changes within your organization. You, therefore, need efficient change management during this phase.
This will facilitate tracking, evaluating, and analyzing the changes implemented and comprehending their influence on the entire workplace. Ensure that the teams assigned for change implementation are quite good at communication.
6. Set clear, concise, and long-term goals
During business transformation, you need to set clear goals and convey them to the employees. They need to understand what they need to strive to accomplish and how would be accomplishing them. Your goals should be short-term ones to encourage your employees. Also, have a few long-term ones so that your entire organization can celebrate when those are achieved.
7. Stimulate a sense of urgency
Arousing a sense of urgency helps encourage and engage employees and other stakeholders to involve in and work towards implementing the transformation.
This is something that needs to be done by the senior-level executives of your firm. They need to stress the importance of transforming your business and make them sense its priority in their work. The key to achieving this is good leadership communication.
8. Eradicate anxiety in the workplace
Ushering in any kind of massive change at the workplace can be associated with emotions of uncertainty and fear among the employees. For, most people dislike leaving their comfort zone. This may lead to frustrations- a crucial issue to address.
Managers and internal communicators should feel it as their duty to help employees overthrow difficulties and settle disagreements. Furthermore, employees may also fear that implementing business transformation would erase the need for their expertise and capabilities. Therefore employers should rightly communicate with employees to make them feel safe.
9. Facilitate joint effort across departments
Business transformation is something that requires cross-departmental collaboration. So, have everyone on board and tell them that the process may pose different challenges that need collaborative effort to overcome.
This particularly is true for huge organizations with different departments and offices. So, such organizations must have good communication technology in place to achieve cross-departmental synergy.
10. Choose your communication channels with care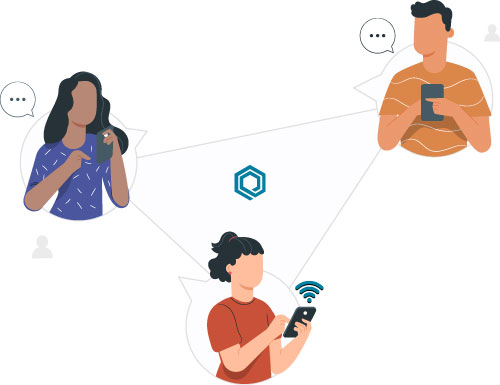 Big organizations will be using multiple communication channels like email, document sharing, Microsoft Teams, Slack, etc. for their internal communications.
This complexity poses an issue with communicating information to all employees to enable them to effectively practice the new business transformation initiatives. So, go for a single communication platform to access, share or comment on the updates.
11. Be flexible and motivate new ideas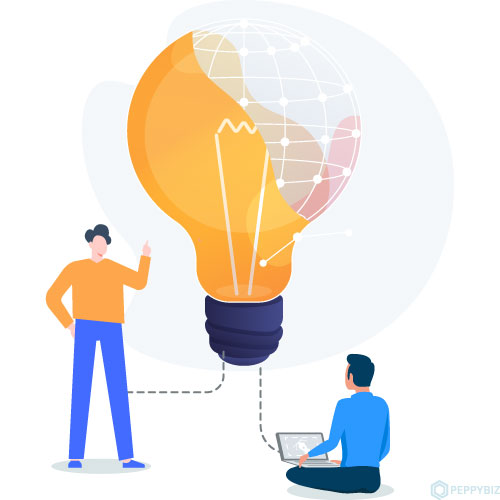 Flexibility is one of the most vital factors needed for your business transformation efforts to succeed. So, be open to innovative ideas though it can be tough to incorporate new behaviors within organizations. Create the right atmosphere for your employees to feel free to share their ideas and voice. Again constant, consistent, and efficient communication with employees is the key to achieving this.
12. Fix the skill shortage at your firm
It is essential to fix the skill shortage at your firm before and during business transformation efforts. For, often companies find short of many digital skills required in the future.
Sometimes they lack even the basic digital skills. Therefore, companies need to invest both in skill development programs and human resources. This will upgrade your organization's skilled human resources.
13. Gauge your employees' engagement
You would have noticed from our previous discussions that effective communication is the key to successful business transformation. Communicators in your company need to understand the performance and consequences of internal messages delivered to employees.
They'll need to keep track to know which communication platforms are the best performing, which messages are the most compelling, and which employees engage more than the rest. This kind of data monitoring is very powerful for comprehending your employees' association and engagement with your business transformation initiatives.
Examples of How Business Transformation Drove Sales
Here are some motivating examples of how business transformation drove sales and increased revenue generation.
General Motors
General Motors is a great example of a company that successfully went through a transformation. They completely renovated their complete approach to IT, recruiting over 10,000 IT people to replace outsourcing contractors, to save time and maintenance work. It increased one thousand percent more data and ten times more productivity, which ultimately increased their sales and revenue.
Netflix
Netflix overhauled its DVD rental service by mail business model with an online streaming service in 2006. This business transformation completely replaced its single rental model with a flat fee, unlimited rental model. Its success is world-renowned. Today, Netflix has over 109 million subscribers worldwide and made about 25 billion US dollars in 2020.
Apple
Apple, when in the early 1990s was about to grow fainter, opted to undergo business transformation under Steve Jobs. They shifted their focus on creating aesthetic consumer products. Their success is known worldwide. Its revenue hit $2 trillion in 2020.
Wrapping up…
Business transformation can take different forms. However, they arise out of the need to solve arising issues and to better line up technology with business strategy. These issues can be higher competition, disruptive technologies, a cost reduction and/or efficiency drive, diminished customer satisfaction, rising customer satisfaction, merger or acquisition, political climate, etc.
If you sense that the time is right for undergoing a business transformation, the goals and the journey ahead have to be communicated across the organization. If done properly, the next business transformation success story can be yours!